Hide Bonus Offers
| | | | | |
| --- | --- | --- | --- | --- |
| #1 | BetOnline Sports | 60% Up To $1,000 | Visit Site | BetOnline Sports |
| #2 | Bovada Sports | 50% Up To $250 | Visit Site | Bovada Sports |
| #3 | BetUS | 125% Up To $2,500 | Visit Site | BetUS |
| #4 | Everygame | 100% Up To $500 | Visit Site | Everygame |
| #5 | MyBookie | 100% Up To $1,000 | Visit Site | MyBookie |
5 Reasons Why Sports Betting Is Just as Good as DFS

The daily fantasy sports scene is as wild as ever. I remember a time when there were a bunch of small DFS sites competing for everyone's money.
Remember DraftStreet, anyone?
Those were the good old days. Now, however, we're down to two major DFS sites in DraftKings and FanDuel. The cash prizes are massive, but if you're not finding success in those ultra-competitive scenes, you're likely not finding success in daily fantasy sports at all.
The interest in DFS brings up an interesting question, though. If people are so enamored with the idea of hitting it big in daily fantasy sports, why wouldn't they just bet on sports?
Legality is one concern for many, while sports betting isn't fully relegated throughout the United States. That said, it's now legal federally, and with numerous states inching closer to making the final call, it's worth wondering why DFS fans don't just make the switch to betting on sports, full-time.
Here are a few reasons why betting on sports is just as good as — if not better than — playing DFS.
You Can Do Them Both
For starters, why pick a side? It's not as if daily fantasy sports and sports betting are rivals.
They compete with each other in a sense when you look at pure dollars being spent, but they are completely different genres.
Sports betting can be used independent of DFS, and it can be used to hedge daily fantasy lineups or even complement them. It can be great by itself, as a combatant, or as an accessory.
Daily fantasy sports aren't going anywhere, and they shouldn't. But if you like trying to profit off of the success of individual players, you may be interested in doing the exact same thing with sports betting.
In a 2018 poll of 1,484, 32% of active DFS players admitted to investing money in both sports betting and daily fantasy sports.
They can work together, or they can be conducted separately. Regardless, the interest is already there, especially given the similarities between the two betting genres.
Player Props Are Better Than DFS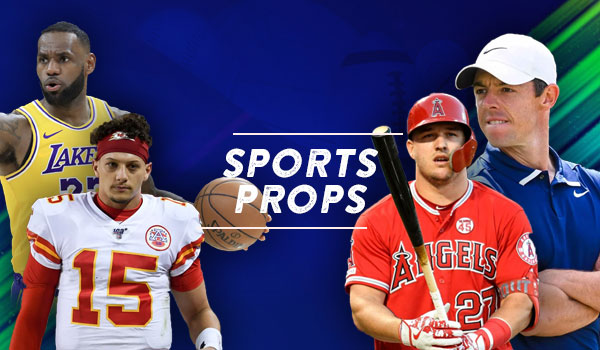 I get that part of the appeal of playing daily fantasy sports is that it tends to be more player-centric. With sports betting, the belief is that you usually need a team to do something a certain way to see you win.
Looking at popular sports like the NFL, MLB, and NBA, this is sort of true. The more popular bets include betting on the winner, point spread, or a game's total points.
While those are the more common bets for games, the sports betting world has adapted to the public's interest in individual performance with player props bets.
The list is borderline endless when you get into it, but it includes all types of game props for players, season props, and other futures. You can bet on who will win awards, what their stats will be, and even what team they will play with next.
Options are endless with player props, even more so than DFS. With daily fantasy sports, you're really just hoping to correctly predict a player's performance as it relates to an entire lineup.
Even if you piece together a fantastic team, one or two bad calls could weigh you down. That could be the difference between a huge win or not winning anything at all.
Betting on props like player props and game props gives you so many more avenues to success. It also yields instant results, as correctly predicting any one player/game prop gives you a win.
If you want to piece together numerous props into a parlay, you can turn your knowledge into an even bigger payday, too.
You Can Win More Consistently
This is the biggest advantage of betting on sports, as opposed to playing daily fantasy sports. There are two key reasons why it's easier to win via sports betting than it is in DFS.
You're only competing with yourself
The bets are isolated
The main takeaway here is that you aren't battling hundreds or even thousands of people just to finish in the green. Never mind actually figuring out how to win a big DFS tournament, but simply cashing is often a challenge in daily fantasy sports.
With sports betting, you're in a sense facing the oddsmakers, but truly only battling yourself. The top sports betting websites really just set the prices, and you need to pick the right side.
It comes down to your own research and your own decision-making process. You don't have to outwit a bunch of other people — just yourself.
The second thing is you're dealing with fairly isolated situations. Whether you're betting on props or game wagers, you're looking at one bet and one preferred outcome.
That isn't the case with daily fantasy sports, which requires you to correctly pick a slew of players that won't burn you.
This allows you to convert bets at a more consistent rate in sports betting. The upside from wager to wager isn't quite as good as it can be in DFS, but the ability to consistently grind out a profit is superior.
There Is Still Crazy Upside in Betting
Drawn in by those wild Milly Maker contests at DraftKings? I get that, but let's consider two things; you're not very likely to win one of those, and there are still awesome bets that can pay off in a huge way.
You have to assume a little risk and get a longshot to hit, but mathematically, it's really not so different than assuming you'll beat hundreds of thousands of people to win $1,000,000.
It all depends on the bet. Some parlays can be quite lucrative, while picking the right sleeper to win a championship or to win an award before a season starts can pay off massively.
The more volatile a sport is, the more fun it is to take shots at seemingly random plays that could pan out. Look at MMA, NASCAR, or PGA.
A massive underdog can win a fight in one punch, some of the worst drivers can come out of nowhere to win a race, and the separation between the elite golfers and the next 50 or so is actually razor thin.
Factor in niche sports like horse racing and others, and you could find your way to major profit if you bet on the right underdog.
Sports Betting Is Getting Legalized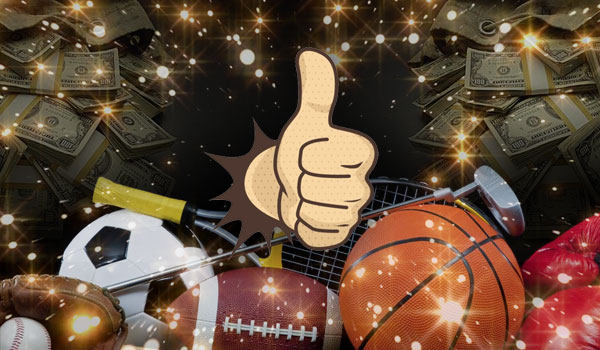 Slowly, but surely, sports betting is becoming legal across the United States. My guess is the major hiccup for DFS fans has been the actual accessibility to sports betting.
For the longest time, sports betting wasn't legal on a federal level, while numerous states have stuck to their guns in outlawing it.
However, states need income, and as time goes on, many will pass bills to make it legal to bet on sports. The list of states legalizing sports betting keeps growing, while bills are in motion for a number of states that have yet to make a final decision.
In due time, most of the US will allow sports betting, which opens the door to countless sportsbooks knocking on your door, mobile sports betting, and so much more.
Sports betting was already appealing, even when you weren't supposed to be doing it. Now that Johnny Law won't have anything to say, betting on sports is more attractive than ever.
Summary
The major incentive to playing daily fantasy sports has been three-fold; you were already playing season-long fantasy leagues, it's a lot of fun, and you could make money doing it.
Oh, and sports betting wasn't legal everywhere.
The latter is slowly changing. That's quickly reminding everyone that betting on sports is also a lot of fun, also quite profitable, and in a lot of ways, the better overall experience.
In my opinion, that's clearly the case when you compare sports betting to DFS. It's subjective, and depending on the circumstance, it isn't always going to be correct.
Overall, however, sports betting is more isolated, and you're facing fewer obstacles en route to a win. You can also get those wins more consistently, while the upside DFS dangles is also reachable in the sports betting realm.
Anyone who likes sports should consider betting on them. If you're already spending money trying to cash in on DFS, that's even more so the case.
The final answer doesn't have to definitively be why sports betting is better than daily fantasy sports, of course. These two awesome money-making methods can live together.