5 Reasons Why Serena Williams Could Beat the Guys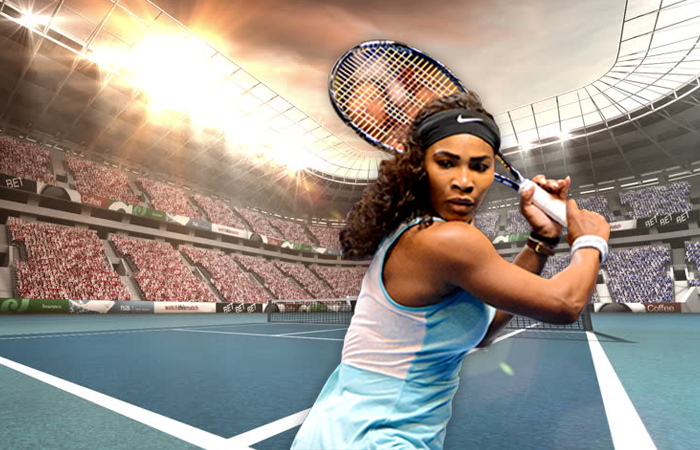 Serena Williams is arguably the best female tennis player of all time. She's won the most Grand Slams in the open era, and has been soul-crushing her opponents for ages. You will be hard-pressed to find someone who doesn't agree. But how good is she compared to the men on the tour?
The legendary John McEnroe already had his say on the matter last year. According to him, Serena would struggle against most men and would probably end up around number 700 in the rankings. His words unleashed hell by sparking a huge debate on the matter.
Is the difference between Serena Williams and the male players that big? I decided to analyze the five crucial aspects of her game and personality to see for myself.
Phenomenal Mental Strength
Let's start with Serena's mentality. I might raise some eyebrows with what I'm about to say next, but I will still do it. Serena Williams is one of the most badass people to ever play any kind of professional sport. It might sound a bit farfetched, but she's really that tough. At least in my opinion, and the facts seem to back that.
For a start, the American is the record holder when it comes to majors won in the Open era. This alone is a fantastic achievement. It requires the heart of a true champion to win 23 Grand Slams. Furthermore, she lost only 6 finals, which is a testimony that Serena is at her best when it matters the most.
On top of that, Williams won her first major in 1999. Just stop for a moment and think about it. That's almost 20 years ago. She became number 1 in the rankings for the first time in 2002. Such longevity is extremely rare, and not many have achieved it.
Another good example of Serena's mental strength is her return from injuries. She had various problems during her career and managed to come back stronger every single time. We've seen a lot of players never recover from physical problems, but not Williams. In fact, the time spent outside the tour seemed to motivate her to push even harder than before.
Finally, let's take a look at the head-to-head record against Serena's greatest rivals throughout her career. She has a positive balance against her sister Venus (17-11), Martina Hingis (7-6), Jennifer Capriati (10-7), and Justine Henin (8-6) —a formidable list of opponents who have won plenty of Grand Slam titles as well.
If you compare that to Rodger Federer, for example, there's a reason to believe Serena Williams is mentally tougher.
Sorry, boys, but she has a lead when it comes to character!
Exceptional Serve
Next in line is the serve of Serena Williams. It's one of her deadliest weapons that brought her tons of points either directly from aces or by giving her huge advantage right from the start of the point. The American combines variety and power in an exceptional fashion.
In fact, she holds the fourth fastest serve from a female player ever recorded, with over 206 km/h. For a quick comparison, take a look at the serve speed of someone like Rafael Nadal, and you will rarely see such numbers.
While Serena certainly can't compare to the best servers on the men's circuit, she certainly is close to many of the rest, to a point where she would have a big advantage during her service games. And we all know this is one of the focal points of today's tennis.
Aggressive Overall Style of Play
Another factor that would probably give Williams a chance against the men is her overall style of play; it's extremely aggressive, and she always tries to attack right off the bat. This leads to numerous winners and forced errors by her opponents.
In fact, Serena Williams is probably one of the most direct players on the women's tour. Very few can match the intensity of her style, let alone keep up with her tempo. It's been one of the main reasons she's been so dominant. You would often see the legendary American completely demolish lesser opponents, and the gap is unbelievable.
It's interesting that she's able to push with both her backhand and her forehand. Not many players can do that.
Usually, at least one of those is a weak point, but not with Serena. This is another proof of her exceptional talent.
If Serena plays against men, such an approach increases her chances of winning. Short and fast exchanges are her best shot at winning points. Combined with the powerful serve, it's a strategy that might work. Furthermore, it will give her chance to last longer and preserve her energy.
Physical Attributes
This is probably the first aspect that is strongly against the case that Serena Williams can beat the guys. She is arguably one of the most powerful women out there, and a nightmare for the rest of the field. I would say that her strength is one of the reasons she's been dominating for so long.
However, you can't beat genetics. The bone and muscle structure of men is simply different and more suited to sports like tennis. The male players are significantly stronger and faster. They can hit the ball harder and chase in situations where women would have no chance.
On top of that, men are more durable. This wouldn't make much of a difference in regular matches, but Grand Slam clashes could reach up to five sets. Williams hasn't played for so long in her life, and her body is not prepared for such a challenge.
As a result, she will be in an unfamiliar position. After being the bully for most of her career, Serena would now be the weaker player. This is probably the most compelling argument against her chances to beat the male players out there.
The Motivation Might Play a Role
One of the things that could turn the tables in sports is the motivation of both sides. I believe Serena Williams would desperately want to prove a point if she were facing a male player. This could push her to limits she hasn't reached before and make her dangerous.
At the same time, the guys could underestimate her at first and not play at their best. This could be a lethal mistake, as Serena certainly has a lot to offer. It's hard to predict this in a hypothetical situation like that, but it could play a major role.
Conclusion
Obviously, Serena Williams would have no chance against the elite male players out there. Their power and physical advantage would be enough to make the difference. Even if she has the talent and the attitude, she won't be able to beat the top 200-300 or so. Actually, she already tried and it didn't go well.
However, if she faces someone ranked lower than that, I firmly believe she could give him a run for his money. John McEnroe might've had a point, but he probably went a bit too far by ruling Serena Williams out against players from top 700. I would say she actually would be able to get into top 500, probably even further.