Hide Bonus Offers
| | | | | |
| --- | --- | --- | --- | --- |
| #1 | Bovada Sports | 50% Up To $250 | Visit Site | Bovada Sports |
| #2 | BetUS | 125% Up To $2,500 | Visit Site | BetUS |
| #3 | MyBookie | 100% Up To $1,000 | Visit Site | MyBookie |
| #4 | Everygame | 100% Up To $500 | Visit Site | Everygame |
| #5 | BetOnline Sports | 60% Up To $1,000 | Visit Site | BetOnline Sports |
5 Realistic NFL Destinations For Johnny Manziel in 2017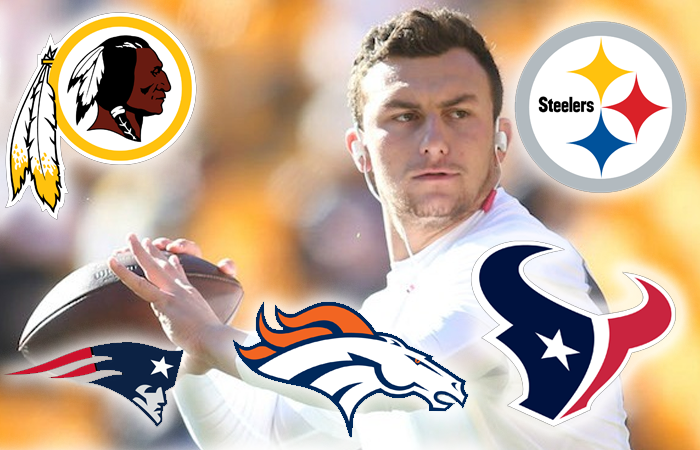 The Johnny Manziel comeback talk won't stop. The former first round bust flamed out with the Cleveland Browns and spent the 2016 season out of the league, but has resurfaced with a clear desire to make a return to pro football.
Whether or not Johnny Football has a future in the NFL remains to be determined. Manziel certainly flashed solid athleticism and big play ability in his two brief seasons in Ohio, but he also displayed atrocious decision-making away from the field, constantly partying year-round and even getting involved in a domestic dispute.
Despite all he's been through, Manziel seems fairly earnest about his comeback and if he's telling the truth, it's likely that he is sober, getting his life on track and could be approaching a real shot at getting back into the good graces of the NFL.
Manziel suggested earlier this year that it "only takes one" team to believe in him and that'd he treat the preseason like his "Super Bowl".
Manziel to the Saints?
Proclamations like that have had interest supposedly heating up around the league in the former Heisman Trophy winner, while New Orleans Saints head coach Sean Payton reportedly met with Manziel during the Super Bowl's media week:
Sources: #Saints coach Sean Payton & Johnny Manziel were spotted together Super Bowl week, at breakfast. They discussed a return to football

— Ian Rapoport (@RapSheet) March 23, 2017
Considering that meeting happened so long ago, it's likely the two came away with one of two understandings: the Saints would need clear proof that Manziel was back on the right path or Payton was simply lending a helping hand.
Regardless of which is the case, Manziel isn't with the Saints and there is a strong argument he shouldn't be.
New Orleans has enough on their plate just trying to make it back to the playoffs. It's not crazy for the Saints to see a little bit of the aging Drew Brees in the diminutive Manziel, but putting a player who has openly had issues with alcohol, drugs and general life decisions in a place like New Orleans (Bourbon Street, Mardis Gras, etc) doesn't seem like the most ideal fit.
5 Good Landing Spots For Manziel
Instead, if Manziel is serious about a return – and a successful one – he probably needs to do one of two things: find a good spot where he can compete for a starting gig right away or a quiet location where he can keep his head down and rehab his image.
So, where could that be? Let's take a look at Johnny Manziel's five best landing spots:

Washington Redskins
D.C. isn't a calm place to play, but it could be a great spot for Manziel to compete for a starting gig if things break just right. Kirk Cousins may be on his way out of town this year or next, as Cousins and the Redskins have not seen eye to eye on a long-term deal and there have been rumors tying him to a trade with the 49ers.
Even if a trade doesn't go down, Cousins could jet via free agency next year and suddenly Washington would be looking at Colt McCoy as their starting passer. McCoy is a replacement level talent, and while he's looked good in spots, he could certainly use a push from another talented arm like Manziel.
This wouldn't necessarily equate to a guaranteed job for Manziel, but he'd potentially be thrust into a competitive atmosphere right away and could even earn the top gig. Manziel seems motivated and he's still young enough to provide upside, but the best thing for him could be active competition with a shot to get swallowed up by the life of a starting NFL quarterback.
Jay Gruden helped turn Andy Dalton into a viable NFL signal caller and went on to help make Cousins the quarterback he is today. There's no telling what Manziel could do in this system.

Pittsburgh Steelers
The Steelers are another interesting choice. It'd be pretty hilarious if the former Browns bust eventually found his way with this AFC North rival and ended up having a successful career.
The latter part to this point is a considerable reach, but we do need to consider two things: Landry Jones is Pittsburgh's backup plan right now and Ben Roethlisberger has already started floating around the idea of retiring.
How serious Big Ben is about hanging up his cleats is one thing, but Roethlisberger gets hurt yearly and has missed at least two games in three of his last five seasons. Now 35 years old, Roethlisberger is no young pup.
Roethlisberger reportedly thought of retirement after losing in the AFC title game last year and with his age and the hits he's taken, we're nearing that day where he actually may walk away for good. Enter Manziel, who could arguably evolve into a far better backup than Jones for the interim, while also potentially giving the Steelers a transition quarterback for their post-Big Ben days.
Nobody is saying Manziel is a perfect fit here and would for sure be a success, but the Steelers have good coaching, a great system and plenty of talent on their roster. If they were forced into action with Manziel, it's not crazy to think he could surprise with some stellar play. Manziel also has a knack for keeping plays alive and chasing the deep ball – two things Big Ben is notorious for. He'd be the pint-sized edition, but Manziel is a version of the quarterback the Steelers have trusted for the past 13 seasons.

New England Patriots
New England is another spot that could make a lot of sense for Manziel to come in as a backup initially, prove his worth and eventually be the starter. Jimmy Garoppolo trade rumors continue to heat up, as the Patriots' top backup quarterback is entering a contract year and has a ton of suitors.
It wouldn't make much sense for the Pats to try to hang onto Jimmy G, unless they had some plans to part ways with legendary passer, Tom Brady. Even with Brady nearing 40, he's still at the top of his game and seems quite intent to play for about as long as he possibly can. That will naturally lead to Garoppolo being shown the door in some manner, whether it be via trade now or New England letting him walk next year.
Whatever the case, the Pats will at some point need a new backup for Brady and at some point they'll also want a long-term solution to transition to. Manziel can learn and grow behind Brady for now, supplying New England with a talented backup and perhaps one day preparing to take over as the long-term answer under center. At just 24 years old still, Manziel is in no position to demand a starting job and he'd probably love the idea of working behind the GOAT as he tries to prove he's for real about being successful in the NFL.
Could the fact that he's been seen practicing in Patriots gear be some foreshadowing? Only time will tell.

Denver Broncos
If you're looking for a spot where Manziel could latch on as a backup to first prove himself and maybe eventually work his way to a starting role, the Redskins, Steelers and Patriots are pretty interesting landing spots. Teams like the Packers, Chiefs, and the aforementioned Saints also would make some sense.
If there is a place for Manziel to compete right now for a starting gig – something in which would be really good for him considering his situation – Denver makes a lot of sense. Outside of Peyton Manning the Broncos have visibly been a fan of athletic quarterbacks who can make plays with their legs and throw on the run, and it's pretty arguable Manziel can do that better than the guys they have right now.
Denver probably wants Paxton Lynch to step up and Trevor Siemian wasn't bad in his first year as the starter, but neither of these guys promote much confidence. Short of landing Tony Romo (once he's released), the Broncos should bring in one more talented arm to either push these guys or supplant them.
Manziel has had previous ties to Denver, too. Not only did former Broncos head coach Gary Kubiak discuss an NFL return with him, but Broncos superstar pass rusher Von Miller has always supported Manziel as a person and player. We know Miller would love to see Manziel in town (provided his head is right) and the need is technically still there.

Houston Texans
The story is very similar for the Texans, who traded Brock Osweiler away to the Browns in what is virtually an NBA salary dump. That frees up cash for Houston, but now they're down to Brandon Weeden or Tom Savage. For a team with solid offensive pieces and a very talented defense, neither will be good enough.
It's quite likely this is where Tony Romo winds up, or at least that's what the Texans will probably hope for. If they can't swing that, they may look long and hard at Jay Cutler or Colin Kaepernick, while a trade with Bill O'Brien's old club (New England) for Jimmy Garoppolo wouldn't be an insane proposition.
Provided the latter doesn't happen, Manziel is still in play here. The Texans at least pondered the idea of taking Johnny Football back in 2014 with the #1 overall pick and it'd be hilarious if they could still get him three years later.
O'Brien and co. weren't high enough on Manziel to spend that high of a pick on him, but what's the harm in bringing a troubled but talented kid in to push Savage and Weeden? For a team that survived the Osweiler disaster and has shoved spares like Ryan Mallett and Brian Hoyer out there, it's not the worst idea in the world.
If the Texans get Romo this isn't really a discussion, but if their desired moves fall through, Manziel could stick around home and try to help Houston move a little further in the playoffs.
Summary
Nothing is guaranteed for Manziel. He's been involved in a lot of bad situations and very well could have burned all of his NFL bridges even at just 24 years old. He remains talented and seemingly motivated, however, so if he seriously has his life back on track, it really isn't that silly to think someone not only could take a chance on him, but he could still be a success.
The situation Manziel finds himself in next would have to be pretty ideal, though, and that's why one of the five teams we touched on makes the most sense. You could argue other spots like the 49ers (his old offensive coordinator is the head coach there) or the Bears (Mike Glennon is their current starter) or even the Jets (they have no quarterback), but better stability would be desired.
Ultimately, the best spot for Manziel is probably New England. Jimmy G is going to get traded at some point and the Pats need both a backup and someone who can be molded into Tom Brady's successor. Manziel has stated before he's a fan of Brady and the Pats, so if the feeling is mutual, Bill Belichick and co. can kill two birds with one stone.
This is, after all, a franchise that gave Tim Tebow a shot and loves to kick the tires on talented players that everyone else leaves for dead.
If there is one team that makes perfect sense for a Johnny Manziel comeback, it's the Patriots.