5 Realistic Choices for Conor McGregor's Next UFC Opponent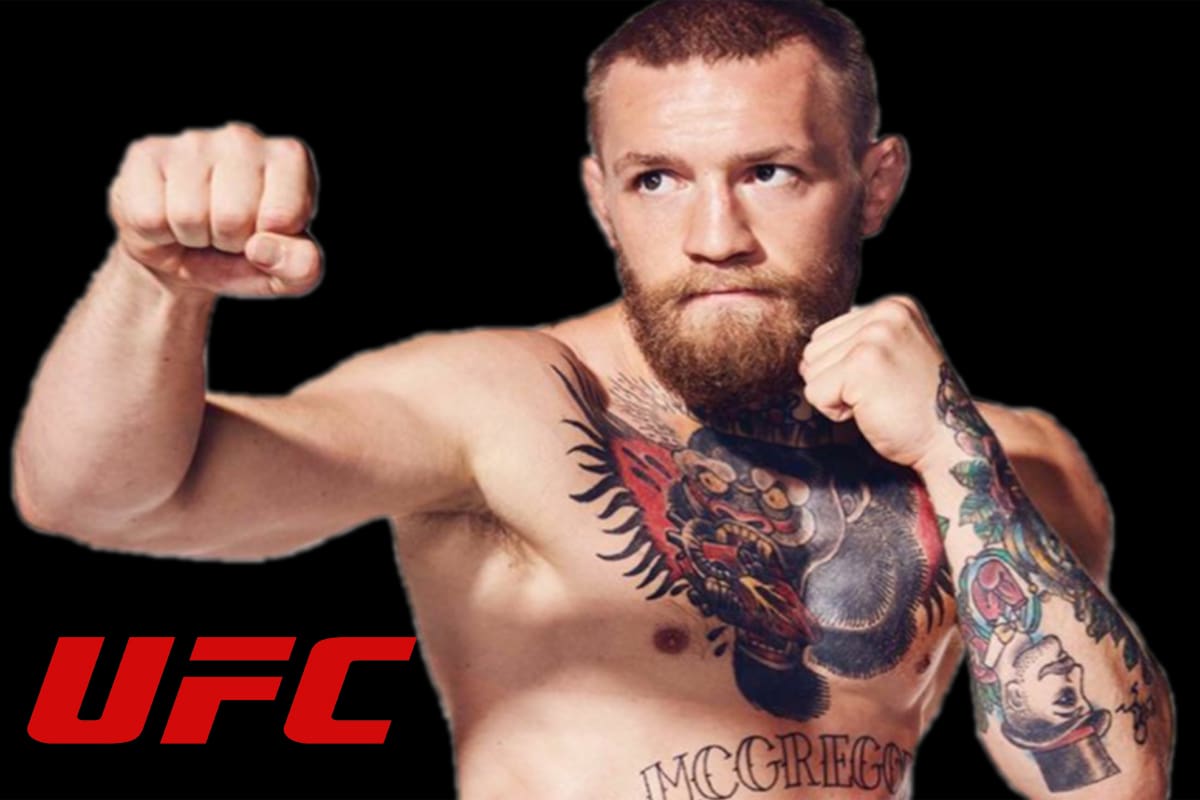 It's safe to say that Conor McGregor's latest retirement plans lasted about as long as an ice cube in the Nevada desert.
During the Irishman's latest threat of hanging up his gloves, UFC President Dana White remained as cool as the air conditioning of his Las Vegas office.
That is because White, perhaps better than anyone, knows that the words "McGregor" and "retirement" are seldom a serious combination.
History certainly tells us everything we need to know about the former featherweight and lightweight champion's propensity to "retire" when he feels negotiations need a little push.
In 2016, McGregor tweeted that he was stepping away from the sport following the UFC's decision to pull him from the main event of UFC 200.
Having failed to live up to his promotional obligations, White decided that "The Notorious" would not be fighting on what was billed at the time as a historic event.
To say McGregor has previous form for this would be an understatement.
After all, if his threats to retire worked the first time around, why wouldn't he follow the same page again when renegotiating his contractual obligations this time around?
Some may argue that the Irishman is not as powerful as he once was.
While the Conor McGregor who tore up the UFC rulebook and spat it back at the status quo via ultra-witty trash talk and show-stopping knockouts is no more, he is still, by a country mile, the biggest draw the company has ever seen.
Conor McGregor's Position in 2019
Well, you can argue that McGregor has lost much of what made him such an exciting and captivating fighter, but in terms of monetary value, he is indispensable to the UFC.
Now, let's stop for a moment and look at the facts here.
Yes, McGregor has lost two fights in the UFC — one to Nate Diaz and, more recently, another to Khabib Nurmagomedov. While the loss to the Russian superstar and incumbent lightweight champion was quite humiliating, McGregor still has a future in this sport.
Throughout his career, the Irishman has always fared better against fighters who are striking-heavy, rather than grapplers. To be completely honest, Nurmagomedov was probably the only fully-fit, elite-level grappler he ever came up against.
"The Eagle" is also unbeaten in 26 fights and regarded as one of the greatest wrestlers in the history of the sport.
So, why did McGregor choose to fight him?
"Money" McGregor?
Well, you can argue that he was avenging the "insults" and "disrespect" shown by the Dagestan native, but as the pay-per-view figures in the aftermath of the fight clearly told, money was the motivating factor.
Nurmagomedov vs. McGregor is the highest-selling pay-per-view in the history of the sport at 2.4 million. It dwarfs the closest fight on the PPV list, which is, of course, Diaz vs. McGregor II, at 1.6 million.
In fact, McGregor has his name on five of the top six pay-per-views in the history of the UFC.
These days, more fight fans might be tuning in to watch him lose than to support him to victory. However, McGregor still has a huge, devoted fanbase around the world that will pay to watch him fight.
What does this mean for Conor McGregor in 2019? Well, his ability to sell fights is as strong as ever. He is certainly far from being finished in MMA and will be keen to re-establish himself as an elite fighter in the UFC.
The question now is, who will be his next dance partner?
Let's look at five of the most promising candidates.
Nate Diaz (Trilogy Bout)
Everyone and their dog knows that this fight will eventually happen.
I mean, it has to, right?
McGregor and Diaz are both one apiece after their two legendary bouts in the UFC. Those two fights set huge pay-per-view records that the promotion will be more than happy to put their chips on when it comes to a third doing even better in terms of numbers.
However, as we know, the one obstacle to this bout being penciled in for the third time is Nate Diaz, who doesn't really seem interested in fighting at all. Of course, Diaz made millions against McGregor, basically meaning that he doesn't ever have to fight again.
Since the rematch at UFC 202 in August 2016, Diaz has mostly been quiet. However, when he has voiced his opinion on getting back into the Octagon, he has frequently alluded to only doing so if McGregor was also in the picture. Well, that or a sizeable check for his services.
McGregor has long maintained that a third fight with Diaz will happen at some point, although a timeframe has never been suggested. You can bet on McGregor standing by his word, however.
With Diaz's inactivity and McGregor's title-chasing aspirations, will this fight ever happen? I mean, if you think about it, maybe we will never see a trilogy fight between these two, which would completely invalidate my earlier assertions…
How Likely Is This to Happen?
Next? Well, I wouldn't think it likely.
You can bet on McGregor making a return to the promotion in the next few months. Diaz, on the other hand, seems to be enjoying life outside of the fight game.
With a nice few million in the bank, why shouldn't he?
The Stockton warrior was cashing in shockingly low checks before the first bout with McGregor. At one point, Diaz was making $20,000 to show and $20,000 to win.
It was reported that Diaz made $13 million — no, that is not a typo — $13 million from his rematch with McGregor alone.
If you can imagine the amount of money that a third fight with Diaz would generate, it's hard to see the fan-favorite pass up an opportunity to top his career-best of $13 million.
However, don't expect him to be next in line for a "red panty night."
Justin Gaethje
It just so happens that Khabib Nurmagomedov and Justin Gaethje share the same manager in Ali Abdelaziz.
If you remember the infamous press conferences ahead of UFC 229, you will, no doubt, understand just how tender and loving the relationship between McGregor and Abdelaziz is.
I mean, is there a more beautiful relationship in MMA?
Yes, of course, I am joking, and yes, they hate each other's guts.
When Abdelaziz offered McGregor a fight against Gaethje recently, the Irishman declined. That is, effectively, all we know at this point. However, Gaethje hasn't taken no for an answer and seems more intent to drag McGregor into the Octagon.
His win over Edson Barboza in March brought the tough and exciting former World Series of Fighting lightweight king closer to a title shot. However, in a division as stacked as the UFC's 155-pound realm, he may be waiting some time for his chance.
A win over McGregor, of course, would catapult him to the top of the queue. A fight against McGregor would — win or lose — substantially fill the pockets of the Arizona native.
So, what chance do we have of seeing this fight next for McGregor?
How Likely Is This to Happen?
Erm, I would suggest that there is a higher chance of McGregor and Gaethje getting it on next than McGregor and Diaz.
However, at this point, that doesn't really say much.
While the Irishman is a lover of all things green (well, at least money, and, erm, Ireland), there is little in this fight for him other than a paycheck.
Against a fighter as brutal and chaotic as Gaethje, McGregor would run the risk of being beaten and, therefore, finding himself in a worse position than if he had avoided him. In other words, this is not an attractive prospect for "The Notorious."
If Gaethje can climb up the rankings and establish himself as a number 1 contender, things would probably look a lot different. As it stands, he is ranked as the #5 lightweight in the UFC.
I can't see this one happening anytime soon.
Donald "Cowboy" Cerrone
Out of all of the potential bouts on this list, this is probably up there as the one I would love to see most.
McGregor and Cerrone would be an absolutely epic contest between two of the best strikers in the 155-pound division. Funnily enough, it looked as though we were close to seeing this one finalized, but then talk of the fight died down.
Cerrone is one of the most celebrated veterans of MMA. He is a huge fan-favorite and is almost certainly going to walk into the UFC Hall of Fame once he has hung up his gloves.
However, he is still very much an active force in the promotion and is showing no signs of going anywhere, anytime soon.
For the spectacle alone, this is the type of fight that true MMA fans want to see.
Cerrone's exquisite Muay Thai skills and very underrated submission game against the flash, counterpunching style of the UFC megastar.
Although it appears that cold water has been poured over this matchup, is there still a chance it can happen?
How Likely Is This to Happen?
It is, in my opinion, more likely to happen next than Diaz or Gaethje.
However, with Cerrone signed on the dotted line to fight Al Iaquinta next, this fight could very well happen if McGregor delays his return to the Octagon until at least July and Cerrone beats "Raging" Al.
Iaquinta is currently ranked as the UFC's fourth-best lightweight, while Cerrone is a few spots beneath him in seventh. If the latter wins, you can expect "Cowboy" to probably take his place, which would make this fight a lot more interesting for the UFC top brass.
It would, of course, make a lot of sense and would also draw in a high number of pay-per-views.
It all depends on the strategy of McGregor and the UFC.
I can see this fight happening — but on the condition that Cerrone triumphs over Iaquinta. However, if Iaquinta beats Cerrone…
Al Iaquinta
Well, Iaquinta stands a great chance of being McGregor's next opponent.
As you read above, he is set to throw down with Donald Cerrone on May 4 in Ottawa, Canada. The winner of this fight will more than likely have a claim to a title shot or at least an interim title fight.
Now, most of us MMA fans cringe at the thought of interim titles, but the UFC is business, and belts attract attention.
If McGregor plans a return to the cage a couple of months after May 4 — and the winner of this bout isn't medically suspended — it is more than feasible to suggest that he could fight the winner.
Iaquinta, of course, is a great matchup for McGregor, given that he is an excellent puncher and an exciting fighter. He is ranked just one place behind McGregor in the UFC lightweight rankings and is a popular name among fans.
What's not to love?
How Likely Is This to Happen?
There is a strong chance that this fight could be the next for McGregor.
As previously mentioned, it will depend on when McGregor wants to fight next, the winner of Iaquinta's bout against Cerrone, and the UFC's strategy for "The Notorious."
Now, if all three of those things are in sync, this fight can happen.
Out of all the other fights on the list so far, I believe this one is the most promising.
However, we still have one candidate to review.
Tony Ferguson
What a fight this one would be.
Former lightweight champion Conor McGregor against the former interim-lightweight titlist, Tony Ferguson. It just sounds so appealing, and I am certain that there is no bigger fight in the 155-pound division outside of a rematch with Khabib Nurmagomedov.
Ferguson, who last fought on the undercard of Nurmagomedov vs. McGregor, is currently riding an 11-fight winning streak. At that last fight at UFC 229, "El Cucuy" fought his way to a bloody doctor's stoppage over Anthony Pettis and was expected to stake his claim for another bout with Nurmagomedov.
Of course, Ferguson and Nurmagomedov have found themselves booked to fight one another on four occasions. However, the fight was canceled each and every time it was penciled in.
With lightweight champion Nurmagomedov set to face Dustin Poirier in his next title defense, McGregor could find himself looking to Ferguson for a dancing partner.
How Likely Is This to Happen?
If both men are in this division over the course of the next couple of years, there is a huge chance that they will meet. We know that for sure, right?
But what if this fight was next for the Irishman?
As it stands, there are already rumors of a Ferguson vs. McGregor match in the works, with the former recently tweeting what some believe to be a cryptic message.
Of course, there is nothing substantial enough in Ferguson's tweet to suggest that the opponent offered to him is McGregor, but it certainly makes sense.
McGregor is currently ranked third in the UFC's official lightweight standings, while Ferguson is one ahead in second place. With Nurmagomedov and Poirier set to battle it out for the championship, this leaves McGregor and Ferguson at loose ends.
A win for either man would all but guarantee them a shot at the lightweight strap, and you have to argue that few would blink an eye if this turns out to be the case. Yes, McGregor was beaten by Nurmagomedov in their one and only fight to date, but who's to say that the Russian will beat Poirier?
On the other hand, Ferguson is by far the most eligible candidate for a lightweight title shot and would finally land a bout with the Russian for the ultimate prize or throw down with Poirier for the first time should the American win.
Whatever way you look at this bout, it makes absolute sense.
Could this fight be the next chapter in McGregor's story? I believe it just might be.
Final Thoughts
Whether you love or hate Conor McGregor, you have to admit that he brings something very unique to the UFC.
Having made just two appearances inside the Octagon since November 2016, some fans have simply grown tired of the Dubliner. However, when he is active, he brings with him a circus that has never been seen before in mixed martial arts.
Now, of course, that isn't everyone's bag. But it is what it is, to quote UFC featherweight champion Max Holloway.
Regardless of your opinion of McGregor, his return will generate huge publicity for the sport. The severity of his antics will likely depend on his opinion of his next opponent, but either way, no one will escape the wrath of the most acerbic tongue in combat sports.
Call it a guilty pleasure or an exercise in futility, but it is fun to guess what's next for the Irishman. Whatever happens, the chances are that he will be one step ahead.
One thing is for certain, however. If he does end up fighting any of these five guys, we're in for a treat.