Hide Bonus Offers
| | | | | |
| --- | --- | --- | --- | --- |
| #1 | Bovada Sports | 50% Up To $250 | Visit Site | Bovada Sports |
| #2 | BetUS | 125% Up To $2,500 | Visit Site | BetUS |
| #3 | MyBookie | 100% Up To $1,000 | Visit Site | MyBookie |
| #4 | Everygame | 100% Up To $500 | Visit Site | Everygame |
| #5 | BetOnline Sports | 60% Up To $1,000 | Visit Site | BetOnline Sports |
Possible Upsets to Target in the Week of July 30th – 5 Upset Picks for Bettors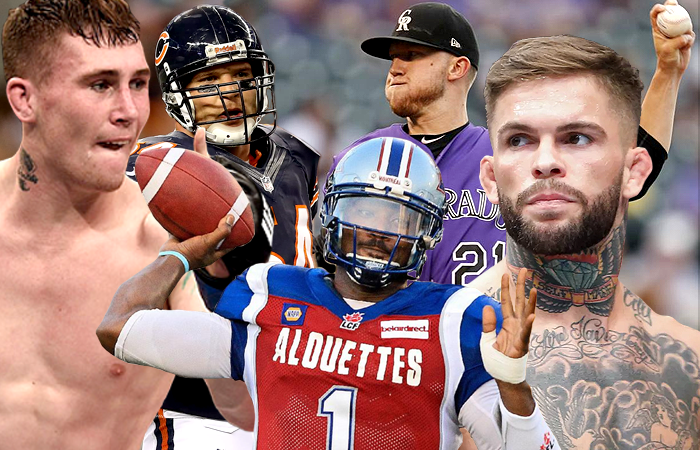 It's been a while since I dug through the sports betting world to locate some high-level value for my fellow sports betting brethren.
The last time I did, the NBA summer league was just getting going, and the World Cup was still going strong. It was a pretty good period for sports, even despite it happening during that dreaded "dead period" in the sports betting schedule.
We're still stuck in that ugly limbo, but before you know it, the 2018 NFL preseason will be here, and not too long after, we're going to be talking about playoff baseball, the NBA, NHL, and meaningful NFL contests again.
That nasty, funky portion of the year for avid sports bettors is slowly being pushed behind us.
I'm coming in fresh, too. I've had nearly a month to sit back, relax, and piece together a brand-new collection of sports upset picks that are actually worth your time and money.
Before I let you know what I'm eyeing this week, though, let's go back a bit and see how my picks panned out at the beginning of July.

Week in Review
I started things off with a bang back on July 3rd, nailing a nice Warriors upset (+150) over the Kings in summer league action. I just felt that was too much value for a game where nobody really had a clue who to favor.
That was one nice win. Here's how the rest of those upset picks shook out.
Warriors over Kings

+150

Braves over Yankees

+145

Sweden over Switzerland

+230

Belgium over Brazil

+265
As you can see, that was a pretty epic week. I went after the Braves due to a nice price, and they faltered, but I went 3-1 on the week with wins of +150, +230, and +265.
I'm not exactly sure how I nailed two crazy soccer upset picks, but I saw the value, and the games went my way.
If you went hard after these underdog picks, you exited the week a pretty happy camper.
My apologies for the long layoff, but I'm back this week to try to add to my 24-38-1 upset picks record.
Let's get the ball rolling with the return of pro football in Thursday night's Hall of Fame game.
Bears (+120) over Ravens (-140) – Hall of Fame Game
First of all, nobody really cares about this game.
I mean, it's the return of the new NFL season, and everyone absolutely cares about that, but they literally called this game off a couple of years ago because the field was shoddy.
It was just a stupid preseason football game, but real, live football was there, and suddenly it wasn't. As a die-hard pro football fan, that was pretty darn brutal.
Seeing as how that happened, if things don't break just right, you know the officials don't care enough to really give this game the respect it deserves.
This isn't even a legit NFL preseason game in the eyes of the Bears or Ravens, either.
The HOF game isn't technically part of a "week" of preseason action, so these teams tend to really lay off their starters and even their top backups.
Needless to say, you're looking at a really long, boring game with a bunch of former college football players you've never even heard of.
You're scraping the bottom of the barrel in a game where the backup talent is a wash, and nobody cares about winning. If that's not a ringing endorsement to chase a +120 underdog, I'm not sure what is!
In all seriousness, betting on preseason football assumes major risk in general.
The best players last a handful of drives and often don't even suit up. The Hall of Fame game is the worst example of this, and you truly have no clue who will play or how much.
If you're getting even value here, it's whatever. But the Bears are for some reason the +120 underdogs. I'd understand that if Baltimore were playing their starters all game, but this is preseason football.
I'll take Chicago all day at this price.
Cody Garbrandt (-110) over T.J. Dillashaw (-120)
The line isn't staggering, and it's basically even money, but sometimes taking an underdog doesn't mean absorbing insane risk or chasing huge piles of cash.
You can still go as hard as you want here, but the point is that you're getting pretty good value to back Garbrandt in his rematch against the only fighter to make him bleed his own blood.
Well, that's not exactly true, but you get the point.
Dillashaw certainly took No Love down a peg or two in a TKO win back at UFC 217 on November 4th, and it's been a long road back for the previously undefeated Garbrandt.
These rematches can be iconic and career-defining, and if Garbrandt is going to be the special fighter many thought he had already become, this is a hill he needs to climb over.
The mashing ability is there for the taking, as Garbrandt tends to leave bodies behind (9 career KOs), and Dillashaw is slowly moving past his prime.
Darren Till (+120) over Tyron Woodley (-140)
I like the value in Garbrandt getting some revenge, but I might like Till even more when the lights go up at UFC 228 this coming weekend.
Till is a very exciting (and undefeated) fighter at 17-0, showcasing a brutal ability to crush his opponents quickly (10 career KO wins).
This is partially about the 25-year-old's talent and rising star, but also about the inevitable end. Tyron Woodley has been a dominant champion, but he had two tough fights with Stephen Thompson and just hasn't closed out fights like he has in the past.
Till already stood toe-to-toe with Thompson and is chomping at the bit to snag the Welterweight title belt from Woodley. Given the price, I don't mind aiming high here.
Colorado Rockies (-104) over St. Louis Cardinals (-116)
Bovada has some early odds out for Tuesday's baseball slate, so I'm down for jumping on some value there.
It's always tough to push out MLB upset picks early in the week, just because most of the top MLB betting sites wait until late at night to release the next day's odds.
That's the case here, but I will soak up the Rockies, who put their top arm in Jon Gray on the mound in a pitcher-friendly environment.
For a guy who is used to braving the storm that is Coors Field, this matchup sets up nicely for Gray. St. Louis does have a capable offense, and they're at their best at home, but it's not by much.
In fact, the Cards are just a .500 team at Busch Stadium, and they are not in a great groove right now (5-5 over their last 10 games). The Rockies can certainly be suspect on the road, but they've actually been solid (30-23) away from Coors in 2018.
Colorado happens to be on fire right now as well, ripping off four straight wins at the time of this writing, to go with an 8-2 stretch over their last 10 games. They're also fighting for the NL West title (one game back), so you'd better believe they're taking each game seriously.
I slightly tip the pitching matchup Colorado's way, and even with the massive park downgrade, I also prefer their bats. It's a close call, but at -104, the Rockies look like a solid dog to back for Tuesday's MLB slate.
Montreal Alouettes (+6.5) over Hamilton Tiger-Cats (-6.5)
The actual betting lines aren't out yet for this game, which promises to feature Johnny Manziel finally hitting the gridiron up north.
Manziel never got a chance to suit up for meaningful snaps with Hamilton, who jumped at a favorable trade with Montreal. It was a win-win for both sides, and now Johnny Football can dish out some sweet revenge while also trying to help his new team to a win.
There's no doubt the Tiger-Cats are the better team right now, but Manziel could be playing this one with a chip on his shoulder. Hamilton has been superior to this point, but I think the narrative edge goes to Manziel and Montreal.
I'm game for the straight-up upset pick here (Montreal will be the dogs one way or another), but you can still get dog money by picking them to beat this spread.
PICK
Montreal Alouettes
+6.5
Final Words
This is really not the most amazing week for big upset picks, but as you can see, there are still a few spots where you can seek out value for the supposed losing side.
I never think upset picks are strictly about trying to score huge cash.
That is one of the goals, and it's always ideal for it to go that way, but even when you're grinding out regular picks, you still need to be able to make the right wager on the team that is actually going to convert the bet.
The upside feels a bit limited this week, but as preseason football trickles in, I think the action will heat up a bit more. Hopefully these upset picks suit you well. Either way, happy betting this week!