Hide Bonus Offers
| | | | | |
| --- | --- | --- | --- | --- |
| #1 | Bovada Sports | 50% Up To $250 | Visit Site | Bovada Sports |
| #2 | BetUS | 125% Up To $2,500 | Visit Site | BetUS |
| #3 | MyBookie | 100% Up To $1,000 | Visit Site | MyBookie |
| #4 | Everygame | 100% Up To $500 | Visit Site | Everygame |
| #5 | BetOnline Sports | 60% Up To $1,000 | Visit Site | BetOnline Sports |
5 NFL Teams That Need to Sign Jay Cutler Right Now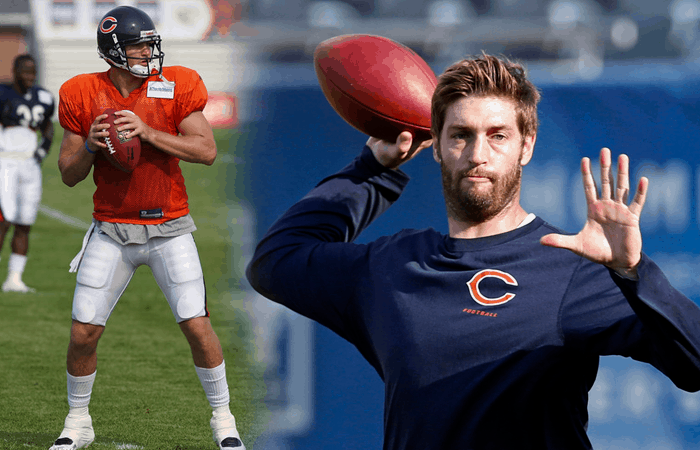 The market has looked quite dry for former Chicago Bears starting quarterback, Jay Cutler. It's been so dry, in fact, that Jay Cutler retirement rumors are slowly turning into a potential reality.
We shouldn't be completely shocked, either. Cutler will be 34 at the end of April, we just saw another huge name in Tony Romo call it quits and it's not as if Cutler's time in Chicago drew rave reviews.
After all, Cutler was driven out of town by Mike Glennon of all people after struggling to stay healthy or consistently produce at a high level during his up and down 8-year tenure in the Windy City.
Part of Cutler's lack of success with the Bears was his fault. He didn't always seem to have the best attitude and he turned the ball over more than a seasoned veteran quarterback probably should. However, he also didn't have amazing teams around him, was constantly banged up and had to deal with a lot of injuries around him.
Cutler certainly brings with him some flaws and clear downside, but there remains an argument for an NFL team in need of a useful arm to jump at the chance to sign him. Cutler has enjoyed some high level success in his career; six times putting up 20+ touchdown passes, while surpassing 3,000+ passing yards seven different times. Cutler also helped the Bears make it to the NFC title game back in 2010 – his lone trip to the NFL playoffs.
More importantly, Cutler is a ready and able starter that continues to have the talent to potentially lead the right team back into the playoffs.
Depending on the situation, it's not all that crazy to project Cutler still enjoying success – possibly even during postseason play.
But this isn't just about Cutler, what he's capable of doing or how he wants to exit the league. It's also about a serious need for reliable quarterback talent in the NFL. There are still several teams without a clear answer under center – some with serious playoff aspirations – that shouldn't balk so much at the idea of adding a proven arm that could benefit from a change of scenery.
The knocks on Cutler are clear and the disinterest is understandable to a certain degree. Eventually the dominos will fall enough that teams will need to make a choice, however, and that could give Cutler – provided he doesn't retire first – the ideal situation he seems to be waiting for.
Here's five NFL teams that should stop wasting time and go out and get Cutler before he hangs'em up for good:
San Francisco 49ers
Cutler to the 49ers might not gain any actual steam for multiple reasons: the Niners already brought in two former Bears quarterbacks (Brian Hoyer and Matt Barkley) and this would be a step down from Chicago.
The 49ers probably aren't competing for anything anytime soon and they also seem to like Hoyer as their 2017 starter. That either means they're totally content with drafting and developing a young gun this year, or they'll try to swing a trade for a young stud like Jimmy Garoppolo or Kirk Cousins at some point.
All of that probably keeps them out of the Jay Cutler sweepstakes, but this still wouldn't be a terrible marriage. For one, Cutler is still a better talent and more proven commodity than Hoyer, who backed him up in Chicago. Cutler also has a connection to 49ers head coach Kyle Shanahan, seeing as his father drafted him back when he was first with the Denver Broncos.
It's never smart to completely rule out obvious connections in the NFL, especially if things don't break the right way for said team or player. In this situation, the Niners might not get the prospect they want or a trade falls through. Suddenly they're waltzing into 2017 with just Hoyer and Barkley and they're not too excited about their prospects.
On the flip side, Cutler probably prefers a winning situation, but if San Francisco shows him the money and hands him the ability to continue his career as a starting NFL quarterback, who is to say he'd pass it up?
Odds are this isn't the perfect spot for Cutler, but it comes in as the fifth most likely landing spot for the free agent passer.
Washington Redskins
The Kirk Cousins trade rumors have died down, but now that the Redskins quarterback has latched onto his franchise tag and a long-term deal between these two sides has yet to be banged out, there remains the distinct possibility he gets traded.
In fact, some NFL experts believe Cousins could still get dealt right around this year's draft. His landing spot still figures to be with the 49ers, although the Browns and other quarterback-needy teams could show serious interest.
If that trade goes down, Cutler to the Redskins would gain serious steam. Colt McCoy would be Washington's top fallback option, for starters, while the Redskins have made the playoffs or been on the brink of postseason play in each of the last two seasons.
Cutler could note that, as well as Jay Gruden's quarterback-friendly system, there's a plethora of weapons to use in the passing game.
A lot needs to happen for the picture to clear up here, but if Kirk Cousins isn't long for D.C., then someone has to take his place. Riding into 2017 with McCoy or a rookie isn't good enough for a Redskins team that could be on the brink of a deep playoff run, so it'd be much more likely for the Redskins to chase a stable veteran that might even give them an upgrade over the often erratic Cousins.
New York Jets
The Jets have looked like an easy landing spot for Cutler for months. They've parted ways with Geno Smith and Ryan Fitzpatrick and their only key move under center was bringing in steady backup, Josh McCown.
Perhaps McCown is their bridge starter to whatever rookie they select in the 2017 NFL Draft, or maybe they still believe one of their young guys they have on their roster is still the future at the position for them.
If the Jets have completely embraced a total rebuild, then sure, all of that sounds fine. However, an aging McCown can't finish games anymore and Bryce Petty and Christian Hackenberg have done nothing to make us think they could somehow be the answer.
That leaves us with the Jets taking a passer early, starting McCown and hoping their new young arm develops quickly enough to start this year or in 2018.
Another option could be going out and getting Cutler, who would serve as an upgrade over McCown. The two are friends from their days in Chicago and it's likely McCown wouldn't mind playing second fiddle as Cutler tried to push the Jets into the playoffs.
New York doesn't seem to know what they want to do yet, while Cutler may not view the Jets as a good enough situation to risk further damage to his body anymore. Regardless, the Jets need a quarterback and if they're willing to pay up, Cutler could head to the Big Apple. Whether it's for the cash, to rehab his value as a starting quarterback or because he believes he can with in New York – it really doesn't matter.
Denver Broncos
The second most likely destination for Jay Cutler could be the team that drafted him in the first place. The Broncos as an organization never really soured on Cutler, but it was actually rookie head coach Josh McDaniels who spurned Cutler back in 2009. From there, the rest is history.
However, we don't know for sure that Denver is completely out on the Jay Cutler sweepstakes. After all, Trevor Siemian wasn't a total win as the starting quarterback in 2016 and would-be franchise passer Paxton Lynch doesn't come without his question marks.
If the Broncos can't land Tony Romo, don't see a quarterback worth drafting or trading for and aren't content with the guys they have, why not dip their toe back in the Jay Cutler waters and see if it can work?
Cutler isn't the second coming of Peyton Manning, but this would still be a massive storyline in the NFL.
It could be a feel good ending to Cutler's chastised career, too. How magical would it be if Cutler came back to mend the fence in Denver and capped his career with a handful of stellar seasons and/or a title? John Elway would look like an absolutely genius, while Denver would get back to winning and give themselves even more time to land their quarterback of the future.
They undoubtedly would probably prefer someone more stable like Tony Romo, but Jay Cutler to the Broncos may not be as crazy as we all initially thought.
Houston Texans
Houston makes the most sense. The Texans just dumped Brock Osweiler in a trade with the Browns, but with Tony Romo's retirement, it feels like they're back to square one. They will surely add another arm in the 2017 NFL Draft, but as things stand they're hoping to compete for a title with Tom Savage, Brandon Weeden or a rookie.
None of that sounds great and there have been whispers Jay Cutler is interested in playing for the Texans. More specifically, he seems rather open to taking a discount to call Houston home. If that's true, the Texans may want to jump at signing Cutler – especially if they don't love their chances of luring Romo away from his new duties as an analyst at CBS.
If anything, the Texans should come to Romo with an ultimatum: play, or we sign Cutler. That will get Romo thinking and maybe even force his hand to return to the NFL. And if not, the Texans for sure know where they're at and can make the next logical move, which would be grabbing up the best available quarterback in free agency right now.
Cutler isn't a lock to make a massive difference and help the Texans win a Super Bowl, but he also is a better player than Brock Osweiler. It's hard to envision Cutler going to Houston and doing worse than Osweiler. Cutler has proven in the past he can stand by and manage an offense, while he can also take over games at times with his natural arm talent gunslinger mentality. That's not something Osweiler really ever did and it's hard to believe Houston believes they currently have someone who can do a better job of that than Cutler.
J.J. Watt is going to be back for 2017 and this team seems stacked on both sides of the ball.
The only thing they're truly missing is a competent option under center.
Cutler will be a mixed bag and he could easily fail, but he's Houston's best bet right now and that's where he wants to be. It's a pairing that at this point just makes sense.
Wild Card: Miami Dolphins
You thought you were getting five potential landing spots for Jay Cutler, but here's a sixth; the Miami Dolphins. While not likely right now, this is a very interesting option because it could reunite Cutler with Miami head coach Adam Gase, who helped him to his best season in years in 2015.
Not only did Gase tap into Cutler's upside and keep him from making classic mistakes, but Ryan Tannehill hasn't always looked like the answer in South Beach. Tannehill is in his prime and is under contract through 2020, but he's never been overly consistent and has also yet to find his own playoff success.
It did seem to be coming together for Tannehill in 2016 and it could click from here on out, but if it doesn't, what is tying Gase to him as Miami's franchise quarterback? Gase has made a name for himself as a brilliant mind and even helped Miami to a 11-5 finish and a playoff appearance last year, so he might not waste much time in the event Tannehill falters.
Should that occur, Jay Cutler – retired or not – could quickly become an interesting flier. Cutler knows Gase's system, Miami has plenty of weapons for their passing game and they also have the balance with a stout running game and a solid defense to potentially make some serious noise in the playoffs. Cutler probably wouldn't hate trading the cold winters of Chicago for South Beach, either.
The downside here is Cutler would have to either knowingly sign on as a backup or retire/wait for this job to open up. There is no guarantee with any of that, so this might be more of a pipedream than anything else. It's certainly a situation to monitor, nonetheless.
Jay Cutler Prediction
These are not just the five best landing spots for Jay Cutler, but probably the only five NFL franchises he realistically has a shot with. Odds are if Cutler isn't already dead set on retiring, he's holding out hope to land a starting gig with a team he views as a big improvement on the Bears.
That's a hard upgrade, I know. But Cutler probably won't love the idea of taking a beating for another losing season. It's not about the money or fame for him at this point, and it seems like if he keeps playing he'd genuinely just want the ideal situation where he can try his best not to mess up a good team's shot at a deep playoff run.
Ultimately, that's with Houston. The Texans whiffed on the Tony Romo sweepstakes and rolling into 2017 with Tom Savage as their main man under center feels like a bad joke.
If Romo stays retired and Cutler doesn't bolt for retirement in the coming days, a union with the Texans makes as much sense as anything else – and for both sides.
Think Jay Cutler will retire? Think he's going somewhere else other than one of these five teams? Tell us your thoughts on Cutler's NFL future in the comments below!