5 NBA Teams That Are Built For the Long Haul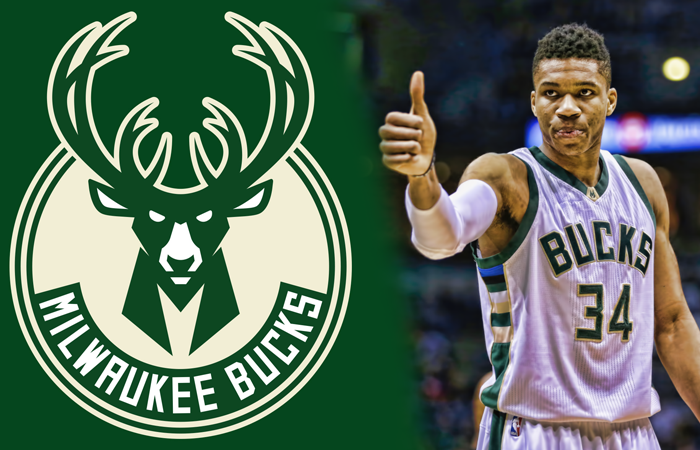 With teams like the Warriors and Thunder rising up the NBA ranks over the years, it's been proven that teams can turn into champions over time if they can draft well and add the right pieces via trades and free agency.
Right now, Vegas has the Warriors and Cavaliers as the top NBA Finals threats, and rightfully so. But we could be nearing a time when some talent-laden teams that currently aren't threats rise up and give it a go for the league's title.
Just who are those teams we should be watching for? They're among the most stacked rosters in the league and even though they're not quite championship material right now, it may be just a matter of time before they are:
They're Already Here
The teams we're running through aren't quite where they need to be, so we're bypassing teams that are equally loaded for the long run like the Boston Celtics, Houston Rockets and obvious title contenders.
The current elite squads are where they're at for a reason and for the most part the teams atop the league will still be alive and kicking for a few more years. Some, like the Hawks, Pacers and Clippers could opt to blow things up, but if they stay together they could potentially vie for a list like this.
As they stand, however, our five long-term franchises have a terrific core, good coaching, star power and awesome depth. It hasn't all come together yet, but it's probably only a matter of time before it does.
They're Getting There
There are also some young teams that have some nice pieces but don't make this list just because it feels like there is a ton of work to be done yet.
A great example is the New York Knicks, who have some very good young talent around Kristaps Porzingis, but need to make key moves involving Carmelo Anthony, Joakim Noah and likely Derrick Rose before they can get serious about the future.
Other teams that have solid foundations but seem to still be missing a vital piece or two look to be the Orlando Magic and Los Angeles Lakers. Both of these teams have some very appealing talent and even have strong coaching, but feel quite a ways away from making a major impact in the playoffs and still need to make serious moves to get there.
Phoenix Suns
The Suns don't look so hot right now (see what I did there?) but they actually are built to kill going forward. We can't know for sure how guys like Eric Bledsoe, Brandon Knight, Tyson Chandler or even Alex Len fit into the framework of this team, but the fact that management loves their young core and could be willing to move on from these solid players is actually a good thing.
Len is still worth a look as a long-term fixture at power forward or center, but it seems the Suns have soured on him a bit. That's just fine, as Marquese Chriss and Dragan Bender could have very bright futures and big man Alan Williams (aka Big Sauce) has been a bit of a revelation off the bench.
Translation, this team is absolutely stacked down low right now and Phoenix can pick as they please which of these bodies get massive workloads as they continue to progress. In the interim, the Suns can ship Chandler and maybe even Len out of town, possibly bringing back more assets or an established veteran to help this team mature a bit.
Things look even better at guard, as Bledsoe turned into a dominant scorer and solid distributor this year, but most importantly was able to stay healthy. He and Knight seem fairly expendable, though, as Devin Booker has turned into one of the game's best young scorers at a fresh 20 years of age, while Tyler Ulis has even flashed star upside at the point.
Sticking with the perimeter game, T.J. Warren has really blossomed as a scorer with P.J. Tucker traded to Toronto, and when you pull the camera back you see poetry in motion on this team.
The exact fits aren't yet known, but there is a ton of talent that is locked and loaded here, and there are other interesting pieces that can either provide depth or can be dangled in trade talks.
Phoenix probably won't make a strong run at the playoffs as soon as next year, but this team is loaded with talent and they're set up for a long successful run if they can figure out the right spot for all of these prospects.
Mennesota Timberwolves
Minnesota seems to be in even better shape, as Karl-Anthony Towns is already one of the best two-way centers in the NBA, Ricky Rubio sets players up as well as anyone and Andrew Wiggins can attack the rim and score from the perimeter at a high level.
Starting down low, KAT gives the Timberwolves a superstar to run their offense through, as he can punish defenders down low or help stretch the floor with his range outside. Towns can also clean the glass, block shots and lock down his assignment on the defensive end. He truly is a sensation already and at just 21 years old, the sky's the limit for him.
As amazing as KAT is, the Wolves have solid depth behind Towns and they even have a solid partner next to him in Gorgui Dieng who can rebound, block shots and even score a little. Dieng is not the most reliable scorer and can get into foul trouble on the other end, so it is worth wondering if he's the long-term fit there. That being said, he's a very solid power forward at this point and really isn't hurting the team.
The Wolves looked stacked the rest of the way, as Rubio is a strong two-way point guard and Kris Dunn is an interesting long-term option behind him. It's possible Rubio can develop a more reliable jumper and stay in town as the franchise point guard, and if he does Dunn can be more of a 6th man and round out some amazing depth. If Rubio has to go, Dunn would offer a little more as an outside shooter and already arguably would be a major upgrade on the defensive end.
Minnesota is set on the perimeter, as well, as Zach Lavine (torn ACL) can be a terror as a shooter on the outside or as an attacker inside. He'll have to come back fully from his shredded knee, but he's young and has loads up upside as a scoring guard. He can even help out at the point in a pinch, which further solidifies Minnesota's amazing depth and versatility.
Andrew Wiggins often gets heat for not always being consistent, but the kid is still just 22 years old and long-term figures to be the answer as KAT's wingman. The consistency everyone is seeking will eventually come, as Wiggins does have the talent and upside to be a superstar and is already putting up over 23 points per game.
Behind Wiggins Minnesota has a nice scorer in Shabazz Muhammad, as well as a few role players that can help round out a very solid and balanced roster.
The nice thing about the Wolves is they're already close to pushing for a playoff spot.
They're doing so despite Lavine being down for the count and not getting much out of top rookie, Kris Dunn. A year from now we should gain a little more clarity on what Dunn can be and how effective Lavine will be following a knee injury. Another year of growth out of Wiggins and KAT is scary for the rest of the league, as well. From there, the Timberwolves could quickly turn into a playoff regular and in time perhaps even contend for a championship.
Philadelphia 76ers
Ditto for the Sixers, who are arguably stacked with even more talent than Minnesota. The 76ers might actually have a little more upside to them, though, since they operate out of the weaker Eastern Conference.
There's a lot we don't even know about Philly, too, as would-be rookie sensation Ben Simmons hasn't played an NBA minute and Joel Embiid was contained by a minutes restriction all year. He was also sidelined by a knee injury and hey, had he stayed healthy, maybe this year's Sixers team would have already been pushing for a playoff spot.
That sounds crazy, but this team is deep, well-coached and feisty. They play well together, they seem to play for each other and they also tend to go out on the floor with a purpose. That's aided by "rookie" Dario Saric coming into the league and evolving into a strong go-to option. Saric's underrated inside/outside scoring is already on full display and at 22 years old, it's staggering to think about the upside he can still tap into.
Philly also has a strong two-way player in Robert Covington, a budding sharpshooter in Nik Stauskas, a gritty point guard in T.J. McConnell and very interesting wing players in Justin Anderson and Timothe Luwawu.
All of this, and we haven't even touched on Richaun Holmes, Jahlil Okafor, Gerald Henderson or Jerryd Bayless. Holmes might be the only piece there of importance, but the big takeaway here is the 76ers are insanely talented and most of all deep.
Going into next year alone, the Sixers seem to be content rolling the versatile Simmons out at the point, and if that works out, they immediately get an upgrade over McConnell and become a very interesting team. Before we get there, the 76ers might also wisely unload Okafor and other contracts to bring in more assets and maybe a fresh veteran to help them make the leap.
And we're just talking about next season. Philly is loaded with young tantalizing talent that – should they stay healthy – could very well be in the playoffs next season. From there, this is a potential title threat in the post-LeBron James world.
Denver Nuggets
Denver is closer than the previously mentioned teams, as they are just as loaded when you look at their talent and actually right now are staring down an 8th seed in the tough Western Conference.
It's easy to start at the top, where the insanely versatile Nikola Jokic can carry the offense, either by scoring from all over the floor himself or creating offense with his precision passing. Jokic can flat out play and he can even provide an impact on the other end as a rebounder and shot-blocker. He'll need work as a body defender and needs to do a better job at avoiding foul trouble, but the Nuggets uncovered a true franchise cornerstone.
The Nuggets got better when they traded Jusuf Nurkic out of town, too, as they brought in the more versatile Mason Plumlee, who has proven he can be highly effective behind Jokic off the bench, as well as successful right next to him. How that plays out going forward will be very key, but it seems Denver is trying to roll with more of a hybrid system that is borderline positionless.
That make sense given their other assets, too, considering versatile forwards like Darrell Arthur, Wilson Chandler and Danilo Gallinari can all score the ball and fill multiple roles. One of those guys is eventually going to be shown the door, but for a team stacked with so much interesting young talent, there still seems to be a place for a veteran forward.
The one problem area could be big man Kenneth Faried, who actually is a decent energy guy off the bench, but that role doesn't at all live up to his huge contract. Unloading Faried could help make this roster more flexible than ever, while also potentially helping to improve their offense and defense.
Moving over to guard, the Nuggets remain stacked with Gary Harris, Will Barton and Malik Beasley fighting for minutes at shooting guard and Jameer Nelson temporarily fending off youngsters at the point in Emmanuel Mudiay and Jamal Murray.
Nelson can't be here much longer if this team is going to develop as quickly as it should, which brings to question if Denver wants to give the poor shooting Mudiay another shot or switch full-time to Murray. Murray isn't ready to be the full-time point guard yet, but he's a solid shooter and scorer who has loads of upside. As early as next season he could be running the show and doing so at a very high level.
Of course, the Nuggets could expedite the process by finding a way to get rid of Mudiay, Faried and one of Chandler/Gallo in the hopes they can keep Murray in a utility role and land a major upgrade at point guard. Either way, the Nuggets are already playoff threats in the NBA's toughest conference and they have the young talent to keep rolling deep into the future.
Milwaukee Bucks
Lastly, we have the Bucks, who may be closer to high level success out of anyone here just because they have a truly special talent in Giannis Antetokounmpo and also reside in the easier Eastern Conference.
The Greek Freak is obviously insane, as he already can run an offense, run the fast break, score and defend at a very high level. He's only 22, though, and the ceiling cannot be seen from the ground. Antetokounmpo certainly has holes to his game, as he needs to smooth out his outside jumper and develop more of a killer instinct, while he also tends to struggle with foul trouble.
Ironing out the wrinkles to the Greek Freak's game is huge for the Bucks, but it's beyond clear that the future looks promising. The good news is it's not all on Antetokounmpo's shoulders, as Jabari Parker really took flight this past year as a scorer, Khris Middleton has developed into a strong go-to scoring threat and Malcolm Brogdon has emerged as a potential answer at the lead guard spot.
There are obviously concerns with Parker tearing his ACL for the second time in his career, but if he can return at full strength the Bucks have a really interesting core. Brogdon's development could oddly be the most key aspect of this team, as he already can defend, create and get his own shot. If he can avoid foul trouble and round his game out and be more consistent, it'd take a lot of pressure off of Giannis and push Matthew Dellavedova further into the bench – where he probably belongs.
If the Bucks don't love Brogdon, Delly or Giannis long-term at the point, they can try to play for a big upgrade. That would naturally expedite the progress and then make Brogdon and Delly killer bench options and also free up Giannis a little more.
One other problem could be down low, where Greg Monroe is the best center on the team and he isn't even wanted. John Henson has proven to be a capable defender at times, too, but really doesn't belong as a starter in the league. That should have both options shopped in the near future, and the hope has to be Thon Maker can bulk up and take on the five spot.
Even if Maker can't do that, he is an option at the four as a starter or a solid bench scorer with interesting length and athleticism. If the Bucks don't think he's their future center, of course, they still have a serious problem on their hands and will need to find one soon.
The Bucks still have questions to answer, yet they still are looking like a playoff team this year. With Parker back next year and hopefully some of these questions being answered, Milwaukee could even start thinking about winning a series or two.
Going forward, as this core blossoms, the Bucks could seriously vie for a title within the next five years.
Love or hate our look at some of the best core rosters in the NBA? Think a team we left out is in a better spot to dominate for years to come? Tell us your take in the comments below!