Hide Bonus Offers
| | | | | |
| --- | --- | --- | --- | --- |
| #1 | BetOnline Sports | 60% Up To $1,000 | Visit Site | BetOnline Sports |
| #2 | Bovada Sports | 50% Up To $250 | Visit Site | Bovada Sports |
| #3 | BetUS | 125% Up To $2,500 | Visit Site | BetUS |
| #4 | Everygame | 100% Up To $500 | Visit Site | Everygame |
| #5 | MyBookie | 100% Up To $1,000 | Visit Site | MyBookie |
5 Most Common Injuries for Tennis Players
As with all professional athletes, the possibility of a game-ending or career-ending injury is always at the back of a tennis player's mind. As much as they train on the court for style, power, and speed, they must train off the court to prevent breaks, strains, sprains, and tendon issues.
There are a number of ways injuries can be prevented: hydration, proper flexibility, range of motion training, and muscle development. However, there is nothing in the world that offers a 100% guarantee that an athlete won't go down for the season.
Sadly, some injuries can end a career in a split second and cause other players to rise to the top. Even the best sportsbooks can't foretell when the odds will be overturned in a high-profile match.
Here are the most common tennis injuries suffered by professionals.
Ankle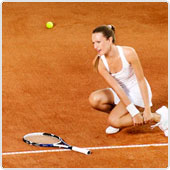 Fast changes in speed and direction put strain on the lower legs, creating opportunities for sprained ankles and broken bones. Since tennis is all about sudden, lateral movement, ankles are often ground zero for game-stopping injuries.
An ankle injury can cost a player millions in lost tournament prize money. Rafael Nadal was unable to participate in the French Open in 2004 when he incurred a stress fracture in one ankle.
Serena Williams also missed playing in the French Open in 2005 due to a persistent ankle injury. Novak Djokovic went to the ground in the Davis Cup quarterfinals when his ankle gave out from underneath him.
According to Penn Medicine, about one in 15 professional tennis players will suffer from a stress fracture. Proper muscle strengthening would prevent many of these injuries, but the medical resource says that some pros train too fast, without focusing on building up the supporting muscular environment first.
Tennis Elbow
It's a cute name, but a miserable condition. This painful issue that affects the elbow and forearm and even hand results from overuse of the muscles in the forearm and can even prevent a player from holding a racquet with full strength.
Braces, anti-inflammatories, and physical therapy can help, but some players have to resort to cortisone shots to deal with the pain.
Unlike a stress fracture, which can happen suddenly and without warning, tennis elbow is a condition that builds up over time, from constant repetitive overuse of the arm muscles.
Venus Williams and Andy Murray have both been brought low by this condition. Serena Williams was forced to pull out of the Swedish Open due to her elbow pain.
Knee
The year after an ankle injury kept Williams out of the French Open, a knee injury affected her play, and she withdrew from play for six months.
As with most tennis injuries, the cause of knee issues is overuse. Knees are made to move forward and back, but tennis is a side-to-side game, putting pressure on joints that have little lateral "give."
Bethanie Mattek-Sands, an American player who has ranked first in the world in doubles and who has hovered in the middle ranks as a singles player, collapsed onto the court at Wimbledon in 2017 with an acutely painful knee injury that required her to be carried off the court on a stretcher. The injury needed surgery and long and costly rehabilitation.
Roger Federer was once forced to take a 6-month break from tennis due to knee pain. Fortunately, his recuperation was effective enough that he came roaring back to win several Grand Slams in quick succession.
Recovery Is Not Always Linear or Guaranteed
Stan Wawrinka, champ of the Chennai Open, also had to take part of a year off to nurse a knee injury that required an operation. He's admitted to the media that the recovery back into pro playing shape has been much harder than he anticipated. In fact, after returning from his knee injury, he played for a few months and then retreated for further healing. A very costly year for Wawrinka in terms of prize money, mental health (frustration and impatience), and a drop in rankings.
Serena had to forego playing in the Indian Wells tournament because her knee wasn't fit to play. There are so many moving parts in the human body, and a professional athlete has to look after every one of them as if it were made of glass.
Billie Jean King, winner of dozens of Grand Slam tournaments, ultimately had to have both of her knees replaced when the pain and the immobility became too much to bear. The good news is that now she can play tennis again, but the cost was severe in terms of pain, rehabilitation, and stress.
Shoulder
Because of the repetitive motion of overhead serves, shoulder injuries can bother tennis players at every level, from beginners just learning overhead serves to professionals who serve with high speed and force dozens of times per match.
Naomi Osaka, one of the top players in the world, had to pull out of the WTA finals in 2019 because of shoulder pain. Osaka had won the Australian Open earlier in the year and had gone on to play in Wimbledon and then the Pan Pacific Open. There is little to no break in her year to let muscles rest and recover.
To Win, or to Recover?
In an article released by the National Institute of Health, the struggle to create as much force and torque while throwing or, in the case of tennis, swinging at the serve creates something called the "thrower's dilemma."
Trying to generate as much force and momentum as possible in the overhead serve swing is almost certainly going to strain the muscles holding the shoulder in place to the breaking point. This unstable motion strains the rotator cuff to the point of injury, and the player is out of the game.
Wrist
Tennis players overuse their wrists, fall on them, and grip their racquets tightly. It's a prescription for wrist issues that can pull a player out of a match.
Tendonitis is inflammation of the tendons in the wrist and is caused by overuse. Tennis players and golfers are particularly susceptible to the injury.
Venus Williams has been unlucky enough to have tendonitis in both wrists. She has been forced to withdraw from a number of high-profile tournaments, including the Australian Open.
Is an Olympic Win Worth the Risk?
Kei Nishikori, who medalled at the Rio Olympics after he beat Rafael Nadal, had to refrain from playing in the high-profile Australian Open to recover from wrist surgery.
Rafael Nadal couldn't play for much of the year back in 2016 because of wrist pain. He had to pull out of the Madrid Open, the French Open, and Wimbledon because of the injury.
This kept Nadal from claiming a potentially significant amount of prize money. He did, however, return to the court that year to win Olympic gold in men's doubles, despite losing his chance to win a medal in men's singles when he was defeated by Nishikori, as noted above.
Is Technology to Blame?
Some theorists state that the improvement in racquet technology allows players to hit the ball harder, giving the player the benefit of more speed, but with a greater risk of wrist injury.
There are so many moving parts in the wrist that any number of painful issues can occur. The National Institute of Health refers to this as a "myriad of [potential] wrist pathologies."
Depression – Not Quite an Injury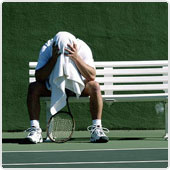 Not technically an injury, it's worth noting how many tennis professionals suffer from depression. Andre Agassi was famous for it, but many more suffer from it more quietly.
Two-time Wimbledon winner Petra Kvitova didn't realize the extent of her mental fatigue until her coach pointed out that she couldn't continue to feel this way and still be a competitive player. She had been feeling down, listless, for no reason. She only rebounded when she avoided a few tournaments and allowed herself time to relax.
Rebecca Marino dropped out of professional tennis altogether due to overwhelming depression. She had been ranked in the top 50 but couldn't continue to play while dealing with her mental health issue.
Right to the Edge
Australian player Pat Cash has admitted that if he didn't have kids, he would have killed himself. Agassi has admitted to methamphetamine use to deal with what had become a "hatred of tennis."
Chris Evert and Mardy Fish have admitted that panic attacks are part of their lives. Former US player Cliff Richey even wrote a book about depression and tennis, called Acing Depression, A Tennis Champion's Toughest Match.
The pressure of the pro circuit is intense, and mental health issues exist throughout all human populations. These facts together have created a very real issue in the tennis world that has yet to be fully addressed.
The Cause of Injuries in Tennis
Some medical professionals surmise that there are so many injuries in elite tennis because the players don't give themselves enough time to heal in between injuries, surgeries, and tournaments. The pressure to keep one's rankings up to maintain corporate sponsorship can add to the mental and physical stress of the player.
Serena Williams has told the media that one of her corporate sponsors visited her before a match, when she had been suffering from pain and injury, and told her they'd drop her if she didn't up her game that very day.
In short, we never know what's going on behind the scenes and how much pressure each player is under. We do know that it's expensive to be a professional athlete, with coaches, nutritionists, physical therapists, and more on staff. Winning prize money and keeping corporate sponsors happy is the only way to keep the machine funded.
But of course, all that means nothing if the athlete becomes too injured to play. So a fine balance must be struck between physical wellness and keeping one's "brand" alive.
A Final Note
Even if a professional tennis player were to never play a match, the lifestyle itself would still be grueling. There is constant international travel, intense training sessions on the road, jet lag, changes in food and sleep patterns, hotel rooms that can be noisy or too cold or too hot, and the constant pressure of media attention.
If you have a bad day, it's caught forever on camera, so you have to always be wary, be controlled, and still manage to be your physical best under pressures that most people could not handle.
No wonder challenges to physical and mental health are constant.
And you thought tennis was about wearing shorts and enjoying the sunshine.