5 Likely Busts in the 2021 NFL Draft

One of the greatest pastimes concerning the NFL Draft is deciding how players will project at the next level. This is what gets GMs interested in selecting them, after all, and why fan bases either cheer or hiss when a player's name is called.
Nobody really knows how a player's talent will translate until they're picked, dropped into a system, and allowed the opportunity to succeed.
Sometimes, however, you can see an NFL Draft bust coming from a mile away.
There are players who simply don't have a concrete position, lack the ideal size, have athleticism questions, are a character concern, or simply aren't well-rounded.
Any of these factors – including their professional environment – can contribute to them not having the career they desire.
The key for NFL decision-makers is figuring out who those players are before they're drafted. You can't make money by predicting NFL Draft busts, but it's still interesting to debate.
With that, let's break down the 2021 NFL Draft prospects most likely to bust.
Trey Lance, QB, North Dakota State
Lance is right up there with this year's top quarterback prospects in terms of raw talent and upside.
When you hail from the same school and offer similar attributes as Carson Wentz, people tend to take notice.
Basically, a carbon copy of the athletic passer, Lance offers a terrific combination of size, arm strength, and athleticism.
The North Dakota State star posted a stellar 4.54 time in his 40-yard dash, and he finished his second season of college ball with this absurd stat line.
| | | | | | |
| --- | --- | --- | --- | --- | --- |
| Completion % | Passing Yards | Passing TDs | Interceptions | Rush Yards | Rusg TDs |
| 66% | 2,789 | 28 | 0 | 1,100 | 14 |
A lot of that is eye-popping, to be sure. The dynamic ability shows up in the stats, while zero picks is just silly.
The problem? Lance has just one year of tape to go off of, he wasn't close to a high-volume passer, and he didn't consistently go up against stiff competition.
Scouts did not get to see Lance mature as a prospect due to his school postponing their 2020 season, and he certainly has some flaws to his game.
Lance projects well in terms of his upside, athleticism, and ability to attack down the field. However, accuracy, experience, and consistency questions make him a legit NFL Draft bust candidate.
Mac Jones, QB, Alabama
Jones is on the opposite spectrum of Trey Lance, which makes it a funny comparison when trying to predict which 2021 NFL Draft prospects will be busts.
Not close to the athlete Lance is, Jones thrives on his awareness and poise in the pocket, as well as his deep ball and overall accuracy.
He's a killer in those regards, too, and most will recall his sensational 2020 college football run that ended with these silly stats.
| | | | |
| --- | --- | --- | --- |
| Completion % | Passing Yards | Passing TDs | Interceptions |
| 77.4% | 4,500 | 41 | 4 |
The accuracy is off the charts, while Jones took care of the ball extremely well despite airing it out and taking shots down the field relentlessly.
It led to an absurd 11.2 yards per attempt average and contributed to DeVonta Smith winning the Heisman.
Jones didn't do this on his own. Smith and teammate Jaylen Waddle – not to mention stud rusher Najee Harris – were part of a stacked Crimson Tide offense that did their part to make Jones look good.
That is one concern. Was Jones just this awesome, or was he a product of an elite system and a slew of jaw-dropping weapons?
Add in the poor athletic traits, just one year of high-level production, and seemingly average arm talent, and Jones stands out as a potential NFL Draft bust.
Gregory Rousseau, DE, Miami
I am admittedly a bit of a fan of Gregory Rousseau. He was at one point a candidate to go #1 overall in this draft but opting out of last season took away some of his shine.
Prior to sitting out the 2020 season, Rousseau wowed scouts with a breakout season that included 15.5 sacks, 19.5 tackles for loss, and 54 total tackles.
In a word, Rousseau was disruptive.
His insane talent, size, and athleticism haven't kept him from sliding in recent mock drafts, which is a huge reason why I still think he could be among the best 2021 NFL Draft steals.
Can you be a draft steal and a bust? Before you're selected, sure, why not? Rousseau certainly qualifies as both, in my opinion.
On one hand, he has the insane production and jaw-dropping production to be a steal if he slides into the bottom half of the first round (or further), but there are also enough question marks to warrant concern.
The biggest knock-on Rousseau is the fact that he opted out of the 2020 season. Some will question a player's commitment to the game in those instances, while that is also another year of tape GMs don't have to work with.
On top of that, he wasn't as good against the run as scouts would have liked.
Add in a relatively thin frame and questions about placing him in space, and it's possible this is just a pure pass rusher who many other weaknesses has too to allow him to stay on the field.
I think Rousseau is a potential game-wrecker at the next level. However, if these concerns end up being legit, he could easily be among the biggest NFL Draft busts this year.
Kadarius Toney, WR, Florida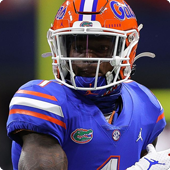 Toney is another prospect I am super high on, but also have reason to believe could be filed under 2021 NFL Draft busts when all is said and done.
Why? Because he really only offers one guaranteed asset right now: athleticism.
Toney is a human joystick. He's the type of guy you manufacture touches for, as he has the elite speed, short area burst, quickness, and overall athleticism scouts drool over.
Unfortunately, that's about all the Florida product gives you as he approaches his first season in the NFL, and if he doesn't fall to the right team, that could become painfully obvious in a hurry.
I have Toney sliding into an ideal spot in my 2021 New Orleans Saints team mock draft, but what if he goes to a team that drafts him to be something he's not?
Toney is not big, physical, or refined. His potential is enormous, and if used correctly, he can be a dangerous offensive weapon.
He might need the perfect situation to realize his potential, though, and the wrong spot in round one could turn him into a terrible bust.
Caleb Farley, CB, Virginia Tech
One more potential bust from the 2021 NFL Draft is stud cover man, Caleb Farley.
He's another prospect I'm quite high on (and I'm not alone there), and I have him going to Green Bay in my 2021 Packers team mock draft.
That said, there are legit concerns regarding Farley as a reliable prospect.
Farley is the total package as a long, rangy cornerback who has the speed, athleticism, and fluidity to keep up with the best of wide receivers.
All the attributes of a shutdown corner are here, but Farley sat out of the 2020 season and had off-season back surgery. That is just part of his difficult journey, too.
Caleb Farley, a #Packers prospect at cornerback, changed positions, suffered a torn ACL, lost his mom following a lengthy battle with cancer and had a couple back surgeries.https://t.co/KaT3i1gAFD

— Bill Huber (@BillHuberSI) April 20, 2021
Farley could also be a case of amazing perseverance, but he comes in with an injury concern, and scouts have one less year of tape to dissect.
The talent and framework of a shutdown cornerback is there with Farley, but the red flags are obvious and could contribute to him turning into one of the biggest 2021 NFL Draft busts.
Betting on the 2021 NFL Draft
You came here to see who some of the biggest potential busts from the 2021 NFL Draft are, but only time will tell how accurate my assessments are.
There isn't any money to be made in projecting poor fits or general failure, either.
You can make money betting on the 2021 NFL Draft, though, and a big part of that could be projecting where these potential NFL Draft busts could be selected.
The top NFL betting websites have a slew of props available right now, ranging from which player will be drafted first at his position, to what side of the ball teams will go after first.
If you plan on betting on the 2021 NFL Draft, just be sure to put in some time to research the prospects, as well as each team's biggest need.
September
Casino of the Month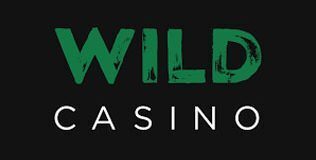 Welcome Bonus
250% up to $5,000