5 Kristaps Porzingis Trades That Could Happen in 2021

The Dallas Mavericks aren't where they thought they'd be. After making some progress in the playoffs last year, they took a 2-0 series lead over the Los Angeles Clippers in round one of the 2021 NBA playoffs.
They weren't able to capitalize, however, losing in seven games.
Upon their playoff exit, big man Kristaps Porzingis expressed frustration over his role. This was met with an eyebrow raise or two, as he hadn't played well during the postseason, and his griping was centered around superstar teammate Luka Doncic.
Porzingis had a fair point (that Doncic might handle the ball a bit too much), but he also did little to persuade Doncic to give the ball up. And when he did, Porzingis often let the Mavs down.
With Porzingis being ineffective and now becoming a loud distraction, a divorce could be on the horizon. With that possibility existing, here's a look at five Kristaps Porzingis trades the Mavericks need to make before next season.
Porzingis Heads to the Washington Wizards
Dallas Gets: Davis Bertans, Thomas Bryant, and Daniel Gafford
Washington Gets: Kristaps Porzingis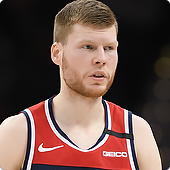 I am sure the knee-jerk reaction is for any prospective Mavericks and Wizards trade would include Russell Westbrook or Bradley Beal.
Ideally, sure. However, the Wizards made the playoffs last year, and could look for a way to simply get better. Porzingis, in theory, would net them a legit big man and complete a solid "big three" core.
Porzingis didn't work out in Dallas, but a change of scenery could be good for him. Dallas, meanwhile, replaces Porzingis with a hopefully healthy Thomas Bryant, while he and Daniel Gafford bring energy down low.
Bertans may be tough to pry away from Washington, but he's what really makes this deal work.
He isn't useful in many regards, but he is an elite floor spacer and shot maker. Bertans "only" connected on 39% from deep last year, but his ceiling is the blistering 42% he hit in his previous two seasons.
Bertans would get an insane number of open shots in this offense, and unlike Porzingis, he'd come in prepared to "know his role".
Boston Gets Their Big Man
Boston Gets: Kristaps Porzingis and Josh Richardson
Dallas Gets: Kemba Walker and Tristan Thompson
This one makes too much sense to not be the leading Kristaps Porzingis trade rumor. Should Dallas agree that Porzingis has a point about Donic dominating the ball a bit too much, this deal could be perfect for both sides.
Boston is looking for some change, too, as the Celtics and Kemba Walker are also looking to part ways
Kemba Walker and Celtics are likely to end their relationship this offseason, per B/R's @Farbod_E

Danny Ainge tried to trade Kemba last year for Jrue Holiday

More ? https://t.co/xWGqnvrFWj pic.twitter.com/5j4yZObtUO

— Bleacher Report (@BleacherReport) June 9, 2021
Walker hasn't really worked out in Boston, but he can still be a high-level playmaker and scorer. More importantly, he'd give Doncic that second star to work with, and he'd be able to create offense enough to allow Luka to catch his breath.
Doncic can't be the only guy counted on to take over games and hit the big shots. In theory, Walker gives Dallas that second star who can carry the weight as needed.
Tristan Thompson is a redundant body with Robert Williams ascending and Porzingis coming to town, while Boston gets a solid 3-and-D guy in Josh Richardson, who fell out of favor in Dallas.
Am I super excited about Kemba Walker going to the Mavericks? No, but it's a trade that actually makes sense for both teams.
The Charlotte Hornets Go Big
Charlotte Gets: Kristaps Porzingis
Dallas Gets: Gordon Hayward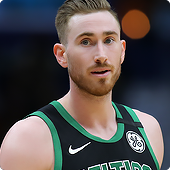 This could be an interesting move, as the money works and allows a one-for-one swap here. It also makes sense for both sides.
The Hornets are also said to be intrigued by a potential deal.
Charlotte has lacked a reliable big man for as long as they've been around. They've incorporated small ball lineups more lately, but landing Porzingis would give them the best big man they've ever had.
Hayward has also become a bit redundant for a roster that has an elite playmaker in LaMelo Ball, as well as viable forwards like Miles Bridges and P.J. Washington.
For Dallas, they land another star to pair with Doncic, and they get rid of a clunky big man that wasn't doing his job effectively.
Charlotte's incentive for unloading Hayward is realizing he may not be able to stay healthy, and that his playmaking isn't quite as necessary with the rise of Ball.
Dallas ensures Doncic still has a strong supporting cast, but gets a second star that won't challenge him for his role as the alpha dog.
Al Horford Gets Traded to Big D
Dallas Gets: Al Horford, Darius Bazley, and Ty Jerome
Oklahoma City Gets: Kristaps Porzingis, Josh Richardson, and picks
Dallas and OKC could just as easily do a one-for-one swap, with Porzingis going to the Thunder, and Horford headed to the Mavs.
The Mavericks probably wouldn't mind snagging some depth, though, and a rebuilding team like OKC might let some prospects go for the right price.
As things stand, Dallas can't offer much. However, they could make some moves before this goes down, and then tack on some picks to this deal.
Dallas gets a useful big man in Horford that can space the floor and defend, but they also snag a quality reserve guard and a big young man in Bazley that can score.
OKC is eating money here in one sense, but Porzingis is also just 25 years old. There is still untapped upside here, so the idea that OKC is just giving away prospects to eat his salary is silly.
Both teams win here. Dallas gets a bit stronger inside, they gain experience, and they get deeper. OKC gets a star to pair with their young core, they land a quality role player, and potentially some more long-term assets.
Warriors Get Back into Title Picture
Golden State Gets: Kristaps Porzingis
Dallas Gets: Andrew Wiggins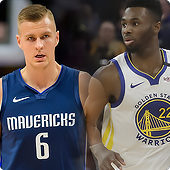 One more potential Kristaps Porzingis trade that makes too much sense has him landing in Golden State.
The Warriors are constantly looking for ways to improve their roster, and with Klay Thompson's expected return next year, they will be eyeing a return to the NBA Finals.
The trouble is, they might not be able to get there as they stand. Making a splash move to acquire a potentially elite big man like Porzingis could be the missing link for this roster.
Wiggins has flashed ability as a member of the Warriors, so he could be good enough for the Mavs to take on. His fit alongside Doncic would be questionable, but he's young and still has untapped upside, so it's a pairing that could pan out.
Dallas may not have much of a choice, in the end. Doncic and Porzingis may not work out together, and if the Mavs believe the Unicorn has peaked already, cutting the cord makes sense.
Predicting Where Kristaps Porzingis Will Play in 2021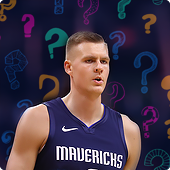 The tough thing with trying to predict who will trade for Kristaps Porzingis in 2021 is that it's always possible he doesn't get moved at all.
On one hand, he is only 25, he is rather talented, and he still could get better. On the other hand, he hasn't fit in with the Mavs, he's failed to deliver in two NBA cities, he's expensive, and a laundry list of injuries may have begun to already take their toll.
Ultimately, I think all of these potential Kristaps Porzingis landing spots make good sense. The one that probably stands out the most, of course, is OKC.
The Thunder have little to lose here. They get a young star player that could be a potential cornerstone if he works out. If he doesn't, he just trades places with Horford, who they banished to the bench to close out last year, anyways.
Dallas gets better defensively with this move, and while Horford isn't the athlete Porzingis is at this stage of his career, he still spaces the floor about the same, and is arguably the far better team player.
It's the best move for all parties involved, and if I had to bet on where Kristaps Porzingis will play in 2021, the Thunder figure to be the best bet.
AUGUST
Casino of the Month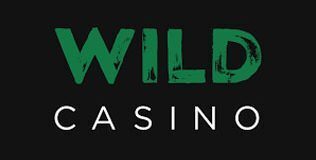 Welcome Bonus
250% up to $5,000
Read Review
Visit Site