5 Games to Bet on in Week 1 of the 2018 NFL Preseason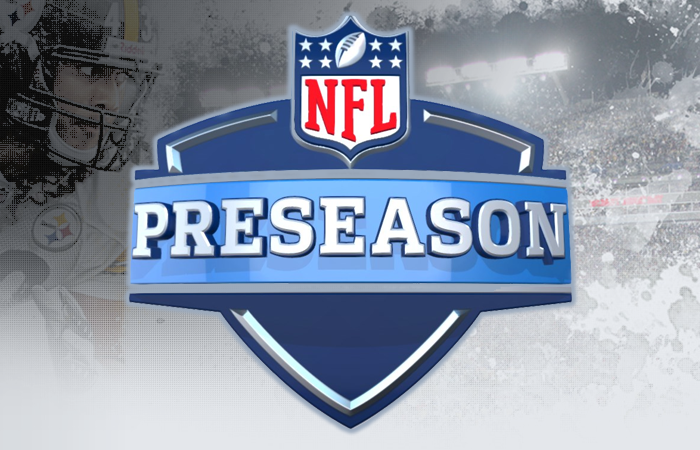 Betting on NFL preseason games is not for the faint of heart. I vouched for the Chicago Bears to score a nice +120 upset win over the Baltimore Ravens in the Hall of Fame game last week, but to no avail.
Why? Because rookie head coach Matt Nagy cared more about ending the game in the final minutes (he went for two instead of tying the game at 17-17) than trying to tie it.
Me after the game:
Perhaps Nagy wanted to see his offense run a specific play, or maybe he just wanted to avoid that dreaded preseason overtime scenario.
I get that, but going for two directly impacted the game (Chicago lost) and also contributed to the score hitting the Under instead of pushing or going Over on the Total bet.
Call it shady, call it bad preseason football luck – call it whatever. The point is that betting on preseason NFL games carries far more risk than regular-season action.
That doesn't make it any less fun, though, nor does it mean you can't profit from it.
The beauty of preseason NFL betting is that nobody really knows what to expect, which plays into the top NFL betting sites not always appropriately pricing these games.
Due to that, you get a chance to snag some pretty sweet value, and depending on the week, a handful of solid picks.
Nothing is guaranteed, but I see a ton of interesting wagers to look at when week one kicks off on Friday night. Here are my favorite five.
All odds that are referenced in this article were taken from Bovada on 8/7/2018. These odds may have changed since the time of this writing.
Pittsburgh Steelers (+135) over Philadelphia Eagles (-155)
Carson Wentz isn't expected to play in week one of the preseason, and he may not play at any point in August.
There is still a chance we see a lot of Eagles starters in this game, however, while the top Steelers stars could also hit the field a bit.
Even if they don't, both of these teams run strong offensive systems that move the ball well and know how to put points on the board. They also both have quality backups to put on the field, so there could be a decent amount of scoring in this one, from start to finish.
Preseason football is hard to gauge, but the totals are super low, and I think this is one of the better ones to attack.
I think the Over at -110 is a fine bet here, but the wager I'm really targeting is the Steelers at this sweet +135 price.
Home field advantage isn't as big of a deal during the preseason, while a Nick Foles injury could put Nate Sudfeld on the field for longer than Philly fans may care to see.
Pittsburgh has the more impressive quarterback depth chart and could be walking into a cakewalk game. At +135, they're simply too nice of a price to bypass. I'll actually double down here and take both bets.
PICK
Pittsburgh Steelers
+135
Carolina Panthers (+125) over Buffalo Bills (-145)
Maybe it's just because the Bills are playing at home, but I'm not really sure why they're the clear favorite at Bovada or other NFL betting sites.
Buffalo does not have an elite collection of talent, while their biggest weakness is under center. By all accounts, top pick Josh Allen has not been great during camp.
In fact, this entire quarterback battle has seemingly been a disaster.
That position battle should be interesting to monitor, but it's awfully tough to imagine them going nuts against a good (and deep) Panthers defense.
Carolina's quarterback situation isn't a whole lot better beyond Cam Newton, but I prefer Carolina's defense over Buffalo's offense. The value associated with that bet is also too good to ignore.
PICK
Carolina Panthers
+125
Washington Redskins vs. New England Patriots (Total: 37)
Betting on the Patriots to win Super Bowl 53 is a fine wager to consider. I can't tell you to back the Pats at -170 in their first preseason game, though.
They're at home, and Bill Belichick has racked up 42 preseason wins over the course of his storied career, but he's literally .500 in the month of August, and that price is pretty weak.
I'm not chasing the Redskins despite a nice +150 line, though, and would rather just see this game produce points.
The one thing Belichick has always been known for is letting his top players play more than expected in these meaningless games, while New England is no stranger to running up the score.
New England has hit the Over 57 times during the preseason under Grey Hoodie, and when you add a capable Redskins offense to the mix, I think topping 37 total points feels like a breeze.
Indianapolis Colts (+135) over Seattle Seahawks (-150)
One more upset I like has the Colts going into Seattle to battle the Seahawks. Seattle has lost a ton of defensive talent over the past year or so and may not have much depth to work with deep into this game.
Seattle is also notorious for starting slow during the preseason, so I'm not even sure their top offensive players are worth backing here.
More than anything, I just love Indy's quarterback depth chart. Andrew Luck makes his long-awaited return and will be among the top NFL players to watch during the preseason.
Despite being nervous for this game, I think he's in position to shake off the rust during the full quarter of action he's expected to suit up for.
Jacoby Brissett is a fine backup option that should be able to put up points behind him as well, while Indy has some nice offensive positions battles going on at running back and wide receiver.
Indy may feel like the inferior team in general, but the Seahawks could be headed for regression, and the Colts look deeper. If that ends up being true, they could be a steal at this price.
PICK
Indianapolis Colts
+135
Arizona Cardinals (-135) over Los Angeles Chargers (+115)
Few would argue that the Chargers are not the better team between these two as the 2018 season approaches, but you need to remember that that doesn't always matter in preseason play.
LA has the edge on both sides of the ball when you look at coaching and the starting units, but I prefer Arizona's offensive bench in this one.
Josh Rosen should get a lot of playing time, while Christian Kirk and Chad Williams are just two young receivers battling for playing time that wouldn't mind popping off.
Mike Glennon is even a fine option as AZ's third-string passer, so there's a good chance the Cardinals will be able to move the ball throughout this game. The value isn't amazing, but I like the Cardinals as a straight-up play at home due to superior depth.
PICK
Arizona Cardinals
-135
Summary
That does it for my look at week one NFL preseason bets that I feel good about.
There are a few others to consider, while it's important to note that at the time of this writing, there were no moneylines for a couple of contests.
The main things I look for when picking NFL preseason games are quarterback play, teams showcasing key position battles, coaching, and depth.
You don't really need to pay attention to the top starters in week one, while the key is more about who fields the better second- or third-string lineups.
I think at least for week one, there is a lot of value to be had if you pick the right spots. Hopefully these five preseason bets go your way. Either way, thanks for reading, and happy betting!