5 Gambling Authors Who Didn't Need School to Succeed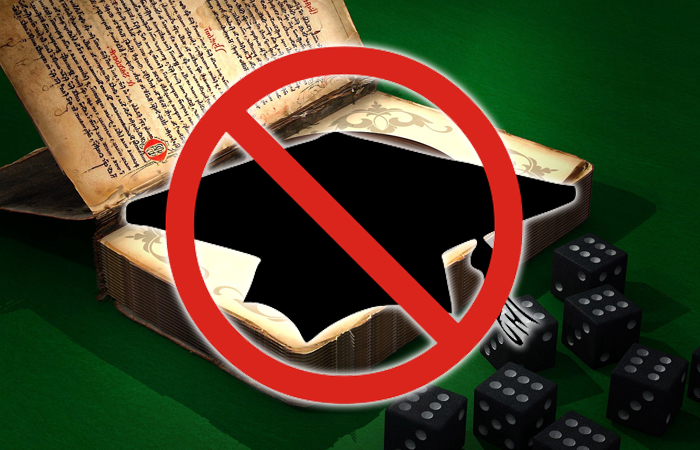 As an overview, I covered the best work from several studious gamblers, including Stanford Wong, David Sklansky, and Vanessa Selbst.
I'd like to flip the script with this post though, by focusing on gambling authorities who didn't need a college degree to beat the house.
Of course, I'm not recommending any rash decisions regarding dropping out, as everyone should aspire to educate themselves to the best of their ability.
But I do recognize that school isn't for everybody, and I firmly believe that anybody who puts in the work can succeed as a casino gambler.
On that note, the following five entries highlight gamblers and gambling authors who achieved their dreams despite leaving the classroom early.
These figures may not be as well-known compared to other gambling icons, but their contributions to the field have made a lasting impact despite their lack of higher education.
John Scarne
When a boy called Orlando Carmelo Scarnecchia was born in Niles, Ohio in 1903, there wasn't much in his parentage or pedigree to suggest he'd one day become the world's preeminent magician, card manipulator, and games expert.
After adopting the Americanized name John Scarne at some point in his childhood, which was largely spent in tiny New Jersey towns, the mathematically gifted youth dropped out of school in the eighth grade.
When a local gambler took Scarne under his wing, a career in card manipulation was born. Scarne was taught how to perform the Three Card Monte along with other methods to manipulate cards in casino games.
His religious mother convinced Scarne to give up grifting and shift his interest in card tricks slightly to become a magician. Soon enough, he had transformed himself into a master magician, but his passion for card games never wavered.
While serving stints in both the Army and Navy during World War II, Scarne became a leading advocate for clean play, pledging to root out mechanics, bottom dealers, and other cheats who were preying on military card games.
That spirit of honest play stuck with Scarne throughout his life, and he later served as a consultant for Hilton International and its worldwide casino chain, as well as several nations. During this time, he developed safeguards to protect the house and recreational players alike from professional cheaters.
Scarne developed a reputation as perhaps the most proficient card manipulator and mechanic to ever live, inventing legendary tricks like "Scarne's Aces" and the "Triple Coincidence."
He also created several new games, including one called Teeko which wound up becoming a brief fad before being consigned to history's dustbin.
A prolific writer, beginning with Scarne's Magic Tricks in 1940, Scarne was credited as the author of 15 books on both magic and games, along with 13 more as a co-author.
After publishing Scarne's Complete Guide to Gambling in 1961, the magic man turned game theorist began engaging in a contentious debate with Edward O. Thorp.
Scarne attempted to discredit the acclaimed blackjack thinker's theories on card counting and optimal strategy. Using his 1966 autobiography The Odds Against Me as a platform, Scarne claimed to have disproven Thorp's mathematical calculations and wider conclusions on blackjack, but he was never able to provide any documentation of his analysis.
With the massive, 896-page Scarne's New Complete Guide to Gambling, the legend compiles over 50 years' worth of knowledge into one of the most comprehensive guides to casino gambling ever written.
A gifted writer and storyteller, Scarne weaves together a vivid tapestry of the industry's long and checkered history, the evolution of both cheating and the safeguards against it, facts and figures on gambler demographics, and many more interesting items of information.
Gamblers preparing for their first trip to the pits will benefit immensely from Scarne's straightforward approach to instruction, and even if you've never seen a craps table before, this book will walk you through every step of the game.
Scarne introduces readers to advanced concepts like understanding the role that house edges play and exercising disciplined money management, while never resorting to the dishonest system pitches that so many gambling authors relied on.
At nearly 900 pages Scarne's New Complete Guide to Gambling, which is continually reprinted and updated in new editions, truly has something for everybody to discover within the massive volume.
"My last piece of advice to the degenerate slot player who thinks he can beat the one-armed bandit consists of four little words: it can't be done." – John Scarne
John Patrick
When you think about the gambling community's "old school," the name John Patrick certainly comes to mind. He's been in the business since the 1960s, when a young Patrick lit out for the territories to become a Mississippi riverboat gambler rather than attend school.
Things didn't quite work out for Patrick on the water, and soon enough his bankroll was sunk. Looking for a way to keep himself in the games, Patrick went to work playing as a "prop," or someone who regularly gets paid a small pittance by casinos to keep the tables up and running.
Washing dishes by day, while grinding the card and dice games by night as a prop, Patrick slowly built has bankroll back from the brink.
To accomplish this, he adopted a sensible approach to managing his money, one based on locking up winning sessions and avoiding disastrous losing streaks by simply leaving the game.
Eventually, Patrick realized that other gamblers stood to benefit from his accumulated knowledge on bankroll management. Throughout the 1980s he published a slew of gambling instruction books premised around prudent play.
Patrick's work from that era was linked together through a series called So You Wanna Be a Gambler? and early entries included books about slots and roulette (1983), blackjack (1983), and baccarat (1985).
With his brand taking off, Patrick wound up hosting a weekly TV show called So You Wanna Be a Gambler? This program aired on the Financial News Network (FNN) for the better part of a decade, bringing Patrick's advice about gambling effectively to the masses.
By 1996 it was time for Patrick to pen his magnum opus, and John Patrick's Roulette: A Pro's Guide to Managing Your Money and Beating the Wheel still stands out as a classic in the genre.
The book offers a wealth of practical advice on the ultimate game of chance, and a few lapses aside, Patrick steers clear of the usual malarkey associated with roulette "strategy" systems.
He advises players to seek out European style single-zero wheels, which carry a 2.70 house edge that's far more favorable than the 5.26 percent rate offered by the American style double-zero variety. He also eschews single-number wagers for more reasonable risks like the even money Red/White, Odd/Even, and 1-8/19-36 bets.
That's all well and good, but the heart of Patrick's insight into gambling strategy concerns his uncanny ability to book winning sessions. His goal for every casino game is simply to secure a 10 percent profit on his original stake.
In other words, if you start a roulette game with $100 in chips, Patrick says to hightail it out of there the minute you hit the $110 mark.
That may not seem like all that much, but in a negative expectation game like roulette, you can expect to lose between $2.70 and $5.26 per $100 wagered over the long run. Thus, managing to make it off the table with $10 in profit is actually a huger reversal in fortune.
Patrick realized at a young age that most gamblers go for the gusto at their own peril. He learned those lessons in the real world too, consistently burning through his bankroll before finally realizing that the slow and steady approach is more effective than risking it all for a double.
That's a lesson every gambler can take to heart, putting Patrick among the ranks of those rare casino game writers who tell it like it is.
"I don't win a lot, but more importantly, I don't lose a lot. I know what it's like to lose, because I was so good at it. It ain't a good feeling." – John Patrick
Sam Grafstein
Nowadays the legend known as "Texas Dolly" is revered by most poker fans and players alike as a true icon of the game. Much of that reputation was built back in 1979, when Brunson broke open his personal strategy vault and published Super / System: A Course in Power Poker.
Brunson didn't put on any airs, writing the classic as only he could, with slang terms and Texas drawl intact throughout.
Sam Grafstein may not be as well-known as Brunson, but when the craps expert sat down to write The Dice Doctor in 1981, he clearly used Dolly as inspiration. The book takes the same casual tone, with Grafstein addressing the reader like he would a fellow craps aficionado who just sidled up to the table.
If you want correct grammar and proper punctuation, The Dice Doctor probably isn't for you, but serious rollers will recognize the importance of Grafstein's sage advice.
Grafstein grew up in Canada during the 1920s, and to hear him tell it, he received a full education before graduating from grammar school. Thanks to Red Monahan, a local underground craps game runner who taught youngsters the ropes, Grafstein learned how to book dice action before receiving his bat mitzvah.
Ready to take on the world, Grafstein left Canada for the U.S. as a precocious teenager, heading straight for the gambling mecca of Churchill Downs racetrack. After landing a low-level job, Grafstein set to work schooling his coworkers in craps, booking games for nickels and dimes during the staff's downtime.
Eventually, after a long career as a professional gambler, Grafstein wrote The Dice Doctor to pass his own knowledge on to future generations just like Monahan did for him.
The actual craps advice contained in The Dice Doctor may be par for the course today, but back in 1981 readers were delighted to learn about advanced plays like the "6 and 8" and the "Fireman."
Grafstein made sure to include 30 detailed charts as well, so visual learners have no trouble digesting the information he presents.
The new generation of poker pros might question the validity of Brunson's Super / System in today's age, but poker is a fluid, flexible game that is entirely player-dependent.
Craps, on the other hand, is still played using the same fixed rules that Grafstein faced back when The Dice Doctor first hit bookshelves. For that reason, any serious craps player stands to benefit from picking up a copy of Grafstein's craps classic.
"Thank you, Mr. Red Monahan, for everything, including the six pairs of dice! You told me they would be all that I would need to cut and run a crap game, wherever I could find a half a dozen or more men together. Not only did my teacher show me how to play, but from day one, he taught me how to deal, book, and cut the game." – Sam Grafstein
Lyle Stuart
Known to friends and foes alike as a "renegade publisher," Lyle Stuart had no compunction about putting controversial words and ideas into print.
Born in 1922 and given the name Lionel Simon, the man later known as Stuart grew up in New York City. He wound up dropping out of high school before marrying and settling down into a career as a newspaperman. Due to the anti-Semitic atmosphere of the era, the former Simon decided to Americanize his name to Lyle Stuart.
The gossip rags were a big business back in those days, and eventually Stuart came into conflict with Walter Winchell, a rival publisher who also specialized in tabloid-style "journalism."
Stuart's feud with Winchell put both figures in the public eye, and the pair waged war throughout the '40s and '50s. Stuart prevailed in the end, scoring a successful libel lawsuit against his nemesis to gain the funds needed to launch his own publishing house.
Lyle Stuart Inc. soon became synonymous with so-called "banned books," including highly controversial titles such as Fidel Castro's communist manifesto from the Cold War History Will Absolve Me.
Other controversial titles published by Stuart included The Anarchist's Cookbook (1978), which taught readers how to build pipe bombs and Molotov cocktails.
With his firebrand books selling like hotcakes, Stuart built his fortune to the point that purchasing a casino became his next goal. Through his ownership stake in The Aladdin – which was eventually imploded to make room for Planet Hollywood – Stuart became one of the original casino moguls on the Las Vegas Strip.
Soon enough, having been given a behind the scenes glimpse into the casino industry's inner workings, Stuart set to work writing a book of his own.
When he published Casino Gambling for the Winner in 1978, Stuart offered readers a mixed bag of personal anecdotes, basic game play strategy, and advice on understanding odds and probabilities.
The idea of a casino owner willingly telling players how to beat the house quickly caught on. Stuart published two more books on the subject – Winning at Casino Gambling (1994) and Lyle Stuart on Baccarat (1997) – both of which became quite popular among players.
Part of Stuart's lasting appeal is his no-nonsense style of describing the casino lifestyle. Rather than humor his readers with tales of can't miss betting systems and surefire strategies, Stuart simply informs them of the odds and probabilities conspiring to benefit every casino.
"Betting systems are a delusion. They're fed by the wishful fantasy that you can get something for nothing. The probability is more likely that you'll get nothing for your something. If there were systems that could beat a casino game, they would have been revealed and made inoperative by the casinos a long time ago." – Lyle Stuart
Arnold Snyder
Having devoted much of his adult life to professional gambling and advantage play, Arnold Snyder compiled his knowledge to write The Blackjack Formula (1980).
That was a bold decision too, as Snyder lacked any formal schooling beyond high school. Nonetheless, he managed to become one of the gambling industry's most acclaimed authors, all thanks to his ability to beat the house at their own game.
His theories on the idea of "deck penetration" – or how many cards have been dealt from the deck before the dealer does their reshuffle – were considered a goldmine for card counters of the era.
Essentially, Snyder posited that a good counter could press their edges with bigger bets as the deck penetration level grew. In other words, with more cards dealt out, and thus counted, the player has a much clearer idea about the remaining cards in the deck. And when you know what the deck is likely to distribute on the next hand, you can pump up or dial back your bets accordingly.
Snyder's concept caught on like wildfire among the advantage play community, and by 1983 he was hard at work writing Blackbelt Blackjack. This book expanded on the original by adding several complex counting systems to the mix.
If you've ever tried to use the "Red 7," "Hi-Lo," or the "True" count systems, you have Snyder to thank. Other topics of interest in Blackbelt Blackjack include playing as part of a counting team, tracking the dealer's shuffling technique, and using camouflage to keep the casino from catching on.
Another classic from Snyder was The Big Book of Blackjack, which was included in Cardoza Publishing's popular "Big Book" series of gambling instructional works.
To put it mildly, Snyder wrote a full-fledged encyclopedia on the game of blackjack, beginning with 80 pages on its historical roots and evolution. He regales readers with tales of the blackjack sharps who came before, while exploring a few authors who served as inspiration.
In a chapter covering the "World's Rarest Blackjack Books," Snyder dives into Blackjack in Asia (1979) by Stanford Wong and Beyond Counting (2000) by James Grosjean.
Another interesting aspect of Snyder's sequel is the author's willingness to embrace new variants on traditional twenty-one.
Unlike other purists who eschew blackjack offshoots, Snyder devotes the same energy to analyzing basic strategy for games like Blackjack Switch, Super Fun 21, and Double Exposure. He even has time for the latest wave of long shot side bets like Lucky Ladies and the Royal Match.
Snyder's contribution to the blackjack industry doesn't end with his books either. He has worked as the editor of Blackjack Forum, a quarterly journal published in print between 1981 and 2004, and online since then.
This forum is widely considered to be the "Bible of Blackjack," allowing game theorists and advantage players to talk shop about the classic casino game.
In 2002, Snyder became one of the seven original inductees into the Blackjack Hall of Fame. He joined fellow blackjack legends Al Francesco, Peter Griffin, Edward O. Thorp, Ken Uston, Stanford Wong, and Tommy Hyland in the inaugural Hall of Fame class.
Snyder's oeuvre wasn't limited to blackjack either, and during his storied career he wrote books like The Over/Under Report (1989), How to Beat the Internet Casinos and Poker Rooms (2006), and The Poker Tournament Formula (2006). He covered sports betting, online gaming, and poker, respectively.
"All blackjack books should have at least one chapter titled 'You Won't Win,' but nobody wants to hear it. The publisher of Gambling Times, Stan Sludikoff, told me bluntly that I would never make any great amount of money trying to sell books with that type of pessimistic advertising. Stan was right. Seventeen years later, I'm still just scraping by, still delivering that vastly unpopular message. It is easier to make a living writing about this game than it is playing it. I have tried both, and I much prefer the keyboard to the cold green felt." – Arnold Snyder
Conclusion
As you can see, you don't need an advanced education to be a successful gambling author.
If you have good information to share and can write well no one cares if you went to college when they shop for books.