5 Fights We Want to See For Georges St-Pierre's UFC Return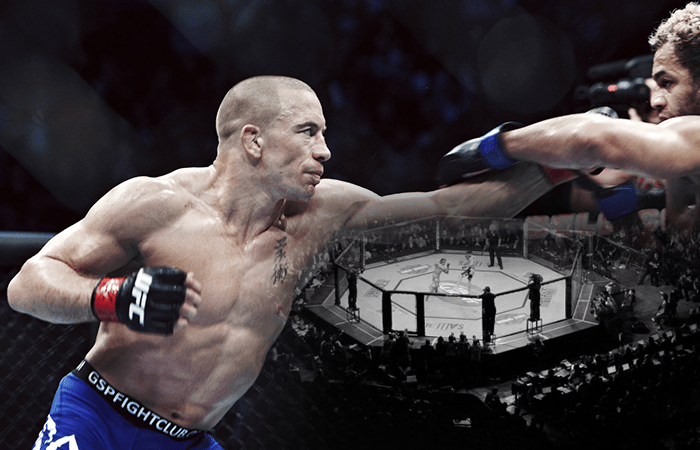 The MMA world got some shocking news on Friday afternoon, with UFC President Dana White announcing that former welterweight champion Georges St-Pierre will be returning to the Octagon.
St-Pierre abruptly retired back in 2013, having successfully defended his welterweight title belt. George St-Pierre's shocking departure took the MMA world by storm and left the UFC legend vacating his championship.
Three years later, Georges St-Pierre is set to return and at age 35, could be in line for a title shot right away to get back what is rightfully his. When, where and how that goes down is anyone's guess, but White didn't announce any plans on specific fights or potential dates when breaking the news that Georges St-Pierre would be making his long awaited return.
In other words, we know Georges St-Pierre is back – and that's awesome – but we have no idea in what capacity or when we'll see him fight.
Sound logic does suggest he's back to fight for the welterweight title, but if that's the case, we may not see him hit the Octagon for a month or longer. Current welterweight champion Tyron Woodley is set to hit the canvas in early March, with UFC 209 featuring a title fight rematch between him and the bruising Stephen Thompson.
We can't know the timeline for Georges St-Pierre's return, but we can at least speculate over what fights could be coming up for the 35-year old star. Let's take a look at the five most interesting bouts we want to see:
Georges St-Pierre vs. Johny Hendricks II
The last guy Georges St-Pierre faced was the versatile and well-traveled Hendricks, and some say his win to hold onto the welterweight belt back in 2013 (a Split Decision) was controversial. It's hard to deny that, as it was an intense battle that lasted the entire five rounds and if you take one quick look at Hendricks' career, you'll realize he's no slouch.
The upside to this fight is a huge rematch to allow Hendricks to prove he should have won the first time, while Georges St-Pierre could also prove he's the better fighter for once and all, as well. It could also serve as a stepping stone for either fighter to get another title shot.
With UFC 209 featuring a welterweight title bout, it wouldn't be crazy to set this fight up, both to get GSP ready for a bigger fight and to give both fighters a stage to prove they deserve said title shot. It's fair to knock either fighter in this specific fight, of course. Georges St-Pierre has been away from the game for three years and Hendricks has really lost his way (2-5 in his last seven fights). Still, it'd be an intense rematch and a pretty big draw that hopefully works into Georges St-Pierre "earning" his title shot.
Georges St-Pierre vs. Robbie Lawler
This could be another option for Georges St-Pierre to earn his stripes during his comeback run, as most UFC fans and fighters might not fully respect the league if GSP gets an immediate title crack after being away for three years.
Instead, GSP could legitimize his title shot by winning a match or two before getting lined up with Tyron Woodley or Stephen Thompson. Maybe it only takes one fight, and if so, a clash with Lawler (currently ranked #2 in the welterweight rankings) makes good sense.
Lawler is a nasty brawler and has been a bit of a menace lately (8-2 in his last 10 fights), with his only two losses coming to current champion Tyron Woodley and Johny Hendricks. Those aren't bad losses, but Lawler may need to win another big fight before he's guaranteed a second crack at Woodley. Taking down GSP as he tries to make his own bid for a welterweight title fight makes a lot of sense.
Georges St-Pierre vs. Demian Maia
Perhaps GSP simply battles Stephen Thompson (should he lose again to Woodley) and earn his way up the ladder that way. Or he could face Hendricks or Lawler, as we've touched on. If not, another great option would be an insane fight with Maia, who has really been wrecking the MMA scene lately.
Maia would otherwise seem past his prime at 39 years old, but the ageless wonder ripped off six straight wins and is building up a strong case for a hard-earned welterweight title bout. GSP needs to earn his way just like anyone else, so a good promotion could be these two going at it for the right to get the next crack at the Woodley/Thompson winner. Maia is a deadly submission guru who would not be an easy out for a rusty GSP, but whoever wins would surely earn their keep by getting out of this one alive.
Georges St-Pierre vs. Tyron Woodley/Stephen Thompson (Title Fight)
If Georges St-Pierre has come back to claim his title, this fight is inevitable and will be about as hyped of a UFC event as we've seen in a while. Conor McGregor has taken over the UFC, but a George St-Pierre return is beyond epic.
Fans have been wanting this guy to get back into the Octagon for years, and it's possible he was waiting for the perfect moment. He's highly skilled and has an amazing resume, so we wouldn't hate his chances against either Woodley or Thompson. Both fighters look a little more imposing at first glance and are vicious brawlers, but Georges St-Pierre has been knocked out just once in his career and his fights typically ended with him sending a fighter to the ground or his arm being raised in a Decision win.
We're not completely ready to predict either happening in his return, but whenever this title fight comes around, we definitely want to see it.
Georges St-Pierre vs. Conor McGregor
This fight doesn't actually make much sense for several reasons, as The Notorious is said to be on a break from the UFC for the first half of the year (at least) and also seems to be busy right now with a fight with Floyd Mayweather Jr. In addition, these fighters aren't even in the same weight class.
This is more about the future, though. Say Georges St-Pierre returns as good as ever, takes down his first warm-up opponent and moves on to reclaim his title belt, who is to say McGregor couldn't move up a class to try to take yet another belt? He certainly has alluded to that possibility before, throwing shots at current champ Tyron Woodley.
A Georges St-Pierre vs. Conor McGregor showdown isn't a lock, but it'd be a great fight when you look at sheer talent and fight hype.
Nothing to Prove
The weird thing is Georges St-Pierre has nothing left to prove as an MMA fighter. His only two losses of his career – Matt Serra and Matt Hughes – he later avenged with wins in rematches and he exited the sport on top of his game as the welterweight champion.
Georges St-Pierre's comeback could be financially driven, or he could be searching within himself and simply wondering if he still has what it takes to be the champion. At age 35 and with a ton of rust to shake off, it certainly is fair to wonder if that's the case.
Regardless, it's a huge announcement to learn Georges St-Pierre is back in the UFC, and our hope is that his return isn't just successful, but long lasting, as well.