5 Fantasy Basketball Sleepers You Should Draft in 2021-22

Fantasy basketball is almost upon us, so it's time to put in some research to see who you should be drafting in 2021-22.
I already took a look at the top fantasy basketball picks for 2021, but now it's time to locate some value picks you can snag later in drafts.
Which players who could be draft steals this year? I've corralled a few NBA players that stand out. These players are either being drafted too low or they could have breakout seasons and be fantasy monsters.
Let's get into the best sleepers for the upcoming 2021-22 NBA fantasy season.
D'Angelo Russell, PG/SG, Minnesota Timberwolves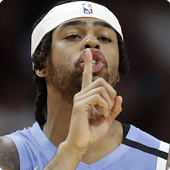 D'Angelo Russell kicks off my top fantasy basketball sleepers for 2021-22, as he is looking to change his nickname to DLoaded this season.
He only played in 42 games last season, with 16 of those coming off the bench, but the path is paved for a big year.
With Rubio now in Cleveland, the starting point guard spot should be Russell's.
He would be bringing the ball up the court alongside Karl-Anthony Towns, Anthony Edwards, and Malik Beasley. All three of those players should increase Russell's assist totals, while also providing more scoring opportunities at the same time.
Last season, Russell's per game averages were great. He played 28.5 minutes per game, while scoring 19.0 points per game. He also added 5.8 assists per game and 2.9 threes per game.
This season, he has a chance to increase in every aspect because of Rubio's departure.
Look for Russell to average 20 or more points per game with seven or more assists per game, giving him great value being drafted later than the fifth round.
Lonzo Ball, PG, Chicago Bulls
Lonzo Ball is a new face in Chicago, and he helps the Bulls make up one of the best new NBA super teams heading into 2021-22.
He should fit in very well. Lonzo is a great defender who can guard 2-3 positions, while also providing great assists and threes. His defensive stats give him a great boost in fantasy, especially if you are in a category league.
He averaged 1.5 steals per game last season, and he averaged 1.7 steals per game his rookie season. He also provides a good number of blocks from the Point Guard position (0.6 blocks per game in 2020-21, career high of 0.8 blocks per game in 2017-18).
Lonzo is going to be a great defensive addition to the Bulls lineup and potentially your fantasy lineup.
Lonzo is entering his fifth NBA season and turning 24 this year. He put up career highs in field goal percentage, free throw percentage, three-point percentage, and points per game last season with the Pelicans.
His defensive game has always been strong in his young career and his offensive game is starting to bloom. The Bulls wouldn't have traded for him unless they believed in his growing potential.
He is going to be a steal in the mid to late rounds in fantasy drafts.
LaMelo Ball, PG, Charlotte Hornets
Look who we have here, another Ball brother. His talent demands he never be on a fantasy basketball sleepers list, but here he is.
LaMelo is still super young (20 years old this year) but is in for another big season. He had a great rookie year and ended up being the winner of the Kia NBA Rookie of the Year, beating out Anthony Edwards.
He ended up missing 21 games, but he was so good that he still won the award. His flashy passing and playmaking made him a rookie sensation.
LaMelo scored 15.7 points per game and 1.8 threes per game, and had 6.1 assists per game, with 1.6 steals per game. The assists and steals are incredible for a player who was only 19 last year. He would be a solid fantasy option if he repeated that, but he's so young that he could just be getting started.
LaMelo is being drafted late for someone who has huge potential in the NBA. He is a player who can do tons of different things well from a fantasy standpoint.
The Hornets traded away PG Devonte' Graham (who isn't a bad fantasy sleeper), which will open up more minutes for Ball. His age is probably the reason why most fantasy players are holding off on him, but don't be one of those guys.
Both Ball brothers are on my list as great picks in the mid to later rounds of fantasy drafts and could be the reason you win your league.
Robert Williams III, PF/C, Boston Celtics
Williams is one of those guys who is a per minute monster. He hasn't been healthy enough to play more than 20 minutes per game, but last season he came the closest at 18.9 MPG.
Looking at his per 36-minute stats, they are impressive.
He would have averaged 15.2 points per game, 13.1 rebounds per game, 1.6 steals per game, and an incredible 3.3 blocks per game (second highest per 36 blocks per game in NBA).
Some will recall his insane 9-block effort from last year, too.
According to @EliasSports Robert Williams III 9 blocks are the most by a player off the bench in a playoff game since blocks became official in 1974. pic.twitter.com/5vsZbcCCun

— ESPN Stats & Info (@ESPNStatsInfo) May 23, 2021
It's that type of upside that makes Williams one of the best fantasy basketball sleepers for 2021.
With the Celtics starting to trust Williams and give him more minutes, he could be a defense menace, while also dominating the boards. He is going to be a crazy good steal later in drafts, even if he only plays 20-25 minutes per game.
Jaren Jackson Jr., PF/C, Memphis Grizzlies
JJJ is like the Memphis Grizzlies version of Robert Williams III.
He is a defensive monster, who has struggled with health as well. He missed 11 games in the 2020-21 season and hasn't played more than 60 games in a single season yet.
Jackson is just 21 years old and is entering his fourth NBA season. He was the fourth overall pick in the 2018 draft for a reason.
In his career, his stats look like this.
26.9 minutes per game
15.4 points per game
4.7 rebounds per game
1.5 blocks per game
0.8 steals per game
1.7 threes per game
37.4% from 3
48% field goal
Hopefully, this season he can play more games and minutes and prove to be worth the wait for the Grizzlies.
The Grizzlies roster has been going through some big changes, but JJJ should be able to start at PF, next to Steven Adams at center.
The Grizzlies big men are going to be very hard to score on and you should keep an eye out for that in DFS as well.
Jackson is being drafted super late in drafts (10th round or later), and could be a huge steal at that price. At his best, he can be a top 40 fantasy player, but that's if his health stays up.
Other Fantasy Basketball Sleepers for 2021
Devonte' Graham, PG/SG, Pelicans
Caris LeVert, SG/SF, Pacers
Kevin Porter Jr. SG, Rockets
These three players all are being taken later in fantasy basketball drafts, but could provide great value to your fantasy team in 2021-22.
They all are in their first or second year with their new teams, but are ready to make some huge impact, fantasy wise too.
Overall, all these 2021-22 fantasy basketball sleepers offer elite value. Whether or not you can snag them – and at the right price – is up to you.
With the fantasy season coming up, you want to make sure you grab at least one of these players later in your fantasy draft.
They could provide great value at their draft price and could be a league winner if they take the next step in their games.
Whether you play fantasy basketball or not, there is more money to be made in betting on the NBA. If you want some extra skin in the game, check out the top NBA betting apps.