5 Best Short Hikes in Las Vegas

Many people know Las Vegas for its casinos, nightlife, world-class hotels, and unleashed behavior. Because the city offers such an undeniable siren song, many visitors are unaware that Vegas is ringed by mountains, and offers some of the best hiking in the American West.
And if all you want to do in Vegas is hit the casino floor and play some table games, or head to the nearest sportsbook and watch an NFL game, think how much better it will feel after a day of your own athletic achievement.
Most visitors arrive in Las Vegas via the airport. If you don't have a car, no worries. Most of these hikes are an easy and affordable Lyft or Uber ride from any hotel.
For easy reference, know that Calico Basin and Bear's Best Trailhead are on the west edge of town. Whitney Mesa Preserve is in the southern portion of the city. Exploration Peak Park is at the southwest corner of Las Vegas, and the Clark County Wetlands skirts the eastern edge of town.
Calico Basin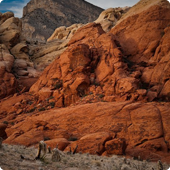 This hike is close to the edge of town but has such otherworldly beauty and an enthusiastic contingent of international visitors that you will swear you had to take a multi-day road trip to get here.
The rocks are red, the vistas are rugged and breathtaking, and the trails vary from moderate to steep to bonafide bouldering opportunities.
There are a number of trails that wind off from the main Calico Basin area, but here is the one I recommend starting with. Drive on Charleston Boulevard west, out of town. About five miles west of Las Vegas, turn right at the sign to Calico Basin (it will be before the turnoff into Red Rock National Monument).
Drive down Calico Basin Road about 1.5 miles. Just as the road turns right on a 90-degree corner, you will turn left into the Red Spring parking lot. Park and hike west by northwest on the Calico Basin trail. Within 200 yards you will be confronted by wavy red rocks, melted in appearance, that you will want to scramble on, climb, explore. Feel free to do so!
There are no fees to park here or use the hiking trails.
Whitney Mesa Preserve
This is a compact site, but so very appealing. There is a steep and slippery trail along a ridge top, a flatter trail over a tiny bridge that spans a marshy area (courtesy of one of Las Vegas' many underground springs), and other branch-off trails that seem to pop up and disappear with the season.
The trails are dog-friendly and kid-friendly, there are excellent views of the surrounding communities from atop the ridge, and bird watchers flock here (pun intended) on early mornings in good weather.
To find the Preserve, drive east on Tropicana or Flamingo until you reach S. Nellis Blvd. Turn right on Nellis, and continue until the street ends on Russell Road. Left on Russell, and then right in about ¾ of a mile on Galleria Drive. Drive a few long blocks on Galleria, turn right on Patrick Lane, and you will see the parking lot for the Preserve.
Parking is free, and hiking here can be enjoyed both day and night (you'll need a flashlight for after-dark hiking).
This hiking spot (if you are on the ridge) is the best place in town to watch Las Vegas and Henderson fireworks on July 4th, and is a great sunrise walking spot for early risers.
Exploration Peak Park
This park on the southwestern corner of town is pretty much the ideal all-ages open space. A playground, picnic tables, grassy areas for dog walks and other amenities all hug the base of a small but steep peak.
There is a pretty elaborate play structure for kids with an "old west" theme.
Trails lead to the top of this peak, and on weekend mornings you will see groups of fitness enthusiasts hiking and even sprinting to the top.
There is something for every fitness level at this recreational area. The hike to the top of the peak is not long, so if you are looking for a short, steep way to get your heart rate up and see a great view of that corner of the city, this is your place.
Clark County Wetlands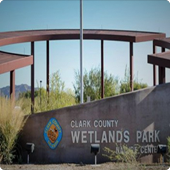 This is flat terrain, so if you need altitude with your hike, this may not be your best choice. However, Clark County Wetlands offers a prime opportunity to walk next to a burbling stream, enjoy shaded paths, breath gorgeously fresh air, and enjoy spotting new bird species.
You may not know that Las Vegas means, "the meadows." Meadows are spring-fed grasslands that offer lush, green grazing for wildlife, and drinking water for humans. Essentially, Las Vegas is the site of an ancient oasis, and springs bubble to the surface to this day.
For thousands of years, members of the Paiute tribe stuck close to Las Vegas to take advantage of this desert oasis. There isn't much water or greenery between Santa Fe, New Mexico and the Los Angeles area.
Thus, when the Spanish Trail began to be heavily trafficked by cattle thieves taking herds from the Los Angeles Basin for sale in New Mexico, Las Vegas was the most important stop on the route for rest, water, and shade.
Bear's Best Trailhead
The first ¾ of a mile or so of this trail is a paved path that takes you past a residential development. Once you hit the actual trail, however, the world is your oyster.
To get here, drive west on Flamingo until you are near the edge of town. Turn left on Town Center Drive. You will pass one road on your right, Tranquil Drive. The next "turn in" is a dirt parking lot just south of some upscale condos.
Park in the lot, head up the paved road, and prepare to be amazed.
Once you hit the actual dirt on this trail, you have nearly infinite choices of which way you want to head.
You can turn right (i.e. head north) toward Red Rock Canyon. This is the path favored by mountain bikers, and you will see many.
Las Vegas is a town of friendly, appreciate folks, so don't worry about sharing the trail. In my experience, 100% of Vegas area hikers are courteous and just thrilled to be in such stunning terrain.
If you keep hiking north, you can potentially hike right into Canada (an estimated 400 hours of hiking, or about 80 days, considering the rugged terrain around Yellowstone National Park).
You can head left/south to the Gnarley and Gasline trails. You'll get a solid elevation workout in this direction, and a million little side trails splinter off left and right.
If you go straight, heading west, there is no limit to your travels. You could head over the border into California and into Death Valley National Park (a 32-hour hiking adventure that will take you through the Funeral Mountains and Furnace Creek).
One Last Word
Nevada is home to 150 mountain ranges, 600 ghost towns, and a number of Civil War sites (1500 Nevadans fought in the war, out of a total population of 40,000).
You can catch a ride on a restored rail car, take a zipline down a mountain, and visit a "hidden" rim of the Grand Canyon. There are helicopter tours of the Strip, dune buggy tours of the desert, and walking "foodie" tours of hidden edible treasures in town.
There are so many outdoor adventures to enjoy in Las Vegas and its surroundings, that you could spend years here hiking every day, and still find yourself surprised. Abandoned mines, sections of the historic Spanish Trail, Paiute settlements and other features all beckon you to escape your hotel room and do a little treasure hunting.
AUGUST
Casino of the Month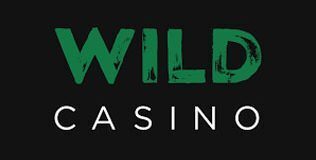 Welcome Bonus
250% up to $5,000
Read Review
Visit Site