5 Best Poker Chip Sets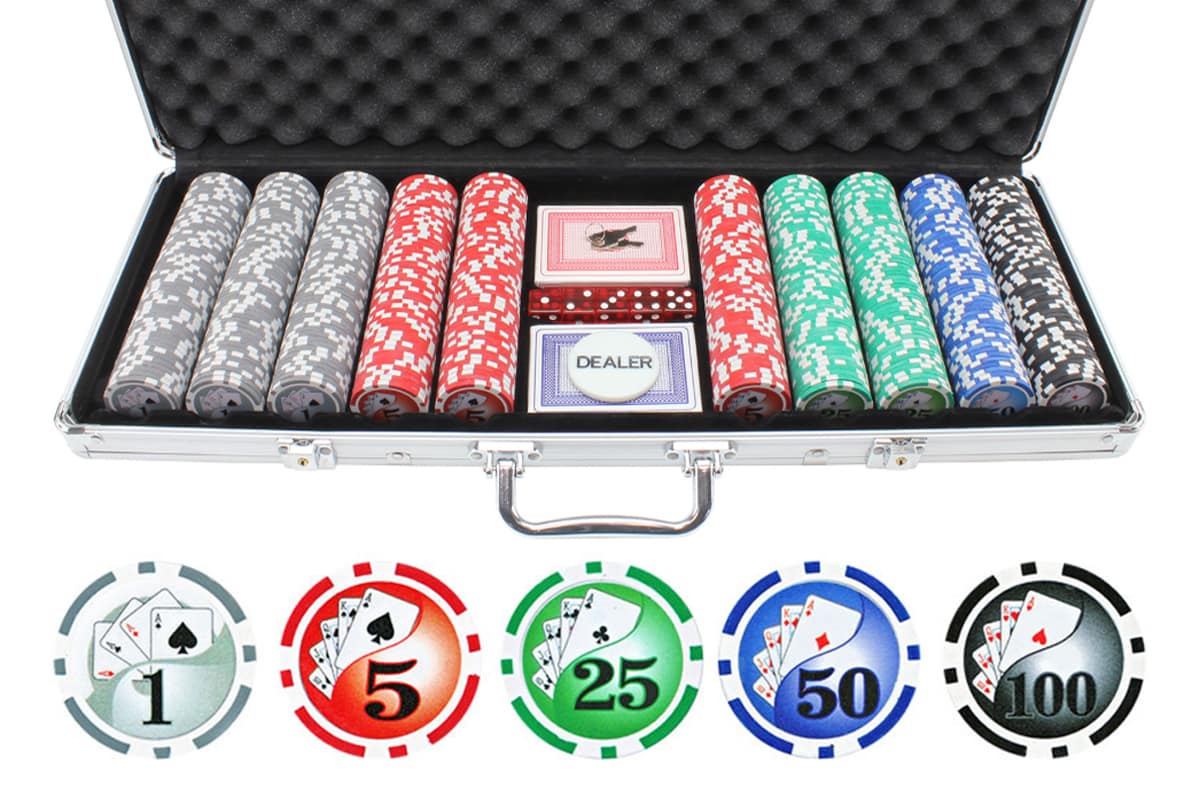 Before I talk about what poker chip sets you should be looking at, I should probably define the termsand maybe even discover exactly what it is any of us should consider the "perfect" poker chip.
Like all things, there are varying levels of quality in poker chips.
From the cheapest plastic poker chip you can pick up at the local Piggly Wiggly to the ceramic and clay chips used at casinos worldwide, each type of poker chip has its own feel and weight, as well as its usefulness and even attractiveness as a poker chip.
Low-End Poker Chips
These chips are all created in mass quantities via injection-molding. Their key attributes are cheapness and uniformity. Oh, and the fact that you won't lose any sleep if the dog eats a couple.
Plastic
Cheap, ubiquitous, and forgettable.
Found only in children's toy boxes and my cousin's "game room" (otherwise known as his garage, wedged in between the washer-dryer combo and a "classic" '76 AMC Pacer).
Supermarkets are great places, generally speaking, but they should never be considered a boutique for gambling accessories. The best thing about plastic poker chips is you don't really care if you lose them.
There are a few levels of quality in the plastic poker chip world, but who cares? We're not here to talk about cheap. We're here to talk about "best."
Faux Clay
Faux clay chips, as the name implies, are not made of clay, but of some proprietary substance that gives the chip a heavier feel and a dusted surface (as though the chip were coated in a talc-like material) that makes them far less slippery than the cheaper chips.
Most places you check will tell you these are perfectly acceptable for home play. Don't believe them.
Mid-Range Poker Chips
Like the low-end chips, mid-range chips are injection-molded, but varying formulas make the chips of better perceived (and actual) quality.
"Nice" Plastic
This type of chip actually straddles the line between low-end and mid-range quality poker chips.
This chip often has a metal insert embedded for weight (poker chip aficionados call this "slugged"), and the injection process makes the chips remarkably uniform.
These are pretty durable, and while they may not be conversation-starters, they are quite serviceable in the home poker room.
Composite
Composite chips are heavier and thus have a more "pro-quality" feeling than even the "nice" plastics. They are made from a combination of plastic and clay and are usually slugged for weight. Composite chips can suffer a bit from being slippery (thanks to the plastic).
Like plastic and faux clay chips, composite chips are injection-molded, which makes them cheaper to produce in mass quantities.
High-End Poker Chips
These are usually what people are looking for when they want a top-level set of poker chips. They look, feel, and play just like casino-quality chips — which should come as no surprise, since they are almost invariably a product of one of the handful of casino chip manufacturers in the world.
Ceramic
Ceramic chips straddle the mid-range and high-end scale of poker chips. Ceramics are valued highly enough to serve on the tables of many casinos, as well as the World Series of Poker. Unlike the cheaper plastic and composite chips, ceramic chips are manufactured using compression rather than injection-molding.
Clay
Despite some heavy competition from ceramic chips, clay chips remain the gold standard.
Clay chips are what casinos all over the world use. They have a gravity to them (10 to 13.5 grams, typically) that composites and plastics — despite their metal inserts — simply do not have. Which is odd, because clay chips are often made with the same basic materials used to make composite chips. The difference, of course, is in the recipe, or formula, if you want to get picky, and I can see that you do.
So don't imagine that calling them "clay" means they are actually comprised of clay alone.
Manufacturers guard their formulas religiously, but some insiders say clay chips are often created using chalk or even fine sand to both keep them from being too soft or too brittle (both undesirable side effects of the curing process these chips go through).
Without the additives, clay would never be the best choice for poker chips — by itself.
A pro-level clay chip, on the other hand, will last for years of home poker games. (The various components used to create a manufacturer's "perfect" chip for the casinos is, unfortunately, also a formula that creates chips that need to be replaced regularly in the constant play demanded by the casinos.)
Your home poker game will no doubt not put your chips under quite that level of stress. Still, bear in mind that top-end clay chips are more prone to scratches, so it's probably not a good idea to let your dog (or your infant nephew) chew on them.
The top-end casino-quality clay chip will have a buttery feel without being soft, and its weight will tell your fingers that it is real money you are tossing atop that pot.
The Best Poker Chip Sets (Finally!)
When I looked at the various offerings of poker chip sets for this article, I eliminated from consideration almost all but those featuring either ceramic or clay composite chips — mostly because I'm a snob, but also because I imagine you are reading this to get good gift ideas (or to treat yourself), and a ten-dollar set of plastic poker chips from the Dollar Store is probably not what you have in mind.
#5 Yin Yang Clay Poker Chip Set
This 500-chip set features two decks of playing cards, five dice, a dealer button, and 500 13.5-gram clay chips (each chip is slugged for the additional weight). The face of each chip contains a graphic of a poker hand, and the chips come in denominations of 1, 5, 25, 50, and 100.
This all comes packaged in a handy aluminum carrying case and retails for about $180, although you can find it as low as $60. This chip set is available at Discount Poker Shop.
#4 Showdown Poker Set
This 1000-chip set comes not in the usual aluminum "briefcase" but in a clear acrylic box, complete with a handle for easy carrying and ten removable chip trays for use during the game.
The chips come in eight colors, and you can even select the quantity of each color of chip in the set. There are no denominations marked on the chips themselves. Priced at around $230, this chip set is manufactured by Claysmith Gaming and is featured on the Brybelly website.
#3 Rock & Roll Chip Set
This 200-count set of 13.5-gram clay chips from Claysmith Gaming comes in a wooden carousel complete with two decks of cards.
Not for the 10-seat Texas hold'em games in your garage, maybe, but certainly a classy way to play some four- or five-seat family games.
The chip denominations are fully customizable from 25 cents on up to $10,000 (I'd like to sit in on that game). With a price around $56, this is almost a stocking stuffer. Available on the Claysmith Gaming website.
#2 Nevada Jack "Skulls" Poker Set
Nevada Jack manufactures ceramic poker chips for both casino and home use, and these 10-gram chips, each with their signature hat-wearing skull in the inlay, all resting comfortably in a black mahogany case (it could easily be mistaken for a cigar humidor, or maybe a casket for a marionette) are just the right stuff for your next poker party.
The set includes 500 ceramic chips, two decks of playing cards, and a dealer button. You can find this set on Amazon for around $300.
#1 Custom Chip Set
From the Poker Depot comes a fully customizable clay chip set.
You call all the shots here, including the number of chips (100-1000), the colors (and the quantities of each), the denominations, even the graphics, name and text of the inlay ("Gabby's PLAYERS CLUB" is shown in their example, but you can try out your own ideas with their interactive customization) on the front and back, choice of aluminum or mahogany cases — you can spend hours just playing with their customization interface.
Still, eventually, you'll need to make a decision.
A 100-count set of these clay chips will run about $90, while the 1,000-chip set will set you back about $600 (tax, license, dealer prep, as they say).
Try out the customization interface (even if you don't plan to buy today) at the Poker Depot.
Falling Where They May, Your Chips Are
Looking back, I see that there is really no perfect poker chip set — at least not one that is perfect for every taste, sense of style, or budget.
The best poker chip set for you (as it is for everyone who plays poker) is one you can afford. It's one that is portable enough to suit your needs (which may not require portability at all, now that I think about it).
The chips should feel substantial and pleasing in a tactile way you may not notice at first but will after hours of angrily toying with them as you watch your cousin win pot after pot, all on the river he never should have seen in the first place.
They should also be of starkly contrasting colors so that you can accurately assess the value of the disorganized pile your cousin always drags his pots into, the lucky bastich.
The case, whether it is a shelf-sitting humidor-looking mahogany casket or a sleek aluminum locking case James Bond uses to carry state secrets across international boundaries — well, that's strictly a matter of taste.
By the way, good clay chips will break right through a Target shopping bag, probably before you get across the street to your cousin's garage & casino. Just a tip.
The decks of cards and the dealer button? Well, those are nice, but cards wear out, and what's so wrong with using your nephew's pacifier as a button? That's what my cousin wants to know. And I, God forgive me, would like to tell him.
AUGUST
Casino of the Month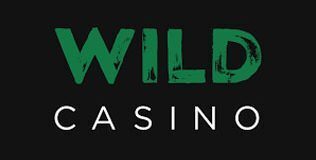 Welcome Bonus
250% up to $5,000
Read Review
Visit Site