Hide Bonus Offers
| | | | | |
| --- | --- | --- | --- | --- |
| #1 | Bovada Sports | 50% Up To $250 | Visit Site | Bovada Sports |
| #2 | BetUS | 125% Up To $2,500 | Visit Site | BetUS |
| #3 | MyBookie | 100% Up To $1,000 | Visit Site | MyBookie |
| #4 | Everygame | 100% Up To $500 | Visit Site | Everygame |
| #5 | BetOnline Sports | 60% Up To $1,000 | Visit Site | BetOnline Sports |
5 of the Best Masters Matchups to Bet on in 2019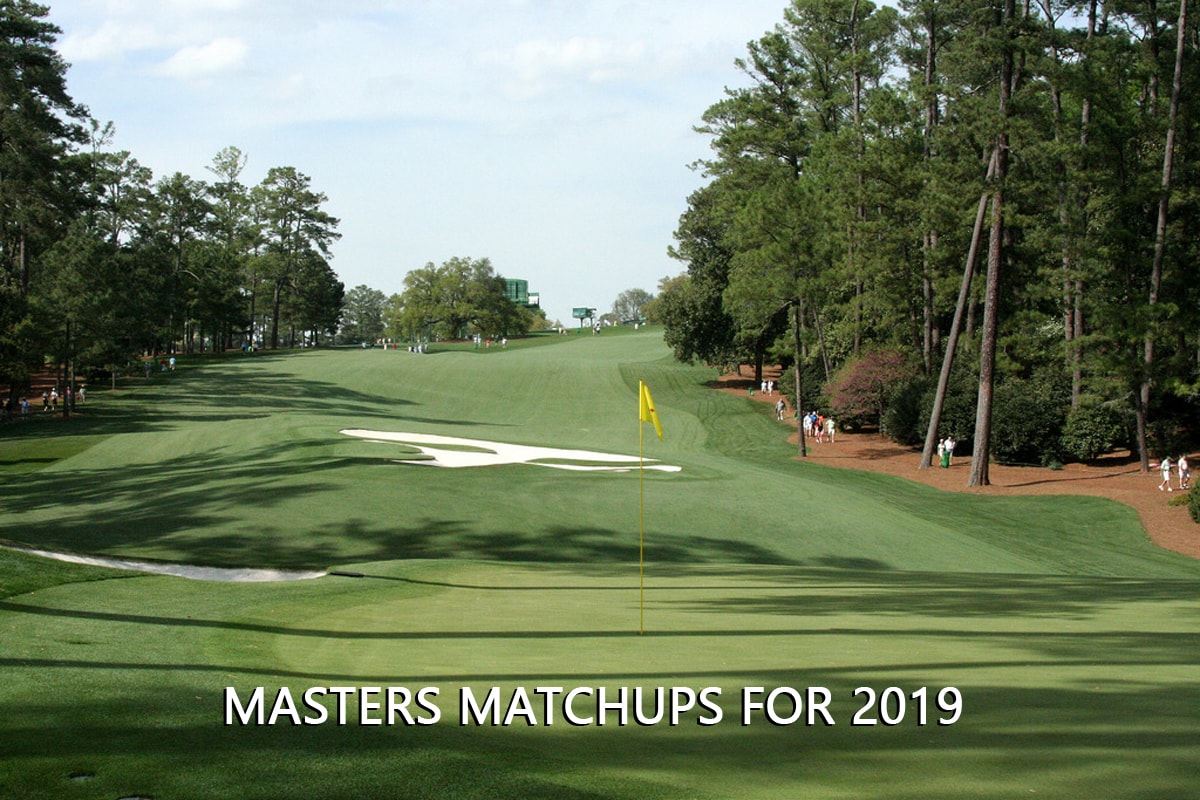 Excited would be an understatement because I feel like a kid on Christmas morning.
The best Masters betting sites have done us a favor and loaded up their menus with tons of juicy matchups.
Once you take stock of all of the 2019 Masters matchups you have to choose from, I'm guessing you are going to be pretty delighted as well.
Perhaps you want to take a hard stance on how Tiger will fare. Or maybe you have a couple of players in mind who you are keen on fading.
Either way, you're not really going to pass up the opportunity to sweat some action this weekend, are you?
I know I'll be throwing my hat in the ring, and here are the five Masters matchups I'm most intrigued to bet on for the 2019 tournament. I've included the odds, my analysis, and a pick for each one.
Bubba Watson vs. Tony Finau
Bubba Watson makes his 9th start in the Masters this week while Tony Finau is here for just the second time in his career. Before I get into who I think has the edge here, you can see that Bovada.lv has designated Bubba as the betting favorite.
Watson has a pair of green jackets hanging in his closet and finished 5th at Augusta in 2018. On the flip side, Bubba has finished 37th or worse during his other five trips down Magnolia Lane.
The two-time Masters champ switched to an "arm-lock" putting grip early in the season and is still getting used to the new feel, and I'd be lying if I didn't tell you I was a bit concerned as to how he'll "roll the rock" this week.
Watson currently ranks 209th in three-putt avoidance and is 149th in one-putt percentage. Perhaps things could fall into place, but I suspect a balky flat stick could prevent Bubba from getting into contention.
However, when I look at Tony Finau, I see a player who quietly has all the tools necessary to succeed around Augusta. The 29-year-old racked up top 10s in three of the four majors last season, including one right here at the Masters.
Don't worry that Tony didn't break 70 last week at all during the Valero Texas Open. I'm sensing he saved up all of his magic for this week.
Alexander Noren vs. Kevin Na
Targeting players with "plus money" is a good way to try and beat the bookies and turn a profit when betting golf matchups. It's awfully difficult to come out ahead in the long run if you are laying -115 or -120 all the time.
That's why when I spot a player who offers value at +115, I don't waste much time at all.
Alex Noren will be looking to qualify for weekend play for the first time at Augusta. After missing the cut at both the 2017 and 2018 Masters, I'm starting to think that perhaps this course just doesn't fit the Swede's eye.
Noren predominantly plays a heavy left-to-right cut shot, and in fact, I'm not sure I have ever seen him turn one over from right to left. That likely has an impact on his negative results, as we know Augusta benefits right-handed golfers who can sling a draw from right to left.
It leaves me in a predicament that I don't want to be in. I don't want to try and figure out if Alex has solved Augusta National yet.
I'd much rather lock in the guy at +115 who has landed inside the top 12 at Augusta twice before and is coming off a stellar performance at the WGC Match Play. If beating Bubba Watson and Billy Horschel in group play didn't provide confidence for Kevin, I know taking out Justin Rose in the Round of 16 most definitely did.
Tyrrell Hatton vs. Branden Grace
I'd be okay paying -115 for Branden Grace in a Masters matchup versus Tyrrell Hatton this week. However, I don't have to thanks to the generous line we can grab hold of at Sportsbook.ag.
Tyrrell Hatton is undoubtedly an extremely talented golfer who knows how to excel in the big moments. But Tyrrell has a habit of letting his emotions get the best of him when things start going south on the golf course. That doesn't bode well at major championship venues.
Hatton finished 44th at the 2018 Masters after missing the cut in his first appearance. This confirms to me that Augusta National's undulating fairways and mystifying greens likely get on Tyrrell's nerves.
So rather than lay -130 on Hatton here, why not take your chances at even money with Branden Grace?
I highlighted Grace as one of my six Masters sleepers worthy of a bet, and at +15000 to slip on a green jacket at Bovada.lv, I suggest you take a peek.
Branden recorded a 27th two years ago at Augusta and wound up 24th at last year's Masters golf tournament. As for how he has been playing coming in?
He smoked Hideki Matsuyama in Austin and proceeded to stare down Dustin Johnson in their head-to-head duel, eventually bringing the world's number-one-ranked golfer down to his knees.
If you are looking for a player listed at even money who could just as easily warrant being listed as the betting favorite, look no further than the 30-year-old South African. He'll be seeking his sixth career top-6 finish at a major this week at the Masters.
Louis Oosthuizen vs. Bubba Watson
I don't always double up on or against the same player in multiple matchups, but hey, what can I say?
When I see value in head-to-heads, I feel obligated to point it out. And when I study the odds below, value is exactly what I see.
I touched on Watson's woes with the putter in 2019, and I'm happy to expand on it some more. Bubba ranks 197th on the PGA Tour in average distance of putts made, which is actually slightly better than his putting average — which clocks in at 207th.
Unfortunately, you won't find Watson ranked inside the top 100 in any significant putting categories, and Augusta National isn't exactly the venue you show up at and suddenly start putting beautifully. I anticipate Bubba struggling to land inside the top 25, but I have no qualms that Louis Oosthuizen will.
Louis has notched top 25s in four of the last six Masters and recently made it to the quarterfinals at Austin CC. The sweet-swinging South African can be found inside the top 5 in total driving and strokes gained: around-the-greens, and it just feels like he's primed to perform well.
Oosthuizen may have finished runner-up when he lost in a playoff to Bubba here in 2012, but I say he gets the better of him in 2019.
Keegan Bradley vs. Haotong Li
I found this matchup on four different sites. I noticed that Keegan Bradley and Haotong Li were evenly matched in three spots, but not in the fourth.
Thankfully, added digging enabled me to find Haotong Li available at even money, as you can see below.
As for how long it took me to lock this one in, try less than a New York minute.
It's not that I don't like Keegan or that I think he isn't a good golfer because I'd argue that Keegan is on the short list of the most premier ball strikers in the game of golf. But it's evident that Keegan doesn't play his best golf at Augusta National, failing to finish better than 22nd in five attempts.
I mentioned that lack of good putting has held Bubba back in 2019, but shortcomings with the flat stick have plagued Keegan more than any other player on tour if you ask me. Just 214 players qualify for the strokes gained: putting category, and you have to scroll all the way down to number 208 to find Keegan Bradley.
Even good putters struggle to calculate precise lines and maintain correct speed around Augusta. I'll go ahead and say the guy ranked 213th in total putting is going to have nightmares trying to figure these glassy surfaces out.
Li is coming off an unimpressive display at the Valero Texas Open, and he missed the cut at both the Arnold Palmer Invitational and THE PLAYERS Championship. But Haotong managed to beat Brooks Koepka and win his group in Austin, which surely allowed him to gain some confidence.
Haotong delivered a 32nd-place showing in his debut at Augusta last year as just a 22-year-old. Now more mature with that experience under his belt, I like his chances of an even better finish this time around.
Final Words of Wisdom
I barely scratched the surface in regard to what's available to bet on, so make sure you head to the most trusted golf sportsbooks and browse through all of the Masters matchups yourself.
I'll be posting a blog on which Masters prop bets I fancy the most, and I've already shelled out some advice for those of you entering lineups into DraftKings' Masters Millionaire Maker.
It's "A Tradition Unlike Any Other," and it's getting underway shortly. Whatever you do, make sure you get involved with betting on the Masters before Thursday morning arrives.
It'll make watching the Masters that much more captivating.