Hide Bonus Offers
| | | | | |
| --- | --- | --- | --- | --- |
| #1 | Bovada Sports | 50% Up To $250 | Visit Site | Bovada Sports |
| #2 | BetUS | 125% Up To $2,500 | Visit Site | BetUS |
| #3 | MyBookie | 100% Up To $1,000 | Visit Site | MyBookie |
| #4 | Everygame | 100% Up To $500 | Visit Site | Everygame |
| #5 | BetOnline Sports | 60% Up To $1,000 | Visit Site | BetOnline Sports |
The 5 Best Casinos on the Strip Where Kids Can Have Fun Too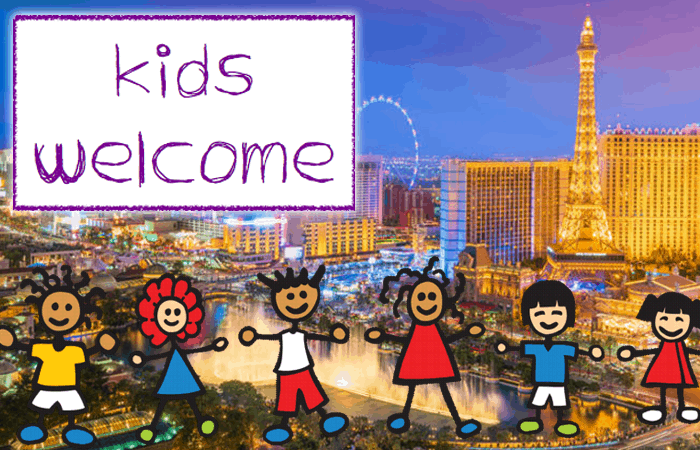 Remember those carefree days when you and a few pals could light out for Las Vegas and leave the world behind?
Betting big on the blackjack tables, letting loose on the dance floor, and watching the sun come up to signal another day of debauchery – that's what Sin City is all about.
Until you have a family, that is.
For parents, taking a trip to the Las Vegas Strip may sound like a perfect getaway from the real world, but the area isn't really the most family friendly vacation option out there.
Between the drunken twenty something's roaming the street (oh to be young again…), to adult oriented entertainment, The Strip definitely lives up to its reputation as an "adult playground."
Unfortunately, that doesn't leave much room for the little ones to have fun – unless you know where to go.
Hidden away among the iconic Strip side casino resorts are several venues that actually specialize in serving the under 21 crowd. From tiny tots to teenagers, and every age in between, kids staying at these select few casinos are invited to have the same sort of fun as their parents.
Well, not the exact same sort of fun.
Instead of table game action, the kiddos have the video game arcade, where a few quarters and a little luck can be turned into terrific prizes. Swimming pools with scantily clad sunbathers are replaced by lazy rivers and lagoons. And those lounges, fancy buffets, and fine dining options give way to food courts where McDonald's and all the rest are readily available.
Of course, all of your favorite adult focused casino fare is still on offer in these venues, so parents don't have to sacrifice their own fun for the family's sake. The beauty of Las Vegas' kid friendly casinos is balance, as everyone who makes the trip will find something that tickles their fancy.
I've been visiting the Las Vegas Strip for decades, beginning as a young buck without a care in the world who came to conquer the poker tables. Today, I'm but a humble customer who comes once or twice a year simply to relax and enjoy sunshine and slots.
But with three kids aged 6 through 17 to care for, those trips invariably take me to one of five casino resorts where I know each of them will have just as much fun.
Below you'll find my list of the top five casinos on the Las Vegas Strip where children are never left out of the festivities. I'll provide an overview of the property itself, focusing on the kid friendly amenities and attractions, along with essential information to help you start planning your next Vegas vacation.
You'll even find an actual review posted to TripAdvisor by a parent who was pleasantly surprised by the venue's commitment to catering to kids.
1 – Excalibur Hotel & Casino
If you aren't familiar with the Excalibur Hotel & Casino at the moment, just drive southbound down The Strip until you hear the kids start squealing.
This place is all in on its medieval castle theme, beginning with the red, blue, and yellow spires that loom over a white brick façade. Day or night, the Excalibur's unique color scheme and architectural flair immediately position it as a place where youngsters can let their imaginations run wild.
Head inside and the illusion is maintained in every sense. A greeter dressed in traditional medieval garb – think Shakespearian leggings and a funny hat – welcomes you and yours inside the castle walls. These guys and gals are really trying to get you signed up for an M Life Rewards card – which is highly recommended to save a few bucks by the way – but the kids don't know that.
Instead, they hear an Olde English accent and see a long beard, and visions of King Arthur and his round table immediately come to mind.
Speaking of knights in shining armor, one of the Excalibur's must see stops for the whole family is the Tournament of Kings.
This is where the magic happens, as a full cast of medieval characters treats the 900-strong audience to a fully-fledged jousting match – complete with a dozen horses and gallant knights hoisting lances at their foes.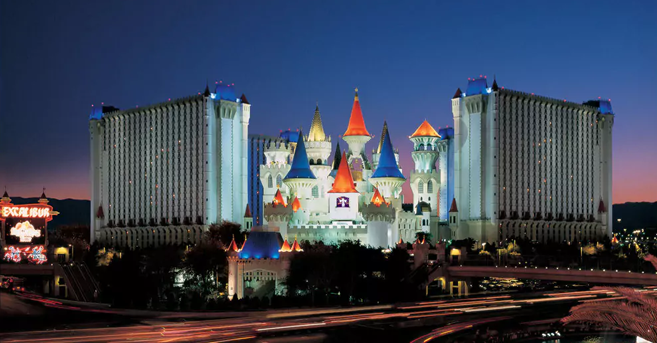 It's all in fun, however, which is why children of all ages are welcome to attend. For a $55 ticket, you'll enter an entirely new world, or should I say the old world? A three-course meal including authentic Cornish game hens is served while you soak in the show, and to complete the ambience, attendees are invited to eat with their hands like true rabble.
The circular theatre is designed to give everybody a full view of the jousting matches, pyrotechnics, sword fights, and other shenanigans. And these actors don't mess around either, so expect to see gallant steeds charging directly at one another, while the White Knight and the Black Knight hoist their lances at the ready.
The directors of the Tournament of Kings really did think of everything, but my favorite touch is the titanium swords, which cast off sparks when they clang together. For the little guys and gals, it only takes one epic clash like that to pull them in, and from there, they'll be transported to a time and place that has kept kids riveted for time immemorial.
It's not all about fighting though, as the Tournament of Kings tells a tale throughout. Banners are waved as horses trot to and fro, fanciful music provides an authentic soundtrack, and a whole host of characters from handmaidens to jesters parade through the grounds.
All in all, the Tournament of Kings at Excalibur is like Cirque du Soleil for children.
When the final battle has been won, head straight for the Fun Dungeon, a full-scale video game arcade complete with carnival games and other attractions.
Armed with a bucket of quarters, your kids can roam the Fun Dungeon in search of their favorite games. The selection here runs the gamut from the world's largest Pac Man machine, to Smash Air Hockey, and 15 different carnival midway contests. And with 60 arcade machines onsite, adults who came of age during the 1980s are sure to find a bit of nostalgia taking hold.
As is the case over in the main casino, the name of the game at the Fun Dungeon is beating the house. Every time your kid lands a basket, shoots the target, or beats the big bad boss at the end of a game, they'll be rewarded with tickets. Think of places like Chuck E Cheese or Peter Piper Pizza and you'll get my drift.
Score enough tickets, and the kids can redeem their "winnings" for stuffed animals, Super Soakers, fidget spinners, and any other toy their hearts desire.
When they've worked up an appetite, they'll be happy to see a Dairy Queen and Orange Julius just a few steps away – and so will you, given the affordable fast food fare.
And thanks to the Excalibur's affiliation as an MGM Resorts property, the venue includes several walkways that take you straight to sister properties like the Luxor, complete with air conditioning to beat the heat. One thing parents quickly discover about the Las Vegas Strip, especially during the summertime, is how 100-degree weather can sap the kids' energy.
With walkways to work with, you can keep them safe and sound at a reasonable temperature, while avoiding sweaty, sticky clothes and all the rest.
Finally, I always advise fellow parents staying at the Excalibur to take the short six-minute walk across Las Vegas Boulevard to explore M&M World. Spanning multiple stories, this store is dedicated to one candy and one candy only – M&Ms.
Children and adults alike are welcome to grab a bag and fill it as they go, with hundreds of colors and flavors dispensed from see through cases. When the day is done, your bag is weighed at the counter and you get to take the haul home like it's Halloween all over again.
Address: 3850 S Las Vegas Blvd, Las Vegas, NV 89109
Phone: (702) 597-7777
Website: https://www.excalibur.com/en.html
Family Focused Review from Trip Advisor:
"Came here with seven kids I was nannying for and was surprised at the variety of things there was to do. They spent $100 in 3 hours and had over 15,000 tickets!
Everyone was able to get decent prizes. I was surprised at the prize selection they had compared to other places they were good quality and for a decent amount of tickets." – Des M.
2 – Circus Circus Las Vegas
The one that started it all, Circus Circus Las Vegas opened to the public way back in 1968 as the first casino in Sin City to eschew adults-only entertainment.
The building itself was designed as a massive big top tent, and in fact, Circus Circus is the largest permanent big top on the planet. At every turn, you'll find clowns yukking it up, blowing balloon animals, and performing magic tricks.
But the real attraction for kids here is known as the Adventuredome — a sprawling indoor amusement park that offers five acres of attractions. From the Canyon Blaster roller coaster to the Canyon Cars go kart track, thrill seeking is the name of the game at Adventuredome.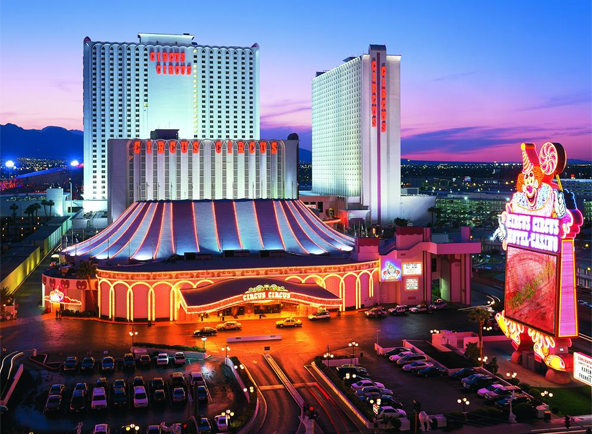 Every time I take the family to Adventuredome at Circus Circus, I feel like I went back in time to my summer days at the old county fair. All of your favorite midway games are here, so you can try to snag a stuffed animal by bouncing a ping pong ball into a fishbowl, or test your might with a hammer swing.
If your little ones love comic books, head over to the Batman Laser Challenge: Defeat the Joker! attraction, which combines laser tag with the Dark Knight. The Xtreme Zone is home to a rock climbing wall and indoor bungee jumping, while Highway 66 offers a miniature bowling alley.
Along with the aforementioned Canyon Blaster, which gets going up to 55 miles per hour, adventurous souls (4 feet or taller) can hop aboard El Loco. This roller coaster climbs slowly to 90 feet before the massive drop and upside-down curves create a 1.5 vertical G experience.
Other carnival rides in the Adventuredome include Disk O, Sling Shot, Lazer Blast, Chaos, the Inverter, and my daughter's personal favorite – SpongeBob SquarePants 4 D: The Great Jelly Rescue.
And if your youngster isn't quite tall enough to meet the 4-foot minimum for most rides, they won't be left out in the slightest, thanks to junior rides like Frog Hopper, Miner Mike, and Thunderbirds. These scaled down rides are equipped for children between 33 and 58 inches, so toddlers can take a whirl with parents in tow.
You can spend the entire day in the Adventuredome and still never come close to hitting all the rides and attractions, so be sure to book a few days to be sure you see it all.
You can't have a circus themed casino without an actual circus, so hit the center stage at Carnival Midway beginning at 11:30 a.m. local time each and every day for a treat.
The Flying Poemas trapeze artist troupe performs high flying acrobatics, Hossein the Strongman will dazzle you with his feats of strength, and the duo of Pei Pei & Wang Jing display the art of unicycle and foot juggling. And don't forget about Dave, Tonya, Rocco, and Huel – the famous Circus Circus clowns.
When the time comes to grub, I recommend the aptly named Horse a Round Snack Bar and Pizzeria. Kids never say no to a good pie, and this place knows its way around the oven. Other kid-friendly dining options at Circus Circus include McDonald's, Krispy Kreme, Subway, Auntie Anne's, and LV Popcorn.
Address: 2880 S Las Vegas Blvd, Las Vegas, NV 89109
Phone: (800) 634-3450
Website: https://www.circuscircus.com/en.html
Family Focused Review from Trip Advisor:
"Been to Vegas many times but this trip was for a family wedding, we had two 14 year olds and an 18 year old with us for this trip. Six days is a long time in Vegas with teens along!
We visited Circus Circus twice, kept the kids happy and they had fun playing all the midway games and watching the circus acts. Circus Circus did have many nice fun little places to shop, so we bought t shirts jewelry, purses.
I would definitely stay there if traveling with kids or teens!" – Carolyn C.
3 – The Mirage Hotel & Casino
Designed to evoke thoughts of the Polynesian islands, the Mirage Hotel & Casino doesn't immediately stand out as a kid friendly venue – that is, until the volcano erupts right outside.
Yes, I said the volcano, which should surely delight any student who dazzled teachers with the old science fair mainstay. But this isn't a baking soda and vinegar production, not in the slightest.
Every night at 7:00 p.m. and 8:00 p.m. local time (plus a special encore at 9:00 p.m. on Fridays and Saturdays), the Mirage puts on one of the most iconic displays along The Strip.
Located right outside the main entrance along Las Vegas Boulevard, the Mirage volcano is a massive manmade structure that looms high above the desert landscape. Surrounded by palm trees and shallow water, the volcano lies dormant by day, before erupting with sound and fury when the stars come out.
The show begins subtly enough, with a few wisps of smoke emanating from the volcano's top as a steady drumbeat slowly intensifies. When the music reaches a crescendo, dozens of torches suddenly come to life, spraying fire and faux lava high into the air above. Explosions fill the air, island drums sound the alarm, and smoke fills the air.
Not bad for a free attraction, eh?
And for an added surprise, I suggest keeping the volcano a secret from the kiddos. Just head down a few minutes before the first show, pretend like you're walking around to sightsee, and watch their faces light up right along with the lava and flames.
Right from the get go, the Mirage lets guests know that it offers much more than just casino gambling.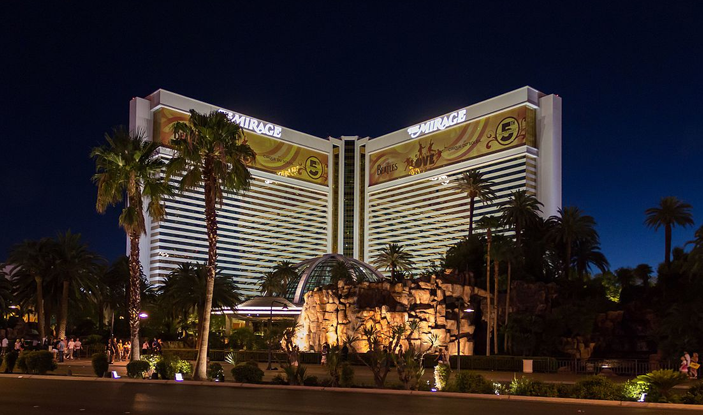 Take the massive saltwater aquarium behind the front desk as an example. This 53-foot long, 20,000-gallon fish tank is home to more than 1,000 species of aquatic life. Before you're even checked in, your children will be fascinated with fish just like they were the first time they saw "Finding Nemo."
And the best part is, when your kids ask if they can play with the animals, you don't have to disappoint.
As the home of Siegfried and Roy's world famous white tiger show for more than a decade, the Mirage has proudly maintained that iconic connection to exotic wildlife. While the tiger show itself has been disbanded since 2003, the Mirage proudly operates Siegfried & Roy's Secret Garden and Dolphin Habitat as a suitable replacement.
Part zoo, part interactive display, the Secret Garden and Dolphin Habitat essentially puts a full-scale animal enclosure right in the middle of the Mirage. Kids are free to explore a jungle habitat where tigers, lions, and leopards – all sporting Siegfried and Roy's signature white colored fur – are safely contained behind fencing.
And while a walk through the zoo area is definitely a treat, I prefer taking my youngsters to the dolphin display. Here, they can play "Trainer for the Day" and swim alongside these mesmerizing mammals, diving, spinning, and frolicking with their new friends. Painting with the Dolphins is another amazing feature, as the bottlenose dolphins take specially made paintbrushes to canvas to create singularly unique works of art.
The Mirage also boasts one of the more impressive family friendly swimming pools I've come across on The Strip. Waterfalls, lagoons, rafts, and private cabanas combine to create an experience straight out the Caribbean. Just remember to keep the kids away from Bare Pool, an adults-only area where topless bathing is permitted.
In terms of restaurant options, the Mirage does tend towards the fine dining end of the spectrum, but California Pizza Kitchen for dinner and Blizz Frozen Yogurt for dessert are great for all ages.
And if your young ones are in high school, they may even enjoy a night out on the town at Cirque du Soleil's LOVE show. This one's themed after the musical hits of The Beatles, so it lacks the risqué elements that define most Cirque du Soleil productions – making it the perfect choice for kids who are growing up too soon.
Address: 3400 S Las Vegas Blvd, Las Vegas, NV 89109
Phone: (702) 791-7111
Website: https://www.mirage.com/en.html
Family Focused Review from Trip Advisor:
"Vegas with kids??? Who would have thunk it. Well, I did.
Mirage was the perfect place for the kids. Easy food options, good pool, dolphin habitat … all in all, a very good place for families.
Of course, if you are out past a certain time, you will see some interesting characters but hey IT'S VEGAS PEOPLE." – Mike B
4 – Mandalay Bay Resort & Casino
Just a short tram ride away from its sister property, the Excalibur, the Mandalay Bay Resort & Casino offers one major kid friendly attraction – but it sure does pack a punch.
The Shark Reef Aquarium is something straight out of Sea World, with more than 2,000 marine animals calling the third largest aquarium in all of America home. With 1.6 million gallons of saltwater, and hundreds of species swimming throughout the premises, Shark Reef Aquarium at Mandalay Bay provides a full day of underwater exploration – and I do mean underwater.
See-through tubes weave in and out of the exhibit, allowing visitors to walk through the depths while hammerhead and tiger sharks glide through the waters outside. The whole arrangement is marvelous to behold, and if your kids are like mine, they'll feel like they wandered into the world of The Little Mermaid.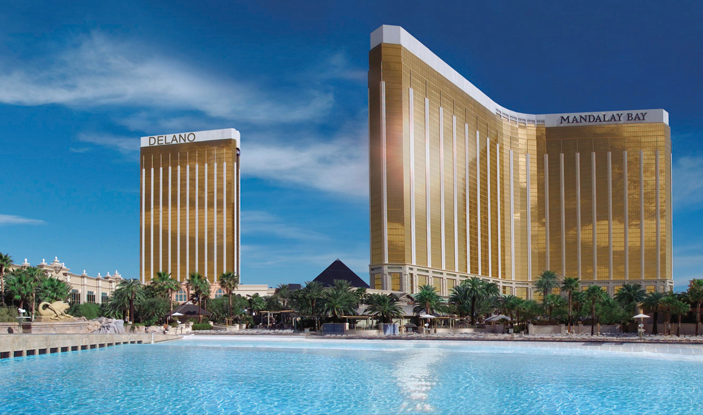 And the experience isn't confined to idle viewing either, thanks to the Shark Reef Aquarium's numerous interactive exhibits. For the youngest children, feeding stingrays is the best way to get started, before moving on to the sea turtle feed, but teens will probably have more fun feeding zebra sharks straight from handheld tongs.
A new exhibit called Polar Journey: An Interactive Adventure adds to the fun, taking kids on a tour of the Arctic and Antarctic regions. The tour is designed by the Attraktion! company, and consists of eight immersive scenes involving 270-degree CGI movie screens, touch walls that add cold temperatures and texture, robotic penguins that serve as teachers, and motion simulation.
Guests visiting during the month of December can also treat their brood to Santa in the Shipwreck, a holiday themed display based on Santa Claus – and his shark friend Santa Jaws. It's one thing to sit on Santa's lap, but seeing the bearded wonder scuba dive alongside sharks is another story entirely.
Mandalay Bay is also known for providing family friendly entertainment fare, such as the popular live action version of The Lion King, and every teen girl's favorite band Maroon 5.
During the daylight hours, I like to park myself and the little ones at the Mandalay Bay Beach, an outdoor swimming area that feels like a waterpark in every sense. Billed as an "aquatic playground," the 11-acre beach is formed by 2,700 tons of soft sand, on which 100 rentable cabanas are situated.
The wave pool at Mandalay Bay Beach contains 1.6 million gallons of water, and the Lazy River lives up to its name, as kids and kids at heart hit the innertubes before floating away.
Another benefit of bringing the family to Mandalay Bay is the casino's connection to the Excalibur, as a little planning can combine the best of both worlds. Hit the beach by day, watch knights battle by night – and savor your kids' ear to ear smiles at each stop.
Address: 3950 S Las Vegas Blvd, Las Vegas, NV 89119
Phone: (702) 632-7777
Website: https://www.mandalaybay.com/en.html
Family Focused Review from Trip Advisor:
"My family and I enjoyed our stay here last summer. I have a 4 year old and a teenager and they both found something for them. My 17 year old stayed at the wave pool with his dad and I stayed in the kiddie pool with my daughter.
When you have little ones convenience is huge, and this is very convenient. They have a big food court to choose from. The rooms are cozy and relaxing. Overall, I would come back and stay here again." – MS_Nurse
5 – New York New York Hotel & Casino
You can see why the New York New York is perfect for kids before you ever set foot inside.
Snaking in, out, and around the venue's hotel towers is an enormous roller coaster reminiscent of Six Flags. Dubbed the Big Apple Coaster, this ride serves 1.4 million riders every year, and just like its namesake city – it's not messing around.
Children must be 4'6'' tall in order to ride, but for those that make the cut, a truly hair-raising experience awaits. The Big Apple Coaster reaches speeds of 67 miles per hour, twirling riders through a series of full loop-de-loops and 180-degree twists.
At its peak, the Big Apple Coaster reaches heights of 203 feet, and in a clever architectural flourish, it seems to dip in and out of the surrounding casino buildings.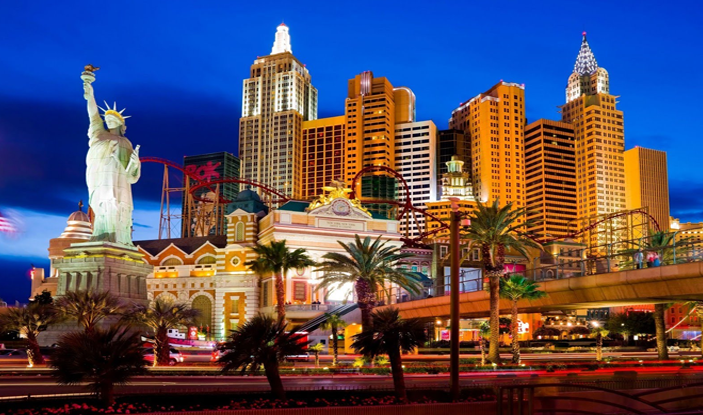 While you're waiting to summon up the courage to get in line, the Big Apple Arcade offers a seemingly endless selection of video games and carnival attractions.
You'll find everything from the famous "Zoltar" machine that granted Tom Hanks his wish in the classic movie Big, to pinball, the claw machine, and so much more. And those are just the classics, as the Big Apple Arcade also spreads modern racing, shooting, and adventure games.
And as a native New Yorker, I also enjoy bringing my kids to the Coney Island Emporium, which brings the sights and sounds of the historical boardwalk to Sin City. There's nothing quite like a Coney Island hot dog, and if you have a handful of kids along for the trip, you can't beat the price either.
If you have kids with a sweet tooth – and who doesn't, if we're being honest – make sure to take a trip to Hershey's Chocolate World. This is the next best thing to Willy Wonka's Chocolate Factory, with a two-story wonderland containing all the Hershey's candies and confectionaries you can ask for.
The kids can pose for pics with life action Hershey's Kisses and Reese's Pieces, or proudly display oversized chocolate bars that are bigger than they are. And of course, they're free to sample bite sized portions while touring the chocolate lover's paradise.
Casinos don't have to cater to kids, but like the city it was named for, the New York New York makes sure that visitors of all ages have something to do.
Address: 3790 S Las Vegas Blvd, Las Vegas, NV 89109
Phone: (702) 740-6969
Website: https://www.newyorknewyork.com/en.html
Family Focused Review from Trip Advisor:
"In this day and age, where the movement is changing to 21 and up for Las Vegas hotels, NYNY is one of the few kidfriendly hotels that still caters to the under 18 crowd.
They offer full on arcade with updated games, a roller coaster, and Hershey's chocolate world. My kids enjoyed the Coney Island themed area where they were able have fun and eat kid foods." – Joel C.
Conclusion
You don't usually think about kids when it comes to gambling, but Las Vegas has something for everyone. Plan to visit one of these 5 best casinos on the strip where kids can have fun too the next time you travel to Las Vegas with children.