Hide Bonus Offers
| | | | | |
| --- | --- | --- | --- | --- |
| #1 | Bovada Sports | 50% Up To $250 | Visit Site | Bovada Sports |
| #2 | BetUS | 125% Up To $2,500 | Visit Site | BetUS |
| #3 | MyBookie | 100% Up To $1,000 | Visit Site | MyBookie |
| #4 | Everygame | 100% Up To $500 | Visit Site | Everygame |
| #5 | BetOnline Sports | 60% Up To $1,000 | Visit Site | BetOnline Sports |
4 Spreads to Attack in Week 1 of the 2018 NFL Season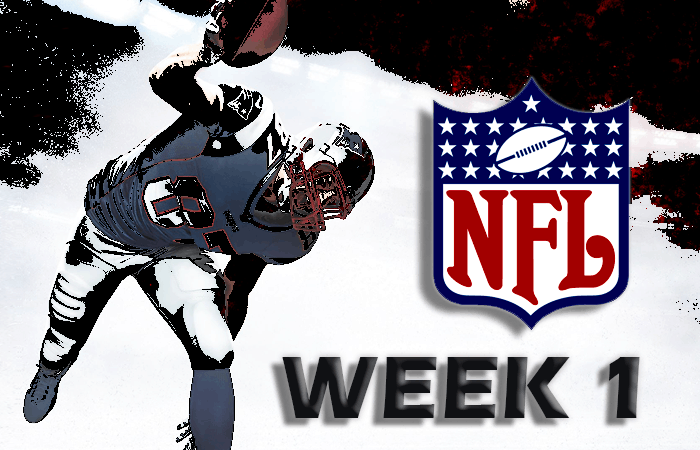 The 2018 NFL season is basically here. The meaningless final week of preseason play is standing in the way of it literally arriving, but for all intents and purposes, it's begun.
A few position battles need to get ironed out. Some injured players need to officially be declared active. Some big names need to be cut, and some stars like Dez Bryant need to figure out if they're going to join a team.
All of the clutter will figure itself out, and in about two weeks, bettors will be staring at their favorite games, on screen, and hoping all of their research paid off.
Research, as in reading posts like the one you are right now, trying to gauge which week one NFL point spreads would be worth betting on. Some will say that's a trick statement and that all 16 games are worth your time and money.
That can be true, but it probably isn't.
Then again, it's just my opinion, as much as it's my opinion that the following point spreads are worth a look. However, I looked at point spreads for week one back in June, and much of what I saw then still rings true.
Whether you're with me or not, at least humor me as I look at the first week of NFL action for the 2018 season.
Cleveland Browns (+5.5, -110) vs. Pittsburgh Steelers (-5.5, -110)
I'm drinking the kool-aid. I don't feel terrific about it, and I'm not necessarily a believer in Cleveland head coach Hue Jackson, but there is just so much to like about the Browns going into 2018.
The first thing here is that they have nothing to lose. They've remodeled their entire roster and brought in talented veterans that badly want to win and prove themselves.
From Tyrod Taylor to Carlos Hyde to Josh Gordon hopefully redeeming himself, Cleveland has what resembles a competent offense and even will be run by bright offensive mind Todd Haley.
The crazy thing is that Myles Garrett fuels a defense that could actually end up being a lot more impressive than this suddenly loaded offense. Either way, the Browns are deeper and more balanced than, well, possibly ever.
It's not going to be easy to trust a team that went 0-16 in 2017 and 1-15 the year before. I'm not saying you have to go all-in on them (although they're fun at +210), but they're at home in an AFC North rivalry game, and they are not going to go down easy here.
On top of that, the Steelers hit the road and have a lot working against them. Antonio Brown has been banged up, Le'Veon Bell has a pesky contract situation, and Ben Roethlisberger is already banged up.
He's also been pretty bad on the road in the past.
But that's just on the offensive side of the ball.
Pittsburgh does not promise to be imposing defensively, as they still don't really have an answer for Ryan Shazier no longer manning the middle of the field.
I don't think the Steelers have it easy here, and to be frank, they didn't in 2017 when they won by three and four points.
This series has grown rather tight, and the Browns will be looking to send a message right away in week one.
Even if that message isn't loud and clear with the flat-out upset, I think they beat this spread with ease.
PICK
Cleveland Browns +5.5
-110
San Francisco 49ers (+6, -110) @ Minnesota Vikings (-6, -110)
The Niners give you an extra point and feel like a similarly appealing bet. They do have to take it to the road to battle the Vikings, who by all accounts look like a team ready to march to the Super Bowl.
Minnesota did make it to the NFC title game last year behind a staggering 7-1 mark at home, though, so taking the Niners for a straight-up road upset may be a mild reach.
The Vikings have a stacked defense and one of the most dynamic offenses in the league, while an expensive quarterback upgrade via Kirk Cousins just might put them over the top.
The problem here is two-fold: Jimmy Garoppolo is undefeated as a starting NFL quarterback, and San Francisco head coach Kyle Shanahan knows all there is to know about Kirk Cousins.
Shanahan's dad drafted the former Michigan State product, while he himself coached Cousins while with the Washington Redskins. If there was ever someone to game plan against Cousins, Shanny would be it.
Traveling into Minnesota and getting a win is a tall order, but the 49ers were quite good once Jimmy G took over last year. With a rising defense backing him, I like Garoppolo and company to keep this one close in week one.
PICK
San Francisco 49ers +6
-110
Jacksonville Jaguars (-3, -115) @ New York Giants (+3, -105)
You always want to find underdogs that you can either back fully or ride against the spread. It's just as important to note value for favorites.
Considering this, the Jaguars seem to be getting disrespected a bit here in week one.
I understand they'll be on the road against a Giants squad that actually looks fairly imposing when healthy. However, Jacksonville has unfinished business after blowing the AFC title game last year.
Say what you will, but the Jags still have a terrific rushing attack, a quick-strike passing game, and quite possibly the nastiest defense in the NFL.
New York does have a few things going for them.
Odell Beckham Jr. is healthy again, and the team drafted rookie sensation Saquon Barkley. This is a pretty brutal NFL debut for the former Penn State superstar, however, while I can't really envision Eli Manning torching a pass defense that ranked #1 through the air.
The G-Men could be a team to watch at some point in 2018, but I like the Jags to win this game, and doing so by a field goal or more really isn't a lot to ask.
PICK
Jacksonville Jaguars -3
-115
Kansas City Chiefs (+3, +108) @ Los Angeles Chargers (-3, -128)
I love the three prior spreads for week one, but quite possibly my favorite is KC at +3 and +108. The only real reason anyone should be going against the Chiefs to start 2018 is the fact that they have a young quarterback under center.
There is risk here, as the Chiefs abruptly moved on from veteran passer Alex Smith, dealing him to the Redskins to make room for their big-armed talent. Patrick Mahomes looks the part of a game-changer, however, and if he's supposed to make Kansas City better, I think the Bolts could be in some trouble.
Why? Because the Chiefs have dominated the AFC West lately, and more specifically, they've handled LA for years, racking up eight wins over their last eight meetings.
Los Angeles is garnering a lot of hype. They look stacked on both sides of the ball, and at times, they looked rather good in 2017. The key phrase there, my friends, is "at times."
The thing about the Bolts is that they struggle early, or they struggle late. One way or another, they always find a way to disappoint.
Consistency just isn't their bag, and I find it difficult to buy it suddenly clicking for them in 2018. Yes, the Chargers are at home, and this could be a new year, but they'll have to prove it first.
Regardless, SportsBetting.ag is offering killer value to simply wager that KC will lose by three or less. I think they can win this game straight up, but anything within three points gets you a sweet +108 price.
PICK
Kansas City Chiefs +3
+108
Summary
There are absolutely more week one NFL point spreads worth considering. I personally prefer to pick my spots in week one, however. Vegas is figuring this all out along with the rest of us, and a good practice is to try to figure out where they're undecided.
That doesn't guarantee a win, but it does potentially give you an edge.
Week one is forever tricky. What looks ugly or attractive can experience a 180 from here, while injuries and rough starts can give way to dramatic facelifts on a number of NFL franchises.
These four spots either offer elite betting value or feel way too good to pass up.
The craziest part is that you don't even need to fully back these teams to get money back. The value isn't so insane that you're breaking the bank, but if you can hit three or four of these (and I'm thinking all four can convert), you're suddenly going into week two with a bigger bankroll and enhanced confidence.
Even if it doesn't go your way, slow-playing the early going of a new NFL season is wise. You can limit your risk and learn along the way.
Whether you decide to roll with these point spread picks, chase the upside with the upsets, or do something else entirely, I wish you luck in week one!