4 Sleeper Teams That Could Win the 2021 World Series

This is probably the Los Angeles Dodgers' world, and the rest of the baseball teams (and fans) are just living in it.
If you have placed your bets for who will win the 2021 World Series – or are still planning to do so – most of your cash might want to be attached to the Dodgers at +325.
Most MLB betting sites have them priced in that range, but basically every sportsbook has them as the clear favorites.
The next best bet (+725) are the struggling New York Yankees, while the San Diego Padres (+900) have the aforementioned Dodgers to worry about.
It's a quick drop to World Series sleepers land after that, as the New York Mets take you into +1000 territory. What you consider a true sleeper may differ from my definition, but it's at least arguable that anything beyond +1000 isn't really a "favorite."
Whether that's the case or not, just three clubs have odds shorter than +1000 right now, which means there could be serious value to be had elsewhere.
That got me thinking; with May starting and a full month of baseball behind us, which sleeper picks to win the 2021 World Series actually make sense?
I'll break down four that stand out more than most, whether it be due to price, talent, or both.
Atlanta Braves (+1600)
The first team that stands out is easily the Atlanta Braves. They don't exactly feel like a threat right now when you look at their record, but a slow start should never remove a team this talented this early.
Despite their immense talent, the Braves come in with the seventh-best odds to win it all this year. This, a year after almost knocking off the Dodgers in the NLCS and being literally one win from reaching the World Series.
Offensively, Atlanta has gotten off to a slow start, but there is no denying their potential.
Freddie Freeman, Ronald Acuna, and Marcell Ozuna headline an immensely powerful lineup that ranked second in batting average and home runs a year ago.
I have no doubt the Braves will rebound and be a real problem for opposing pitchers as they round into form.
The real upside is within their defense, as a rising pitching rotation is quarterbacked by Ian Anderson.
Anderson really made his presence felt in the MLB playoffs last year, but he's continued his ascension so far this year, spinning elite ball with a 2.48 ERA and 31 strikeouts through five starts.
The Braves will be more dangerous due to their offense, but it's nice to know they're not one-dimensional. And their 22-year-old rising ace is just one reason to be optimistic.
Atlanta also has a seasoned veteran in Charlie Morton and (when healthy) two strong rotational pieces in Max Fried and Mike Soroka.
The slow start is undeniable, and the NL East is loaded, but the Braves have the offensive upside and overall balance to complete the mission they started last year.
Milwaukee Brewers (+2000)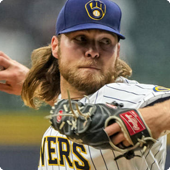 You're taking on considerably more risk with the Brew Crew, but the price is better, and the pitching here is God-level.
The Brewers have been known for their strong analytical approach, solid management, and stellar bullpen for the past several seasons, but they now have a pair of aces to rally around.
Brandon Woodruff has morphed into a quality ace, Freddy Peralta is getting there, and Corbin Burnes has legit turned into one of the best pitchers in baseball.
It's worth wondering how sustainable it is, but all signs point to Burnes being the real deal.
Burnes is straight-up filthy. He was counted on being a key piece to the starting rotation going into the 2021 MLB season, but did anyone really expect him to be this good?
This gives the Brewers two legit aces and three strong starters. That pushes the likes of Brett Anderson, Eric Lauer, Adrian Houser, and Josh Lindblom down, further improving the depth of this pitching staff.
Once you throw in Josh Hader to close games out, and this Brewers pitching staff is just unfair.
This is also before you start talking about their elite infield defense, as well. Just check out this recent double play Luis Urias and Kolten Wong turned in a win over the Dodgers.
What a double play by Luis Urias and Kolten Wong for the Brewers and what a call by Brian Anderson. This play is great in every way. pic.twitter.com/qezilWGy22

— George Balekji (@GeorgeBalekji) April 30, 2021
Milwaukee's defense is as legit as it gets. The infield commits few errors, they own the 9th best fielding percentage in baseball, and they are 7th in putouts.
Defensively, the Brewers are championship material, and once teams get past their starters, they have a nasty, deep bullpen to contest with.
The only real hiccup with Milwaukee is their sluggish offense.
It's been slowed by an injured roster – most notably a banged-up Christian Yelich – but even at full strength, Milwaukee leaves a lot to be desired when it comes to their bats.
The pitching and defense have been good enough to elevate the Brewers to first place in the NL Central. The offense has some catching up to do, but a big trade for a helpful bat could make this team a force to be reckoned with.
Tampa Bay Rays (+2200)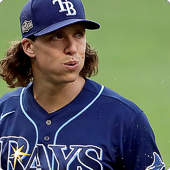 This one is admittedly all about value and upside. The Rays were literally in the World Series a year ago and gave the Dodgers quite the fight, with the series going to six games and L.A. only finishing things off with a two-run advantage.
If things break the other way even slightly, the underdog Rays could have been world champions already.
Tampa Bay still has the management and fearful bullpen that got them there, while they have a roster full of lively (albeit whiff-happy) bats on offense.
They did lose Blake Snell in free agency, but Tyler Glasnow heads a very capable pitching rotation, and he only seems to get nastier by the day.
Glasnow is off to a roaring start in 2021, pitching to a disturbing 1.67 ERA and 3-1 record while smoking batters to the tune of 56 strikeouts across 37 innings.
If he's this good, the Rays are going to have a shot no matter what.
It's what happens behind him that matters, but guys like Ryan Yarbrough, Rich Hill, and a hopefully healthy Chris Archer field a rock-solid rotation.
Youngster Shane McClanahan has even popped up as a potentially useful weapon going forward.
Like usual, Tampa Bay can kill you on the mound, and as the season transpires, their lethal pitching staff should only get stronger.
The real question is if they can overcome this slow start and if their bats can start showing up.
The Rays have plenty of pop, but they need to be more patient at the plate. If they can iron out their issues, they may be among the most balanced teams in the majors.
Philadelphia Phillies (+5000)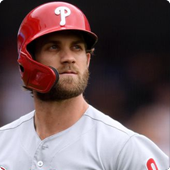 One other team I'll file under the 2021 World Series sleepers category is the Phillies. This is based on two things: awesome betting value and insane talent.
Bryce Harper continues to be the driving force for the Phillies. He's the massive superstar they gave all the money to, but he's answered the call this year with a crisp .321 batting average and six homers in just 23 games.
Harper has also proven his toughness, taking a ball to the face and living to talk about it.
The nice thing is that Harper doesn't have to do all of the offensive heavy lifting on his own. Not in terms of talent and potential, at least.
Philly needs to turn their potential into results, but the power in this lineup is flat-out absurd.
When you look at big bats like J.T. Realmuto, Rhys Hoskins, Andrew McCutchen, and Didi Gregorius, it's easy to fall in love with this team's long-term potential.
The Phillies have been hit with a rash of injuries, and their offense hasn't played up to its full ability, but there is no denying how dangerous they can be.
Philly's main issue right now is their pitching, but even that has upside.
Aaron Nola and Zack Wheeler is a nasty pairing that can probably nudge this team through the MLB playoffs on their own.
However, if the Phillies can make a move for one more rock-solid arm to slide in behind them, a quality pitching staff could morph into one that is unbeatable.
The Phillies have failed to live up to expectations, but it's always possible they turn the corner.
From a talent and betting value perspective, I see little reason to be gun shy with them when betting on the 2021 World Series.
2021 World Series Betting Advice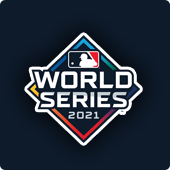 My first piece of advice for betting on who will win the 2021 World Series is to think outside the box. That includes at least considering the 2021 World Series sleepers detailed here and also doing the research to potentially find a few more than may make sense.
The Dodgers won last year, they're loaded, they're the favorites, and yeah, they're probably winning again.
But what if they don't?
If it isn't to be, you need to look at the rising (and similarly stacked) Padres, the Yanks, or someone else that we're not talking about nearly enough.
In addition, it's a good idea to locate the best sites for betting on the 2021 World Series. Even when looking at my favorite sleepers that could win the World Series this year, the pricing could be better than what I have listed.
Odds change basically every day, too. Get yourself a nice lineup of World Series betting sites that you trust and can turn to for different wagers to maximize your earnings potential.
Lastly, trust in the MLB betting experts, and brush up on your baseball betting strategy. The more you think outside the box, target the best possible bets, and refine your approach, the better the result will be.