4 Reasons Why Tyreek Hill Could Win the Super Bowl 55 MVP

Super Bowl Sunday is almost here, with one of the biggest draws being betting on who will win the Super Bowl 55 MVP.
History and logic says it'll be a quarterback. Most Super Bowl 55 betting apps price Patrick Mahomes as the favorite, with Tom Brady being the next best bet.
If you want to just play it safe, you can bet on a quarterback in general (-350) winning the award for the 31st time, or the 8th time in the last 11 Super Bowls.
But what if a quarterback doesn't win the Super Bowl 2021 MVP?
If you're to buy into that notion, you may want to stretch your neck to assess who else could win. That's one reason why betting on Tyreek Hill to win the Super Bowl 55 MVP makes a lot of sense.
Beyond the obvious value attached to betting on a non-quarterback to win, there are actually a few good reasons why Tyreek Hill can win the Super Bowl 55 MVP.
Let's break down the four best reasons, and how you may want to bet going into Sunday's big game.
Chiefs Are Super Bowl 55 Favorites
The first reason to bet on Tyreek Hill to win the 2021 Super Bowl MVP is the fact that his team is favored to win. No matter where you go to bet on the Super Bowl this year, the Chiefs are listed as the favorite, one way or another.
Here's an example of how the odds shake out for Super Bowl 55, per BetUS.
The pricing is a bit different depending on where you bet on Super Bowl 2021, but the message is clear; the Chiefs are favored to win.
I actually think they pull it off, too, and recently broke down why the Chiefs will win Super Bowl 55. Hill is part of that equation, to be sure, just like KC being favored plays into him being a solid MVP bet.
Why? Because you don't typically win the Super Bowl MVP if your team doesn't also win the game.
Did you know there has only been one Super Bowl MVP from the losing team in the big game? That man is former #WVU standout Chuck Howley #HailWV https://t.co/8ImEOKZ997

— WVU Football (@WVUfootball) February 7, 2019
Chuck Howley is still the only guy to get it done, so logic says you should probably only bet on players to win the Super Bowl MVP from the winning side.
Kansas City is favored, and I am picking them to win, so Tyreek Hill (and all other Chiefs) are firmly in play.
Hill's Super Bowl MVP Odds Are Solid
You really don't need to pay attention to Super Bowl MVP odds when betting on who you think will win. That's especially the case if your mission is to just go against the grain and bet on a high upside option.
It never hurts to be one of the top contenders to win a Super Bowl MVP, though.
Hill ranks fourth in terms of odds at BetOnline, and you can hop on him now at a cool +1200. That's a pretty nice price for a guy as explosive as he is, and it's a big reason why I'm seriously considering him as this game's MVP.
Be sure to check all of the boxes before doing any Super Bowl 55 MVP betting, though. One great way to do that is to read up on the latest Super Bowl 55 MVP odds and options in the following post.
Hill has appealing Super Bowl 55 MVP odds when you consider where he ranks among the top contenders, but +1200 is actually a heck of a bargain.
Who else offers his big play upside in this game? Virtually no one.
Tyreek Destroyed the Buccaneers This Year
Okay, so Tyreek Hill should have a pretty good chance at completing the first step toward being a good bet to win the Super Bowl 55 MVP.
Step two is having a good game.
I tend to think that won't be a problem. Hill did completely obliterate the Tampa Bay Buccaneers when he faced them earlier this year, after all.
Here's how he fared, compared to his best numbers in any other game the rest of the year.
| | | | |
| --- | --- | --- | --- |
| Game | Catches | Yards | TDs |
| Vs. Buccaneers | 13 | 269 | 3 |
| Any/Other | 11 | 172 | 2 |
Hill had himself a day.
Tampa Bay had no answer for Hill, who is always a threat to take even the shortest pass the distance, but is also impossible to track down the field.
Hill's numbers in that game probably won't be repeated, but the matchup does suggest he could again have plenty of success.
The Buccaneers' main weakness on defense has come in their secondary, where they gave up the 5th most catches and 12th most receiving yards on the year.
Carlton Davis, the guy likely tasked with keeping tabs on Hill again, has also struggled mightily during the 2021 NFL playoffs.
With the same matchup that allowed for his career-best effort, Hill is a major threat to beast out in Super Bowl 55.
Wide Receivers Have Won Super Bowl MVP Before
Tyreek Hill's team is a reasonable bet to win the game, and he completely roasted the Bucs earlier this year. Ipso facto, if the Chiefs win and Hill can again take advantage of this awesome matchup, he's a solid bet to win the game's MVP award.
Save for the unfortunate reality that wide receivers don't win this award.
That's usually true, but it's not like it never happens. Julian Edelman was the latest wide receiver to snag the Super Bowl MVP in Super Bowl LIII, and he joins six other receivers to accomplish the feat.
The guys pictured above are understandably part of a rare group, so bettors interested in backing Tyreek Hill to win the MVP need to consider two things.
The first is what Hill's best path to success is in this game. The second is if Hill's success will beat out the success of his quarterback, Patrick Mahomes.
To answer the first question, Hill has a blueprint already. He can torch the Bucs down the field, and as long as Mahomes has time to extend plays, I doubt Tampa Bay completely stifles him.
For the other question, Hill needs to find a way to have a game that is so good, that no matter how well Mahomes plays, it's obvious that Hill was the difference-maker here.
Looking back at that week 12 showdown with the Bucs, you could argue Hill would have been the MVP there. Yes, Mahomes made those throws, too, and he ended the day with 462 yards and three touchdowns.
But he didn't throw a touchdown pass to anyone else, and an insane 58% of his yardage came from one guy.
I think you could go either way here, but with Hill amassing all that yardage and each of Mahomes' touchdowns, nobody would balk at him winning the award.
It wouldn't be a lock, but betting on Tyreek Hill to win the Super Bowl 55 MVP would be on the table.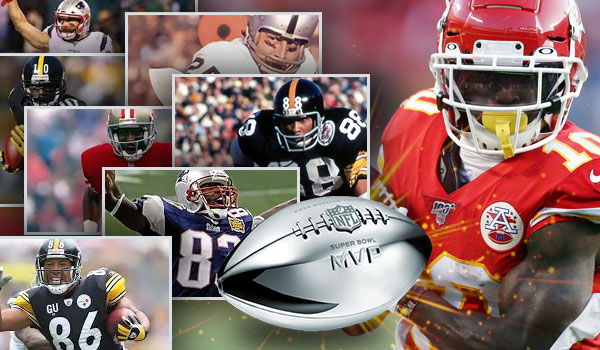 Hill Could Break Super Bowl Records
It's pretty easy to see how Tyreek Hill could be in the running to win the Super Bowl MVP. I do think Patrick Mahomes being his quarterback could be difficult to overcome, though.
In order to do it, I think Hill needs to break some Super Bowl records.
It's pretty rare that a guy breaks a Super Bowl record and isn't at least in the mix, and if Hill goes off in similar fashion like he did earlier this year – and breaks records – he'd be a great pick.
Whether or not you bet on Tyreek Hill to win the 2021 Super Bowl Most Valuable Player award, you could still entertain him (or someone else) breaking these records.
Over 215 Receiving Yards (+500)
Over 14 Catches (+500)
If Hill repeats his week 12 demolition of the Buccaneers, he'd very much be within reach of these Super Bowl records.
And if he got even one of them, he'd absolutely be in the conversation to win the MVP award.
Should You Bet on Tyreek Hill?
There are obviously a few good reasons why Tyreek Hill can win the Super Bowl 55 MVP award. Will he actually do it, and should you bet money on it happening?
Probably not.
His +1200 odds to win the Super Bowl 55 MVP are actually pretty great, and his previous showing against Tampa Bay makes him plenty viable.
It's just awfully hard to have a great game without Mahomes also having a great game, is all.
For the most likely Super Bowl 55 MVP contenders, I encourage you to read these breakdowns in favor of Tom Brady or Patrick Mahomes winning the award.