Hide Bonus Offers
| | | | | |
| --- | --- | --- | --- | --- |
| #1 | Bovada Sports | 50% Up To $250 | Visit Site | Bovada Sports |
| #2 | BetUS | 125% Up To $2,500 | Visit Site | BetUS |
| #3 | MyBookie | 100% Up To $1,000 | Visit Site | MyBookie |
| #4 | Everygame | 100% Up To $500 | Visit Site | Everygame |
| #5 | BetOnline Sports | 60% Up To $1,000 | Visit Site | BetOnline Sports |
4 Reasons Why Virginia Can Win the 2019 NCAA Tournament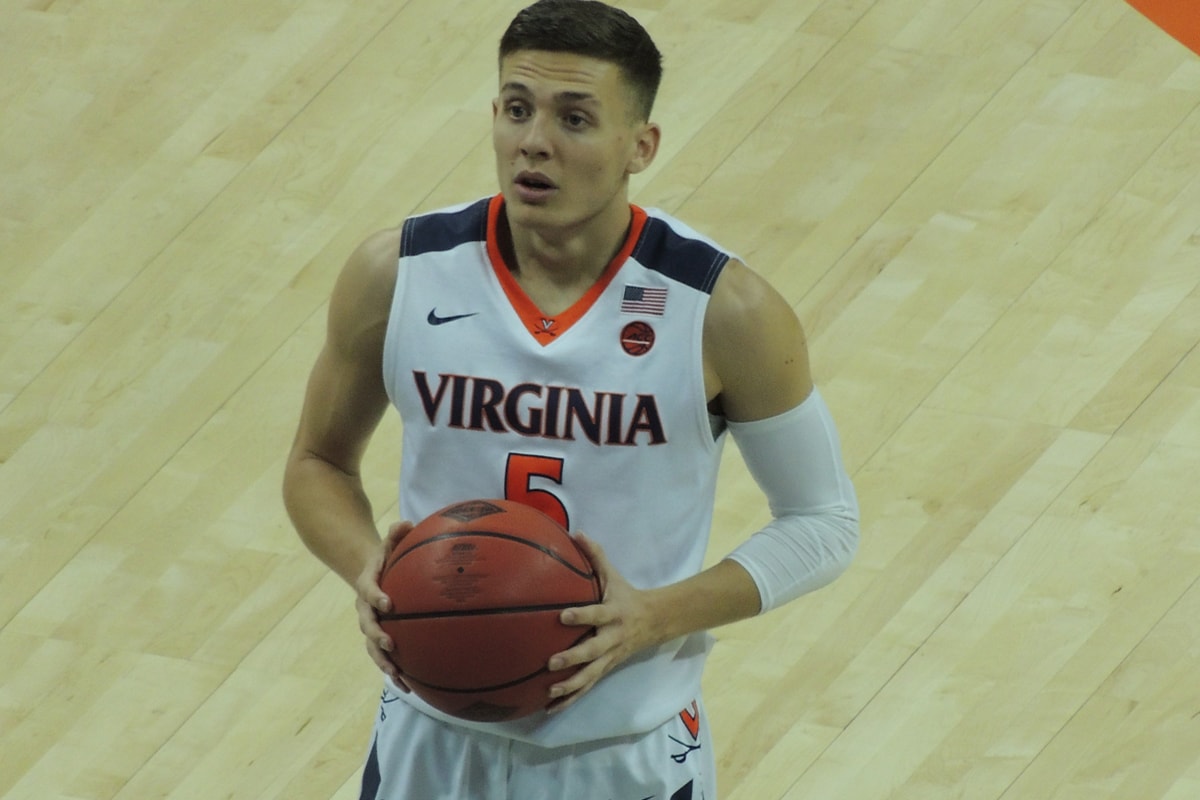 It looks like if Virginia can avoid playing Duke in the NCAA tournament, they're going to have a chance to win the whole thing.
The Cavaliers enter their regular-season finale against Louisville a perfect 27-0 against teams not named the Blue Devils.
Tony Bennett's squad might not have the same household names that Coach K has in Durham, but Virginia possesses a balanced attack that can beat anybody on any night.
If they can take care of business and win the ACC conference tournament, they'll lock up a #1 seed in their quest to become national champs. If they don't perform well at the Spectrum Center, they could slide down to the 2-line.
But either way, I think the Cavs are on a mission to be the last team standing.
Virginia's Odds to Win the 2019 NCAA Tournament
Not long ago, it was a foregone conclusion that Duke would roll through their competition and win the 2019 NCAA tournament. But an injury to Zion Williamson has the college basketball world shaken up and unsure of how things will now play out.
The Blue Devils are still the betting favorites, but things are at least tightening up. As long as you are shopping your lines, you can snag Virginia to win the whole thing at a fairly reasonable price.
Check out the lines below so that you know where to back the Cavaliers.
I suggest heading over to Bovada.lv right now and locking in that +800 number.
Those of you planning use to betting March Madness know how quickly things can change. If Virginia wins the ACC tourney in Charlotte, we could see the Cavaliers dip below +500 everywhere.
It's hard to imagine we see their odds get any more favorable at this point, which is why the time to invest in Virginia is now. I'll give you four reasons why I think it could pay off.
Avenging Last Year's Early Exit
Everybody remembers what happened last year. Virginia lost to UMBC in the opening round of the 2018 NCAA tournament, becoming the first #1 seed to lose to a #16 seed in the history of March Madness.
That alone is going to scare some casual fans away from betting on Virginia, but I think it should actually do the opposite.
I look at the Cavaliers this season and see a team that is hellbent on seeking revenge.
Kyle Guy was on the court last March when UMBC and their fans went berserk, and I promise you he felt the pain. Tony Bennett remembers the feeling of being utterly embarrassed in a game his team should have won by 15+ points.
The good news is that all of those negative emotions have been turned into motives to not let it happen again.
De'Andre Hunter didn't play in the loss to the Ramblers in last year's NCAA tournament, but I can promise you he'll factor into what Virginia tries to do in the 2019 edition.
The sophomore guard has been tremendous for the fan base in Charlottesville and is a major reason why the squad is currently ranked #2 in the country in both the Coaches Poll and AP Top 25.
Aside from a full-strength Duke unit, Virginia has beaten every team on their schedule, and they have beaten them soundly. The Cavaliers' average margin of victory in 2019 is 18.0 points per game, and they lead the ACC in team field goal percentage and three-point percentage.
What I'm saying is don't be blinded by the fact that Virginia came out unprepared in last year's first round and got bounced early. It's not going to happen this time around.
Deadly Outside Shooting
I touched on the fact that Virginia shoots the three-ball better than any other team in the ACC, but I should actually point out the following tidbit.
The Cavaliers are one of four teams in all of college basketball who shoot over 40% from beyond the arc.
Virginia clocks in at 41.4% from three-point land on the year. Now compare that to the 30.9% clip that the Blue Devils shoot from outside, and you can see the distinct advantage the Cavs hold. Kyle Guy is shooting an incredible 45.6% from "treyville" and leads the team with 94 three-pointers made.
Ty Jerome is knocking down 42.9% of his outside shots and has been remarkably dependable since day one of the season. However, it's actually De'Andre Hunter who leads this team in three-point percentage at 48.6%.
The reason Virginia is such a successful three-point-shooting team is they don't just hang out on the perimeter jacking up shots.
Coach Bennett prides his group in being extremely selective in taking threes, which is why they're one of three teams (out of 15) in the ACC who has attempted fewer than 590 three-pointers.
Come NCAA tournament time, you need at least one reliable outside shooter if you want to make some noise. Well, we should feel pretty comfortable, then, because Virginia has three.
This Group Is Battle-Tested
I mentioned that the only losses on Virginia's schedule this season are the two cases in which they were matched up against Duke. Rather than focus on those two Ls, I'd like to shed light on some of the big-time victories the Cavs have accrued.
Early on, they beat Wisconsin in the Bahamas before going to Maryland and beating the Terps in College Park. They traveled to Chapel Hill and took down the Tar Heels and had no qualms thumping Virginia Tech and Louisville, both on the road.
Anyone who follows college basketball understands how difficult it is to win on the road during conference play, which makes these wins that much more impressive. In Virginia's most recent road test, they went to Syracuse to play the Orange on Senior Night.
Unfortunately for the fans in the Carrier Dome, they were disappointed to see Virginia absolutely dismantle Syracuse by 26 points.
I mentioned that last year's early exit has been motivation for the Cavaliers players, and I wasn't kidding. Kyle Guy is taking out his anger on every team standing in his way.
"Everybody knows how last season ended, so we never forget about it, we always remember it, hold it in the back of our head. It's just a chip on our shoulder and we're shooting that well and we're in the zone."
This team will enter the 2019 NCAA tournament knowing they can travel to any building and play their best basketball. That should bode well come tourney time.
Fantastic Guard Play
It's tough to get to the Final Four or beyond if you don't have supreme play at the guard position. It's just that simple.
"It's great to have a dominant frontcourt like Tennessee's, but you need great guard play to make a deep NCAA tournament run. It's a reason why the Volunteers bowed out early as a high seed in 2018."
That was a snippet from an article on NCAA.com's men's basketball news page, but it brings up a very valid point.
You need guards who you can rely on under pressure if you plan on contending for a national title. Think of all the moments in crunch time when you need a trustworthy ballhandler to break the press and get the offense in motion. Not only does Virginia have a guy who can come through on the front, but they have a trio.
Kyle Guy is shooting over 83% from the charity stripe and is the heartbeat of the Cavaliers. De'Andre Hunter can do a bit of everything, and Ty Jerome is exactly the type of point guard you want leading your team.
Ty might not receive as much hype and attention as Guy and Hunter collect, and that's okay; he doesn't need it. Jerome had 14 assists and 4 steals last time out against the 'Cuse and continues to go about his business.
Make no mistake about it; the 6'5" junior from New Rochelle, New York, can flat-out ball.
Whoever squares off against Virginia is going to have their hands full. The opposition might be able to scheme up a game plan that can take one of these fantastic guards out of their element, but stopping all three won't be easy.
It could be impossible.
Final Thoughts
You still have plenty of time before you have to print out your 2019 NCAA tournament bracket, so don't worry about that part just yet.
However, your opportunity to latch onto Virginia at +800 to be the last team standing in March Madness won't last forever. Zion missing additional time and the Cavs blowing their competition out of the water aren't helping Tony Bennett's squad stay under the radar, meaning the general public could be hopping on the Virginia train soon.
You better book your ticket before there is no room left.