Week 1 NFL Betting – Free Picks for the Weekend's Games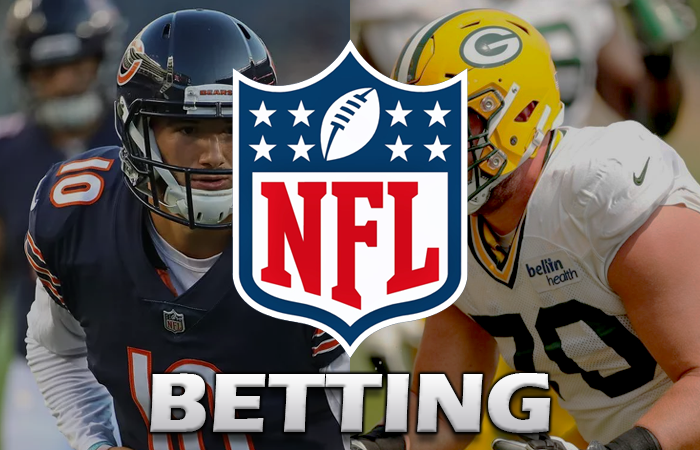 The hype. The buildup. The anticipation.
It's all over.
Take a deep breath, because the first Sunday of the NFL regular season is upon us. You've probably spent enough time reading season previews, and I'm sure you had fun drafting your fantasy teams.
But now it's time to shift gears into the Sunday slate of games and figure out how you are going to attack the betting sheet. One of our seasoned NFL writers already shared his NFL Week 1 picks, and now I'm here to do the same.
And remember – early in the season is when the lines seem to be the "loosest," as the bookmakers have less applicable data to work with when generating the odds. That means that if you were ever planning on firing away on some professional football games, right now is as good of a time as any!
If you need a foundation of where to start, have a peek at the 4 games that I'll be keeping a close eye on.
The odds referenced in this article were taken from BetOnline.ag at 1:00 pm EST on 9/6. They may have changed since the time of writing.
Tampa Bay Buccaneers at New Orleans Saints
Take a good look at the NFC South standings right now, Dirk Koetter. The Buccaneers head coach better enjoy being tied for first place in his division, because this is the last time they'll be in that position for the rest of the year.
The Tampa Bay football team has been in shambles this entire offseason, notably with their starting quarterback, Jameis Winston, being suspended after some embarrassing and appalling conduct he displayed in an Uber ride.
Apparently, his lack of professionalism on the field has trickled down into his actions off it, because this guy just can't keep his head on his shoulders.
Winston's indiscretions leave 35-year-old journeyman QB Ryan Fitzpatrick to man the huddle, paving the way for a long and arduous day in the Big Easy for the Tampa Bay offense. Fitzy's chances of finding success Sunday afternoon in the raucous environment of a Saints home opener are somewhere between slim and none.
And believe me, I've been trying to give them the benefit of the doubt.
But when you look at the overall makeup of this 53-man roster, where's the leadership? Where's the speed and voracity on the defensive side?
It's nowhere to be found.
Flip the coin and look at the Saints, and you'll see the total opposite.
Drew Brees is as calm and collected of a leader as we have in the National Football League, and the weapons he has at his disposal are plentiful.
I suspect defensive coordinator Dennis Allen will have his unit flying around the field and wreaking havoc in the Buccaneers backfield, making it incredibly difficult for the Buccs to move the chains.
If you are looking for a premium fantasy play on defense this weekend, I think the Saints could be at the top of the list.
If you are looking for a home team who shouldn't have any qualms covering, I wouldn't gloss over Sean Payton's bunch. They're right near the top of that list as well.
Dallas Cowboys at Carolina Panthers
Dallas fans aren't going to love me after this, but you want me to be honest, don't you?
The truth is, if I was a Cowboys fan, I'd be a bit nervous.
I see the direction this football team is trying to go in, as I agree that cutting ties with a primadonna like Dez Bryant was the right choice. I still like Sean Lee in the middle of that defense, and I know Demarcus Lawrence can still rush the passer at a fruitful rate.
But when you throw in the loss of Jason Witten and look at what this offense has left, you begin to start scratching your head.
The wide receiver core looks like a bunch of WR3s and WR4s, and I dare you to try and tell me the name of any of their four tight ends.
We all saw Dak Prescott take a step back during his sophomore campaign, and to be honest, I'm not so high on what his contributions will amount to in 2018.
I already saw his completion percentage take a dip to under 63%, and now you take away 219 targets and his two best pass catchers from last year's team.
I think the Cowboys will struggle to put points on the board this season, and it all starts this Sunday at Bank of America Stadium.
The Carolina Panthers are coming off of an 11-5 regular season, and I actually think this team got better over the summer. Not necessarily because of who they added, although I do think draft picks Donte Jackson and D.J. Moore will immediately have positive impacts for this team.
But mainly because I think Cam Newton cleans up some of his inefficiencies under offensive guru and new OC Norv Turner.
Christian McCaffrey is another year older and more in tune with the system, and Cam's most trusty target, Greg Olsen, is back and healthy.
I like Carolina as a sneaky team to make a Super Bowl run, as they have the likes of Luke Kuechly commanding the defense. Unfortunately, I see the Cowboys, who are coming off a 9-7 regular season, taking a plunge into the depths of the NFC pretenders.
That's why I don't mind laying 3 points here.
I think the far better team not only escapes this opening game, but I also think they do it in a fairly dominating fashion.
Chicago Bears at Green Bay Packers
There aren't many things I enjoy more than watching Sunday Night Football on NBC. Listening to Cris Collinsworth and Al Michaels call the game as I'm winding down from a relaxing weekend is about as good as it gets for me.
To make matters even more intriguing this week, I'm going to have some betting interest in the game. And believe it or not, I don't really care who wins!
I obviously expect the Packers to show up big in front of their devoted crowd at Lambeau Field, and they should be able to handle the Bears and head to Week 2 with a 1-0 record. But this game could look sloppy at times, and that's why I'm feasting on the under here.
Typically, 47.5 points isn't too outrageous of a number for an "Aaron Rodgers game." Once I started lifting up the hood to see what was really underneath, though, I began asking myself questions.
Is Green Bay's offensive line cohesive enough to protect A-Rod? Can they give him enough time to find open receivers? Is there any way that this new Khalil Mack-led defense doesn't disrupt a Green Bay offense that has struggled to find consistent receiving options throughout training camp?
Then I looked at the Bears offensive outlook. Although I think Matt Nagy has a bright future as a head coach, I'm not sold that Mitchell Trubisky has enough firepower to scare any defenses.
Playing a primetime game in front of millions of NFL fans at Lambeau Field isn't exactly the ideal recipe for a young coach and quarterback to start clicking on all cylinders.
Packers DC Mike Pettine was hired by Packers GM Brian Gutekunst on just his third day on the job, so you can imagine how excited the Green Bay front office is about their new defensive coordinator.
He was brought in to help shut down opposing offenses, and his first test against Chicago shouldn't be too difficult.
I think both defenses are in great spots to shine, and I think both of these offenses will be "works in progress" for a good chunk of the season.
That's why I see something like the Packers winning the game in ugly fashion, perhaps something like 23-16.
Buffalo Bills at Baltimore Ravens
I'm going to be short here because I don't have many nice things to say.
The Buffalo Bills are going with Nathan Peterman as their signal-caller, and he'll be asked to be effective on the road at a hostile environment like Baltimore. Do you like his chances? Because I sure don't.
The Bills sport arguably the weakest offensive line in football, and their collection of wideouts is nothing for a defense to be ultra-concerned about.
Last year, the Ravens shut out their Week 1 opponent and ended the season giving up just 18.9 points per game. As suspect as the Ravens team is, their defense is easily among the 7 or 8 best in the league.
The reason Baltimore is likely to stink up the joint in 2018 is because they are turning to Joe Flacco, their decrepit quarterback who quite frankly hasn't been good in about 4 years.
When I look at this matchup, I honestly feel like I am looking at quite possibly the two most inefficient and incompetent quarterbacks we have in the National Football League.
I mean, Jay Cutler isn't in the league anymore, is he?
Everything about this game is screaming that the Buffalo Bills have virtually zero scoring opportunities, and I think they'll be fortunate if they manage to score 14 points. As if I needed more of a reason to like the under here, I'd like to leave you with this.
Last season, the Ravens' opening game saw 20 points scored, total. There were 34 points scored in their second game. Now look at the Bills, and you'll see that the total number of points in each of their first two games was 33 and 12, respectively.
So now you see?
All signs are pointing toward this game going under, so that's where I'll be allocating a small portion of my betting funds.
The Summary
Until the teams step onto the gridiron, we're really just going off of what we have seen and heard from training camp and throughout the preseason.
It's impossible to predict exactly what will take place and how all the games will play out, and it's even harder when you have yet to see what kind of final product they put out on the field.
With that being said, Week 1 is still the perfect time to get your feet wet betting NFL games. And the best part is that you can begin right here and right now.
BetOnline.ag has the best prices you'll find, and their customer service and payouts are as reputable as it gets.
If you like the four picks I'm on board with, go right ahead and follow suit. If it works out, come back next week for Week 2's betting tips and advice. Otherwise, put your best foot forward and have fun soaking in the action!