Hide Bonus Offers
| | | | | |
| --- | --- | --- | --- | --- |
| #1 | Bovada Sports | 50% Up To $250 | Visit Site | Bovada Sports |
| #2 | BetUS | 125% Up To $2,500 | Visit Site | BetUS |
| #3 | MyBookie | 100% Up To $1,000 | Visit Site | MyBookie |
| #4 | Everygame | 100% Up To $500 | Visit Site | Everygame |
| #5 | BetOnline Sports | 60% Up To $1,000 | Visit Site | BetOnline Sports |
3 Unlikely NBA Finals Matchups That Could Happen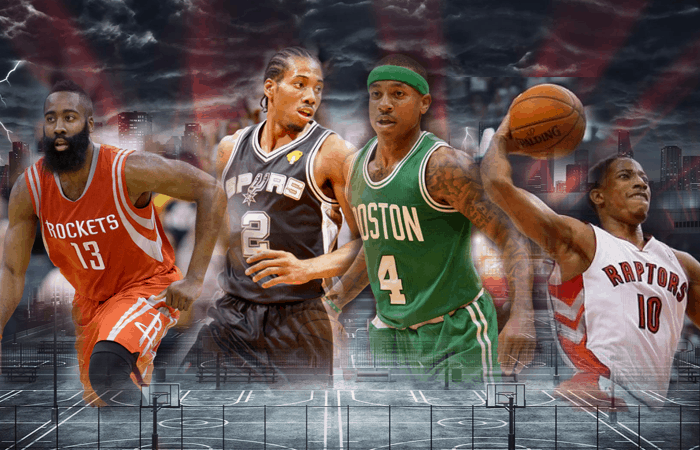 Unless you are a fan of the Golden State Warriors or Cleveland Cavaliers then you may want to see a different matchup in this year NBA Finals. The Cavs and Warriors continue to be odds on favorites to win their conferences and meet for a third straight year.
There are many different options to bet on when it comes to the NBA Finals. This betting continually changes when considering a new and unlikely NBA Champion in June. If there is a surprise champ this year, the payouts will be huge and it may be worth the chance to take a bet on some of the long shot matchups and winners of the 2017 NBA Playoffs.
Now with the second round underway we have been able to see what each team is able to bring night in and night out. In the Western conference, the Warriors continued to look like a dominant favorite to win the conference quite easily, but will the addition of Kevin Durant set them back? They seemed to be a better team without him in their lineup. When it gets down to the conference finals KD might just get in the way of the Splash Brothers.
Out East, even with a Cavs sweep of Indiana, it still seems wide open for any team to win. They continue to struggle defensively and other than LeBron James, their stars are not playing well. They now face a much tougher and experienced Raptors team compared to years prior.
The Boston Celtics snapped out of a huge slump, down 2-0 to the Bulls to win their first round matchup and move on. The Wizards seem to be a team that is on a mission, playing aggressive, old school basketball that the rest of the NBA is not ready to play against.
Boston and Washington kicked off the second round on Sunday afternoon. The Celtics carried over their success from their matchup with Bulls, showing that they are a legit 1-seed. Washington is not down and out though, they are a resilient group that will give Boston a series.
We do not want see another Cavs vs. Warriors matchup for quite a few reasons. The same storylines each summer about LeBron, Steph, and company are getting old. Two, there is a ton of money to win if these two do not make it out of their conferences and into the NBA finals.
We will take a look at some of the most unlikely NBA Finals matchups that could happen when the NBA Finals start on June 1st. As we explain how these matchups can happen, it will also show you the insane money that can be made in betting on these teams to face off in the Finals and one to come out victorious. So let us get started on the possible Finals matchups that no one is expecting to see:
Houston Rockets (+1400) vs. Washington Wizards (+4000)
Houston Rockets
Let's face it, James harden is without a doubt the best player in the Playoffs, now that he and his Rockets have eliminated Russell Westbrook. They were able to defeat the Thunder pretty easily having to overcome some of the best playoff performances in NBA history by Westbrook.
They know how to face the best, Steph/KD are good but neither of them touch Russ in the way he can take over a game. The Rockets were dealt a tough first round matchup. They handled it confidently and are ready to move on.
The Spurs looked out of sorts against the Grizzlies and their core group is aging out. Houston has a ton of high-energy guys that can wear down the Spurs old men with no problem. Houston is playing at an extremely high level right now will be hard to beat four times in a series.
Houston will be forced to play against Patty Mills during this series, but he will have to try to match the intensity of Patrick Beverly. He can easily spark this Rockets team, especially if he can get going on the offensive end. Other than Beverly, there are a number of role players on their bench who can out hustle and play many of the Spurs veteran players.
Kwahi Leonard is one of the best defenders in the league and he will need to play that way every game trying to lock down James Harden. Leonard may be so busy trying to stop the MVP candidate that his offensive game may not be as potent.
Rockets are For Real
The Rockets have shown signs of being an excellent team. They have an abundance of talent surrounding James Harden that know their roles and allows the "beard" to play his game without interrupting it. His team seems to be gelling more and more as their season goes on and can definitely beat this older Spurs teams if playing well.
They may also be the only team with enough offensive power to hang with Golden State this season.
In the end, the Rockets will have to get through the Spurs this round and Golden State/Utah to make it out of the Western Conference.
Washington Wizards
In the Eastern conference, the Washington Wizards could win to face the Rockets. This team is fun to watch! They are intense and high energy that seem to have just enough pep in their step to make a run into the Finals.
It has not just been about the starters for the Wizards. Washington's roster has been able to thrive with key reserves like Bojan Bogdanovic and Brandon Jennings. We all know what John Wall is capable of doing, he seems extra motivated to continue his season by playing hard and scrappy. Wall is surrounded by balanced roster that has a strong coach in Scott Brooks. He has been able to rally his team and this Wizards team is playing solid basketball in the playoffs. The way Washington is playing, they could match up with any team over a seven-game series.
Washington is down 1-0 to the Celtics but they were able to show resiliency in their last round matchup against Atlanta. In reality, they were lucky to get the 4-seed since Cleveland was not able to win the East; they caught a break and need to get things turned around in Boston.
Utah Jazz (+6600) vs. Toronto Raptors(+4000)
Another longshot finals matchup that could shock the NBA fan base would be one without any real star power on both teams. Utah and Toronto are not built around any super stars like the other teams in the playoffs. Instead, they have a strong starting five with a solid and talented bench on both sides.
As unlikely this matchup may seem we have to remember anything is possible when it comes to the playoffs. These two teams play each of their Conference favorites on their path into the Finals during the second round matchups. With those odds, this is certainly the least probable NBA Finals matchup of all.
How Can Utah Make it Possible?
The Jazz are a feel good story as the Cinderella of the NBA playoffs. They beat an underachieving Clippers squad that is filled with top NBA talent in Chris Paul and DeAndre Jordan (Blake Griffin injured). Utah can play ball plain and simple, led by their energetic coach Quinn Snyder who continues to light a firecracker underneath them.
The Jazz may be the most likable team in the playoffs; they are a team that plays unselfish basketball, allowing themselves to win without a ton of top tier talent. The Jazz leaders are Gordon Heyward and veteran George Hill, both of whom were excellent against the clippers. Heyward averaged a team high 23.7 points, while Hill was consistent in averaging 16.8 in their seven game battle with LA.
This team is as motivated to win as any other, they have the youth and talent to make a push into the NBA Finals. Most people will doubt them against the Warriors in the second round but if this group is clicking the Warriors will be worried.
Toronto Must Get Through the Cavs
The Raptors can get through the Cavs in the second round by utilizing their bench. Cleveland is an old team that cannot keep up with the young Raptor reserves. LeBron is going to be worn down this series and it is going to bury the Cavs.
The Raptors can play defense as they were ranked the NBA's fourth best defensive team and the second best defensive rating in the playoffs after playing a tough Bucks squad. When they have Serge Ibaka and Demarre Carrol in their lineup, you are looking a lockdown defense that can give any team problems.
It will not be easy stopping LeBron James to make it out of the second round but the addition of P.J. Tucker will allow Toronto to throw multiple players at the King, he will be able to shut James down better than just about anyone else in the playoffs.
Their bench continues to be impressive after their first two with the next men up being Norman Powell and Delon Wright. Powell was key to their first round win against Milwaukee and he must continue to be if they want to make it out of the East.
Boston Celtics (+2000) vs. San Antonio Spurs(+800)


This finals matchup is the most likely one to happen according to betting odds, but why not take a look at all the options available and this is a matchup of two solid teams from each conference that still pays out well and considered a longshot of happening.
Boston is Still #1 in the East
According to many experts, the Cavaliers are the only team from the Eastern conference that is talented and experienced enough to make it to the Finals. The Cavaliers regarded as the only real contender from the East, the only one that can win the Championship. We are forgetting that this Celtics team won the top seed in their conference. Why Can't they win the NBA Championship?
This Boston team has improved each year with Brad Stevens at the helm. In his second year, they made a push at the end of their season to making into the playoffs and last year they were a better team that made into the playoffs again.
This year Boston is so much better, they won the Eastern Conference and continue to grow as a team. After going down 2-0 to Chicago with an overwhelming amount of emotions going on with their star Isiah Thomas they prevailed. Their bench is stronger with players that fit into the style/tempo and play well together.
Coach Pop and the Spurs Know How to Win
They are the best-coached team in the NBA, Coach Popovich knows how to win and coaches the game with that goal. He always has his team prepared and will force them to play hard, smart, and playoff caliber basketball until the very end.
They did seem to struggle against the Grizzlies, but they were a solid team that started to play well enough to steal a few games. The Spurs and Pop are too confident and wise to be held captive by a lesser team and they have been able to always overcome adversity.
Out of all teams on this list, they know how to play with Golden State that is why they have the best chance after the Warriors out West to win the Finals. They owned the Warriors in every game this year, only losing their last game after blowing them out by 26 points in the first quarter. All signs point to the Spurs being able to take down a new look Warriors squad with KD back in the lineup.
Do not be surprised if this matchup actually happens.
As we go into the second round of the 2017 NBA playoffs there have been a ton of close games and hard fought series. This competitiveness will only increase as these rounds move on and the talent picks up. There continues to be a far favorite to win it all- Golden State was last at a -200 to be the Champions in June, a pretty lame bet.
There are always great opportunities to bet on the underdogs to make a run, it could be this year where the Warriors are still trying to find their identity with Keven Durant and Cleveland is struggling to gain confidence within their team and in the public eye to be a winner. You never know when going against the odds will pay you back.