3 Common Sports Betting Traps to Avoid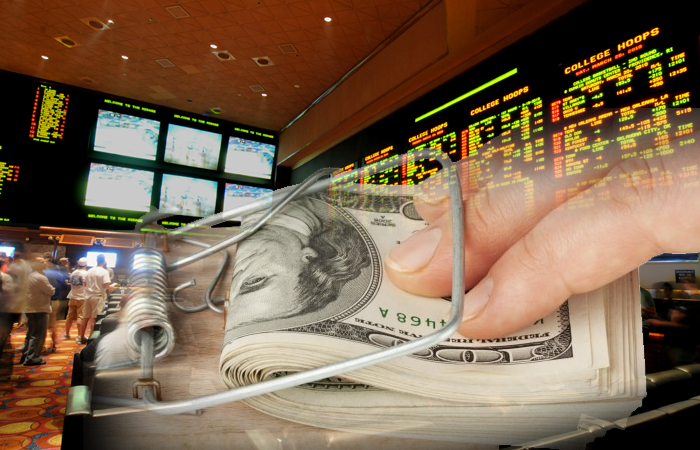 Undefeated boxing legend Floyd Mayweather Jr. fought MMA star Conor McGregor on August 26th of last year. Casinos began offering markets as soon as the fight was announced but began by putting the shortest odds where they belonged, on a slow, methodical win for Mayweather.
Then the hype machine got cranked up. Promoters marketed the boxing match as an intriguing long-shot opportunity for McGregor to make history. The Irish martial artist had nothing to lose and would come out guns-a-blazin' in the first round. What if he could land just one of those mean cage-fighting uppercuts and knock "Money" to the mat before anyone knew what happened?
Bettors can be a soft touch. Futures odds on either fighter to land a knockout blow in an early round began shrinking shorter and shorter, as gamblers shot the moon hoping for an upset miracle or a McGregor belly flop.
Yet anyone who was paying attention knew that those bets were foolish. Plenty of fighters have faced Mayweather feeling like they had nothing to lose. They all lost, but rarely due to an early knockout. As casinos reacted to the heavy action on McGregor, odds on later-round and decision results grew in value. In the end, those sober gamblers who predicted a tenth-round TKO of the UFC fighter made off with the loot.
Those unlucky souls who impulse-gambled on McGregor were making one of the most common mistakes in sports betting. Let's take a closer look at exactly what they did wrong, and then examine two more common betting foibles that cost players money every day.
Trap #1: Betting with the Hype
No, this article won't lecture about only betting what is affordable, or command recreational bettors to look both ways before making spontaneous, fun bets. Advice like that is readily available elsewhere.
But if you choose to bet on sports, do it wisely. The biggest blunder in sportsbook wagering is falling for the hype surrounding big-money athletes. "Can Conor McGregor knock out Floyd Mayweather with one punch?" shouts a headline, and a hundred unwise bettors follow the ruse.
We live in a new era of media. There are still trustworthy analysts on TV, but the concepts of "news" and "profit" are so intertwined that some talking heads really do amount to paid shills. Booger McFarland will never appear on the SEC Network and predict that an ACC school will beat Georgia or Ole Miss, for instance. Booger knows the gridiron, but he's not paid to be fair.
Beware picking teams and players who make the most money for ESPN and other sports news outlets. Last baseball season, Tim Tebow made an early splash as a power hitter in the Mets farm system. Since national news coverage of the Minor Leagues is so spotty, it might have seemed to casual fans like Tebow was hitting home runs and floating around the field in a halo the rest of the time. But the diamond rust of ten-plus years caught up to the former NFL phenom, and prop bettors who gambled in early summer on a big HR total from Tebow were disappointed.
New opportunities jump out at a bettor who is immune to the hype. The 2017 Las Vegas Bowl illustrated the point as well as any college football contest from last season. The Oregon Ducks were hyped by ESPN and others as a sure thing to beat Mountain West Conference champion Boise State in Las Vegas. Odds for the mid-major Broncos opened at (+200) or higher while smirking pundits waved their hands in dismissal of the squad's chances.
But Boise State was focused, a proud team with a score to settle against the Pac-12. Oregon was missing head coach Willie Taggart, who ran away to Florida State before bowl season. Duck running back Royce Freeman would offend his teammates by grandstanding on the sidelines while refusing to play, not wanting to endanger his NFL draft status.
BSU won 38-28. Gamblers who had noticed the Ducks' dysfunction and placed a bet on the more motivated team cashed in. Bettors who had followed the hype about Oregon ended up with ruffled feathers and thinner wallets.
The more-hyped of two clubs will win often enough. But remember that the overconfidence of national pundits can always skew the odds. The bigger an event, the more shallow hype can affect the action.
Trap #2: Getting Rolled Over
Think before making those first dozen-or-so sports bets. As in, think about all of them before placing even the first wager. Or even making a deposit.
Why? Because an online sports book isn't designed like an old-fashioned casino. "Hey, I think I'll put $100 on the Super Bowl," the newbie thinks. "If I win the bet at these (+200) odds, I can win $200 and withdraw $300." But it's not often that simple, or at least bookies prefer when it isn't.
Online books are geared to get new players in the system placing as many bets as possible. To lull bettors into the trap, sign-up bonuses are offered as a standard "gift" for valued new customers. Except the free money staked into a new account is protected by rollover restrictions. Often, when a bettor deposits $500 and is handed another $250 in a sign-up bonus, he or she must bet the entire $750 total 6 or 7 times before withdrawal is allowed.
On one hand, the house can't be faulted for protecting itself. With sign-up bonuses as high as 100% on the first $500 deposited, if there were no rollover restrictions, wise guys could simply sign up, collect a bonus and withdraw. On the other, having to bet a cumulative $1000 six times at a highly-restrictive book stacks the odds in favor of the house. Especially if the player is there for fun and doesn't enjoy daily, routine betting.
There are bettors for whom a sign-up bonus is an asset, even if it comes with a tough rollover deal. They include A) completely recreational players with money to spare, and B) professional sports gamblers. The former can use sign-up bonus funds to fill out a $1000 bet on the Super Bowl or the NBA Finals, and enjoy the thrill of having laid down 4 figures in some form. Career bettors, meanwhile, are happy to have the extra stake money. Rollovers are washed through quickly when someone bets every day.
For everyone else, try to get around rollover deals by refusing sign-up bonuses. It's not always easy. Many sportsbooks try to make it appear as though the sign-up bonus is a built-in deal. Who would refuse free stake money? But it's legally dubious for a casino to force a gambler to accept free money he or she doesn't want. If there's no obvious way to opt-out in registration, use the chat or phone number on-site and talk to a live person about it. Make sure to ask if you are avoiding the rollover plan by not accepting a bonus.
There are few more satisfying things in life than quickly collecting winnings on a successful bet. Casinos ought not to be allowed to spoil the fun.
Trap #3: Betting on Events After They Go Viral
Social media has made news consumption more passive. Why read a sports page carefully from front to back when there's already Twitter to give everyone the daily hot stories? Being fed the news without lifting a finger is a great blessing, but it comes with a downside. We're fed what the news wants us to consume. Usually, that means whatever is hot at the moment.
Recreational sports bettors follow the same pattern. World Cup futures betting will ramp up in the late spring of 2018, as the championship draws near. June is a big month for NBA futures bets, even though there's more value in odds set before the playoff brackets begin. Sometimes bookies throw out wildly disparate odds to begin the action, only to move in each other's direction later. But when gamblers bet on events as they hear about them on Facebook, it adds up to a lot of last-minute wagers. The opportunity to take advantage of great early odds is missed. Yet another trap has been sprung.
The recent Winter Olympics in South Korea showed that a "futures" bet on an event taking place 12 hours later is often a fool's errand. Smart bettors make early picks, or at least consider them.
For instance, German bobsledder Johannes Lochner was an early favorite for gold in the 4-man competition. Lochner's short odds helped keep a longer futures line on fellow German pilot Francesco Friedrich, who had not been tearing up the World Cup quite like his intramural rival. But crafty bettors who understood the special atmosphere of the Olympic Games knew that Lochner was a risky gamble, having struggled on the track in Russia 4 years prior. They wagered on Friedrich early, before the Games began. By the time the 4-man race rolled around, it was clear that Lochner was having another bad go-around. Friedrich was now an odds-on favorite to win. Those who made a winning bet at the last minute were rewarded, but not as handsomely as those who had researched and moved early.
In the ice hockey tournament, the Olympic Athletes from Russia were a (+250) co-favorite for gold with weeks left to go before Pyeongchang. The Kontinental Hockey League was dragging its feet about going to the Olympics, and OAR was dead if the league didn't participate. The western news media was in a state of denial, with CBC printing a story in December that implied the KHL just wasn't likely to take part. But the prospect of Vladimir Putin allowing his marquee hockey players to be barred from the Games was absurd. Weeks later, OAR's odds-to-win had shrunk to (+100) or even minus-odds in gold
medal futures markets while the KHL was in Korea with bells on. When the Russian athletes took first place, OAR bettors who had moved early got more than double the winnings of late-comers.
There are many more common betting traps to discuss in future articles, such as only wagering on big games. But by avoiding ESPN, rollover problems, and last-minute betting, the newbie sports gambler can get a head start on beating the bookie.