Clinton vs. Trump Betting Odds for the 2024 US Election

The US presidential election odds for 2024 are out there and available to bet on. Of course, two names have caught my attention. And no, I'm not talking about Elon Musk and Kanye West.
As much as that showdown would be among the craziest wagers on the best political betting sites, I don't think it would come anywhere near Donald Trump vs. Hillary Clinton thrashing it out for a second time.
In terms of infamy, Trump beating Clinton in 2016 must be up there with the most shocking political victories of all time. A billionaire businessman with no traditional credentials beating a career politician and former first lady to the White House? We've seen more feasible plots from the fictitious House of Cards get thrashed.
The idea of Clinton vs. Trump determining who will be the next President of the United States of America appears to be even wilder. But the whispers are beginning to perk ears.
The odds for the US presidential election in 2024 have only compounded interest in what would be the most enthralling political rematch in the history of global politics. And you can bet on it. Just be sure to use the most reputable sites for political betting, as seen below.
Where to Bet on the 2024 US Presidential Election
How We Rate

Safety & Security
You should be able to gamble online without fear. So we only recommend licensed sites that use the latest security and encryption techniques.

Bonuses
Maximize your bankroll with fantastic bonuses. Our recommended sites offer valuable bonuses with fair terms and conditions, including manageable wagering requirements.

Games & Betting
The best sites have the best wagering options. That's why you will find extensive games and betting opportunities on our recommended sites.

Banking
Getting your money to and from your account shouldn't be a hassle. We only recommend sites with a variety of convenient banking methods, including cryptocurrency and e-wallets.
Winning Party Odds for the 2024 US Presidential Election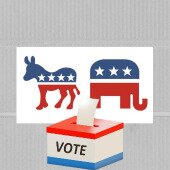 If you're looking to bet on Clinton vs. Trump's US presidential election odds for 2024, you won't find a market dedicated to this scenario just yet. But I will be sharing their individual odds a little later.
First, to understand the wealth of options you have at your disposal, let's start with the prices for the winning party. If things go as some perceive, Clinton could be the Democrats' nominee for 2024, with Trump pushing the Republicans' ticket. This means that you can potentially find some value in the winning party odds.
By the way, I've taken all the odds for the US presidential election 2024 found in this piece from BetOnline.
They have some excellent markets to look at, including some very interesting 2024 US presidential election prop bets. You can, of course, stick with this market. I recommend not committing to anything until you have seen the full scope of options available. I'll present those choices to you as we go along.
Betting on the Republicans? If so, you can get -150 for the party to win, as things stand. Just know that these odds are not based on Trump being the GOP candidate for 2024. Their nominee has yet to be decided, although it is increasingly likely that he will run for a second stint in office.
The same logic applies to the Democrats' odds for 2024.
Clinton is certainly no cast-iron favorite to take the reins. Most 2024 US presidential election predictions won't see her as a viable contender. But you can bet on the Dems winning the next election right now at plus money odds. President Biden remains the favorite to be the party's nominee, but some political analysts are not keen on his chances.
What about the winner not being affiliated with the Republicans or Democrats? You have to go back to Millard Fillmore to find the last President of the United States that didn't represent the elephant or donkey. Fillmore served as the 13th President of the US between 1850 and 1853. So, good luck with that one!
I will look at more gambling markets on Hillary Clinton vs. Donald Trump in 2024. If you've heard enough from me, feel free to head to BetOnline. You will find the full range of odds available before placing your betting picks for the 2024 US presidential election.
Bet on the 2024 US Election
BetOnline gives us a full range of odds. Feel free to read a site review before visiting the site.
2024 US Election Odds for the Republican Nominee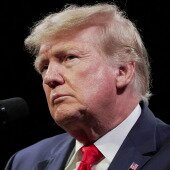 Will Donald Trump run for president in 2024? According to the US presidential election odds, he's the favorite to be the Republican nominee.
You can find a complete list of GOP candidates for the 2024 presidential election at BetOnline. I've cut things down to the top five as the prices begin to swell considerably after this quintet of hopefuls.
Are you surprised to see Trump lead the pack? It's been this way for a while. You might not have been paying attention if you're not a fully committed politics buff. Since losing the 2020 election to Joe Biden, the larger-than-life cult figure has been mostly quiet.
You could put this down to the former president no longer having the platform as president. Perhaps unwilling to potentially incite trouble without the protection that entails, the would-be candidate for 2024 might not be keen to attract unwanted attention.
Especially from pole position as the GOP's candidate of choice. At least, with the bookmakers. And when are they ever right about anything?
Exactly.
Another probable factor behind Trump's decision to bow out from the center stage is the strategic gains that could be made from doing so. Politics is a long game. With Joe Biden and Kamala Harris growing increasingly unpopular in the run-up to the midterms, why not just sit back and watch as their collective approval ratings collapse?
Napoleon Bonaparte's famous maxim "Never interfere with the enemy when he is in the process of destroying himself" is something to consider.
As the US presidential election odds for 2024 begin to gather traction, Trump is still the favorite to be the Republican candidate. Only just.
Incumbent Governor of Florida, Ron DeSantis, is catching up at an alarming rate. According to a poll conducted by the New York Times, what should be of more concern for Trump is that DeSantis is slowly taking some of his support.
You can see the support for all five potential candidates below.
| | | | | | |
| --- | --- | --- | --- | --- | --- |
| Statistics | Donald Trump | Ron DeSantis | Ted Cruz | Mike Pence | Nikki Haley |
| Total of All Surveyed Respondents | 49% | 25% | 7% | 6% | 6% |
| Male | 52% | 25% | 7% | 5% | 4% |
| Female | 45% | 24% | 6% | 8% | 8% |
| Educated to Bachelor's Degree or Higher | 28% | 32% | 7% | 10% | 12% |
| No Bachelor's Degree and Lower | 58% | 21% | 7% | 5% | 3% |
Of course, Trump has been back in front of the lense, so to speak, over the past few months.
With Primary Elections set to be fought out in key states, the 45th POTUS needs to turn the dial on his campaign slowly. It would be unwise to move out of first gear right now, but you can expect to see more from him later this year as he looks to secure approval from voters.
DeSantis is some way behind Trump. The Governor might find that his heavy response to the historic overturning of the Roe vs. Wade decision earlier this year works against him. At this stage, however, he must be treated with respect.
The current state of play within the GOP would suggest that Trump is on course for another shot at the title. I'll be making predictions for the 2024 US presidential election markets further down. But if you want to look at picks for the top Donald Trump props for 2022, be my guest!
Just make sure to come back to me, as I'm going to look at Hillary Clinton's chances for 2024. You don't want to miss that!
Hillary Clinton's Odds to be the Democrat Nominee in 2024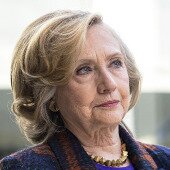 Again, you can find more odds to be the Democrat nominee for the 2024 presidential election at BetOnline.
Even better, you can compare the odds for Hillary Clinton to be nominated for the Dems with our recommended political betting apps. As things go, you will struggle to find better odds than these. But I wouldn't rule out securing some juicier prices, even if Clinton's odds are unlikely to grow until she officially rules herself out.
The prospect of gambling on Trump vs. Clinton in 2024 this far out might not be for everyone. But if the 67th United States secretary of state and the former first lady does enter the ring for one last shot, the odds above could be phenomenally profitable. The case here, I guess, is to gauge whether backing her to be the Democrat presidential nominee for 2024 has significant betting value.
I think it does. In fact, I've been talking about the possibility of Hillary Clinton running for the presidency in 2024 for quite a while now. It appears that I'm not alone in my thinking, with several respected political pundits suggesting it's a possibility.
Then there is Greg Valliere, Chief US Policy Strategist at AGF Investments, who prefaced his view that Clinton could run in 2024 with a very ominous or auspicious (depending on your allegiances) remark of "don't shoot the messenger."
The bookmakers aren't giving Hillary much of a chance. But that could change. Joe Biden is unlikely to run for re-election. Few have been satisfied with his handling of the COVID pandemic, the cost of living crisis, and the war in Ukraine. Biden's approval rating hit 33% in July 2022. That's shockingly poor.
Kamala Harris, who many saw as a made-to-order replacement for the POTUS, is also an extremely unpopular veep. Read what America thinks of Kamala Harris and make up your mind about her chances.
Will Biden Run Again in 2024?
As things stand, the odds for Biden running in 2024 is about as attractive as a warm glass of diesel fuel and just as expensive. But announcing his intention to run and securing the ticket are two completely different things.
This leaves Gavin Newsom, Elisabeth Warren, Pete Buttigieg, Michelle Obama, and Amy Klobuchar ahead of Hillary. I don't believe any of the candidates above would win as much support as Clinton should she choose to run.
The betting odds for the 2024 United States presidential election will look much different than they do now if she decides to give it a go. As for the odds for the Democrat nominee? They would be slashed in her favor seconds after news hit print.
OPINION: Joe Biden should run for president in 2024. But if he decides against it for whatever reason, Jon Stewart should run on the Democratic ticket instead.

He's exactly the person they need.https://t.co/atkKSpVFpv

— POLITICO Magazine (@POLITICOMag) July 8, 2022
The United States is still reeling over the Supreme Court's decision to overturn Roe vs. Wade.
Some women feel under attack, which could aid her cause. There is a vacuum to be filled in the Democratic Party that she could feasibly fill. Clinton is the first woman in the history of the United States to be nominated as a presidential candidate. A champion of women's rights, it seems so glaringly obvious to her supporters that she is needed more than ever. Perhaps not John Stewart, right?
The question is, could Hillary 2024 be a thing? I think so. This, in conjunction with Trump intending to make an attack as the GOP candidate, means we could have a historic rematch on the table. I'm not sure that even the greatest boxing matches of all time would come close to this for action.
Should it happen, that is.
Trump and Clinton's Odds to Win the 2024 Presidential Election
If you're betting on Donald Trump's 2024 US presidential election odds, he comes in at +300.
That's up half a point from earlier this year. However, he is still the favorite to win the presidency in 2024. It's a solid price, with only Ron DeSantis (+375) and Joe Biden (+475) coming anywhere near close. For reference, Kamala Harris is fourth in the price table, with odds of +1200. Mike Pence is behind her at +1800.
Again, you can head to BetOnline to see a list of all odds for the 2024 US presidential election or compare those prices against others by visiting the best betting sites in USA.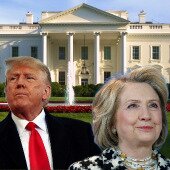 Hillary Clinton's US presidential election odds for 2024 are not as attractive as Trump's. She is priced at +4000, which leaves her trailing behind the likes of Gavin Newsom (+2000), Nikki Haley (+2800), Elizabeth Warren (+2800), and Michelle Obama (+3300).
You can get Dwayne "The Rock" Johnson for the same price as Clinton. Does that mean the former WWE star is just as qualified as the former secretary of state? Absolutely not. But he is certainly a more popular figure than Clinton will ever be.
It says a lot about US politics when odds for the presidential election in 2024 have movie stars sitting alongside a candidate that was celebrating winning the hot seat just hours before Trump beat her to it. A career politician that seemingly only had to turn up to get the job done.
Of course, there is a major factor at play with these odds. Clinton is still not believed to be in the mix just yet. If she announces her intentions to run, watch as her price tumbles.
If this happens, the former first lady will be among the betting favorites to win the United States presidential election in 2024.
Watch this space.
Early Betting Picks for the 2024 US Presidential Election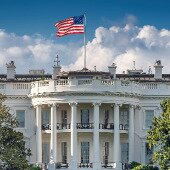 The US presidential election odds for 2024 are looking rather interesting.
Would it be a push to suggest that the two most sensational candidates could make it to a face-off? The odds for Hillary Clinton to win the presidency in 2024 might be pretty long right now. They will shrink faster than a chocolate bar in a recession if she throws her hat into the ring.
Donald Trump's odds for the 2024 US election are far more realistic. At this point, it appears a foregone conclusion that the 45th President of the United States will run again.
On that subject, here are those betting picks for the 2024 US presidential election picks I promised you.
Republican Nominee: Donald Trump (+120)
Democrat Nominee: Hillary Clinton (+1800)
Winning Party: Republicans (-150)
2024 US Presidential Election Winner: Donald Trump (+300)
Although there appears to be a ubiquitous sense of doom in global politics right now, the more optimistic among us know that something has to give.
Taking the odds for betting on Clinton to beat Trump might be a step too far. I have said it once, and I'll repeat it; the Democrats' ship is sinking, and Trump is coming back. Whether he'll get as far as the White House remains to be seen. But he will be in the race, barring any unforeseen circumstances.
Clinton could be there waiting for him. I mean, in this crazy world of ours, you cannot rule anything out. Especially something as predictably unpredictable as a second presidential election featuring Trump and Clinton.
If it all seems too far-fetched, feel free to consider other things over predictions for the 2024 United States presidential election. Perhaps the reunification of Korea, for example?
AUGUST
Casino of the Month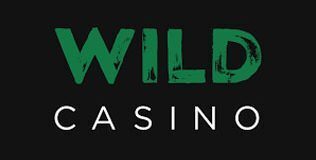 Welcome Bonus
250% up to $5,000
Read Review
Visit Site