Odds and Best Bets for the 2023 Super Bowl Matchup

The last time we saw an NFL game in action was Super Bowl 56, with the Los Angeles Rams defeating the Cincinnati Bengals. With the upcoming season almost here, it's natural to wonder about Super Bowl 57, even though the season hasn't even started yet.
This is shaping to be one of the most competitive NFL seasons in a while, with many different teams capable of winning this year's championship. So a great way to make a profit at the end of the season is to take advantage of the possible Super Bowl 57 matchup odds.
You are probably aware of betting on a particular team to win the Super Bowl outright, but what if you're undecided between two teams? Betting on who will play in Super Bowl 57 instead of who actually wins is perfect if that's a situation you're in.
Let's review which potential Super Bowl 57 matchups make the best bets right now. If that's something you're interested in, check out the best US betting sites, or view them below.
How We Rate

Safety & Security
You should be able to gamble online without fear. So we only recommend licensed sites that use the latest security and encryption techniques.

Bonuses
Maximize your bankroll with fantastic bonuses. Our recommended sites offer valuable bonuses with fair terms and conditions, including manageable wagering requirements.

Games & Betting
The best sites have the best wagering options. That's why you will find extensive games and betting opportunities on our recommended sites.

Banking
Getting your money to and from your account shouldn't be a hassle. We only recommend sites with a variety of convenient banking methods, including cryptocurrency and e-wallets.
Tampa Bay Buccaneers vs. Buffalo Bills (+2200)
Let's start with the most reasonable bet available right now: the Buffalo Bills facing off against the Tampa Bay Buccaneers. If we look at the Super Bowl 57 Odds on BetOnline, you'll see that the Bills are preseason favorites, while the Buccaneers are close behind.
Buffalo currently sits at +500, while Tampa Bay is a tad behind them at +700. So if you think this matchup is a real possibility but can't decide which team you prefer more, why not try the matchup odds at +1700?
These two teams have the best chances of winning the Super Bowl, so it makes sense that they lead the way with the best possible Super Bowl 57 matchup odds.
Bills Super Bowl 57 Breakdown
As for the Bills, they could be the most motivated team in the AFC right now. There are a lot of tough AFC teams this year, but the AFC East isn't going to be as tough as the AFC West. That could mean that Buffalo cruises their way to the first seed and home-field advantage.
Buffalo's roster is lethal in all aspects. They have a superstar quarterback in Josh Allen, with many talented weapons to his benefit. Not only will their offense be incredibly hard to stop, but their defense was also one of the best in the league in 2022.
Josh Allen since 2020:

🥉 92.6 PFF Grade
🥇 30 TDs under pressure
🥇 94.0 PFF Grade outside the pocket pic.twitter.com/ClTVoUJB01

— PFF (@PFF) July 22, 2022
This team should have a sour taste in their mouths after losing to the Chiefs in the fatal overtime game last year. That could be the fuel they need to push their team over the top. It's hard to say if there is a more talented roster than Buffalo's, making them an excellent team to bet on at least making the Super Bowl.
If you're already sold on the Bills making the Super Bowl, but aren't sure about the Bucs, here are the odds for some other potential matchups.
Rams vs. Bills (+2500)
Packers vs. Bills (+2800)
49ers vs. Bills (+4500)
Cowboys vs. Bills (+5000)
Buccaneers Super Bowl 57 Breakdown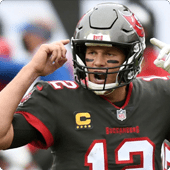 As for Tampa Bay, they could be right back in the Super Bowl after winning it two years ago. Tom Brady's retirement stint was brief, and they brought back many of their top players for another big run.
The NFC does not have as much competition as the AFC either, which means a top team like the Buccaneers could cruise their way to the Super Bowl. I would say that the Packers and Rams will be the Bucs' main competition.
As for the other teams in the NFC, they seem to have some issues they need to resolve before they could be a legitimate Super Bowl threat this year. Tom Brady is always a good bet to get into the Super Bowl, making Tampa Bay a reliable option yet again.
Other odds for possible matchups for Super Bowl 57 against Tampa Bay include:
Chiefs vs. Buccaneers (+3300)
Chargers vs. Buccaneers (+3300)
Broncos vs. Buccaneers (+4500)
Bengals vs. Buccaneers (+5500)
In the end, Buffalo and Tampa Bay are heavily expected to be the best teams in their respective divisions, so it's not hard to understand why this option is favored the most out of all possible Super Bowl 2023 matchups.
Kansas City Chiefs vs. Green Bay Packers (+4000)
It makes a lot of sense to consider a bet with either the Bills or Buccaneers making the Super Bowl, so nobody should be shocked to learn they have some of the best Super Bowl 57 matchup odds.
That said, let's ensure we are thorough. Even though they both are good teams to bet on, there's still a good chance they are eliminated before making it all the way.
You could consider including at least one of them in your favorite bet, but let's look at other potential Super Bowl 57 matchups, so we aren't putting all our eggs in one basket.
Two other teams that have decent chances of making it to the Super Bowl are the Kansas City Chiefs and Green Bay Packers.
Chiefs Super Bowl 57 Breakdown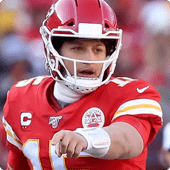 The Chiefs are one of the teams with a very interesting future ahead of them this year. Tyreek Hill has been an essential player to their offense's success over the last several seasons, but they traded him to Miami in the offseason.
That leaves a massive void for Kansas City to fill. It will be interesting to see how they do without Hill, but the Chiefs without Hill could still be better than 90% of the NFL's offenses. They still have the main piece of the puzzle in Patrick Mahomes and the best tight end in the league in Travis Kelce.
Mahomes and Kelce seem like they can run the show by themselves at points, but they will still need 2-3 more reliable options if they want to make their 3rd Super Bowl in the last four seasons.
Even with Hill's departure in the offseason, the Chiefs still did a great job of acquiring promising rookies with talented veterans as well. The Chiefs will be underrated now that Hill's gone, and that might be exactly how they like it.
Other possible Super Bowl 2023 matchups for the Chiefs include:
Buccaneers vs. Chiefs (+3300)
Rams vs. Chiefs (+3500)
49ers vs. Chiefs (+6000)
Cowboys vs. Chiefs (+6600)
Packers Super Bowl 57 Breakdown
Apply everything we just said about the Chiefs to the Packers' situation. This was quite the offseason for big names trades, specifically with wide receivers. Not only was Hill shipped to the Dolphins, but Davante Adams was also traded to the Raiders.
The Packers and Chiefs are in the same exact position when it comes to their outlook for the 2023 season. They both traded away their No. 1 wide receiver and will have to fill a major void in their offenses.
Like Kansas City, Green Bay added some rookies and veterans in an attempt to replace their star wide receiver. All eyes will be on Christian Watson's development as a rookie because he's looked at as Adams' long-term replacement.
The faster he can get up to speed, the better the Packers' chances of making it to the Super Bowl. Aaron Rodgers' time is winding down, so it will be interesting to see what Green Bay's offense looks like without Adams.
Most recent season throwing 10+ INT:

Tom Brady: 2021
Pat Mahomes: 2021
Justin Herbert: 2021
Joe Burrow: 2021
Josh Allen: 2021
Lamar Jackson: 2021
Matt Stafford: 2021
Dak Prescott: 2021
Derek Carr: 2021
Aaron Rodgers: 2010 pic.twitter.com/yVvH0FhzcO

— NFL on CBS 🏈 (@NFLonCBS) July 25, 2022
Other potential Super Bowl 2023 matchups for the Packers include:
Bills vs. Packers (+2800)
Chargers vs. Packers (+4000)
Broncos vs. Packers (+5500)
Bengals vs. Packers (+6600)
If Kansas City and Green Bay can prove that they can win without their former No. 1 wideouts, we might see them make it all the way to Super Bowl 57.
Los Angeles Chargers vs. Los Angeles Rams (+3500)
If only this Super Bowl matchup happened last season. The battle of Los Angeles would have been epic in their home city. With this showdown coming in with solid Super Bowl 57 matchup odds, there's still a good chance it will happen in 2023.
Both the Chargers and Rams have talented enough teams to make it to the Super Bowl, so why not take a shot here for a huge payout?
Chargers Super Bowl 57 Breakdown
I know the Bills will be extra motivated for missing out on the Super Bowl last year, but the Chargers should be even more motivated because they didn't even make the playoffs. They came extremely close in 2022, needing a tie or a win against the Raiders in Week 18, but they couldn't pull it off.
They definitely have a talented enough roster on both sides of the ball, and Justin Herbert is one of the best young quarterbacks in the entire NFL. You might not be impressed with how last season ended for them, but I assure you, Justin Herbert is a quarterback who will not frequently miss the playoffs in his career.
A reminder that @chargers' Justin Herbert has a cannon! 🚀 pic.twitter.com/0ceE6X6V4A

— NFL UK (@NFLUK) July 25, 2022
The Chargers also made a big trade this offseason, acquiring Khalil Mack from the Bears. He may not be in his prime, but Mack and Joey Bosa will be a nightmare matchup for opposing offensive lines.
A battle of Los Angeles would be an awesome head-to-head matchup, but here are some other potential Super Bowl 57 matchups for the Chargers.
Buccaneers vs. Chargers (+3300)
Packers vs. Chargers (+4000)
49ers vs. Chargers (+6000)
Cowboys vs. Chargers (+6600)
Rams Super Bowl 57 Breakdown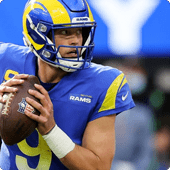 There aren't many teams who can make the Super Bowl two seasons in a row, but the Rams could be one of them. They still have an incredible roster and have been vocal about wanting to "run it back" this year.
The blockbuster trade to acquire Matthew Stafford from the Lions paid dividends for the Rams, and I'm sure they are all happy with how it turned out. We knew Sean McVay's offense was lethal, but Jared Goff seemed to be holding them back.
Those suspicions came true after we saw the difference between the Rams' offense over the last few seasons. Stafford was a match made in heaven for the Rams, fitting McVay's scheme perfectly and taking their offense to another level.
Cooper Kupp led the NFL in tons of statistics, while the Rams' offense couldn't be stopped. Defensively they still had some of the best players in the league like Aaron Donald and Jalen Ramsey.
The Rams could face a post-Super Bowl slump this year, but the NFC could still be wide open for the taking. Be sure to check out the full breakdown of the 2022 NFC Championship odds to see where the Rams land.
If the LA showdown doesn't happen, other potential Super Bowl 2023 matchups include the following.
Bills vs. Rams (+2500)
Chiefs vs. Rams (+3500)
Broncos vs. Rams (+5500)
Bengals vs. Rams (+6000)
Indianapolis Colts vs. Philadelphia Eagles (+17000)
Predicting the possible Super Bowl 57 matchups could be something you are least expecting. If you honestly thought the Bengals were going to be a team in the Super Bowl before last year started, you're either a liar or rich.
I'm going with some outside options with incredible odds to play in Super Bowl 57. The Indianapolis Colts and Philadelphia Eagles are two teams I love as dark-horse Super Bowl candidates, so why not have a matchup between the two?
They might not get to face each other with them both being long shots, but as I said, you never really know who it will be.
Colts Super Bowl 57 Breakdown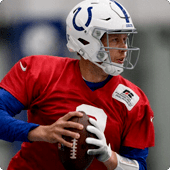 You want to consider all options when betting on who will play in the 2023 Super Bowl. Indianapolis is a team that I think is wildly underrated coming into this season. They have talent on both sides of the ball and acquired Matt Ryan in a trade with Atlanta in the offseason.
Now I'm not saying it's nearly the same as the Stafford trade to the Rams, but like Jared Goff, Carson Wentz wasn't taking the Colts' offense over the top. Now that they have an experienced quarterback at the helm in Matt Ryan, they could become an entirely different team.
Ryan also has Super Bowl experience, even though it was in one of the worst collapses in major sports history.
Nonetheless, the Colts have an incredible offensive line with great playmakers like Jonathan Taylor and Michael Pittman. Their defense is also underrated as well.
If the Colts can shock the NFL world like the Bengals last year, they could face another underdog like the Eagles. Other opponents with a higher chance of facing the Colts than the Eagles are:
Buccaneers vs. Colts (+6000)
Rams vs. Colts (+6600)
Packers vs. Colts (+7000)
49ers vs. Colts (+11500)
Eagles Super Bowl 57 Breakdown
I was impressed by the Eagles in the offseason. They made several great trades, acquiring players that can help them now and draft picks for the future. 2023 may not be their year, but there's a chance they are another longshot bet to make it to Super Bowl 57.
They nailed the draft with two potential Defensive Rookie of the Year candidates in Jordan Davis and Nakobe Dean, with 2 of their first 3 picks. Not only that, but they also traded for a stud wide receiver in A.J Brown from the Titans.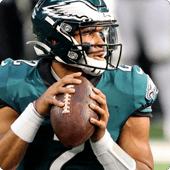 DeVonta Smith is entering his second season in the NFL as well. He and Brown will lead a surprisingly lethal passing attack in Philadelphia. The main question is going to be about their quarterback.
Jalen Hurts' development will be the biggest factor in the Eagles' Super Bowl hopes. They have a talented roster, but a top-tier quarterback is a must-have if they want to go all the way.
Hurts has an incredible ability to extend plays with his legs. Smith and Brown will have more chances to bust big plays, while Hurts keeps the defense honest with his mobility. Philadelphia could make for a very underrated betting option here, considering the smaller number of top-end teams in the NFC.
Here are the Eagles' odds for other possible matchups for Super Bowl 57:
Bills vs. Eagles (+7500)
Chiefs vs. Eagles (+10000)
Chargers vs. Eagles (+10000)
Broncos vs. Eagles (+15000)
There's a substantial risk for betting on a possible Super Bowl 57 matchup between the Colts and Eagles, but crazier things have happened.
Which Teams Will Play in Super Bowl 57?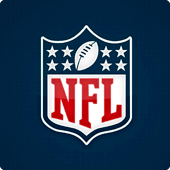 The good thing about betting on possible Super Bowl 57 matchup odds is that the pricing is so good that you can bet on multiple different outcomes and still come out with a profit.
If there are a couple of teams you want to narrow in on, don't be afraid to bet on one or more of their potential Super Bowl 2023 matchups for this year.
Maybe the Colts and Eagles matching up head-to-head are too far-fetched for you. That's perfectly understandable, but you could also consider the Bills vs. Eagles at (+7500).
With that being said, the best bet for betting on possible Super Bowl 57 matchups has to be the Bills vs. Buccaneers (+2200). It's not the most exciting option, but these two teams have the best chances of making it to Super Bowl 57.
The Bills are Super Bowl favorites and should be on a mission to prove that they could have won last year if it wasn't for the NFL's overtime rules. Tampa Bay should only have a handful of NFC opponents who can legitimately challenge them when it matters.
The crazy odds for the Colts vs. Eagles potential matchup sure is fun to look at, but it's quite the longshot. +2200 odds for the two most favored teams to at least make it to the Super Bowl seems like a very reasonable bet to make.
If you're ready to start your NFL season by betting on potential Super Bowl matchups, head to the top Super Bowl betting sites.
AUGUST
Casino of the Month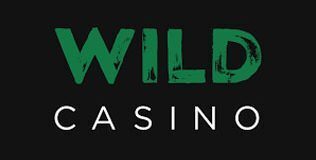 Welcome Bonus
250% up to $5,000
Read Review
Visit Site