Predicting Who Will Get Inducted into the 2023 NBA HOF

Being a Hall of Fame inductee is the highest honor in any sport. The Hall of Fame represents the best players and coaches of all time. It's one thing to play professionally but another to leave a lasting impact.
The 2023 NBA Hall of Fame class will feature two of the greatest players of all time. I expect four players to make the Hall of Fame on the first ballot.
We'll talk about those players, but first, let's recap the 2022 NBA Hall of Fame class.
Who Was Inducted into the 2022 NBA Hall of Fame?
Tim Hardaway
Manu Ginobili
George Karl
Bob Huggins
The 2022 NBA Hall of Fame class featured four members on the North American committee. George Karl and Bob Huggins made it for their coaching, but Tim Hardaway and Manu Ginobili headline the 2022 Hall of Fame members.
Hardaway had an excellent start to his career, averaging over 20 points in four of his first five seasons. He missed the 1993-94 season with a knee injury but returned to average 20.1 points and 9.3 assists.
The Golden State Warriors traded him to the Miami Heat during the 1995-96 season. One year later, Hardaway made the All-NBA first-team behind these impressive numbers.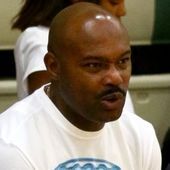 20.3 points
8.6 assists
3.4 rebounds
1.9 steals
Hardaway made his final All-Star game appearance in 1998. He concluded his 15-year career with the Indiana Pacers in 2003.
He failed to win a championship but left a lasting impact with the Miami Heat. Hardaway made the All-NBA team three times with Miami. The Heat retired his No. 10 jersey.
Manu Ginobili's numbers may not scream Hall of Famer, but you won't find many people that believe he didn't earn his Hall of Fame spot. Ginobili came a long way from the No. 57 pick in the 1999 NBA draft.
On this Day 23 Years Ago Manu Ginóbili was Drafted

13.3 PPG
3.3 RPG
3.5 APG
1.3 SPG
44% FG

— Hall of Fame
— 4x NBA Champ
— 2x All-NBA
— 2x All-Star
— 1x Sixth Man of the Year pic.twitter.com/iLQ1N0cYdP

— NBA Muse (@NBAMuse24) June 30, 2022
He made two All-NBA and All-Star game appearances. Ginobili also won Sixth Man of the Year in 2008 after averaging a career-high 19.5 points. He didn't have as significant a role as Tim Duncan or Tony Parker, but he played a crucial role in the San Antonio Spurs' four championships in 11 years.
There's no doubt the Spurs were a popular championship pick with the top US betting sites during that time. The NBA HOF predictions for 2022 should've had Ginobili front and center.
Biggest NBA Hall of Fame Snubs from 2022
Amar'e Stoudemire
Chauncey Billups
Larry Foust
Unfortunately, not every deserving member will make the Hall of Fame. Amar'e Stoudemire, Chauncey Billups, and Larry Foust are among the biggest Hall of Fame snubs from the 2022 class.
Stoudemire played alongside Steve Nash during his prime with the Phoenix Suns. Nash deserves the credit for Phoenix's success, but Stoudemire made the All-Star team in his five seasons with Nash.
He made the All-NBA first-team in 2007, averaging 20.4 points, 9.6 rebounds, 1.3 blocks, and 1.0 steals. Stoudemire dealt with injuries in his five seasons with the New York Knicks, but that doesn't take away from his Hall of Fame resume.
Does Amar'e Stoudemire eventually make the Hall of Fame?

8-yr peak at 23.2 PTS, 8.8 REB, 1.5 BLK, .607 TS%.

24.2 PTS, 9.2 REB, 1.8 BLK, .588 TS% in 52 games as a Sun in the playoffs.

6x All Star. 5x All-NBA.

116th all time in total points scored. 92nd in points per game.

— Andy Bailey (@AndrewDBailey) September 8, 2018
Does Mr. Big Shot deserve a spot in the Hall of Fame? Billups was a late bloomer, as he didn't make the All-Star or All-NBA team in his first six seasons. However, it all came together with the Detroit Pistons in 2004.
Billups won Finals MVP after leading the Pistons to an upset victory over the Los Angeles Lakers. He averaged 21.0 points, 5.2 assists, and 1.2 steals.
He went on to make five straight All-Star game appearances. Combine that with his NBA Finals MVP, and he should be a member of the Hall of Fame.
I won't blame you if you've never heard of Larry Foust. The 6'9" center played in the NBA from 1950 to 1962. Foust made eight All-Star game appearances in his first nine seasons. That's the most appearances among retired players not in the Hall of Fame.
Foust made the All-NBA first-team in 1955 with a career-high 17.0 points. He averaged 13.7 points and 9.8 rebounds in his 13-year career. Would you put Foust in the Hall of Fame?
They didn't have NBA prop betting in the 1950s, but it's an integral part of betting on the NBA in today's game.
NBA Hall of Fame Predictions for 2023
Everyone came here to read about the next Hall of Fame class. Now, it's time to discuss which players will be in the NBA Hall of Fame class for 2023.
Dirk Nowitzki
We should've known Dirk Nowitzki would be an NBA Hall of Famer after he torched Scottie Pippen and Charles Barkley as a 19-year-old. Nowitzki struggled in his rookie season, but it didn't take long to become one of the NBA's top players.
He made his first All-Star appearance in 2002 after averaging 23.4 points on 39.7 percent three-point shooting. The 7'0" finished his career by shooting 38 percent from the three-point range. Many people consider him the greatest big man shooter.
Nowitzki made the All-NBA first-team four times, including three straight years from 2005 to 2007. His Dallas Mavericks lost in the 2006 NBA Finals, but Nowitzki responded by winning MVP.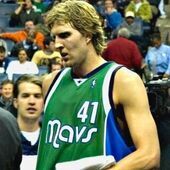 24.6 points
8.9 rebounds
3.4 assists
41.6 three-point percentage
He led the Mavericks to a franchise record of 67 wins. Unfortunately, Dallas suffered a disappointing defeat in the first round. That definitely didn't help his Hall of Fame class, but Nowitzki led the Mavericks to the 2011 NBA Finals.
No one gave Dallas a chance as they faced the superteam Miami Heat. To win the NBA Finals, the Mavericks overcame a 2-1 deficit, including a Fever Game performance from Nowitzki in Game 4.
Nowitzki won Finals MVP with 26.0 points and 9.7 rebounds per game. That validated Dirk Nowitzki's NBA Hall of Fame case.
Dirk Nowitzki's Hall of Fame career:

21 seasons
15 playoff appearances
14 All-Star selections
2 Finals appearances
1 Championship
1 NBA Finals MVP
1,522 games
1,460 starts
31,560 points
11,489 rebounds
3,651 assists

One massive legacy.#ThanksDirk #DirkForever #DirkNowitzki

— Mike Leslie (@MikeLeslieWFAA) April 11, 2019
Nowitzki didn't make the All-NBA team following his first championship, but he made four more All-Star appearances. He wrapped up his 21-year career with the Mavericks in 2019.
Following his retirement, the countdown began with the 2023 NBA HOF induction. Nowitzki will easily be a first-ballot Hall of Famer.
There's no doubt that Nowitzki was one of the most likable players. Many people believe his 2011 championship carried more weight than most.
Dwyane Wade
Who was on the other side of the 2006 and 2011 NBA Finals? That would be none other than Dwyane Wade. Wade was a member of the legendary 2003 NBA draft, going No. 5 to the Miami Heat.
Wade didn't make the All-Star game in his rookie season. Why do I note that? Well, it was the only time in his first 13 seasons that he failed to make the All-Star game. Is that good enough to make the 2023 NBA Hall of Fame?
In 2004, Wade teamed up with Shaquille O'Neal. O'Neal had the pedigree, but Wade led them to the 2006 NBA Finals. It wasn't looking good after losing the first two games, but a 24-year-old Wade responded with one of the best NBA Finals player performances.
🗓 6/20/2006: Dwyane Wade wins his first NBA title. He averaged 34.7 PPG, 7.8 RPG, 3.4 APG.

After going down 0-2, Wade dropped 42, 36, 43, 36 in four straight wins. ⚡️ pic.twitter.com/H3sXdHGnmm

— Timeless Sports (@timelesssports_) June 20, 2021
He made his first appearance on the All-NBA first-team after leading the NBA with 30.2 points per game in 2009. Wade also made the All-Defensive second-team with a career-high 2.2 steals per game.
The narrative changed when LeBron James and Chris Bosh joined the Heat in 2010. Wade took a backseat to James, but he continued to produce great numbers.
We know the Heat lost the 2011 NBA Finals, but it wasn't because of Wade. He likely would've won Finals MVP over James if they defeated the Dallas Mavericks.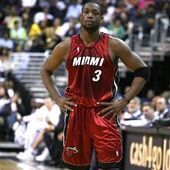 26.5 points
7.0 rebounds
5.2 assists
1.5 steals
1.5 blocks
Wade finished his career as a three-time NBA champion, 13-time All-Star, and eight All-NBA appearances. Defense was always an underrated part of his game. He averaged 1.5 steals in his 17-year career.
No one should make NBA Hall of Fame predictions without including Wade. After all, we're talking about a top-five shooting guard in the history of the NBA. He will be a first-ballot Hall of Famer.
Tony Parker
Tim Duncan and Manu Ginobili have earned their spot in the Hall of Fame. The NBA Hall of Fame class for 2023 will include the final member of the San Antonio Spurs big three.
Tony Parker couldn't have had a much better start to his NBA career. He won three championships in his first six seasons. Parker made back-to-back All-Star appearances in 2006 and 2007.
It's no secret that Duncan was the driving force behind San Antonio's success. However, Parker claimed the 2007 Finals MVP.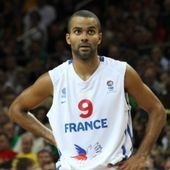 24.5 points
5.0 rebounds
3.3 assists
57.1 three-point percentage
Two years later, Parker had the best season of his career. He averaged a career-high 22.0 points with 6.9 assists. San Antonio lost in the first round of the playoffs, but Parker averaged 28.6 points in five games.
He made the All-NBA second-team and All-Star team from 2012 to 2014. That stretch included his fourth championship. The Spurs defeated the Miami Heat in the 2014 NBA Finals, with Parker averaging a team-high 18.0 points.
Parker spent the final season of his NBA career with the Charlotte Hornets. That's the only reason he didn't make the playoffs every season.
Congrats to Tony Parker on an incredible Hall of Fame career! One of the most skilled/calmest/quickest/smartest point guards of his time. pic.twitter.com/9eVD8yhoo6

— Ball Don't Stop (@balldontstop) June 10, 2019
Like Ginobili, Parker may not have the numbers of a Hall of Famer, but his accomplishments can match nearly everyone in the Hall of Fame. That's why he'll be a member of the 2023 NBA HOF.
His numbers likely would've been better if he was the focal point of a team. However, he remained with the Spurs to win championships. Parker played a crucial role in one of the NBA's best dynasties.
I expect Duncan, Ginobili, and Gregg Popovich on hand for Parker's induction. After all, he wouldn't be there without their contributions.
Pau Gasol
The NBA Hall of Fame 2023 class will feature some of the best players to play the game. In most years, Pau Gasol would be a headliner, but the great class has him being an under-the-radar induction.
Nonetheless, that doesn't take away from being a Hall of Famer. I fully expect Gasol to join his good friend Kobe Bryant in the Hall of Fame.
Without Bryant, I'm not sure Gasol makes the Hall of Fame. He spent the first seven years of his career with the Memphis Grizzlies but only made one All-Star appearance. Everything changed with his trade to the Los Angeles Lakers.
14 years ago @paugasol was traded to the Lakers. He would end up helping the Lakers win the 2009 and 2010 championships. Again thank you Pau 💜 pic.twitter.com/sIz5RsqXOJ

— Tupac (@TupacAG) February 1, 2022
Gasol made the All-Star game in his first three seasons with the Lakers. That stretch included a pair of championships in 2009 and 2010. Bryant won Finals MVP in both titles, but we can't discount Gasol's impact.
He averaged 19.0 points, 11.0 rebounds, and 2.1 blocks across the 2009 and 2010 postseason. He was the second-best player on a championship-winning team.
It was impressive to see Gasol remain good into his 30s. He spent two seasons with the Chicago Bulls at age 34 and 35. Check out his numbers.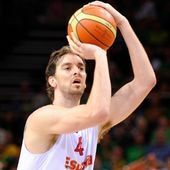 17.6 points
11.4 rebounds
3.4 assists
2.0 blocks
48.3 field goal percentage
Did I forget to mention he made the All-Star team in both seasons? He concluded his 18-year career with six All-Star appearances, four All-NBA appearances, and two championships.
He likely won't receive as much attention as Dirk Nowitzki or Dwyane Wade, but Gasol deserves to be a first-ballot Hall of Famer. His numbers and accomplishments speak for themselves.
We'd love to see Bryant on hand to welcome Gasol into the Hall of Fame. We know Bryant will be watching from above.
Betting on Who Will Be Inducted into the 2023 NBA HOF
Who will make the NBA Hall of Fame next? I feel confident about my selections for the 2023 NBA Hall of Fame.
There's no doubt Dirk Nowitzki and Dwyane Wade will be first-ballot Hall of Famers. You could argue both players are top 25 all-time. Tony Parker should make it considering Manu Ginobili was on the first ballot.
We don't have an official date for the 2023 Hall of Fame announcement, but it likely won't be until early 2023. Keep an eye on the top NBA betting sites for Hall of Fame betting opportunities.
AUGUST
Casino of the Month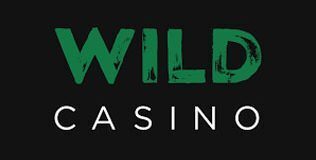 Welcome Bonus
250% up to $5,000
Read Review
Visit Site