Hide Bonus Offers
| | | | | |
| --- | --- | --- | --- | --- |
| #1 | BetOnline Sports | 60% Up To $1,000 | Visit Site | BetOnline Sports |
| #2 | Bovada Sports | 50% Up To $250 | Visit Site | Bovada Sports |
| #3 | BetUS | 125% Up To $2,500 | Visit Site | BetUS |
| #4 | Everygame | 100% Up To $500 | Visit Site | Everygame |
| #5 | MyBookie | 100% Up To $1,000 | Visit Site | MyBookie |
Early Analysis and Odds for the 2023 Heineken Champions Cup

Who wins the 2023 Heineken Champions Cup? If that's something you feel you can predict, perhaps you can make some money.
Just weeks after France's La Rochelle beat Ireland's Leinster in the 2022 final, the bookies are already looking ahead to next year. As it happens, the early 2023 Heineken Cup odds are out there and ready to be scrutinized. But some awesome prices are up for grabs for those brave enough to take a punt.
In addition to looking at the odds for the tournament, I'll be making predictions for the 2023 Heineken Cup and making my pick for the overall winner. If that wasn't enough, you can also catch my thoughts on the teams to avoid at all costs.
Let's get to it!
Opening Odds for the 2023 Heineken Champions Cup
The winner market has just opened if you're ready to make your betting picks for the 2023 Heineken Cup. Here's what the bookies are thinking.
The 2023 European Rugby Champions Cup odds favor last season's beaten finalists, Leinster.
As four-time winners of the trophy, I expected the Irish province to be there or thereabouts. Leo Cullen's side has tremendous strength-in-depth, and their odds for the Heineken Champions Cup in 2023 are bound to be helped by the fact that the final will be played in Dublin.
Are Leinster's odds to win the 2023 Heineken Cup a true reflection of the state of play? This is a team that has lost two finals in the last four seasons.
Beaten by Leinster in the semi-final in 2022, Toulouse is the second favorite for the Heineken Cup. The bookies expect a strong showing from Antoine Dupont and company, and I believe they are at an excellent price right now.
Defending champions, La Rochelle, are +700 to win the 2023 ERCC. From there on, it's a list of primarily Irish, French, and English clubs. Except for South Africa's Stormers, of course. More on that later.
Are you looking to get on any of these early 2023 Heineken Cup odds? Compare prices with our recommended sportsbooks below, and make your pick!
2023 Heineken Champions Cup Groups and Schedule
Tournament Dates: Dec 9 to May 20
2023 Heineken Cup Final Date: Saturday, May 20
Venue: Aviva Stadium – Dublin, Ireland
The groups for the 2023 Heineken Champions Cup have not been named yet.
If you want to find out who your team will play with, check back here for updates. When announced, I will provide a full list of the European Rugby Champions Cup pools and fixtures. You can find them right here.
For now, here's a look at the teams to have qualified for the Heineken Cup in 2023.
Gallagher Premiership (England)
Gloucester
Harlequins
Leicester
Northampton
Saracens
Sale
Exeter
London Irish
Top 14 (France)
Bordeaux-Begles
Castres
Montpellier
La Rochelle
Racing 92
Toulouse
Clermont
Lyon
United Rugby Championship (Europe and South Africa)
Leinster
Ulster
Munster
Bulls
Sharks
Stormers
Edinburgh
Ospreys
As you can see, eight teams have qualified for the 2023 Heineken Champions Cup from the English and French divisions, respectively.
The United Rugby Championship has also provided eight teams that will be vying for a shot at glory in Dublin in May 2023. These consist of three Irish teams, three from South Africa, and Scotland's Edinburgh and Wales' Ospreys.
Top Contenders to Win the 2023 Heineken Champions Cup
The betting odds for the 2023 Heineken Cup are geared toward an Irish or French side lifting the trophy.
Anyone looking to make picks for the ERCC winner will be brave to look beyond the French sides, most certainly. Leinster's price is a little too short for me right now, even with the prospect of playing a home final in Dublin. But I wouldn't write off a few of the English teams on the list.
Before making an early 2023 Heineken Cup betting pick, I'll be briefly looking over the best contenders for the title. Once I've covered those, I'll also be giving you my $0.02 on the best Heineken Champions Cup sleepers for 2023 and the teams you should avoid.
Let's start with the clubs that are more than likely to provide the winner in Dublin in May.
Leinster (+200)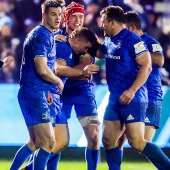 It was a grossly unsatisfying time to be a Leinster fan from late May to early June.
The Irish powerhouse was whacking teams for fun, racking up cricket scores, and looking like the world's best club team. That was until they reached the Heineken Cup final and URCC semis, only to choke when it mattered most.
Leinster's 2023 Heineken Champions Cup odds are not interesting to me in the slightest right now. While they are an absolute force to be reckoned with, there are cracks. The outside half position remains a problem despite turning its conveyor belt of talent up to 11.
Although still one of the best flyhalves in rugby, Johnny Sexton will be hanging up his boots at the end of the season. And while reliable and fairly consistent, Ross Byrne doesn't bring what the Irish captain does. Whether Sexton can contribute much more, especially with the 2023 Rugby World Cup looming, remains to be seen.
Although they will be up there, the betting value is not with Leinster.
Toulouse (+600)
Betting picks for the 2023 Heineken Champions Cup could get a lot worse.
France's Toulouse crashed out at the semi-finals stage in 2022 but did go on to win the Top 14. Those who have already placed bets on France's odds for the 2023 Rugby World Cup will be familiar with the club's outstanding half-back pairing in Antoine Dupont and Romain Ntamack.
I believe this side suffered a bit of a dip in confidence in 2022 and will be at its absolute best in the upcoming ERCC. They are well-balanced, extremely dangerous in attack, and can beat any team in the world at any given time.
The 2023 European Rugby Champions Cup odds are strong with this side. At +600, you could see a return of $700 for every $100 you put down. That's almost enough to warrant the side as a sleeper when considering the talent from 1 to 15.
La Rochelle (+700)
The defending champions are 1-1 in the last two Heineken Cup finals.
Ronan O'Gara's men look a good bet at +700, but I don't expect them to enjoy the same level of success in 2023. In addition to the departure of the excellent Ihaia West, the list of La Rochelle's transfers out doesn't make for a pleasing read, especially if you're wagering on their Heineken Cup odds for 2023.
Although they have some top talent linking up with the existing squad, such as Teddy Thomas and Ultan Dillane, I think they are slightly overpriced here.
Saracens (+750)
Winners in 2016, 2017, and 2019, England's Saracens are being talked up as one of the best bets for the 2023 Heineken Cup.
The Londoners' relegation from the Gallagher Premiership in 2020 meant they were not eligible to compete in last year's tournament. But Mark McCall and company will be plotting a new assault on the cup in 2023 and could be worth a punt.
I'm not majorly optimistic about the English side's chances.
Yes, they have some exceptional players. They are very dangerous. But how will the side adjust to a slew of potential matches at the top level of Europe this season?
I'll hold off on them for now.
Best 2023 Heineken Cup Sleepers
Aside from the top betting picks for the 2023 Heineken Champions Cup, there is room to discuss the best sleepers.
If you're new to betting on rugby matches or sports in general, a sleeper is typically a team that is being overlooked by the bookies. One that has a lot more going for it than the Heineken Cup odds suggest.
Here are a few sleepers for the 2023 ERCC that are worth a look.
Leicester (+1600)
The Tigers' resurgence has been interesting to watch.
The Heineken Cup odds for 2023 have the English side priced at +1600, which is even more intriguing. While there is some way to go before, we can expect the side to be back at the summit of European rugby if things go their way this year, who knows?
A solid domestic campaign in 2022 will give the Tigers hope. While they were battered by Leinster in the first half of the ERCC quarter-final, the second half produced a lot more inventiveness and perhaps indicated that there is more to come.
Worth a shot!
Ulster (+2500)
Living in the shadow of Leinster and Munster for years has been difficult for fans of the northern province.
But things have changed in Ireland, and Ulster is now trying to play catch up with the Dublin-based side. The one-time winners came agonizingly close to beating Toulouse in the knockout stages and will take a lot of heart from that performance.
With a good run of luck, including avoiding injuries to key players, we could see Ulster knocking on the door next year.
Bulls (+4000)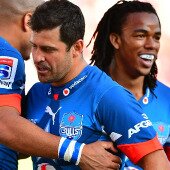 The South Africans' win over Leinster in the inaugural United Rugby Championship proved that the Bulls mean business.
At odds of +4000, I'd recommend the Bulls as the best of the best sleepers for the 2023 Heineken Cup. They are a mightily physical side with some good attacking options. They have proven their post-season ruggedness and will only improve with further adjustment to playing northern hemisphere teams.
At +4000, they are more than worthy of some spare change.
Teams to Avoid When Betting on the Heineken Cup in 2023
Some teams could win the 2023 Heineken Champions Cup. Then, some teams won't get close.
It's easy to look at the best odds for the Heineken Cup as an invitation to have a pop. And in some cases, such as with the sleepers I picked above, there is a method to the madness. With that being said, some picks for the 2023 ERCC are just plain mad.
Although it feels a bit crude to be writing sides off at this point, I don't want to see you wasting your money. You might call these bold predictions for the 2023 Heineken Champions Cup that could blow up in my face, but I'm putting my neck out there.
So, here are the teams you don't want to pick for the Heineken Cup in 2023.
Northampton
Castres
Gloucester
Edinburgh
Ospreys
I'd like to clarify that I have absolutely nothing against any of the teams above.
But as far as 2023 Heineken Champions Cup betting picks go, I wouldn't touch any of these with a barge pole. None of them make any sense whatsoever, and I would be surprised if any of the aforementioned teams make it to the knockout stages.
If you disagree or like to prove people like me wrong, feel free to put your money where your mouth is. Head over to the top real money gambling apps and choose your bet. If you pick one of these teams and go on to win it, I will send you a groveling apology note and a case of beers.
But I have a funny feeling neither will be necessary when this tournament is over!
Early Predictions for the 2023 Heineken Champions Cup
Predicted Winner: Toulouse (+600)
Biggest Disappointment: Saracens (+750)
Surprise Package: Bulls (+4000)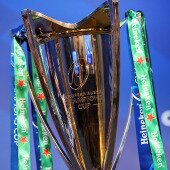 Instead of making my betting pick for the 2023 Heineken Champions Cup winner and leaving it there, I've decided to add two other predictions.
First, let's briefly discuss why Toulouse will win the ERCC in 2023. Put simply; I think they underachieved in Europe last season and will be keen to make amends for that. The 2021 champions underestimated the impact of Cheslin Kolbe's move to Toulon and didn't click.
The 2023 Heineken Cup odds futures make the French side a +600 prospect. Although you can expect some of the top rugby betting sites like Betway to adjust their prices throughout the season.
This side is just stacked with talent. The half-back pairing of Dupont and Ntamack is as dangerous as we have ever seen in the tournament. And with Alexandre Roumat, Arthur Retiere, Melvyn Jaminet, Pierre-Louis Barassi, Paul Graou, and Ange Capuozzo linking up with the side, they will take some beating.
I don't expect Saracens to do their early-season odds for the Heineken Champions Cup justice elsewhere. They are a side that needs to rebuild in key areas and might find the absence of top-level, continental rugby an issue.
In addition to my top betting pick for the Heineken Cup, I'd recommend the Bulls as a sleeper. If they win the tournament, you'll be kicking yourself for passing them over at these odds. While they will also be adjusting to top-tier European rugby, the price is appealing!
If you're new to gambling on rugby tournaments, matches, and prop bets, I'd strongly recommend reading the following guide. Good luck with your bets!
Rugby Betting Guide