Betting Preview for 2022 WWE SummerSlam

I've been holding my tongue for my 2022 WWE SummerSlam predictions. I'm excited to reveal them all finally.
The show goes down on Sunday, July 30, at the Nissan Stadium in Nashville, Tennessee. Headlining the card is a Last Man Standing match between Roman Reigns and Brock Lesnar for the Undisputed WWE Universal Championship. I'll be looking at the WWE SummerSlam odds for that one and the other fights on the bill.
Alongside Reigns vs. Lesnar, we have Pat McAfee vs. Happy Corbin, Bobby Lashley vs. Theory, Bianca Belair (c) vs. Becky Lynch, Logan Paul vs. The Miz, and much more! It will be a killer card, folks, so stick with me as I cover all you need to know in my SummerSlam predictions.
But before we go further in this 2022 WWE SummerSlam betting preview, we had better cover where you can bet on the fights!
Where to Bet on WWE SummerSlam 2022
How We Rate

Safety & Security
You should be able to gamble online without fear. So we only recommend licensed sites that use the latest security and encryption techniques.

Bonuses
Maximize your bankroll with fantastic bonuses. Our recommended sites offer valuable bonuses with fair terms and conditions, including manageable wagering requirements.

Games & Betting
The best sites have the best wagering options. That's why you will find extensive games and betting opportunities on our recommended sites.

Banking
Getting your money to and from your account shouldn't be a hassle. We only recommend sites with a variety of convenient banking methods, including cryptocurrency and e-wallets.
If you want to gamble on 2022 WWE SummerSlam matches, you're gonna need a betting site. Whether that involves a straight-up bet on Roman Reigns or SummerSlam prop bets is your call.
But it's so important to remember that you want to see your winnings, right? And the best way to ensure you're getting paid out as promptly as possible is to only bet with the top sites out there.
If you are hoping to gamble for real money online, you will have plenty of sites that are happy to take your business. But it's up to you to decide whether you are satisfied betting with them. It's crucial that you choose a safe and trustworthy betting site or app for wagering on SummerSlam 2022, and I can help you find some that tick all the boxes.
As this guide progresses, I'll provide my 2022 WWE SummerSlam predictions that you can bet on.
By all means, if you already have a sportsbook you are happy with, keep doing what you are doing. But even if you are contemplating what else is out there, the sites we recommend are more than worth checking out. From betting bonuses, you can use for WWE fights to a wide range of odds and markets, why settle for anything other than the full package?
Our recommended sites for betting on WWE SummerSlam 2022, or any WWE events for that matter, are all 100% safe and legal. Furthermore, they rank consistently high with our experts. That means a lot, given how strong the competition is out there.
So, if you want sportsbooks that are secure and trustworthy, you have some recommendations to choose from—looking for quick payouts? These sites have you covered. That also applies to multiple payment options, great customer support, competitive odds, and creative betting markets.
If you're planning on getting your 2022 WWE SummerSlam match picks down, you can register for a site right now. Or, if you'd prefer to get my predictions and betting advice before you wager, stick with me!
Let's take a look at the 2022 WWE SummerSlam odds!
Betting Odds for 2022 WWE SummerSlam Matches
Are you looking to bet on 2022 SummerSlam odds? If so, you can find them right now on the best WWE betting sites.
Roman Reigns with Paul Heyman (-350) vs. Brock Lesnar (+225)
Pat McAfee (-300) vs. Happy Corbin (+200)
Bobby Lashley (-250) vs. Theory (+170)
The Usos (-350) vs. The Street Profits (+225)
Liv Morgan (-300) vs. Ronda Rousey (+200)
Riddle (+138) vs. Seth "Freakin" Rollins (-200)
Bianca Belair (-600) vs. Becky Lynch (+333)
Logan Paul (-500) vs. The Miz (+275)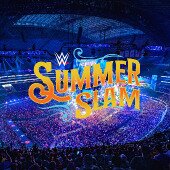 Before you consider the 2022 SummerSlam props markets, I'd recommend looking for any apparent value in the straight-up markets.
Starting with the main event, it's clear that the oddsmakers envisage a fairly comfortable win for Roman Reigns (with Paul Heyman) over Brock Lesnar. The incumbent champion will have some help in neutralizing Lesnar, and that should be enough to get him over the line.
At least, that appears to be the line of thought the bookies are taking with this one. BetOnline offers odds of +225 for Lesnar to win, which might appeal to some bettors. Whether that's you or not? Well, I can't tell from here! I will be making my 2022 WWE SummerSlam predictions later and will let my feelings known.
So, how about the other WWE SummerSlam betting odds up for grabs? Most of the prices available point to a night for the favorites. Of course, it would be severely boring if all the betting favorites were to win, right?
As a side note, the tightest odds of all WWE SummerSlam matches comes in the Riddle (+138) vs. Seth "Freakin" Rollins (-200) match. Join me as I make my predictions for this and the rest of the fights you see above!
2022 WWE SummerSlam Predictions and Analysis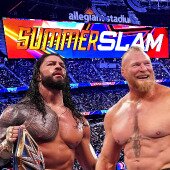 As one of the four traditional main events of the WWE calendar, everyone loves this one. I'd be much more inclined to feel better about the card if I win money from my 2022 SummerSlam betting picks, of course.
And that's precisely what I intend on doing. To aid you with your own selections, how about I talk you through my predictions for SummerSlam matches on July 30 and let you make up your own mind about your picks?
Roman Reigns with Paul Heyman vs. Brock Lesnar
Are we tired of this one? I think we are, right? Of course, I can only speak for myself, but it's just getting stale.
Fans were promised the "Biggest Match of All Time" at WrestleMania earlier this year, but it flattered to deceive. It was almost like one of those things that the promotion desperately wanted to be bigger than it could be. Like all incarnations of this fight, it has lacked bite.
"@WWERollins going for everything he's got!"

▶️ #SummerSlam 2019@peacockTV | @WWENetwork pic.twitter.com/o5SJkkukvT

— WWE (@WWE) July 18, 2022
But there are only so many times that what should be a winning formula fails to do what it should. And believe it or not, I think this will be one of the best 2022 WWE SummerSlam matches. It must click at some point, and perhaps there is a new route?
These guys are level in wins against one another, with Reigns taking the last three. I believe we will see that trend bucked, with Lesnar rampaging his way to victory. The value is with Brock in this one, and I'll take him at that price.
Pick: Brock Lesnar (+225)
Riddle vs. Seth "Freakin" Rollins
If something has to give in the Reigns vs. Lesnar fight, surely Seth Rollins is due to catch a break?
That might sound crazy, considering Rollins is an established fan favorite that has been one of the major players in pro wrestling over the past decade. But although he was the bookie's choice ahead of Money in the Bank, Theory's shock win has disrupted a clutch of potential storylines.
So, where do we go from here? Is Riddle the next star set to put a dent in the armor of Rollins? Or will this be a night when we see the native of Iowa back on top?
I'm going with Rollins in this one.
Pick: Seth Rollins (-200)
Bianca Belair vs. Becky Lynch
And we're again back to the familiar ground, making predictions for Bianca Belair vs. Becky Lynch.
It appears that Belair's status as the overwhelming favorite to win the fight is an assumption that this matchup has run its course. Although Lynch is up there with the best heels in WWE history, this particular rivalry doesn't seem to have much more left in it.
With @BeckyLynchWWE waiting in the wings at #SummerSlam, @CarmellaWWE and @BiancaBelairWWE battle it out for the #WWERaw Women's Championship! pic.twitter.com/9SU4YHB6BP

— WWE (@WWE) July 19, 2022
Belair should get the job done spectacularly, satisfying anyone who has seen enough of this one to be mentally released from any further anguish. It might start as a 50-50, but expect Belair to turn it up to 11 and send out a statement of intent to all of her rivals.
Of all my 2022 WWE SummerSlam predictions, this is the one I am most confident about.
Pick: Bianca Belair (-600)
Bobby Lashley vs. Theory
Well, who woulda thunk it? Theory pushing his way into the frame as a potential superstar came out of nowhere.
By the very nature of pro wrestling, history tends to repeat itself.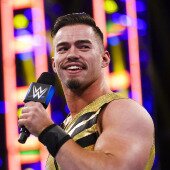 We've seen numerous fighters in the past being shoved into the spotlight without a second thought, and Theory appears to be the next wrestler to fit that mold. This suggests that his dramatic Money in the Bank ladder match win signifies things to come.
The bookies do not appear to feel the same way. But I can't ignore the blatant value of the latest 2022 WWE SummerSlam odds.
I'll take Theory to come in, make a statement, and potentially rub up a sizeable portion of the fanbase while he is at it.
Remind you of anyone?
Other 2022 WWE SummerSlam Betting Picks
Pat McAfee to Beat vs. Happy Corbin
-300
Liv Morgan to Beat Ronda Rousey
-300
Logan Paul to Beat The Miz
-500
The Usos to Beat The Street Profits
-300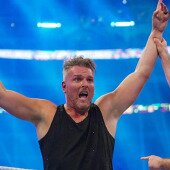 More matches are on the card, which means more potential 2022 SummerSlam picks to consider.
Pat McAfee takes on Happy Corbin in a singles match on the night, having laughed him out of the arena in SmackDown in June. These two have built up something of a rivalry, and it has been kind of interesting to watch.
This feud has grown even deeper recently, with fans now aware that the former roommates were both drafted to the Indiana Colts back in 2009.
Elsewhere, I see Liv Morgan having too much for Ronda Rousey. Morgan defeated Rousey, by pinfall, in just 35 seconds at Money in the Bank. This fight should be a little longer, but she'll get the job done.
Wins for Logan Paul and the Usos make up the rest of my 2022 WWE SummerSlam betting picks.
2022 WWE Summerslam Best Bets to Target
That ever elusive combination of a great pick and good odds is what we all want to find.
I have three top bets for SummerSlam 2022 that I want to share with you. The odds are excellent in the case of the first one, which is backing Lesnar to beat Roman Reigns. Given there are two ways this fight can go, with Lesnar winning making more sense to me, I think it's worth a shot.
At these odds, you must entertain the chance of Lesnar beating Reigns at the 2022 SummerSlam.
As I explained earlier, Seth Rollins is another top choice.
Like Lesnar, the story writers have much more to work with following a win for Seth than they do would if Riddle prevails. I think Rollins will get the job done and in a convincing fashion. At -200, he's hardly a steal. But it's still one of the best bets for 2022 WWE SummerSlam you can place.
Finally, add Pat McAfee to beat Happy Corbin and continue their rivalry. It seems this one will be a mainstay for the foreseeable future, and the script appears to favor McAfee getting the win at SummerSlam.
Strategy and Tips for 2022 WWE SummerSlam

Are you sitting down? As this news might hit you like a shot glass to the forehead.
Pro wrestling is not real. I mean, it's real in the sense that it clearly exists and is not some solipsistic creation of your own to satisfy an urge to see muscle-bound athletes throw each other around and talk smack.
What I mean is that the 2022 WWE SummerSlam matches are scripted. They are pre-written and go according to the direction of the writers. Of course, you knew that. And no, I am not treating you as though you didn't. But come on, some folks like to pretend that the fighters themselves determine the outcome of these fights.
Now, if you're looking to win money betting on 2022 WWE SummerSlam, consider what the writers are doing. As in, what are the storylines likely to produce on the night? If you can accurately guess who is favored to win, you could make a nice profit from your bets. How do you do this? Here are some SummerSlam strategy tips to consider.
SummerSlam is Huge – Drama is at the heart of what the WWE does. SummerSlam, one of the four major WWE pay-per-views, is an event where surprises and shocks happen. Remember that before you bet.
Consider Previous Results – Don't blindly bet on the fighter that won the matchup last time. But do factor the result into the equation. Is revenge on the cards? Or is there a natural conclusion to a feud set to play out?
Follow the Trends – Learn about the major storylines before you bet to get a more accurate take on developments. Read about what happened at WWE Backlash and Money in the Bank, and the weekly shows.
Consider What is Best for the Company – Is the WWE looking to build a fighter up? Has the inorganic emergence of a potential superstar left you feeling a little irked? Remember, the fighters that win are usually the ones propped up to attract a larger fanbase. It's all done to serve the greater cause, which is more profit for the WWE.
Don't Get Emotionally Involved – The golden rule of betting is to leave your heart at home. If you're betting on WWE SummerSlam picks just because you hate a particular fighter or want to see another win, you might get lucky now and again. For the most part, however, you'll lose.
Similar to the best WrestleMania matches in history, fans have lots of fond memories of SummerSlam.
But tuning in to watch the fights and winning money betting on them are two different things. Ergo, they require two completely separate mindsets. Knowing that WWE matches are scripted can help you understand the methodology behind who wins and why.
Get to grips with that, and your predictions for SummerSlam 2022 might work out better for you!
More 2022 SummerSlam Betting Advice That Will Help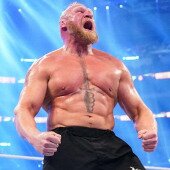 I've shared the odds with you, broken down the fights, and even provided you with all of my 2022 WWE SummerSlam predictions.
Surely, there's nothing left to cover?
If only. I could write all day about odds for SummerSlam 2022, my picks, and why the fighters I have chosen to come away with wins should have standout performances. But time is of the essence, and you should be better prepared to go it alone!
Before I let you go, I have some additional advice for betting on the 2022 SummerSlam that you should take up.
I have geared the betting guide above to this year's event. But we do have a guide for bettors to use that I believe you will benefit from.
It covers all you need to know about SummerSlam and some extra helpful tips and strategies that could make the difference between winning and losing. As well as where to bet on the matches on July 30.
Enjoy!
Where to Bet on Summerslam
AUGUST
Casino of the Month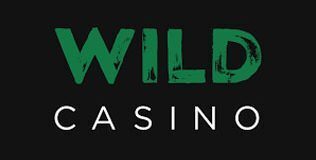 Welcome Bonus
250% up to $5,000
Read Review
Visit Site