Hide Bonus Offers
| | | | | |
| --- | --- | --- | --- | --- |
| #1 | BetOnline Sports | 60% Up To $1,000 | Visit Site | BetOnline Sports |
| #2 | Bovada Sports | 50% Up To $250 | Visit Site | Bovada Sports |
| #3 | BetUS | 125% Up To $2,500 | Visit Site | BetUS |
| #4 | Everygame | 100% Up To $500 | Visit Site | Everygame |
| #5 | MyBookie | 100% Up To $1,000 | Visit Site | MyBookie |
Early Odds and Prediction for the 2022 Wimbledon Tournament

The 2022 Wimbledon odds are already up at most of the top tennis betting apps, meaning that we got the luxury to start discussing the top favorites, main contenders, and possible sleepers. That's precisely what I'll do in this post.
Keep on reading in you wish to learn why no.3 in the ATP Rankings (Novak Djokovic) is the Wimbledon predicted winner. You will also learn why the no.1-ranked player (Daniil Medvedev) will miss the tournament and why the record-holder for most Grand Slam wins (Rafael Nadal) is given surprisingly long odds for 2022 Wimbledon.
But first things first – let's start by analyzing what oddsmakers think will happen at All England Club this summer.
Early Odds for Wimbledon 2022
Felix Auger Aliassime
+1225
There you have it – the June odds for 2022 Wimbledon.
I took the prices from MyBookie, which is one of the best online betting sites for Americans. This sportsbook keeps its virtual doors open to US-based players, but it also rewards them with all sorts of perks.
There's a $1,000 bonus up for grabs for new customers, not to mention that MyBookie also gives excellent odds for literally all events available. This includes major tennis tournaments such as the Wimbledon.
Some Tennis Legends Set to Miss the 2022 Wimbledon
As you saw in the previous section, there are some usual suspects on the 2022 Wimbledon odds list. However, some big names are missing, starting with the record-holder for most Wimbledon titles, Roger Federer.
The Swiss superstar, who's turning 41 this summer, hasn't played a single professional match since the last year's Wimbledon. His persistent knee problem has kept him off the court for months, meaning that he probably won't be ready to make a comeback.
Even if Federer returned, his 2022 Wimbledon odds would be way too long for him to be on the list of top favorites.
Speaking of injuries, the French Open semifinalist Alexander Zverev will also be forced to miss the English Grand Slam. After injuring his ankle in Paris, Zverev had to undergo surgery, for which he will have to stay away from tennis for a few months.
Another star player who isn't on the odds list is Daniil Medvedev. You'd expect the man sitting at the top of the ATP Rankings to be one of the top favorites, but the thing is that Medvedev will not take part in this year's tournament. Nor will his fellow Russian Andrey Rublev.
#Wimbledon announces a ban of Russian and Belarusian players from this year's tournament, becoming the first tennis event to do so. pic.twitter.com/3uGKfoTOao

— Ben Rothenberg (@BenRothenberg) April 20, 2022
Why? Because the tournament organizers decided to close their doors to athletes from Russia due to this country's involvement in the war in Ukraine. The people from the ATP disagreed with this decision, which is why they decided to act by taking away the ranking points from this year's Wimbledon.
What this means is that the winner of the last year's tournament (Novak Djokovic) will not be able to defend his 2,000 ranking points. In turn, he will drop even further down in the ATP Rankings.
This, however, doesn't mean Djokovic has no motivation to come to England. On the contrary, he is determined to win this Grand Slam tournament to keep up with his arch-rival Nadal in the race for the tennis GOAT status.
That's actually just one in a long list of reasons why Djokovic is the 2022 Wimbledon favorite. For more reasons, make sure to check out the section below.
Why Is Novak Djokovic Such a Strong Favorite?
Novak Djokovic is the winner of the previous three editions of the Wimbledon gentlemen's singles championship. In total, he has six Wimbledon titles in his collection, which is just two fewer than all-time leader Federer.
If Djokovic wins the 2022 tournament, he will equal the record of Pete Sampras and William Renshaw. More importantly, Djokovic will win his 21st Grand Slam tournament, thus getting back in the GOAT race, in which Nadal currently has a lead with 22 majors.
🕹 LEVEL UP 🕹@RafaelNadal EXTENDS his lead in the Grand Slam race:

22 – Nadal
20 – Federer
20 – Djokovic#RolandGarros pic.twitter.com/axwbdffkCc

— Tennis TV (@TennisTV) June 5, 2022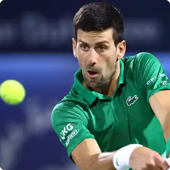 Winning the 2022 Wimbledon wouldn't help Djokovic with his ATP Rankings, but it would add another £1,700,000 (~$2,130,000) to his bank account. It would also help him salvage the season, which has been pretty disappointing so far, to say the least.
It all started with him getting kicked out of Australia for not being vaccinated. The result was that he wasn't able to defend his 2020 title at the Australian Open. The same reason he had to skip the Sunshine Double in America.
After missing out on the tennis action for nearly two months, Djokovic started preparing for the clay-court season in his hometown Belgrade, where he lost to Rublev in the final. Next came the Madrid Open, where his journey ended in the semifinal.
Djokovic then won the Rome Open, which made the betting odds move in his favor ahead of the French Open. Unfortunately for the Serbian player, Nadal crushed his dream in the quarterfinal.
Can Spanish Contenders Upset the 2022 Wimbledon Odds?
With the current Wimbledon odds of just -112, reigning champ Djokovic is a clear favorite to win at All England Club. Not winning would be a major shock, but stranger things have happened in the Wimbledon Championships over the years.
The big question is, if Novak fails, who will take his throne? Judging by the early Wimbledon odds, two Spanish players are most likely to do so – Carlos Alcaraz and Rafael Nadal.
Together with Djokovic, those two are the only players with the Wimbledon betting odds that are shorter than +1000.
Carlos Alcaraz
Bookmakers see Carlos Alcaraz as the second favorite, judging by the odds for Wimbledon in 2022. Although the Spaniard has been sensational this year, the fact is that he's still a teenager. In fact, Alcaraz turned 19 only a couple of weeks ago.
That said, he lacks experience in big tournaments such as Wimbledon. Actually, he's played only 20 matches at Grand Slam tournaments so far. The furthest he went in a Grand Slam tournament was the quarterfinal phase of the French Open in 2022. When it comes to Wimbledon, Alcaraz has only played it once, reaching Round 2 last year.
How to turn defence into attack with @alcarazcarlos03 📚#RolandGarros pic.twitter.com/cRpJyZLx3u

— Roland-Garros (@rolandgarros) May 31, 2022
So why are his 2022 Wimbledon odds so short? Because no one can deny his talent. In Alcaraz's case, it seems that it's just a matter of time before he starts winning everything. In fact, many tennis experts believe that he will be the successor of the Big Three – Nadal, Djokovic, and Federer.
The question is, when will his time come? Judging by what we saw from him since the start of the year, maybe his time has come already. In 2022, Alcaraz has recorded wins against eight players who at the time were in the ATP Top 10, including both Djokovic and Nadal.
Rafael Nadal
The 36-year-old GOAT candidate has a chance to do something no other male player has done since 1969. Nadal has a chance win the Grand Slam in 2022. To do that, he needs to win all four majors. So far, he's already won two – the Australian Open and the French Open.
🇪🇸 @RafaelNadal is off to quite the start in 2022#RolandGarros pic.twitter.com/TPMK8B8zoC

— US Open Tennis (@usopen) June 5, 2022
The Wimbledon, however, seems like the biggest obstacle on his road to the 2022 Grand Slam. The thing is that this isn't his favorite tournament. The proof is that he's won it just twice in his 21-years-long career. I say "just" because this guy's won the French Open on 14 occasions.
Nadal hasn't been dominant in the Wimbledon because this tournament is played on the grass court, while his favorite playing surface is clay (hence the nickname "King of Clay").
Who Are the Main 2022 Wimbledon Sleepers?
My 2022 Wimbledon prediction is that we're not going to witness a historic upset. Instead, one of the top three favorites will likely end up holding the "pineapple trophy" at the end.
Of course, this doesn't mean that other players stand no chance. Backing players who love to play on the grass-court might be a wise tennis betting strategy. It's because the surface used at All England Club makes the ball move faster while also getting a lower bounce.
The result is that the players with a strong serve and a good volley game tend to do great on this court type.
Speaking of which, legendary Federer is the greatest grass-court player in history, with a win rate of 87.5%. If he decides to have the "last dance" at Wimbledon, he sure will be thought of as one of the dark horses. However, the Swiss maestro will probably miss the 2022 tournament.
For this reason, it's best to focus on other players who tend to do well on grass, such as Marin Cilic and Andy Murray.
Marin Cilic (+2200)
The 33-year-old Croatian finished runner-up in the 2017 Wimbledon after losing to Roger Federer in the final. Five years later, he's seen as one of the sleepers who could shock the tennis world.
One of the main reasons for that is that he's been fantastic in 2022, reaching the semifinal of the French Open in June. He failed to win the trophy in Paris, but that didn't come as a surprise.
After all, his favorite playing surface isn't clay but grass. With 77 matches won in grass-court tournaments, he's one of the top five most successful active players on this surface.
Andy Murray (+4500)
Murray's latest Wimbledon odds aren't giving much hope to his fans. However, the two-time Wimbledon winner will have the crowd on his side. The Wimbledon crowd loves him as he's the only Brit to have won the gentlemen's singles since Fred Perry in 1936.
Another advantage for the British player is that he loves playing on grass, the evidence being that his win percentage on this surface is 82.7%. Further, with 110 wins, he is the second-most successful player when in grass-court tournaments in the 21st century.
Early Wimbledon Prediction for 2022
As you've learned earlier in my preview, this guy has the motivation on his side. If you're wondering whether he has the skills to do it, here's one final fact to persuade you – Djokovic has a 105-18 record on the grass court.
This makes Novak's win percentage on this surface 85.36%. In comparison, Nadal's current win percentage on grass is 78.0%.
I think Novak is the one who will win the 2022 Wimbledon, and tennis sportsbooks seem to agree with me. The fact that he is an odds-on favorite means that it's very, very likely he is going to win.
As time goes by, I think his Wimbledon odds will shorten even more. That is why my advice is to place your bets ASAP. For an overall look at how to bet on Wimbledon, take a look at our betting guide below.
Wimbledon Betting Guide