Updated 2022 NBA Draft Mock Following the Lottery

The 2022 NBA draft lottery is officially in the books, and it's time to look ahead to the 2022 NBA draft. The Orlando Magic landed the No. 1 pick, with the Oklahoma City Thunder and Houston Rockets joining them in the top three.
That's an important note because most people have the top-three prospects in their own tier. There could be a steep drop from No. 3 to No. 4.
Now that we know where everyone is picking let's check out the NBA 2022 mock draft.
1. Orlando Magic – Jabari Smith Jr., PF, Auburn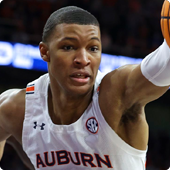 The Orlando Magic had the fortune of landing the No. 1 pick in the 2022 NBA draft. We know three players will be in the discussion for the No. 1 pick, but Jabari Smith Jr. should be the selection. Top sportsbook BetOnline has him priced as a good bet at -150, after all.
Smith will give the Magic a knockdown shooter at the power forward position. He averaged 16.9 points on 42.0 percent three-point shooting in his freshman season at Auburn.
He'll also give the Magic a high-upside defender with a ton of versatility. There's a reason he's the favorite for the 2022 NBA No. 1 overall pick. The 2022 NBA mock draft begins with Smith going No. 1 to the Magic.
Agree with how I'm starting my mock draft? Bet on Smith going first overall at BetOnline.
2. Oklahoma City Thunder – Chet Holmgren, C, Gonzaga
The Oklahoma City Thunder have been tanking for years, but this will be the first time they have a top-three pick since 2009. Oklahoma City finally has a chance to land a star player, and they'll get one with Chet Holmgren.
Holmgren offers a unique skill set as a 7'0" center. Check out his college numbers.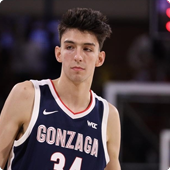 14.1 points
9.9 rebounds
3.7 blocks
39.0 three-point percentage
How often can you land a seven-footer that can handle the ball and knock down three-pointers? The Thunder have established players in their backcourt. The NBA mock draft 2022 has them landing a franchise big man.
While I like Smith to go #1, Holmgren is still in the running for that spot, along with a few others. If you're betting on the 2022 NBA Draft, be sure to explore all possibilities at the top of the draft this year.
3. Houston Rockets – Paolo Banchero, PF, Duke
There's a good chance the Houston Rockets will land whoever remains among the top-three prospects. You can't go wrong with the top three options, so the Rockets shouldn't mind landing Paolo Banchero in the mock draft 2022 NBA.
Banchero has a similar size to Jabari Smith Jr, but he is more aggressive in driving to the paint. That physicality could entice teams to take him over Smith or Chet Holmgren. The best NBA betting sites offer value for him going No. 1 overall.
I NEED Paolo Banchero in a Rockets uniform right now pic.twitter.com/lXQyq6pGyI

— ً (@arxanii) May 16, 2022
Banchero will give Houston's offense another explosive player. He and Jalen Green will be fun to watch in the coming years.
4. Sacramento Kings – Shaedon Sharpe, SG, Kentucky
The Sacramento Kings were a big draft lottery winner, jumping from No. 7 to No. 4. They should use that selection to draft Shaedon Sharpe. Sharpe is the most intriguing prospect because he didn't play last season.
Shaedon Sharpe is going to look good at the 2 for the Kings. 6'6 smiled with a high motor and jumps out the gym. Makes too much sense !

— JB_Aesthete (@Jovianb3001) May 18, 2022
Sharpe's athleticism and quickness make him an optimal guard in today's NBA. Sacramento could opt to play him alongside De'Aaron Fox or bring him off the bench. Either way, he'd be a suitable replacement for Tyrese Haliburton.
The updated 2022 NBA mock draft has the Kings in the top five. Can they finally land a franchise player?
5. Detroit Pistons – Jaden Ivey, SG, Purdue
The Detroit Pistons entered the lottery with a 14 percent chance to land the No. 1. Ultimately, it was a disappointing night as they fell to No. 5. Still, they have a great chance to land a quality player in Jaden Ivey.
If I had to guess right now and knowing the Pistons need to get a lot more athletic, I'd say Jaden Ivey.

— Isaac (@WorldofIsaac) May 18, 2022
Ivey is an athletic guard who took significant strides in his sophomore season. He averaged 17.3 points on 46.0 percent field goal shooting. He would give the Pistons an athletic guard alongside Cade Cunningham.
Detroit would love to be top three in the post-lottery NBA mock draft. However, Ivey wouldn't be a bad consolation prize.
6. Indiana Pacers – Keegan Murray, SF, Iowa
Our 2022 NBA draft rankings have Keegan Murray as the top small forward. Murray doesn't have a standout attribute, but he does every well. Most people view him as the safest prospect in the NBA draft.
I told you during Big Ten Tournament that Keegan Murray was just oozing INDIANA PACERS with every step through Gainbridge Fieldhouse.
It's happening 🤩

— Michael DeCourcy (@tsnmike) May 18, 2022
A 3-and-D player is one of the most desirable in the NBA. After averaging 1.9 blocks and 1.3 steals, Murray could slot into that role while knocking down 39.8 percent of his three-pointers.
The Indiana Pacers had a disappointing 2021-22 season. Landing Murray in my NBA 2022 mock draft should help return them to playoff contention in the Eastern Conference.
7. Portland Trail Blazers – AJ Griffin, SF, Duke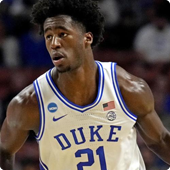 I imagine the Portland Trail Blazers would love to land Keegan Murray. Instead, they'll land the second-best small forward in AJ Griffin. Griffin offers a similar skillset to Murray, filling that 3-and-D role.
Griffin doesn't have the numbers to match Murray, but his Duke team featured far more impact players. He should take on a bigger role with the Trail Blazers.
Portland should prioritize landing a high-impact player in the 2022 NBA mock draft. A healthy Damian Lillard should put them in playoff contention. Griffin's impact could go a long way towards Portland returning to the postseason.
8. New Orleans Pelicans – Bennedict Mathurin, SG, Arizona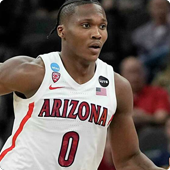 Bennedict Mathurin developed into an elite player during his sophomore season at Arizona. Mathurin became an all-around force, averaging 17.7 points on 36.9 three-point shooting.
Shooting is the biggest aspect of his game, but don't sleep on his ability to drive to the basket. Mathurin gave us many highlight-reel plays last season. The New York Pelicans should look for a player of his caliber.
The Pelicans took a significant step forward last season, making the playoffs and forcing the Phoenix Suns to a six-game series. Mathurin will give them an explosive guard alongside CJ McCollum and Brandon Ingram.
9. San Antonio Spurs – Jeremy Sochan, PF, Baylor
It's not easy to predict where the San Antonio Spurs will go in the NBA draft mock 2022. We never know what Gregg Popovich has in mind, but power forward Jeremy Sochan seems like a quality option.
Jeremy Sochan checks all the boxes for the Spurs to draft him

✅ International Player

✅ Defensive Minded Player

✅ 6'9, 230 lbs

✅ Offensive Potential

✅ Supports Arsenal 🤭 pic.twitter.com/XPBq7J5BjU

— 𝚆𝚎𝚕𝚍𝚘𝚗 (@KeldonWRLD) May 18, 2022
It's hard to evaluate Sochan because his numbers aren't too impressive. However, we know he'll provide teams with a versatile defender. That makes him a top 10 pick in the NBA mock draft 2022.
He has work to do with his offensive game, but we know how the Spurs find diamonds in the rough. Would it surprise anyone if Sochan became the steal of the draft?
10. Washington Wizards – Johnny Davis, SG, Wisconsin
The 2022 NBA draft mock top 10 concludes with the Washington Wizards selecting Johnny Davis. Davis came out of nowhere to become one of the top players in college basketball last season.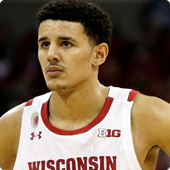 19.7 points
8.2 rebounds
42.7 field goal percentage
Davis needs to improve his three-point shooting, but the Wizards will love his versatility on both ends of the floor. He'll likely slot into the point guard position alongside Bradley Beal.
His playmaking should help the Wizards fight for a playoff spot in the Eastern Conference. Will the Wizards fill their point guard void with Davis?
2022 NBA Lottery Pick Predictions (11-14)
11. New York Knicks – Dyson Daniels, SG, G League Elite
12. Oklahoma City Thunder – Ousmane Dieng, SF, NBL
13. Charlotte Hornets – Jalen Duren, C, Memphis
14. Cleveland Cavaliers – Malaki Branham, SG, Ohio State
We continue to see players opt to play in the G League over college. Dyson Daniels is the top player from the G League in the NBA draft mock 2022.
Daniels is a lockdown defender that can handle the ball. His poor outside shooting brings his stock down, but the New York Knicks would be a good landing spot. He'd fit in their defensive-minded approach.
The Oklahoma City Thunder will make their second pick in the draft lottery at No. 12. Ousmane Dieng likely won't make an immediate impact, but the Thunder will love his upside.
Last season, he played for the New Zealand Breakers, producing quality numbers in his final 12 games.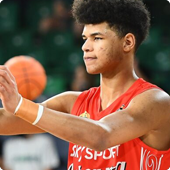 13.3 points
48.0 field goal shooting
36.0 three-point shooting
The 19-year-old needs time to develop, but Oklahoma City has time to wait.
It has been a while since we've talked about the center position. The Charlotte Hornets have quality options in the backcourt, but they could use an impact center. Memphis big man Jalen Duren will provide a boost.
Duren isn't a shooter, but he'll give you a rim protector that can serve as a pick-and-roll threat on the offensive end. He'll be a nice fit alongside LaMelo Ball.
The Cleveland Cavaliers surprised everyone last season by contending for a playoff spot. They fell short in the play-in tournament but should continue to upgrade their roster.
Malaki Branham has developed into a solid mid-range shooter. He continues to work on his three-point shooting, but he'd be a nice running mate for Darius Garland. This gives Cleveland a chance to move on from Collin Sexton.
Predictions for the Remainder of the First Round
15. Charlotte Hornets – Ochai Agbaji, SG, Kansas
16. Atlanta Hawks – Tari Eason, PF, LSU
17. Houston Rockets – TyTy Washington, PG, Kentucky
18. Chicago Bulls – Patrick Baldwin, SF, Milwaukee
19. Minnesota Timberwolves – Nikola Jovic, SF, Serbia
20. San Antonio Spurs – Mark Williams, C, Duke
21. Denver Nuggets – Blake Wesley, SG, Notre Dame
22. Memphis Grizzlies – Kendall Brown, SF, Baylor
23. Brooklyn Nets – Kennedy Chandler, PG, Tennessee
24. Milwaukee Bucks – E.J. Liddell, PF, Ohio State
25. San Antonio Spurs – Wendell Moore, SF, Duke
26. Dallas Mavericks – MarJon Beauchamp, SF, G League Ignite
27. Miami Heat – Jaden Hardy, SG, G League Ignite
28. Golden State Warriors – Bryce McGowens, SG, Nebraska
29. Memphis Grizzlies – Jake LaRavia, SF, Wake Forest
30. Oklahoma City Thunder – Trevor Keels, SG, Duke
The Charlotte Hornets kick off the post-lottery portion of my mock draft 2022 NBA. Ochai Agbaji won the Final Four Most Outstanding Player after leading Kansas to their first National Championship since 2008.
TyTy Washington is the first point guard off the board at No. 17. However, he comes before two of the more intriguing picks in my 2022 NBA mock draft predictions.
Patrick Baldwin was a top-five prospect, but injuries and poor numbers ruined his stock. Can he live up to the hype in the NBA?
Great seeing Patrick Baldwin Jr. compete in 5v5 action ahead of the NBA Draft Combine.

Even bigger than anticipated up close and in person, should measure well next week.

Coming off of an injury-riddled season but the combo of talent, size, and shooting remains very enticing. pic.twitter.com/YgnUeLx3ht

— Jon Chepkevich (@JonChep) May 13, 2022
Nikola Jovic has an intriguing skill set for a 6'10" forward. His defense has question marks, but his offensive skills give him a high ceiling. How will he fit with the Minnesota Timberwolves?
Mark Williams is the lone center in the 15 to 30 range. Williams won't be taking three-pointers, but his rim-protecting ability is valuable on the defensive end.
Predicting What Will Happen in the 2022 NBA Draft
It'll be interesting to see how the first round of the NBA draft plays out. We have three players in contention for the No. 1 pick, but they're close enough that the Orlando Magic can be picky about their selection.
The NBA 2022 mock draft features Jabari Smith Jr. going No. 1 overall. I feel comfortable about the top three picks, but anything can happen after that. The NBA draft combine should give more clarity.
It's only a matter of time before we have more betting opportunities for the 2022 NBA draft. Feel free to check out our guide for betting on the NBA draft.