Top 2022 NBA Finals Sleepers at the Start of the Playoffs

The 2022 NBA playoffs have just begun, but I'm already looking ahead to the NBA Finals. Every bettor wants to find a long shot that will return a big profit. That's exactly what we'll be looking at with the 2022 NBA Finals sleepers.
These teams might not be on people's radar, but they could make a surprising run. No matter what, their value is too good to pass up. Before we talk about the top NBA Finals sleepers, let's look at the odds.
2022 NBA Finals Odds
Golden State Warriors
+600
Minnesota Timberwolves
+6000
New Orleans Pelicans
+15000
There isn't much movement from the end of season 2022 NBA Finals odds. The Phoenix Suns remain the favorite, with the Milwaukee Bucks not far behind.
These odds show there are a few NBA finals value bets. Six teams have odds of (+850) or better, but it gets interesting from there. Is anyone willing to make an NBA Finals sleeper bet on a team with (+6000) odds or worse?
Bettors can wager on the best NBA finals sleepers at Bovada. Make sure you visit the site to place your bets today.
Bet on the NBA at Bovada

Visit Site
Philadelphia 76ers (+1600)
Are the Philadelphia 76ers an NBA Finals sleeper? I wouldn't think so, but the odds show they have the seventh-best chance to win the NBA Finals. That's enough to include them among the 2022 NBA Finals sleepers.
The move to acquire James Harden put them among the NBA Finals' favorites. We didn't see Harden put up overpowering numbers, but the 76ers had the fifth-best record since the all-star break.
Harden and Joel Embiid was the primary reason, but we can't forget about Tyrese Maxey. Maxey took a big step forward, averaging 17.5 points on 42.7 percent three-point shooting. His firepower was on full display in Game 1 of the 76ers' playoff series.
Tyrese Maxey first playoff game as a starter:

38 PTS
14-21 FG
5-8 3P

At age 21, he's the youngest Sixer ever to drop 35+ points in the playoffs. pic.twitter.com/rCeexFPicV

— StatMuse (@statmuse) April 17, 2022
The Harden acquisition was big for Maxey. It gave him an elite playmaker that could generate open looks. Defenses could no longer focus on Maxey, giving him more one-on-one opportunities. He'll be the X-factor in Philadelphia's playoff run.
Now let's backtrack to Embiid. Maxey might be having a breakout season, but Embiid remains the top dog in Philadelphia.
It looked like Embiid would win MVP, but a late-season surge from Nikola Jokic has changed the narrative. Still, Embiid is playing the best basketball of his career. Check out his numbers in his last five regular-season games.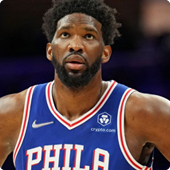 37.8 points
14.8 rebounds
1.6 blocks
59.5 field goal percentage
44.4 three-point percentage
I'm not sure how you can have someone of his caliber on your team and still be an NBA Finals sleeper. The top NBA betting sites may have made a mistake with the 76ers.
It's hard to find a team that's a better NBA Finals value bet. I wouldn't wait long to wager on the 76ers winning the NBA Finals.
Utah Jazz (+2500)
The Utah Jazz has dealt with playoff disappointment for a few years. Last season, they were the No. 1 seed but lost in the Conference Semifinals to the Los Angeles Clippers. They didn't have as good a season this year, but they look like a top NBA Finals sleeper.
Utah was in contention for the No. 3 seed, but they faded down the stretch. That may have been a blessing in disguise because they face a Dallas Mavericks team without Luke Doncic.
It didn't look like Doncic's absence would help the Jazz. Donovan Mitchell had two points in the first half of Game 1, but he erupted with a monster second half.
Donovan Mitchell turned things around in the 2nd half, scoring 30 of his 32 points and leading the Jazz to a Game 1 win.

It was his 4th 30-point half in the playoffs, passing Allen Iverson for the most by any player over the last 25 postseasons. pic.twitter.com/U4tYNr83QT

— ESPN Stats & Info (@ESPNStatsInfo) April 16, 2022
It was a back-and-forth game, but Mitchell's 32 points helped lead Utah to a Game 1 victory. This isn't the first time we've seen Mitchell have a big postseason. Mitchell averaged 34.3 points on 47.6 three-point shooting in his last two postseasons.
I'm not worried about Rudy Gobert's performance in Game 1. The Jazz needed him to be a lockdown defender, and he did just that.
Bojan Bogdanovic has long been one of the more underrated players in the NBA. He nearly averaged 20 points after the all-star break, and he kept it up in Game 1.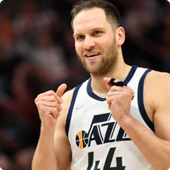 26 points
5 rebounds
4 assists
11-20 field goal shooting
Mitchell will shoulder most of the scoring load, but he'll have help from Bogdanovic and Mike Conley. Then you factor in Gobert's defense, and you have a serious NBA Finals contender.
It'll be interesting to see how much longer the Jazz are an NBA finals sleeper bet.
Minnesota Timberwolves (+6000)
This is where we move from the top NBA Finals sleepers to the longshots to win the NBA Championship.
The Minnesota Timberwolves used a comeback effort to defeat the LA Clippers in the play-in tournament. That made the difference in them playing the Memphis Grizzlies vs. the Phoenix Suns. Most people probably thought they were losing either way, but they made a statement in Game 1.
Check out the numbers for Anthony Edwards and Karl-Anthony Towns.
| | | |
| --- | --- | --- |
| | Anthony Edwards | Karl-Anthony Towns |
| Points | 32 | 29 |
| Rebounds | 2 | 13 |
| Assists | 6 | 3 |
| Field Goal Shooting | 12-23 | 11-18 |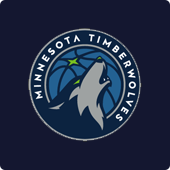 Towns' performance was big for Minnesota. He had a rough performance in the play-in tournament, but this performance shows the Timberwolves can count on him in the playoffs. He, Edwards, and D'Angelo Russell give the Timberwolves a scary big three.
Some people might say this is an overreaction to their Game 1 victory over the Grizzlies, but Minnesota has been playing at a high level for a while.
Minnesota's 30-17 record was eighth-best in the 2022 calendar year. That same stretch saw the Timberwolves lead the NBA with 121.7 points per game. Their offense was on full display with 130 points in Game 1.
The Timberwolves' offense has the potential to go on a surprising NBA Finals run. However, I need to see more from their defense before considering them a serious contender.
They didn't have a great performance against Memphis in Game 1. The Timberwolves' offense won't always score 130+ points, so they need their defense. Still, I'm willing to have the Timberwolves as one of my NBA finals sleeper picks.
Dallas Mavericks (+6600)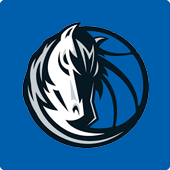 The Dallas Mavericks was an early NBA Finals sleeper after a 16-18 start. Do you remember how I said the Minnesota Timberwolves had one of the best records since January 1? Well, the Mavericks had the second-best record at 35-12.
Dallas nearly claimed the No. 3 seed but finished a game behind the Golden State Warriors. Dallas looked like a legit NBA Finals contender until Luka Doncic's calf injury. That was a big blow to their chances, but it has made them an NBA finals sleeper bet.
The NBA Round 1 series odds had the Mavericks as the only higher seed to be the underdog. I don't think this is a detrimental injury, as Doncic should return in the Utah Jazz series.
Doncic is tough to replace, but the Mavericks have a quality option in Spencer Dinwiddie. Check out his numbers without Doncic.
| | | | |
| --- | --- | --- | --- |
| | March 5 | March 23 | April 16 |
| Points | 36 | 26 | 22 |
| Assists | 7 | 6 | 8 |
| Field Goal Shooting | 11-22 | 8-13 | 6-15 |
Dinwiddie's production will be big for the Mavericks as they look to make the Conference Semifinals.
Honestly, the Mavericks will need a little more from everyone. Dinwiddie and Jalen Brunson will lead the way, but Dorian Finney-Smith, Dwight Powell, and Reggie Bullock need to help pick up the slack.
I know I talked about the Jazz being one the best NBA Finals sleepers, but I can't ignore the value of the Mavericks. We're talking about a team with the fifth-best record at (+6600) odds in the regular season.
Dallas has to find a way to survive against Utah. If they can do that, their odds will quickly rise.
Chicago Bulls (+10000)
The Chicago Bulls made big moves in the offseason. They landed DeMar DeRozan, Lonzo Ball, and Alex Caruso. Those moves elevated the Bulls to playoff contenders, but they took it a step further by contending for the No. 1 spot in the Eastern Conference.
Chicago faded down the stretch, but they head into the playoffs as the No. 6 seed in the Eastern Conference.
They might not enter the playoffs as a top contender, but how often can you find a 46-win team with (+10000) odds? After all, there's a reason the Bulls are in this position. The reason is their star players.
Nikola Vucevic had a good season, but let's focus on DeRozan and Zach LaVine. Check out their 2021-22 numbers.
| | | |
| --- | --- | --- |
| | DeMar DeRozan | Zach LaVine |
| Points | 27.9 | 24.4 |
| Rebounds | 5.2 | 4.6 |
| Assists | 4.9 | 4.5 |
| Field Goal Percentage | 50.4 | 47.6 |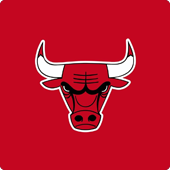 It'll be important for both players to play at their full potential. They didn't have a great close to the season, contributing to Chicago plummeting down the standings. Chicago's status as an NBA Finals contender hinges on DeRozan and LaVine.
The primary reason Chicago opens as a massive longshot is a first-round matchup with the Milwaukee Bucks. Milwaukee is one of the top contenders to repeat as NBA Champions. Not to mention, they swept the Bulls in the regular season.
I can't confidently say I would take the Bulls over the Bucks, but it's not about that. Chicago's odds make them one of the top NBA finals value bets. Their potential is greater than a team with (+10000) odds.
If they return to their early-season success, they could make an NBA Finals run.
Atlanta Hawks (+12000)
The Atlanta Hawks entered the 2021-22 season as a playoff contender, but it wasn't looking good in January. It was more likely we'd see the Hawks in the lottery than the NBA playoffs. On that note, check out our post March Madness NBA mock draft.
Atlanta turned things around in January. Their 26-14 record since January 16 was fourth-best in the Eastern Conference. They won two games in the play-in tournament to make the playoffs as the No. 8 seed. Trae Young helped lead a big comeback against the Cleveland Cavaliers.
Young's performance will differ from Atlanta's ability to defeat the Miami Heat. He only scored over 25 points once in his first ten games against Miami. However, he has cleared that mark in his last two games.
The Hawks will have a big boost with John Collins returning for the playoffs. Collins hasn't played since March 11, but he's back in the lineup. Atlanta will need him even more after Clint Capela suffered a knee injury in the play-in tournament.
Unfortunately, they lost Capela, but this Hawks team isn't that different from the one that made the Eastern Conference Finals last year. Check out the players from last postseason that are no longer with the team.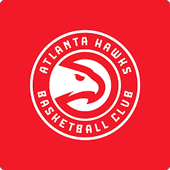 Cam Reddish
Solomon Hill
Kris Dunn
The Capela injury is the biggest difference-maker. Still, I believe the Hawks have enough firepower to make another run. Because of that, they're one of my top NBA Finals sleeper picks.
Can Atlanta surprise people for the second straight postseason?
Betting on the NBA Finals in 2022
Last season, the NBA playoffs brought us parity that we hadn't seen in years. Hopefully, we'll see the same this season. My 2022 NBA finals sleepers should provide great value selections for the NBA title.
It'd take a lot for a few of these teams to win the NBA Finals, but the value is too good to pass on.
The Philadelphia 76ers probably have the best chance, but I love the value of the Dallas Mavericks.
It's not unprecedented to see a surprising NBA Finals contender win the championship. Take a look at the most surprising NBA Finals winners of all time.