2022 Six Nations Round 3 Betting Guide With Odds and Predictions

We have had the best part of two weeks to ponder the best bets for the Six Nations Round 3. The downside was, well, that we had to wait for the third round.
Following an absolute classic in Paris between France and Ireland, Fabien Galthie's men are two from two and still in the hunt for a Grand Slam. The French face a tough test in Edinburgh against the Scots, while Andy Farrell's Ireland will entertain Italy.
Before we get to the top Six Nations bets for Round 3, it's hard to ignore the obvious. While Scotland vs. France should be a great spectacle, the big game of the round must go to England vs. Wales at Twickenham.
I'll be breaking that one down, alongside the others, in this 2022 Six Nations betting preview for Round 3. Before we do that, let's look at the latest Six Nations odds.
2022 Six Nations Odds – Futures and Round 3 Fixtures
I've taken the odds below from the BetOnline sportsbook.
Before we get to the individual matches, let's see the odds to win the Grand Slam, the championship, and the Triple Crown.
2022 Six Nations Odds for the Grandslam
This market can be easily rephrased as "betting on France's odds to win the Grand Slam," or something similar.
Grand Slams are very difficult to achieve. But it would take a brave man to back against the French performing a clean sweep. Especially with Ireland out of the way.
France travel to both Scotland and Wales before hosting England at home in a potential Grand Slam game. Even though the signs are that they should beat all three sides, have the French finally shaken off their tendency for being inconsistent?
I'm not sure they have. And this weekend's match might prove that.
Odds to Win the 2022 Six Nations Championship
At this point, betting on France to win the Six Nations looks to be the top pick.
The French were ruthless at the breakdown against Ireland. They slowed the ball down, effectively denying the Irish a chance to punish them with quick ball and attacking guile. Most notably, discipline was much better this time around, having halved their penalty count from the previous week against Italy from 14 to seven.
Ireland came back strong in the second half and, on another day, could have kicked to the corner and taken the win. They outscored the French by three tries to two in Paris, with Mack Hansen's brilliant five-pointer from the kickoff was absolutely ridiculous.
OH MY WORD! WHAT A CATCH FROM MACK HANSEN!#FRAvIRE #GuinnessSixNations pic.twitter.com/mRc6KOkDgZ

— Guinness Six Nations (@SixNationsRugby) February 12, 2022
While Ireland and England are both 1-1 from the opening two rounds, Scotland's frustrating capitulation in Cardiff means their Grand Slam aspirations are also over. The Scots will be devastated at losing what should have been a winnable game.
Wales could be back in the mix with a win at Twickenham over England. That win over Scotland has reignited optimism in the Principality, going to show that you just cannot write the Welsh off. Ever.
Still, at this point, it's France's title to lose. Although a wounded Scotland at home could very well be a banana skin.
Six Nations Triple Crown Winner
No Triple Crown Winner
-160
The Men in Green are the only team capable of winning the Triple Crown this year.
They certainly have the flair. Defensively, they are sound. But can Farrell's men win these crunch clashes?
Ireland's odds to win the Triple Crown in 2022 are decent. But a trip to Twickenham in the penultimate round, as well as a stern test against the Scots, makes this one a little tough to bargain with.
While 2022 Six Nations odds for the Triple Crown are a little lightweight, it's because of how good this Ireland side is. I believe they can do it.
Scotland vs. France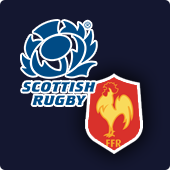 Date: Saturday, February 26
Venue: Murrayfield, Edinburgh
Favorite: France (-260)
Spread/Handicap: 7.5 Points (-115)
The first match of the weekend should set the tone for an exciting round of ties.
The Scots will be looking to get back to winning ways, but face a mighty task in turning over a world-class French outfit. While the home support should get Gregor Townsend's men in the mood for a scrap, guts and guile are unlikely to be enough on the day.
The Six Nations Round 3 odds favor France to win. Although, the oddsmakers on the top rugby betting sites are expecting it to be a walkover. At just -260, this French team heads to the Scottish capital better value than England were in Round 1. That's despite putting Ireland to the sword just two weeks before.
If you're struggling to figure out why France's odds for the Six Nations match with the Tartan bunch are so low, you have to understand history to get it.
| | | | | |
| --- | --- | --- | --- | --- |
| Venue | Total Matches | French Wins | Scottish Wins | Draws |
| In France | 47 | 35 | 12 | 1 |
| In Scotland | 47 | 19 | 27 | 1 |
| Neutral | 3 | 2 | 0 | 1 |
| Total | 98 | 56 | 39 | 3 |
Edinburgh is not a place that French players tend to enjoy visiting.
In general, France is a little shakier on the road than in front of their passionate fans. But there seems to be something about Murrayfield that brings out the worst in Les Bleus.
France has had a grand total of zero wins at Scotland's home stadium since the 2016 edition of this competition. Granted, that's only three losses in this competition. But overall, France is 4-5 against Scotland in all test matches since then.
Last year's game in Paris ultimately went Scotland's way. They ran out as 27-23 winners on a day when Racing 92's Finn Russell was sent off in his adopted city.
But again, 27 wins to 19 against the French in Edinburgh is a stat worth considering. Sure, both sides suffered abysmal runs since 2010 but there has always been something about this particular fixture that seems to click for the Scots.
I'm stopping short of basing my Six Nations 2022 predictions for Scotland vs. France on an upset. However, I would not be shocked to see France suffer their worst performance of the championship in this match.
Games between these two at Edinburgh are typically low-scoring affairs. That, in addition to the records, explains why the Six Nations line for betting on France vs. Scotland is so tight.
I'm going to back Scotland with the 7.5 head start. Although a ruthless outfit, they will respect this team. If big-game players like Stuart Hogg, Finn Russell, and Hamish Watson are in form, it could end up being a lot closer than we think.
Prediction: France 22-18 Scotland
Top Pick: Scotland +7.5 Points (-115)
England vs. Wales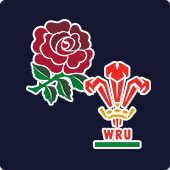 Date: Saturday, February 26
Venue: Twickenham, London
Favorite: England (-700)
Spread/Handicap: 14.5 Points (-115)
The game of the round. If you ask some supporters, this is the most important fixture in the Six Nations. Period.
There is an intense rivalry between these two rugby nations that transcends sports. Especially from England fans living in Wales, and vice versa. Lose the game on the weekend, and you might as well apply a "kick me" sign to your back on Monday morning in the office.
This Saturday, this England team will be licking their lips for a chance to get at the Welsh. In 2020, English fans left the Principality Stadium absolutely fuming with what they saw as a shambolic performance from referee Pascal Gauzere.
Although Eddie Jones stopped short of blaming the referee, he did hint at the astounding fortune Wales had been blessed with in the tournament.
"Well, they get points maybe they don't deserve, and we have to fight to get back into the game. It makes it difficult, and you have to be good enough to overcome it, they were worthy winners, but we have to be good enough to overcome those, as unusual as they might be."
Saturday's match will not be for a Grand Slam. It could, however, decide who goes on to win the title.
For those betting on England vs. Wales, the 2022 Six Nations odds hint at it being a comprehensive victory for the home team. That's despite the English falling flat in Murrayfield, and Wales scraping a win against the Scots in Cardiff.
By nature, this fixture is always a heated one. The Welsh will feel as though they deserve a lot more respect, while England's odds are probably a little too short on the button. Wayne Pivac might take the 2022 Six Nations betting line and staple it to the dressing room door.
FULL TIME | WALES ??????? 21-10 ??????? – An exciting second-half, which saw Scotland repeatedly come agonisingly close to the whitewash, comes to end with credit to an incredibly resolute Welsh side.

Congratulations to Wales who will keep the Doddie Weir Cup here in Cardiff ? pic.twitter.com/68MTTKRola

— Scottish Rugby (@Scotlandteam) November 3, 2018
Wales demonstrated a grit against the Scots that was absent in Dublin. That is taking nothing away from Ireland's performance in Round 1, of course. On another day they would have consigned the Welsh to a 40 point loss.
But are England as capable of keeping Wales out of this game as those across the Irish Sea? I don't think so.
Wales always raises their game for England. And vice versa. But in what should be a closer game than the odds suggest, the betting value is with the Welsh keeping the score under 15 points.
Prediction: England 24-14 Wales
Pick: Wales +14.5 Points
Ireland vs. Italy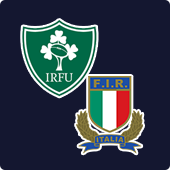 Date: Sunday, February 27
Venue: Aviva Stadium, Dublin
Favorite: Ireland (-3300)
Spread/Handicap: 39.5 Points (-115)
As expected, the 2022 Six Nations Round 3 odds are heavily stacked in favor of Ireland.
The Italians head to Dublin with losses to both France and England on their minds. For gli Azzurri, the distraction of potentially being booted out of the championship — to make way for world champions, South Africa — could see them leak a lot of points.
Conversely, it could be the kick up the proverbial this team needs to go out there and prove a point. Even with the organizers of the tournament claiming they do not plan to interfere with the existing structure of the competition, the pressure is on Italy to deliver something.
Winless since 2015, the Italians could break some long-standing Six Nations records this year. A trip to Dublin, especially with this Irish team 9-1 from their last ten games, isn't exactly the forum they would choose for a shot at redemption.
Traditionally, Ireland vs. Italy in Dublin has been a rout for the home team. But with the strength in depth Farrell has at his disposal, we could see a shakeup with some players getting some game time. Especially with England at Twickenham in Round 4.
Still, it's difficult to see anything but a commanding Irish performance culminating in yet another pasting for Italy. In true form, they started the tournament off well, challenging the French in Round 1. However, they were bushwhacked by the English in Rome in Round 2, looking pretty clueless in a 33-0 loss.
Unlike the Azzurri, Ireland tends to improve as the championship goes on. That's bad news for Italy, who will bear the brunt force of an Irish side reeling from their defeat to France in Round 2.
Based on the attacking flair on full display, Ireland should be good value for a 30+ point win. Since a 60-13 trouncing of the Italians in the 2017 Six Nations, the Men in Green have put at least 48 points on the perennial whipping boys in four of the six ties played. Three of those games resulted in more than 50 points being scored.
It's a tough one to call, sure. Ironically, making my 2022 Six Nations Round 3 predictions for Ireland vs. Italy has been the toughest decision to arrive at. We know who will win the game, but by how much?
Again, with England at Twickenham set to follow, Farrell might be tempted to let some of the youngsters loose. There is another one-week break between Italy and England, however, and he could instead opt to put as many points on the board as possible.
In a tournament that might come down to points difference, logic tells us that he should go with a full-strength side. If so, the team that scored a combined 53 points against the reigning champions and the champions-elect should see this one out comfortably.
Still, play it safe with the alternative spread. You can get a decent price for -36.5 points.
Prediction: Ireland 58-9 Italy
Top Pick: Ireland -36.5 Points (-175)
More 2022 Six Nations Round 3 Bets to Target
At this point, you probably have enough 2022 Six Nations bets for Round 3, as well as futures, to keep you occupied.
But I want to briefly share with you another few options you could look at, where the latter are concerned.
First, Ireland will play Italy this weekend which means there will be a lot of tries scored. France and England have both faced the weakest team in the championship, with star players Gabin Villiere and Marcus Smith scoring to take their tallies to 3 and 2, respectively.
A great value Six Nations top try-scorer bet, however, is Mack Hansen to finish on top of the leaderboard. I also like Melvyn Jaminet to finish as top scorer, in general, and for England to finish 3rd in the championship.
Mack Hansen for Top Try Scorer (+800)
Melvyn Jaminet (+163)
England to Finish 3rd in the Championship (+200)
With that, I'll leave you with your thoughts. Make sure to bookmark our rugby betting blog before you bounce!
If you're procrastinating or just have a little time on your hands, here's a look at the players to watch in the 2022 Six Nations.
Enjoy!
September
Casino of the Month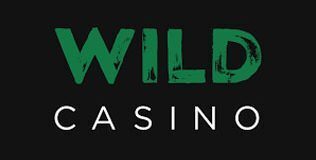 Welcome Bonus
250% up to $5,000