Top NFL Standings Bets to Target in 2022

Football fans will be relieved to hear that the NFL season is approaching. The preseason is about to get underway, and we could not be more excited. It's prompted us to make our 2022 NFL Standings predictions for who we think wins each division this year.
Certain teams have great opportunities to win the Super Bowl this season, but winning their division is the first step. There are only so many playoff spots that are up for grabs, which means that winning the division is the best way to solidify your place in the tournament.
You also might not be aware that 2022 NFL Standings odds are available on the top US betting sites. Let's consider which teams make the best bets to win their respective divisions.
How We Rate

Safety & Security
You should be able to gamble online without fear. So we only recommend licensed sites that use the latest security and encryption techniques.

Bonuses
Maximize your bankroll with fantastic bonuses. Our recommended sites offer valuable bonuses with fair terms and conditions, including manageable wagering requirements.

Games & Betting
The best sites have the best wagering options. That's why you will find extensive games and betting opportunities on our recommended sites.

Banking
Getting your money to and from your account shouldn't be a hassle. We only recommend sites with a variety of convenient banking methods, including cryptocurrency and e-wallets.
Buffalo Bills to Win AFC East (-225)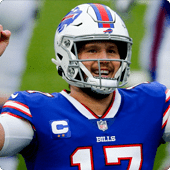 Starting off our 2022 NFL Standings predictions is the Buffalo Bills winning the AFC East. Buffalo is in for a big year in 2022, with it being Super Bowl or bust for them.
Josh Allen is one of the best NFL superstar quarterbacks and is in for another big season.
Buffalo's defense is also among the best in the league, ranking 1st in the NFL last year with just 17.0 points allowed per game. Losing their offensive coordinator, Brian Daboll, might take some time to get used to, but the Bills' roster is incredible in all aspects.
The Bills are heavily expected to be the league's best team this year, also being favored to win the Super Bowl with +650 odds on BetUS.
With how good the Bills are supposed to be this season, I'm surprised their odds are just -225. I was expecting Buffalo to be at least in the -300s or even -400. Nonetheless, this could be a perfect opportunity to jump on the Bills while their price is this good.
Once they start winning many games, we might not see Buffalo's odds near -225 for the rest of the season.
The AFC East has capable teams, but I'm not sure they'll challenge the Bills for the top spot.
Miami is gearing up to be an underrated team this year, but are they good enough to beat out Buffalo? Personally, I'd like to see some games with their new look this year before making that decision.
New England is another team who's been insanely consistent in the last two decades or so at winning their division, but times have changed. Josh McDaniels also left town to be the head coach of the Raiders, so their offense is unreliable to bet on right now.
At the end of the day, the Bills don't have the most bang for your buck with their 2022 NFL Standings odds, but betting against them seems like a bad idea.
Philadelphia Eagles to Win NFC East (+155)
For a team that does have some valuable 2022 NFL Standings odds, how about the Philadelphia Eagles? I'm expecting big things this year from the Eagles, with Jalen Hurts is one of my targets on my 2022 NFL bold predictions.
If Hurts can take that next step, Philadelphia could be a team to watch out for this year.
They added a star wide receiver in A.J Brown, who will play opposite DeVonta Smith. Their offensive line is also incredible, as well as their counterpart.
Being tough in the trenches is a must when being in the same division as the Cowboys. Not only that, but the Eagles' secondary also looks to be in for a big season as well. They also grabbed some incredible defensive rookies in Jordan Davis and Nakobe Dean.
Dallas will undoubtedly be neck and neck with the Eagles this season. I also think Dallas has a lot of value at +135, but I'm expecting a step back from them this season. The Cowboys dominated the Eagles in their head-to-head battles in 2021 but losing Amari Cooper, La'el Collins, and Randy Gregory could hurt them tremendously.
The Eagles also have one of the easiest schedules this season, while Dallas has some tougher games. If Philadelphia can take care of business in their winnable games this year, they could seriously push the Cowboys for the top spot in the NFC East.
As for the Commanders and Giants, they both should be in for improved seasons. They are still a step down from the Eagles and Cowboys.
This race is firmly between Philadelphia and Dallas, but I'm expecting the Eagles to pull off an upset here. Dallas could be a team taking a slight step back in 2022, while Philadelphia looks to take a step forward.
However, you might not be that much of a believer in Hurts. If that's the case, I would fully support betting on the Cowboys since they have positive odds themselves.
Cincinnati Bengals to Win AFC North (+180)
When predicting 2022 NFL Standings, I was shocked to see the Bengals at their current price. Cincinnati is coming off an enormous season and is looking to build on it. I was fully expecting them to at least be favored to win the AFC North, but they aren't.
That honor belongs to the Baltimore Ravens at +140. Baltimore finished last in their division in 2021 with an 8-9 record, while Cincinnati finished first at 10-7. As you probably know, Cincinnati made it to the Super Bowl before falling short to the Los Angeles Rams.
The Bengals had an incredible roster last year but lacked a top-tier offensive line. They addressed that in the offseason, signing former Cowboys tackle La'el Collins and more.
Look who's back in action. 1⃣@Real10jayy__ | @Bengals

📺: Back Together Saturday returns July 30 on @NFLNetwork pic.twitter.com/8Pp2xOc01Q

— NFL (@NFL) July 28, 2022
If the Bengals were able to make it to the Super Bowl last year and arguably got better in the offseason, wouldn't that mean they can at least win their division? Going back to the Super Bowl is not something I can say I strongly believe in for Cincinnati but winning their division should be very possible.
In their head-to-head matchups with the Ravens last year, Cincinnati beat them by 20+ in both games. You might think my Eagles' pick doesn't make sense since they had similar results against the Cowboys, but the Bengals added great players in the offseason instead of losing them.
The fact that the Ravens are favored over the Bengals to win the division is bothersome.
Baltimore had some injury issues last year, but there's no concrete reason why they'll jump from worst to first when Cincinnati could be better than they were last season.
As for the other teams, Cleveland is the only other one who would have a chance at winning their division, but Deshaun Watson's looming suspension will destroy that.
For now, the Bengals' 2022 NFL Standings odds are too valuable to pass up on.
Green Bay Packers to Win NFC North (-200)
This might be the year where you think the Packers are vulnerable, but there's a good chance you are wrong. Green Bay traded away star wide receiver Davante Adams to the Raiders over the offseason but convinced Aaron Rodgers out of retirement.
The Packers might not dominate the division once Rodgers is gone, but that's not happening yet. Green Bay also drafted a talented wide receiver in Christian Watson to be Adams' long-term replacement.
I think Adams and Rodgers' chemistry was what took them over the top. Now that Rodgers doesn't have his number one option, there's a chance we see some growing pains with the new guys.
That said, they have plenty of guys who can contribute. They beefed up their defensive front 7 in the draft, and their secondary could also be one of the best in the league. Jaire Alexander missed a ton of the 2021 season, but arguably the league's best cornerback is ready for 2022.
Even if the Packers' wide receivers go from great to good, Green Bay should still be able to win the division relatively easily.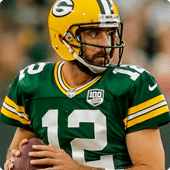 Chicago and Detroit are still multiple years away from being serious contenders, leaving Minnesota as the only one to really challenge Green Bay.
Dalvin Cook, Justin Jefferson, and Adam Thielen could be the best NFL playmaking trio, but the other Vikings could be considered good, not great. They have some solid players like Danielle Hunter and Harrison Smith, but I'm not seeing anything else that sells me on them beating out Green Bay.
I also don't care how many garbage time Kirk Cousins' stats you throw at me; I don't think he's an elite quarterback.
He might be able to lead Minnesota to a division win, but it's not going to be while Aaron Rodgers is in Green Bay.
Indianapolis Colts to Win AFC South (-125)
Next on our projected NFL records is the Indianapolis Colts winning the AFC South. Indianapolis is a team I'm expecting to take a step forward this year, while the Tennessee Titans will do the opposite.
The Colts had an incredibly disappointing end to last season, failing to clinch the playoffs after losing to the lowly Jaguars.
That should be their main motivator this year in what should be a winnable division. Indianapolis has had a carousel at the QB position ever since Andrew Luck retired, but Matt Ryan is looking to end that.
Ryan has been in a terrible situation in Atlanta for a while now, so he should be excited to be in Indianapolis. The Colts' offensive line has been one of the league's best in the last few seasons, while Atlanta's has been one of the league's worst.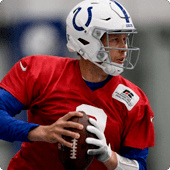 Indianapolis has an underrated defense with some great playmakers on offense as well. Ryan is an upgrade over Carson Wentz, so a better season should be in store for them.
Jacksonville and Houston shouldn't be near the top of the division, leaving Tennessee as the top competitor to Indianapolis.
The Titans will be next to the Colts in the standings all year. You can make the argument for them to win the division with Derrick Henry back at full strength, but I'm going with Indianapolis.
If you can hold the Titans' rushing attack to a sub-par game, there's a good chance you win. They are much better when they just give the ball to Henry 30+ times. That said, Tannehill's struggles at the end of last season were worrisome.
He went from one of the most efficient quarterbacks in the league to throwing 9 interceptions in the last 7 games of the year. The Titans have good value at their +155 2022 NFL Standings odds, but I expect Indianapolis to be a very underrated team in 2022.
Tampa Bay Buccaneers to Win NFC South (-325)
When predicting NFL records for 2022, sometimes you have to take the favorite without thinking twice about it. That should be the case regarding the NFC South and the Tampa Bay Buccaneers.
The NFC South is top-heavy when it comes to their level of talent. Tampa Bay is a Super Bowl contender, while the rest of the division is unlikely even to make the Wild Card.
Atlanta is in a rebuild, so they will be focused on developing their young players this year. Carolina lacks many things, but a reliable quarterback is the most glaring issue.
New Orleans has a talented roster, but how much faith do you have in Jameis Winston? Sean Payton's retirement is also quite a cultural change for them, which might take a year or two to get used to.
Even if New Orleans had Sean Payton as their head coach, I'm not sure I would be convinced to consider them this year.
Tom Brady tends to win the Super Bowl often, so winning the division comes even easier to him. They recently signed Julio Jones to a 1-year deal, joining Mike Evans and Chris Godwin in the WR room. It's terrifying to think of Jones as a 3rd option, especially with Brady running the offense.
Tom Brady 🤝 Julio Jones

This could be scary. @brgridiron

(via @Deacon_Schiele) pic.twitter.com/YH7AsYJ1AT

— Bleacher Report (@BleacherReport) July 28, 2022
The only reason why I would consider not betting on the Buccaneers to win the AFC South is that their odds aren't profitable enough. Even then, I don't trust any other team to be able to beat them out.
New Orleans has the best of the projected NFL records for the bottom 3 teams, but there's too much to worry about over there. As for making 2022 NFL Standings predictions, it's either the Buccaneers or pass for the NFC South.
Betting against the Saints might be the better option here, which you could read more about on our 2022 NFL win total best bets.
Los Angeles Chargers to Win AFC West (+250)
If you're looking for the most value in the 2022 NFL Standings odds, you'll want to head over to the AFC West. The AFC West will be extremely difficult to predict, but the value will be the best out of any division.
I will take the Chargers for one of my top NFL Standings wagers, but there's an argument for all four teams.
Patrick Mahomes will be leading the Cheifs once again, which should be a good enough reason for anyone to consider betting on them. That said, Tyreek Hill being traded away to Miami could mean they are slightly vulnerable.
Denver finally made their splash at quarterback by trading for Russell Wilson as well. They've had a great overall team, but they've been missing a top-tier quarterback to take them over the edge. Now that Wilson is there, Denver should have no excuse in 2022.
Las Vegas was also active in free agency, grabbing Davante Adams and Josh McDaniels. They snuck into the playoffs last year and will be looking to make it past the first round this time.
now THIS is justin herbert analysis pic.twitter.com/RQJb8hGBLV

— Los Angeles Chargers (@chargers) July 30, 2022
That brings us to the Chargers. The reason why the Raiders were able to make the playoffs last year was because the Chargers weren't. They had a crucial matchup in Week 18, but the Raiders came out on top. A tie would have sent both teams to the playoffs, but the Raiders played for the win.
Los Angeles should be out for revenge this year because of how 2021 ended. Justin Herbert is an incredible franchise quarterback, and they have a talented roster on both sides of the ball.
The AFC West will be extremely tough for 2022 NFL record predictions, but I can't pass up on the Chargers at +250.
Los Angeles Rams to Win NFC West (+125)
One of the top NFL Standings wagers will be the defending champions winning the NFC West.
After a spectacular run in 2021, the Los Angeles Rams are ready to run it back. They made some great moves in the offseason and found themselves with plus odds to win the NFC West this year.
The big moves the Rams made this offseason included the signings of Allen Robinson and Bobby Wagner. They lost a solid veteran wideout in Robert Woods, but you could make an argument that Robinson is better than him.
🐏 Aaron Donald
🐏 Bobby Wagner
🐏 Jalen Ramsey

The @RamsNFL defense has some serious star power 👀 pic.twitter.com/YqqA4Jk0Nd

— PFF (@PFF) July 27, 2022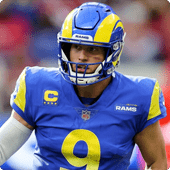 You can also argue that Bobby Wagner is the best linebacker in the NFL. It's insane to think about how the Rams have basically the best defensive player at any level.
Aaron Donald is the league's best defensive lineman, Wagner is possibly the league's best linebacker, and Jalen Ramsey is arguably the league's best cornerback.
Matthew Stafford and Cooper Kupp were unstoppable in 2021 and are looking to have another monster year together. If Robinson fits in nicely, that will only add fuel to the LA fire.
The NFC West will be a tough division with the Rams, 49ers, and Cardinals with impressive projected NFL records. That said, the Rams being in positive odds territory seems like too good of an opportunity to pass up on.
Defending champs always seem to struggle a little more in the following season, but the Rams' offseason was too good to ignore.
If Trey Lance is the real deal, you could make a strong case for San Francisco at +175 odds. Arizona's got a good roster as well, with even better odds at +325. That said, I would say these two teams are still a step down from the defending champs.
Best NFL Standings Bets for 2022
Predicting 2022 NFL Standings is a great way to prepare for the upcoming season. If you already placed your Super Bowl bet for the year, consider trying to predict who wins each NFL division.
It's going to be a very competitive season, so there's a chance a few of my 2022 NFL Standings predictions are incorrect. If there's a team you think has a better chance of winning the division than a team I chose, by all means, bet on them.
Value is another thing to pay attention to when predicting 2022 NFL Standings. When you commit to a season-long bet, you want to ensure you get the most bang for your buck.
For example, the Buccaneers are heavily favored to win their division. If you bet $100 on their odds, your total profit would be $30.77. On the other hand, a $100 bet on the Chargers would profit $250, a considerable difference from the Bucs bet.
As for the best of my NFL standings predictions bets, I will go with the Cincinnati Bengals at +180. Their only real competition is the Ravens this year, and they got better in the offseason after addressing their offensive line.
Either way, head over to the best football betting sites to place your bets for this upcoming NFL season and check out the related posts below.
August
Casino of the Month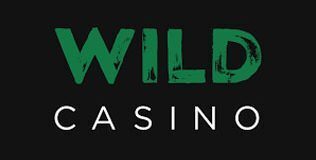 Welcome Bonus
250% up to $5,000