Hide Bonus Offers
| | | | | |
| --- | --- | --- | --- | --- |
| #1 | BetOnline Sports | 60% Up To $1,000 | Visit Site | BetOnline Sports |
| #2 | Bovada Sports | 50% Up To $250 | Visit Site | Bovada Sports |
| #3 | BetUS | 125% Up To $2,500 | Visit Site | BetUS |
| #4 | Everygame | 100% Up To $500 | Visit Site | Everygame |
| #5 | MyBookie | 100% Up To $1,000 | Visit Site | MyBookie |
NFL Offensive Rookie of the Year Odds and Pick for 2022

Before the season begins, we should look at the 2022 NFL Offensive Rookie of the Year odds to see who we should be betting on this year. Many players could win this year's award, and there's no dominating favorite.
That could mean there's a ton of potential value for this prop. On the other hand, the 2022 draft class was very underwhelming in terms of quarterbacks, so that shakes up the odds even more.
Typically, quarterbacks have an enormous advantage over other position players, but this year could be wide open for everyone.
Check out the NFL Offensive Rookie of the Year award odds to see which players stand out before the 2022 season.
Updated Odds to Win the 2022 NFL OROY
BetOnline offers up the odds for the top 20 players in the 2022 NFL Offensive Rookie of the Year race. They offer 27 players for this prop, so make sure you head over there to check out the complete list.
Pittsburgh Steelers' new quarterback Kenny Pickett is at the top of the 2022 NFL Offensive ROY odds. He was the first quarterback selected in the draft, so it's no surprise to see him at the top of the odds leaderboard.
He's still far from being the heavy favorite, though, as his (+650) odds aren't close to negative territory. That leaves the door open for basically everyone else in the rookie class.
Four players are tied for second in the odds. Breece Hall, Chris Olave, Skyy Moore, and James Cook, all come in at (+900). As for who will win the 2022 NFL Offensive Rookie of the Year award, it's going to be whoever can distance themselves from the pack the best.
BetOnline is one of the best US betting sites and offers a great welcome bonus right now. You get a 60% bonus to your account (up to $1,000) just by signing up with them. This will help you get some extra cash to bet on the NFL Offensive Rookie of the Year award odds and more.
There has been a movement since the last time we looked at the odds for the 2022 NFL Offensive Rookie of the Year favorites.
Kenny Pickett's Rookie of the Year odds still have him favored to win, but not as much as before. Other players like Drake London and Garrett Wilson have also seen their odds take a hit.
Let's look closer before making our 2022 NFL Offensive Rookie of the Year prediction towards the end of this blog.
Bet on the 2022 NFL Offensive ROY Odds at BetOnline
BetOnline gives us some great odds for the award. Feel free to read a site review before visiting the site.
Why Kenny Pickett Might Be a Bad Bet for the OROY Award
Before we consider other options, we need to make sure we take a hard look at the favorite. Kenny Pickett's Rookie of the Year odds imply that he has the best chance to win the award. Of course, it's still very early, and the season hasn't even started yet, but it's still worth noting.
Pickett was drafted with the 20th overall selection by the Pittsburgh Steelers and is considered the long-term replacement for Ben Roethlisberger. He had a stellar campaign in his senior year at Pitt, throwing for 4,319 yards with 42 touchdowns and just 7 interceptions.
With the 20th pick in the #NFLDraft, we select QB Kenny Pickett. #SteelersDraft pic.twitter.com/8IDyASLOmz

— Pittsburgh Steelers (@steelers) April 29, 2022
The potential is there, and he could very well start and finish this year at the top of the NFL Offensive Rookie of the Year award odds. However, there's also a strong argument as to why you don't want to bet on Pickett.
First of all, his odds have the least amount of value compared to any other option right now. Of course, season-long bets always have a more vital element of risk, but the value is why we make them.
Pickett may have a decent chance to win, but it might not even be worth the (+650) odds at the end of the year.
We don't even know when Pickett will be getting playing time in 2022. The Steelers signed Mitchell Trubisky in the offseason and still have Mason Rudolph on the roster.
Rookie quarterbacks also have a higher chance of struggling in their first season than in a more straightforward position like a wide receiver.
Pickett has serious potential, but there are many reasons why you shouldn't be betting on his odds to win the 2022 NFL Offensive Rookie of the Year.
2022 NFL Offensive Rookie of the Year Sleepers
That brings us to the NFL Offensive Rookie of the Year sleepers to consider for 2022. Since Pickett could be a risk not worth the reward, let's look at some options that will be worth it.
When looking at the odds of winning the 2022 NFL Offensive Rookie of the Year, it's essential to know which players have the highest ceiling. The 2021 winner was Ja'Marr Chase, who had (+1000) odds before the season started.
Chase was looked at as a player with a vast ceiling but a decent amount of risk. It ended up paying off big time for the Bengals, who made it to the Super Bowl last year.
Here are some NFL Offensive Rookie of the Year sleepers that have a chance to win this year.
Drake London (+1200)
Drake London's Rookie of the Year odds is looking intriguing. He was the first wide receiver selected in the draft at 8th overall to the Atlanta Falcons. Of course, the Falcons aren't going to be a team with high expectations for this season, but Drake London could be a star in the making.
He is an ideal size at 6'5, 210 pounds for a wide receiver. That could mean he is an instant red-zone threat for the Falcons this year.
In addition, London is a former basketball player, which helped him reach a 36-inch vertical. That means that he can jump 3 feet in the air in addition to standing 6'5.
The Falcons can use him in the slot and on the numbers, which could be a mismatch for many opposing defenses. His breakout season at USC in 2021 consisted of 1,084 yards and 7 touchdowns.
I will say that Matt Ryan being traded away does not help his chance of winning this year's OROY award. We will have to see how he fits with Marcus Mariota as the quarterback right now (or possibly draft classmate Desmond Ridder).
There's no doubt that London has deep potential and could be a star NFL WR before we know it. We had Ja'Marr Chase win the award from the WR position last year, so maybe London makes it two years in a row.
Malik Willis (+1800)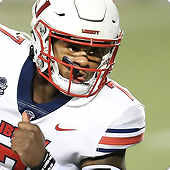 We knew this year's quarterback draft class wasn't as strong as the previous few years, but there's still a chance that everyone is wrong about that. Tom Brady is the greatest player in NFL history and wasn't taken until the 199th overall pick in 2000.
There are always a couple of players that seem to fly under the radar and then turn out to be some of the biggest NFL superstars.
This year that could be Malik Willis, whose 2022 NFL Offensive ROY odds are at (+1800). Willis was considered the quarterback many thought to go first, or even No. 1 overall.
He does have a lot of work to do, but he already possesses some serious potential. The Liberty product has incredible dual-threat potential, which allows him to make plays that other quarterbacks simply cannot.
Mobile quarterbacks are on the rise in the NFL and are already some of the biggest stars in the league right now. Josh Allen, Patrick Mahomes, and Justin Herbert are great passers but very mobile.
Willis can already be a better running quarterback than those three guys, so he might need to tune up his passing skills.
After Derrick Henry went down with a long-term injury, Ryan Tannehill did not impress last season. That could have been the most significant reason the Titans wanted to take a shot at a quarterback with more upside.
If Willis can develop quickly and win the starting job, he and Henry would be an absolute headache to stop on defense.
Sam Howell (+3300)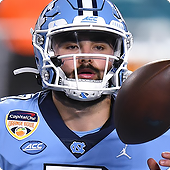 I know I said quarterbacks have more potential to struggle than other positions in their first season, which is true, but they also have more upside. In the last 12 years, quarterbacks have won the OROY award in 6 of them.
Another quarterback that might be able to get on the field sooner rather than later is Sam Howell. The Washington Commanders drafted Howell in the 5th round (144th overall). Yes, he fell slightly more than the other quarterbacks, but he could still prove everyone wrong.
Washington is still far away from contention, which might help Howell's chances of playing. They traded for Carson Wentz, but Wentz has been incredibly inconsistent in the last couple of years.
That could mean Howell is just a bad Wentz game away from getting on the field.
Higher draft picks tend to have their best season in their last college year, but Howell was solid in all three at North Carolina. He threw for 10,283 yards, 92 touchdowns, and 23 interceptions in 37 games for the Tar Heels.
Consistency in the quarterback position has been an issue in Washington for a long time. If Howell can learn the playbook quickly, he can give them that reliability.
The most intriguing thing about Howell is his current odds of winning the 2022 NFL Offensive Rookie of the Year at (+3300). Of course, he's a long shot, but all rookies are a risk to bet on coming into the NFL.
Best Bets to Win the 2022 NFL Offensive ROY Award
Not everyone likes to bet on long shots, which makes sense, given the risk. If that sounds like you, you'll want to make sure you take a look at our best picks for this year's award.
These players have prices that are worth the season-long wait and have a legit shot at winning Offensive Rookie of the Year.
So which players are we seriously considering for our 2022 NFL Offensive Rookie of the Year prediction? Well, we've narrowed it down to a couple of options.
Christian Watson (+1200)
Since this year's QB draft class wasn't too exciting, it's no surprise to see other positions like WR take charge. However, we have another one with great potential in the new Packers' wideout Christian Watson.
Green Bay made shockwaves in the offseason when they traded superstar wide receiver Davante Adams to the Las Vegas Raiders. Adams played a massive role in the Packers' offense, accumulating 100+ more targets than any other player on their team in 2021.
Here's what Adams' stats have looked like in the last four years;
| | | | | |
| --- | --- | --- | --- | --- |
| Year | Targets | Receptions | Yards | Touchdowns |
| 2018 | 169 | 111 | 1,386 | 13 |
| 2019 | 127 | 83 | 997 | 5 |
| 2020 | 149 | 115 | 1,374 | 18 |
| 2021 | 169 | 123 | 1,553 | 11 |
Christian Watson has a chance to soak up all of these targets that Adams has had over the years. Like London, Watson has great size for an NFL wide receiver at 6'4, 208 pounds. He's also taller and ran a faster 40-yard dash (4.36 vs. 4.56) than Adams.
Watson will take time getting used to the NFL like all the other rookies, but he's already in one of the best offenses in the league. That will boost his chance for touchdowns and his chance to win the OROY award.
If Watson can learn Green Bay's offense quickly and be on the same page as Aaron Rodgers, he might be able to put up similar numbers to Adams' previous years in Green Bay. That would make him one of the NFL Offensive Rookie of the Year's best bets.
Garrett Wilson (+1400)
One more receiver could make for a very intriguing 2022 NFL Offensive Rookie of the Year prediction. That would be none other than Garrett Wilson, the 10th overall pick in this year's draft.
Wilson will join an up-and-coming offense with the Jets, led by the 2021 No. 2 overall pick in quarterback Zach Wilson. The Wilson to Wilson connection could be one of the most exciting things to watch in the 2022 season.
Zach is looking to take that next step into being a true franchise quarterback for the Jets. Garrett could play a significant role with his potential, which he displayed last year for Ohio State. Wilson's touchdown total was especially impressive, considering he's only 6'0.
Elijiah Moore is another exciting young wide receiver for the Jets. New York has one of the most underrated aerial attacks in the NFL with the Wilsons and Moore. If they can all get on the same page, they could improve each other.
Wilson can take advantage of most of the attention on Moore by taking the top off the defense for big plays. Ja'Marr Chase was last year's award winner, and you can say he's a similar player in a similar situation to Wilson. His 2022 NFL Offensive ROY odds are also a bit better than Chase's last year.
The Jets hit a home run by drafting Wilson and some other great rookies, making them possibly the biggest winner of the NFL Draft.
My Prediction for the NFL Offensive Rookie of the Year in 2022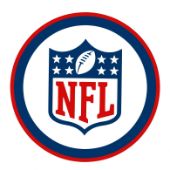 The 2022 NFL Offensive Rookie of the Year odds could be a way for you to win some serious cash by the end of this season. There's not a clear favorite to win it this year, which means there's some serious value on the board.
As for my 2022 NFL Offensive Rookie of the Year prediction, I will go with Garrett Wilson of the New York Jets. We just saw how Ja'Marr Chase won it last year, and Wilson is almost in an identical situation in New York.
Zach Wilson is looking to take the next step in his development like Joe Burrow just did, and Wilson has some serious big-play potential as Chase does. The Jets have been down in the dumps for some time now, but they can be ready to turn the tide in a major way.
If you have a strong feeling about who can win it this year, make sure you place your bets on the top NFL betting sites.