2022 NFL MVP Race Odds with Analysis and Prediction

The 2021 NFL season may have just ended, but sports betting sites are wasting no time releasing odds for the 2022 season. This blog allows us to examine the top contenders and sleepers for the 2022 NFL MVP race.
Aside from the Super Bowl, the MVP is the highest honor in football. The award should go to the best player, but it has become the best quarterback. You'll see that position at the top of the 2022 NFL MVP odds.
Let's not waste any time. Here are the 2022 NFL MVP betting odds.
Early Odds for Who Will Win the 2022 NFL MVP
BetOnline gives us an early look at 2022 NFL MVP odds. The site is always updating the NFL betting market to look ahead to the 2022 offseason and regular season.
It's no surprise to see the quarterback occupying the top 10 spots. The quarterback is the team leader, and their success revolves around the quarterback. Buffalo Bills quarterback Josh Allen opens as the NFL MVP favorite.
There are many youths on the board, but 38-year-old Aaron Rodgers is in the thick of things. The four-time MVP will aim for this third straight MVP award. Rodgers' 2022 playing status will play a significant factor in his chances.
Derrick Henry and Jonathan Taylor are the top non-quarterbacks for the NFL MVP odds 2022. Can a non-quarterback win the award?
Bet on the NFL MVP at BetOnline

Visit Site
Analyzing the Past NFL MVP Winners
Before discussing the top contenders and sleepers in the 2022 NFL MVP race, I want to reflect on the past NFL MVPs. Let's check out Aaron Rodgers' 2021 MVP season.
2021 NFL MVP Winner
In 2021, Aaron Rodgers became the first player since Peyton Manning to win back-to-back NFL MVPs. His four MVPs only trail Manning's five. In the first half of the 2021 season, Rodgers wasn't one of the top MVP contenders.
However, his MVP odds in the NFL skyrocketed with a big stretch to close the season. He didn't play the entire game in Week 18, so check out his numbers from Week 12 to Week 17.
71.9 completion percentage
298.5 yards per game
18 touchdowns
0 interceptions
124.8 passer rating
75.4 QBR
The 18 touchdowns and zero interceptions stand out to me. When you put up those numbers on the best team in football, it's no wonder he was the NFL MVP pick.
Now, the big question is, where will Rodgers play in 2022? Surely, that'll affect his odds to win the 2022 NFL MVP.
Looking at the Past 10 NFL MVPs By Year
2012: Adrian Peterson
2013: Peyton Manning
2014: Aaron Rodgers
2015: Cam Newton
2016: Matt Ryan
2017: Tom Brady
2018: Patrick Mahomes
2019: Lamar Jackson
2020: Aaron Rodgers
2021: Aaron Rodgers
I warned you the NFL MVP betting revolves around quarterbacks. Adrian Peterson is the last running back to win the award. That came on the heels of him rushing for 2,097 yards and 12 touchdowns. Still, his 30.5 votes are the second-fewest for an MVP winner in the last ten years.
A big trend you'll see with the MVP winner is it's imperative to play for a contending team. Peterson's Minnesota Vikings are the only team that didn't make it past the wild card round.
Interestingly enough, none of these players won the Super Bowl. Peyton Manning, Cam Newton, Matt Ryan, and Tom Brady made the Super Bowl but couldn't win. Kurt Warner in 1999 is the last MVP to win the Super Bowl.
Maybe it's not the best idea to win NFL MVP.
Top Contenders for 2022 NFL MVP Race
Now, it's time to shift our focus back to the 2022 NFL MVP race. These NFL MVP contenders should top most people's list for 2022. Here are my top contenders for the 2022 NFL MVP race.
Josh Allen (+600)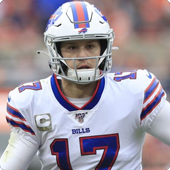 Who is most likely to win MVP in the NFL? According to the top NFL betting sites, it's Josh Allen. Allen wasn't much of an MVP contender in his first two seasons, but his stock went through the roof after a great 2020 season.
Allen finished second in MVP voting after passing for 4,544 yards and 37 touchdowns. He was many people's early NFL MVP prediction in 2021. Allen looked like the MVP favorite in the first half of the season.
However, he slid down the board after a midseason stretch that saw the Bills lose five of eight games. That included one of the biggest upsets of the 2021 NFL season.
Check out Allen's numbers from the 2021 season.
63.3 completion percentage
4,407 passing yards
36 touchdowns
15 interceptions
92.2 passer rating
60.7 QBR
763 rushing yards
6 touchdowns
Those are very respectable numbers, but he wasn't on the same level as 2020. At the same time, we know he can return to that level. His playoff run was unreal, as he passed for 637 yards, nine touchdowns, and zero interceptions in two games.
Many believe Allen would've played in the Super Bowl had the Bills defeated the Kansas City Chiefs. I know that doesn't affect MVP voting, but it impacts NFL MVP future odds.
It almost seems like people are rooting for Allen to win MVP. He has been on the cusp for the last two years, and this could be his chance. He also won't fall victim to voter fatigue, like Patrick Mahomes or Aaron Rodgers.
Stefon Diggs is Allen's primary target, but we saw Gabriel Davis step up in the playoffs. His play will only help Allen's 2022 NFL MVP odds.
Justin Herbert (+1600)
Justin Herbert surprised everyone with a monster rookie season in 2020. He nearly broke the rookie record with 4,336 passing yards, but his 31 passing touchdowns set a rookie record. Herbert achieved that mark in 15 games.
Herbert was a sleeper in NFL MVP betting last season. I'd say most people expected some regression, but Herbert's 2021 season was even better.
Justin Herbert is only getting better ? pic.twitter.com/B02xvkIXUt

— PFF (@PFF) February 21, 2022
Herbert finished second in the league with 5,014 passing yards. He and Tom Brady were the only quarterbacks to achieve that mark in 2021. His 38 passing touchdowns were the third-most. That's quite an accomplishment for a soon-to-be 24-year-old quarterback.
What's so great about Herbert is he thrives in big moments. The Los Angeles Chargers made four appearances on our list of best games of the 2021 NFL season.
Check out his numbers across those four games.
324.5 yards per game
13 touchdowns
2 interceptions
It was unfortunate to see the Chargers missed the postseason last year. It would've been fun to see what Herbert could've done in the postseason, but he'll have many more opportunities.
A big thing for his 2022 NFL MVP odds is his offense. The Chargers might lose Mike Williams in free agency, but they have many more pieces on offense.
Keenan Allen has cleared 95 receptions and 1,100 yards in four of his last five seasons. He also has at least six touchdowns in five straight seasons. Allen doesn't receive as much respect as other receivers, but he is a great playmaker.
Austin Ekeler is a great receiving back, with 647 receiving yards and eight touchdowns. Los Angeles could upgrade that passing game with a big tight end or wide receiver.
All in all, I think Herbert represents great value for MVP NFL odds.
NFL MVP 2022 Sleepers
It's not unprecedented to see a longshot win the NFL MVP. Adrian Peterson, Cam Newton, Matt Ryan, and Patrick Mahomes had over (+3000) preseason odds in their MVP seasons.
Let's check out the 2022 NFL MVP odds for a pair of sleepers.
Deshaun Watson (+4000)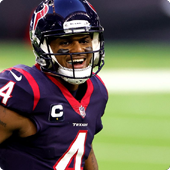 There's no doubt Deshaun Watson is the most controversial player in the 2022 NFL MVP race. Watson remains a member of the Houston Texans, but it's only a matter of time before a team blows them away with a trade offer.
The biggest issue for Watson isn't his potential trade. He continues to deal with 22 civil cases after multiple women accused him of sexual assault. It sounds like teams are willing to acquire Watson before there's a resolution to his cases.
He'll have to figure that out in the next few months, but when on the field, there's no denying Watson is a top 10 quarterback. Check out his numbers from the 2020 season.
70.2 completion percentage
4,823 passing yards
33 touchdowns
7 interceptions
112.4 passer rating
63.7 QBR
Those were MVP-caliber numbers, but the problem was, he played for a Texans team that went 4-12. That's why your NFL MVP prediction needs to play for a good team.
I'd say there's little to no chance Watson plays for the Texans in 2022. Which team will acquire the 26-year-old quarterback? An NFC East team is the early favorite.
The Washington Commanders are now the odds-favorite at +300 to land QB Deshaun Watson in 2022. Tampa Bay at +350.

Odds sharks always have the inside scoop on what's happening behind the scenes. Doesn't mean Washington lands him.

Does smoke = fire? pic.twitter.com/6hyrVZ3gQg

— Tyler (@commandrzNchief) February 25, 2022
It's no secret that the Washington Commanders want a big-name quarterback. Watson is a franchise-altering quarterback that could put them over the top in the NFC East. It'd help his NFL MVP betting odds to throw to a player like Terry McLaurin.
Despite playing with mediocre quarterbacks, McLaurin has back-to-back 1,000-yard seasons. Watson would by far be the best quarterback he played with.
If Washington doesn't work out, the Tampa Bay Buccaneers would be great for Watson's NFL MVP odds 2022.
It'll depend on his situation, but it's not often you'll find a player of Watson's caliber with (+4000) 2022 NFL MVP odds.
Kirk Cousins (+5000)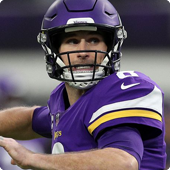 If you only listened to the media, you would think Kirk Cousins is one of the worst quarterbacks. He takes so much unnecessary criticism, but he always produces excellent numbers. Cousins' 2021 season marked his fourth with the Minnesota Vikings.
He has cleared 4,200 passing yards and 30 touchdowns three times in that stretch. Last season, his completion percentage was down, but his 4,221 yards and 33 touchdowns were on pace with his career numbers.
Those are great numbers, but are they enough to boost his odds to win MVP? Probably not, but I think he'll improve in 2022. A big reason for that is a coaching change in Minnesota.
Kevin O'Connell will replace Mike Zimmer in Minnesota. The move should be a confidence booster for Cousins, as Zimmer was openly critical of Cousins towards the end of his Vikings tenure.
O'Connell is no stranger to Cousins. He was the quarterbacks coach for the Washington Commanders in 2017. That marked Cousins' final season in Washington. He threw for 4,093 yards and 27 touchdowns. Cousins also played a hand in O'Connell's hiring.
In 2020 and 2021, O'Connell served as the offensive coordinator for the Los Angeles Rams. He played a big hand in the Rams, winning Super Bowl 56. A big reason for that was his work with Matthew Stafford. Now, he'll have the chance to do it with Cousins.
A new head coach isn't the only reason I like Cousins' NFL regular season MVP odds. He also plays with one of the best wide receivers in Justin Jefferson.
Jefferson's NFL career is off to an unreal start. He has 196 receptions, 3,016 yards, and 17 touchdowns in two seasons. Add in Adam Thielen and Dalvin Cook, and Cousins has many weapons to work with.
Minnesota might not be a top contender for Super Bowl 57, but an MVP-caliber season from Cousins would boost their odds.
Prediction for the NFL MVP Winner in 2022
There will be many contenders in the 2022 NFL MVP race. It'll likely come down to a few quarterbacks.
With that in mind, my NFL MVP projection is Justin Herbert. I know Herbert isn't the NFL MVP favorite, but I think he will have a big season.
The MVP odds for the NFL have Herbert with the sixth-best odds, but I like his value over players like Dak Prescott and Joe Burrow. The Los Angeles Chargers could surprise people, playing their way into Super Bowl contention.
We still have a long way to go in the NFL offseason, so why not check out the betting strategy for NFL future bets?