5 Sleeper Picks That Could Win the 2022 NFL MVP Award

The NFL has surpassed a pair of major events in the offseason. Free agency is long in the rearview, with the NFL draft ending a few weeks ago. We likely won't see many impact moves before the start of the regular season.
Everyone focuses on the NFL MVP contenders, but I want to give love to the sleepers. After all, that's where you find the most value. Josh Allen, Justin Herbert, and Patrick Mahomes open as the favorites. Who can surpass those players?
Here are my favorite 2022 NFL MVP sleepers.
Tom Brady, QB, Buccaneers (+1400)
Should we consider Tom Brady a sleeper to win NFL MVP? I wouldn't think so, but his odds provide value. Brady wasn't on the board in our early 2022 NFL MVP odds. He announced he would unretire and return to the Tampa Bay Buccaneers one week later.
That move puts Brady in a position to contend for his fourth MVP award. His most recent MVP was in 2017, but many people believe he should've won last season. Brady led the league with 5,316 yards and 43 touchdowns.
🐐 Highest-graded QB (92.0)
🐐 5,316 passing yards (1st)
🐐 43 TDs (1st)
🐐 Most valuable player per PFF WAR

Tom Brady: PFF's 2021-2022 MVP pic.twitter.com/SXTY1bH43k

— PFF (@PFF) January 13, 2022
We're all waiting for Brady to slow down. I mean, he'll be 45 years old at the start of the regular season, but do you want to bet against Brady? Many people learned that the hard way last season.
Brady returns to a Buccaneers team that should be in Super Bowl contention. We don't know when Chris Godwin will return from an ACL tear in December. The latest report is there's no timetable for Godwin's return.
Tampa Bay re-signed Leonard Fournette to shore up their backfield. Mike Evans should take on a bigger role with Godwin potentially missing time. Evans' numbers suggest he can help Brady win MVP.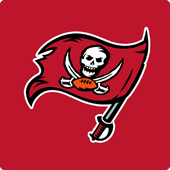 74 receptions
1,035 yards
14 touchdowns
Evans' 27 touchdowns in the last two years are second-most in the NFL. He plays an integral role in Brady being a top NFL MVP sleeper.
The Buccaneers upgraded their offensive line this offseason, giving Brady more protection. It's no wonder the Buccaneers open as one of the favorites for Super Bowl 57.
Brady's impact has put Tampa Bay among the elite teams in the NFL. He led them to a Super Bowl title and a 13-win season in 2021. Another great season should have him in contention for his fourth MVP.
Derek Carr, QB, Raiders (+2000)
Derek Carr likely emerged as a popular NFL MVP sleeper pick following the acquisition of Davante Adams. In March, the Las Vegas Raiders acquired the star wide receiver from the Green Bay Packers.
You could argue that Carr has the best receiving core in the NFL. Adams' resume speaks for itself, Darren Waller is a top-three tight end, and Hunter Renfrow emerged as one of the best slot receivers in 2021.
Carr was on my radar for potential NFL MVP sleepers even before the Adams trade. Check out his passing yards in the first three games of 2021.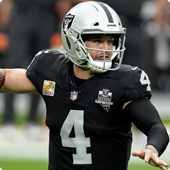 Week 1: 435 yards
Week 2: 382 yards
Week 3: 386 yards
Carr led the Raiders to a 3-0 start, with victories over the Baltimore Ravens and Pittsburgh Steelers. He finished fifth in the NFL with a career-high 4,804 yards. His weapons look much stronger in 2022.
Las Vegas will have an uphill battle in the AFC West. The Kansas City Chiefs remain a top contender for Super Bowl 57, while the Denver Broncos and Los Angeles Chargers made significant upgrades. That's the only reason people aren't higher in Las Vegas.
It'll be tough to return to the postseason, but the Raiders have the pieces in place. If they somehow won the AFC West, Carr would garner MVP interest.
Raiders QB Derek Carr is a darkhorse candidate to win the 2022 NFL MVP Award https://t.co/wz29gnPc0A

— Raiders Wire (@TheRaidersWire) May 18, 2022
Many people may not remember this, but Carr nearly won the 2016 NFL MVP. He finished third in MVP voting after leading the Raiders to a 12-4 record. Unfortunately, a late-season leg injury ended his hopes.
Last season was impressive, but it wouldn't surprise me if Carr surpassed 5,000 yards for the first time in his career. Will you include him in NFL MVP betting?
Can Carr overcome the Raiders have one of the toughest schedules in 2022?
Lamar Jackson, QB, Ravens (+2500)
The Baltimore Ravens had many injuries last season, but it looked like they'd be okay after an 8-3 start. From there, the injuries finally caught up with them as they lost their final six games. That might have some people fading them, but I'm not doing it.
Lamar Jackson was one of their significant injuries, missing the final four games with an ankle injury. He'll be back in action, ready to lead the Ravens on a Super Bowl run.
It wasn't long ago that Jackson took the league by storm. He won the 2019 NFL MVP after leading the Ravens to a 14-2 record. Jackson led the NFL with 36 passing touchdowns.
Lamar Jackson's 10 BEST PLAYS from his MVP season! @lj_era8

📺: #NFLHonors | 8pm ET on FOX pic.twitter.com/6pA2O6jP5R

— NFL (@NFL) February 1, 2020
Jackson's 2021 numbers weren't in line with an MVP contender, but all that does is make him an NFL MVP value bet. His odds shouldn't be worse than (+2000).
Baltimore traded Hollywood Brown during the NFL draft, but they still have the top target, Mark Andrews. Rashod Bateman should take a second-year leap, giving Jackson another weapon in the passing game.
A very underrated aspect of Jackson's MVP season was his reliance on tight ends. Andrews, Hayden Hurst, and Nick Boyle all played an integral role in Jackson winning MVP. Andrews was their only option last season, but check out their tight ends for 2022.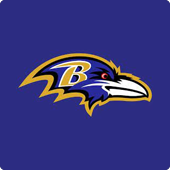 Mark Andrews
Nick Boyle
Charlie Kolar
Isaiah Likely
Baltimore emphasized giving Jackson more weapons in the NFL draft. Jackson is a big reason the Ravens are a top sleeper in the post-NFL draft Super Bowl 57 odds.
Jackson should be one of the top 2022 NFL MVP sleepers. Amazingly, he doesn't receive more attention considering his incredible 2019 season. It wouldn't surprise me if the Ravens competed for the best record in the AFC.
If so, it'll be hard to argue against Jackson winning MVP.
Dak Prescott, QB, Cowboys (+2500)
Dak Prescott is a sneaky NFL MVP sleeper for 2022. He isn't an NFL MVP longshot, but I wouldn't consider him one of the favorites. No one is talking about Prescott, but he has the ability to win MVP.
Prescott had the best season of his career in 2019, passing for a career-high 4,902 yards. Lamar Jackson was the clear MVP favorite, so Prescott didn't get much love. However, he looked like the favorite through the first four games of 2020.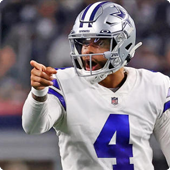 Week 1: 266 yards
Week 2: 450 yards
Week 3: 472 yards
Week 4: 502 yards
Unfortunately, his season ended in Week 5 after a devastating ankle injury. Prescott returned to post-career highs in completion percentage and passing touchdowns last season. His 4,449 yards weren't too shabby either.
Dallas had yet another playoff disappointment in 2021, so many people are writing them off in 2022. That might not be a good idea considering the NFC East. The Cowboys are in a position to win the NFC East and compete for the best record in the NFC.
The latter would put Prescott in a strong position to win NFL MVP. I don't think the Cowboys are a bad pick for Super Bowl 57. The top Super Bowl betting sites will allow you to make a Super Bowl betting prediction.
We know Dallas will be down one of their top targets after trading Amari Cooper.
Cowboys are finalizing a trade to send WR Amari Cooper and a sixth-round pick to the Cleveland Browns for a 2022 fifth-round pick and a sixth-round pick, per league sources.

— Adam Schefter (@AdamSchefter) March 12, 2022
Still, Dallas has a pair of top-tier wide receivers in CeeDee Lamb and Michael Gallup. Not to mention tight end Dalton Schultz had the best year of his career.
Prescott has the look of one of the top NFL MVP sleeper picks. If he leads Dallas to the top of the NFC, he'll be one of the best NFL MVP value bets.
Carson Wentz, QB, Commanders (+10000)
I included at least one NFL MVP longshot among the best NFL MVP sleepers. Many people would likely take a non-quarterback, but it's tough to win MVP if you aren't a quarterback.
After a trade sent him to the Washington Commanders, Carson Wentz will play for his third team in three seasons. Wentz had a tough 2020 season with the Philadelphia Eagles, but his numbers weren't terrible with the Indianapolis Colts.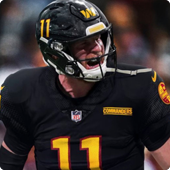 62.4 completion percentage
3,563 yards
27 touchdowns
7 interceptions
The narrative surrounding Wentz would be much different if the Colts didn't lose the season's final game to miss the playoffs. His numbers show that he presents NFL MVP value.
Talent isn't an issue with Wentz, but people criticize his leadership and locker room presence. The Commanders have welcomed Wentz with open arms and appear to be all in with their new quarterback.
Washington gave Wentz a new weapon in the first round of the NFL draft, selecting Jahan Dotson. Dotson and Curtis Samuel will provide commanders with plenty of speed, with Terry McLaurin operating as the WR1.
Only a few years ago, Wentz was an MVP contender with the Philadelphia Eagles.
Frank Reich had @cj_wentz playing at an MVP level in 2017. pic.twitter.com/J12laV69Xt

— NFL (@NFL) February 19, 2021
Wentz likely wins the 2017 NFL MVP if not for an ACL tear in the final few weeks. I don't think it's out of the question to say Wentz can return to that level. His winning MVP is worth a shot on the NFL betting websites.
The Commanders have one of the easiest schedules in the NFL. It's not out of the realm for this team to win 11 or 12 games. Wentz will be in the conversation for the 2022 NFL MVP if that happens.
Do you want to miss out on the value?
Can a Sleeper Win the 2022 NFL MVP?
We've seen plenty of sleepers win the NFL MVP. Four players have won with preseason odds for (+3000) or worse in the last seven years. Matt Ryan won the 2016 NFL MVP at (+7500).
I'd examine the latest 2022 NFL MVP odds to see where you can find value. This list represents my favorite 2022 NFL MVP sleepers, but you might have a different opinion. Everyone is looking for value with this award.
You can bet on who will win the 2022 NFL MVP at a number of sites, but right now BetOnline arguably offers the best pricing. Of course, that may all depend on who you like, and whether or not you like the sleepers detailed above.
Bet on the NFL MVP Award at BetOnline
Bettors can visit BetOnline to examine the odds and make their 2022 NFL MVP selection.