2022 NFL Mock Draft With 1st Round Analysis and Predictions

The NFL season might be over, but the offseason is a time for teams to improve their future.
Many teams are loaded with bright young stars, and this is where top picks come to fruition. Many consider the NFL Draft as a national holiday similar to the Super Bowl. The stars playing on college football Saturday's can fly under the radar.
However, the football die-hards have been anxious for improved production from disappointments and injuries. There are plenty of trades and teams not involved in the first round this year.
Here is your 2022 NFL Mock Draft with first-round predictions and analysis.
Predicting Picks 32-11 in Round One of the 2022 NFL Draft
32. Detroit Lions (via LAR), Desmond Ridder, QB, Cincinnati
31. Cincinnati Bengals, Jaxson Kirkland, OL, Washington
30. Kansas City Chiefs, Jermaine Johnson, EDGE, Florida State
29. Miami Dolphins (via SF), Bernhard Raimann, OL, Central Michigan
28. Green Bay Packers, Nicholas Petit-Frere, OL, Ohio State
27. Tampa Buccaneers, Carson Strong, QB, Nevada
26. Tennessee Titans, Jahan Dotson, WR, Penn State
25. Buffalo Bills, Daxton Hill, DB, Michigan
24 Dallas Cowboys, Roger McCreary, DB, Auburn
23. Arizona Cardinals, Zion Johnson, OL, Boston College
22. Las Vegas Raiders, Chris Olave, WR, Ohio State
21. New England Patriots, Kaiir Elam, DB, Florida
20. Pittsburgh Steelers, Malik Willis, QB, Liberty
19. Philadelphia Eagles (via IND), David Ojabo, EDGE, Michigan
18. New Orleans Saints, Matt Corral, QB, Ole Miss
17. Los Angeles Chargers, Andrew Booth Jr., DB, Clemson
16. Philadelphia Eagles (via MIA), Nakobe Dean, LB, Georgia
15. Philadelphia Eagles, Treylon Burks, WR, Arkansas
14. Baltimore Ravens, Charles Cross, OL, Mississippi State
13. Cleveland Browns, Jameson Williams, WR, Alabama
12. Minnesota Vikings, Devin Lloyd, LB, Utah
11. Washington Football Team, Sauce Gardner, DB, Cincinnati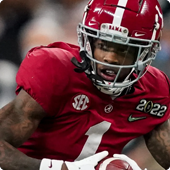 There is plenty of upside with these players that missed the Top 10, but the upside is there for these franchises to take that next step. Some of them reached the postseason and are only a piece away from contending.
There are seven SEC performers that just missed out on the Top 10 and many have been debating which ones they like most. I personally am most intrigued by Jameson Williams.
Williams injured his knee during the national title against Georgia and it was not something anyone wanted to see, but he should still become a first-round selection. The overall speed should be there within a year and the skill players are where it's at these days in the NFL.
The top storyline of the entire draft will be the discussion of franchises that are looking to retire quarterbacks. Ben Roethlisberger and Tom Brady are both done and there isn't much clarity on the situation for Aaron Rodgers.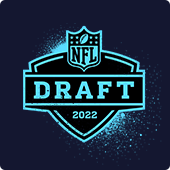 What we do know is that there are a handful of future passers ready to flourish at the next level. Ole Miss had Matt Corral really post video game numbers in several games.
Malik Willis of Liberty, Carson Strong of Nevada, and Desmond Ridder of Cincinnati are three quarterbacks from non-Power five programs.
It goes without saying that finding NFL talent under center is often a mystery. Many believe Willis could move up the draft board after impressing at the Senior Bowl.
10. New York Jets (via SEA): Garrett Wilson, WR, Ohio State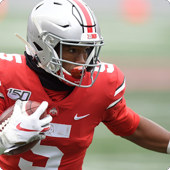 The Buckeye wideout opted out of the Rose Bowl and remains the top choice to be the first wideout selected in the 2022 NFL Draft.
The explosive cuts he makes in and out of his breaks should allow him to start from day one. He has the looks of becoming a stud at the next level despite the lack of elite size.
He makes up for it and then some with a tremendous catch radius with the ability to take any slant or come back to the house.
9. Denver Broncos: Sam Howell, QB, North Carolina
The Carolina signal-caller is getting less hype than Mitch Trubisky, but the arm strength and pocket presence is impressive.
The arm strength is where he should become a relevant starter at the next level. We saw him lose all his NFL weapons after the 2020 campaign.
The good news for Howell is that he improved upon his scrambling ability and strength. While the Tar Heels were a bust going from preseason Top 10 to 6-7, Howell isn't one to blame. The coaching was inconsistent, and the defense often gave up in spots during the season.
Howell is a quarterback that can read a defense, remain calm, and make all the throws. The ceiling is high for him and any team looking for a quarterback would be fortunate enough to hand the keys over to him.
With #Colts watching QBs closely today at the Senior Bowl, Sam Howell is an intriguing option to monitor. Mobile with a cannon arm. pic.twitter.com/0A9IcvlVE8

— Locked On Colts Podcast (@LockedOnColts) February 1, 2022
The question many have asked is if he is going to end up becoming a top 10 pick or will fall towards the back half of the first round like many others have over the years. Most pro days aren't often until March or closer to April, so there is plenty of time for the stock to rise.
8. Atlanta Falcons: George Karlaftis, DL, Purdue
The Boilermakers had David Bell and Karlaftis opt out of their Music City Bowl performance against Tennessee. Knocking off the Vols in Nashville was a great moment, but the program would not have reached their goals without the talents of their top stars.
The Big Ten should be among the top conferences like they often have been, but the Purdue pass rushing specialist has an extra gear that most often lack.
Helping in the run game and pinning their ears back in obvious passing downs is what separates the average draft picks to the ones that end up going in the Top 10.
7. New York Giants (via CHI): Tyler Linderbaum, OL, Iowa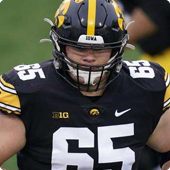 Death, taxes, and Iowa hog mollies being selected in the NFL. Yes, that includes tight ends that can move the chains, but the linemen they have had over the years going back to the days of Robert Gallery is impressive.
They recruit three and four-star athletes with the best of them and make the most out of it. The Giants are a team lacking at both lines of scrimmage. The franchise does not want to witness quarterback sneaks on second and third downs.
The 2021 Rimington Trophy winner should start from one day. Getting back to the simple things for the franchise would be a bonus. Brian Daboll should implement a productive offense in the immediate future.
A bulldozer at center with the ability to play either guard spot is something the Giants have been lacking for years.
Saquon Barkley hasn't been healthy enough and has had to break several tackles just to get to the line of scrimmage. Linderbaum is a special talent and will continue the winning ways from his day at Iowa City.
Whether it's the end zone or finishing the season undefeated, Iowa C Tyler Linderbaum and RB Tyler Goodson both know they need each other to get where they want to be ? pic.twitter.com/Xq5rqNLLvw

— College GameDay (@CollegeGameDay) October 9, 2021
6. Carolina Panthers: Ikem Ekwonu, OL, NC State
The offensive line is a premier spot in football. They say the three most important things in football are having a quarterback, getting after one, and protecting one at all costs.
Many franchises have neither of those. The Panthers are hopeful to protect whoever their future ends up becoming.
An athletic potential tackle that can protect the blind spot is pivotal in the NFL. Sam Darnold and all quarterbacks on the roster from the past few seasons have failed miserably.
The team was hopeful that Joe Brady could help Matt Rhule, but the coordinator has since moved on for greener pastures. The NFC South is a division that is in complete disarray with moving parts.
While wagering on football, be sure to check out the top NFL betting sites before next season begins.
5. New York Giants: Kayvon Thibodeaux, DL, Oregon
The consensus top pick in the preseason was the freak out of Eugene. The ability to take a game over with the skills at the line of scrimmage is off the charts. Thibodeaux is a monster that was unblockable in the Pac-12 due to his speed off the edge.
The premier rushers are the ones that can often line up anywhere. Most believed back in August he was a lock to go number one.
He has been a challenge to slow down due to the physicality that many are unaware of due to his athleticism.
If there is a player that has the potential to be a future All-Pro at the line of scrimmage, there may not be a better option than Thibodeaux.
Stuffing the run isn't asking much for some players, but the ability to harass opposing players in the backfield for the next decade will be one of the reasons why he is a can't miss prospect.
4. New York Jets: Derek Stingley Jr., DB, LSU
Stingley Jr. won the national title as a freshman with Joe Burrow, Justin Jefferson, and Ja'Marr Chase. The offense received most of the attention from that title season and they deserved most of it for all the records they set.
However, the pure speed and the nose for the ball is why he is being considered a top 5 pick. Ball-hawk corners are tough to come by and Stingley demonstrated that as a freshman.
The two years afterwards weren't as productive, but the upside is more than enough for franchises to invest a ton into this youngster. He can often make plays that most players in his class cannot accomplish.
Derek Stingley Jr: Highest coverage grade among returning CBs (91.9) ?
pic.twitter.com/OyY8JSPB2E

— PFF Draft (@PFF_College) June 3, 2021
Some dudes won't have a tremendous collegiate career, but they turn that switch. The former Bayou Bengal has those skills to perform and become the next LSU ''DBU'' superstar to take the league by storm.
3. Houston Texans: Kyle Hamilton, DB, Notre Dame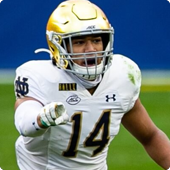 While Hamilton did not play the entire season due to a knee injury, the upside and ability to cover most of the gridiron is insane. Putting on the film against Florida State was crazy to think a defensive player can impact the game that much on the back end.
Hamilton was an immediate help to the Irish as soon as he stepped on the field. They have had several NFL performers over the years, but Hamilton could be one of the best in a while on the defensive side.
When doubting a safety going in the top 3 or even the first round, sit back and put on the season opener at Doak Campbell Stadium.
The Noles crowd was rowdy and every single time early in the game they tried to test the Golden Domers secondary, Hamilton made them eat crow.
2. Detroit Lions: Aidan Hutchinson, DL, Michigan
Michigan made the College Football Playoff, and they didn't have much of a prayer without the play of Hutchinson off the edge.
Defenses often win Big ten championships and allow their top squads over the year to contender for national championships. While the Maize and Blue came up well short against Georgia, nothing can be taken away from their senior leader.
We saw several games where he took over but harassing C.J. Stroud and the Buckeyes allowed the offense to eat at the clock and control the pace of the game.
The way he dominated and prepared all season for Ohio State was riveting. He even talked about how much that matchup has meant for years and backing it up on the field was one of the better performances of the entire college football season.
This post-game quote from Aidan Hutchinson really sums it all up:

Michigan finally beat Ohio State when they prepared for OSU the way Ohio State prepares for Michigan. pic.twitter.com/Fk6vSEnEuT

— Jim Weber (@JimMWeber) November 28, 2021
We could see some love made for Hutchinson to become the top pick, but the Jaguars could not protect their franchise quarterback or develop a ground game last season.
This is a team that dreams of turning the corner in a division that could be average at best for the immediate future. If they can dominate the line of scrimmage and find respectable quarterback play, we could see a quick turnaround.
1. Jacksonville Jaguars: Evan Neal, OL, Alabama
The top player in the draft on several boards is the genetic freak at Alabama. He does many things that most humans can only dream of. The Crimson Tide have been stacked at the line of scrimmage for years, but their offensive line has been on another level under Nick Saban.
These box jumps by most professional athletes have taken off in recent years. Neal is that dude that all winning franchises need on their side.
Mans is 6'7" 360 lbs doing THIS ?

Alabama's Evan Neal is DIFFERENT ?@ENeal73 (via @MattRheaPhD) pic.twitter.com/V8YCUze7WA

— Overtime (@overtime) July 12, 2021
Neal is a future All-Pro tackle, and he could lead the way for Jacksonville. Lawrence could use a little more help on the perimeter and in the backfield, but it all comes to fruition if they can protect and win the battle of the trenches. Neal would shore things up immediately and the sky's the limit for his potential.
Using Mocks to Bet on the NFL Draft in 2022
My first round mock for the 2022 NFL Draft hopefully gives you a pretty good indication of how round one might go this year.
Any 2022 NFL mock draft comes with a pretty cold-blooded caveat, of course; everything can and will change at the drop of a hat.
The NFL Draft can be cruel to sports bettors, but sifting through mock drafts like this can be a stepping stone to success at the best NFL sportsbooks.
You can use my first round NFL Draft predictions to get the ball rolling, but keep in mind it's still just February. The 2022 Super Bowl just ended, and teams have a lot of big decisions to make.
More NFL draft mocks are sure to come, and depending on how things shake out, they just might help you bet on the draft (and make some money). Until we get a clearer picture of how to bet on the 2022 NFL Draft, you can at least look ahead to Super Bowl 57.