Betting Preview for the 2022 NFL HOF Game

It feels like an eternity, but the NFL is finally back. Yes, it will not be the highest quality of games, but the 2022 Hall of Fame game is the official signal that the season is starting. Our 2022 NFL Hall of Fame game betting preview will break down the entire event so you know what to expect.
The Las Vegas Raiders will take on the Jacksonville Jaguars at the Tom Benson Hall of Fame Stadium. Kickoff is set for Thursday, August 4th, at 8:00 P.M eastern time, so make sure you have your Raiders vs. Jaguars pick in before then.
If you don't know who to bet on just yet, we will be breaking down 2022 NFL HOF game betting odds for you below.
Where to Bet on the 2022 NFL Hall of Fame Game
How We Rate

Safety & Security
You should be able to gamble online without fear. So we only recommend licensed sites that use the latest security and encryption techniques.

Bonuses
Maximize your bankroll with fantastic bonuses. Our recommended sites offer valuable bonuses with fair terms and conditions, including manageable wagering requirements.

Games & Betting
The best sites have the best wagering options. That's why you will find extensive games and betting opportunities on our recommended sites.

Banking
Getting your money to and from your account shouldn't be a hassle. We only recommend sites with a variety of convenient banking methods, including cryptocurrency and e-wallets.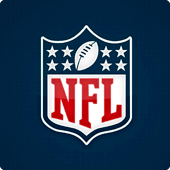 Before you make your Raiders vs. Jaguars prediction for the Hall of Fame game, you must be aware of the best sports betting sites. These sites offer everything from competitive odds, welcome bonuses, daily promotions, and more.
If you are just now getting into sports betting or the site you've been using isn't satisfying your needs, check out these other options. Not only do they offer the 2022 NFL HOF game betting odds, but they also offer various other sports, entertainment, politics, and more.
There are tons of unique props available on these sites that aren't available on others. For example, there is a prop out for betting on the next president of Ireland.
That might not be something you're interested in, but it's a perfect example of how these sites offer exclusive props. Let's return to our 2022 NFL Hall of Fame game betting guide.
As I said, the Hall of Fame game is the official signal of the NFL season starting. It's an incredibly exciting time, but you don't have to wait until the regular season to start your betting.
Why not start winning some bets before the season even starts? It will give you something to care about in a preseason game, which is often pretty dry.
Signing up for these sites is quick and easy. Once you find a site that has a good layout with other features you like, hit the "sign up" button to get started. From there, you'll have to enter a couple of pieces of personal information and then make your first deposit.
Now that you've created your account, you'll want to head to the NFL section. That's where you'll find the 2022 NFL Hall of Fame game odds.
2022 NFL HOF Game Betting Odds
Jacksonville Jaguars +2
-115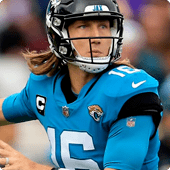 Here are the NFL Hall of Fame game betting odds from BetOnline. As you can see, the Raiders are a slight 2-point favorite for the first preseason game of the season.
That said, it's not nearly enough points to make a significant difference in your betting mindset. You can pick whichever team you think has the best chance to win, and they should be able to cover the spread.
I'm sure fans of any team are excited to watch this game, but Raiders and Jaguars fans are probably a little more than others.
It should make the Raiders feel better that the AFC Champion (Cincinnati Bengals) eliminated them, but they want to take it further this season. Trading for superstar wide receiver Davante Adams and hiring Josh McDaniels could be what the Raiders needed to become a serious contender.
As for the Jaguars, they might not be expecting a Super Bowl run in 2022, but they should still be excited about Trevor Lawrence's second NFL season.
Urban Meyer was an absolute trainwreck last year, so it will be exciting to see what Lawrence and the other young Jaguars' can do with somewhat of a competent coaching staff.
You might also think the point total is a bit low at 33, but it's not easy to be in complete sync in the season's first game. That's a big reason why there are preseason games, to get some real reps in before the season begins.
Add in the fact that both teams have new coaching staffs, and things might start slowly.
BetOnline is our best online NFL betting site and will be great to use for the Hall of Fame game and the 2022 season in general. So be sure to set up an account there for your NFL betting needs.
Ready to bet on the first game of the 2022 NFL preseason now? See what Nick Sterling has to say in his Jaguars vs. Raiders breakdown.
Top Players to Watch in the 2022 Hall of Fame Game
Before making your prediction, it's important to know who plays in the 2022 NFL Hall of Fame game. Preseason games are a bit tricky to predict because we don't know how many reps the starters will get.
That's why ample research should be done, so you aren't betting blindly. It's also important to know that the NFL rosters will be nearly double the size of the usual 53 in the preseason.
Ninety players can be on an NFL roster, so there's a good chance that players in positional battles will get more opportunities to see if they are worthy enough of a roster spot. As for who to watch in the NFL Hall of Fame game, here are three players to keep an eye on.
Travis Etienne, RB, Jaguars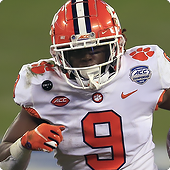 Travis Etienne is the first player on our 2022 NFL Hall of Fame game betting preview to look out for. Etienne is not a rookie this year but doesn't have any NFL experience.
He was drafted in the first round (25th overall) along with Trevor Lawrence last year but suffered a season-ending foot injury.
It was a brutal way to start the season for the Jaguars, and things didn't get much better from there. Last season is in the past, so we should look ahead. Etienne will be healthy to start the season, adding another dynamic player in the backfield alongside James Robinson.
His best seasons in Clemson were in 2018 and 2019. He had insane numbers in those two seasons, totaling 3,272 rushing yards (7.96 yards per carry), with a whopping 49 touchdowns. That was also over the span of 30 games, which is remarkable.
If the Jaguars can get him back to his 2018-19 playing form, he could be one of the NFL's most exciting young running backs. He's not exactly a rookie, but he should be getting some good snaps in the Hall of Fame game.
Etienne can be a 3-down running back who can either run past or through you. It will be exciting to see him play, considering we missed out on his rookie season last year.
Zamir White, RB, Raiders
Another running back we have on our 2022 NFL Hall of Fame game betting guide is Zamir White. Unlike Etienne, White will be in his rookie season with the Raiders. He was drafted in the 4th round (122nd overall) after the Raiders traded up to get him.
Trading up for a specific player means that the team likes them a lot. Las Vegas does have some veteran RBs on their roster right now, like Josh Jacobs, Kenyan Drake, Ameer Abdullah, and Brandon Bolden, but White could carve out a role if he shines in the preseason.
If we know one thing about how McDaniel's offense was run in New England, then lots of different running backs will be used. We already know what the veterans bring to the table, meaning White should get many snaps in the Hall of Fame game.
White has missed a few practices recently, but it's rumored not to be serious. It could be precautionary, considering his two torn ACLs in the past. That said, we are talking about the Hall of Fame game, not the entirety of the 2022 season.
The former Georgia running back rushed for 2,043 yards (5.3 yards per carry), with 25 touchdowns over his three collegiate seasons. If it wasn't for his injury history, there's a chance "Zeus" would have been drafted way higher than the 4th round.
He's drawn comparisons to Adrian Peterson, which would be a steal for the Raiders if that's even close. White being in the lineup could make the Raiders a very intriguing option for our NFL HOF game prediction.
Travon Walker, DE, Jaguars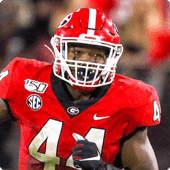 How about the No. 1 overall pick from this year's draft? Our 2022 NFL Hall of Fame game betting guide wouldn't be complete without discussing what the Jaguars feel is the best player from this draft class.
The Jaguars had the honor again of having the first selection and decided on Travon Walker. Walker didn't have any robust numbers in his three seasons at Georgia, having just 9.5 sacks in 29 games.
That said, there's a reason why this guy went first overall. If they can iron him out, Walker could prove to be worth the high draft price in the long run. Many thought Kayvon Thibodeaux or Aidan Hutchinson would have gone first a couple of weeks before the draft, but Walker blew away the Jags at the combine.
This is a Travon Walker Appreciation Post

(Also a reminder to follow @1010XL on TikTok and Instagram for more #videos from Camp) pic.twitter.com/Inqalc8vxw

— Mia O'Brien (@MiaOBrienTV) July 28, 2022
Even though sacks are important for edge rushers, Walker could be a premiere run-stuffer. His ability to stop the run might move him inside in a 3-4 defense, or he'll stay on the edge in a 4-3 scheme.
Walker's incredible strength allows him to shed blocks effortlessly and stop opposing running backs at or behind the line of scrimmage. He also has a great mentor in the veteran Josh Allen, giving Walker a great guy to learn from.
There aren't any rookies who are perfect, though. To prepare for the season, Walker will need some preseason snaps against real competition. He should be on the field for the Hall of Fame game a good amount, so be sure to have your eyes on him.
Think Walker is a good bet to win Defensive Rookie of the Year? Check out our guide below for odds and predictions for the award.
Tips and Strategy for Betting on the HOF Game
Our 2022 NFL Hall of Fame game betting preview wouldn't be complete without some tips and strategies. Making an NFL HOF game prediction can feel like navigating unknown waters to most, but luckily, we have some great pointers for you.
It's not a simple game to bet on, but you can still come out on the other end with a big payday. So here are two tips to make sure you follow for your NFL HOF game pick.
Stay Up to Date
The best thing you can do before the game starts is check up on the recent news. For example, during the preseason, many teams will announce exactly how many quarters certain players will participate in.
For Example
the Raiders could say that their starters will only play the first half. If that's the case, they could gain a big lead and then cruise the rest of the way.
On the other hand, Jacksonville might have their starters play less or more time than that, so aligning your bet with which team plays their starters more often makes the most sense.
It's the first game of the preseason, so I'm expecting just about everyone to get their feet wet. The amount of time the starters will get is unclear right now, but make sure you are staying up to date with recent news.
This can also go for injury updates. As I said earlier, Zamir White has missed some recent practices. If the Raiders decide that he needs more time before he plays in the preseason, we might not get a chance to see him suit up.
Knowing which impactful players are in or out for the game will play a huge factor in the Raiders vs. Jaguars odds. You can also find more help in our football betting guide below.
Place Live Bets
Another very important aspect of betting on the 2022 NFL HOF game odds is live betting. The top NFL Hall of Fame game betting sites will be offering bets during the game in addition to the bets available right now.
Maybe the Raiders get off to a hot start and score a touchdown on their first offensive drive. But, knowing that the starters aren't going to play the whole game, it might be wise to bet on the Jaguars with their new live odds.
The Jaguars' 2022 NFL Hall of Fame game odds are +2 right now, but that could shift to +7 or more if Las Vegas scores on the opening drive. So, in what should be a lower-scoring game, a +7-point spread would be great to have.
You could also get a feel for the game after the first quarter or two and want to place a bet after that. For example, maybe one of the backup quarterbacks is in a rhythm, and you want to capitalize; live betting would allow you to do that.
Either way, the preseason is difficult to predict beforehand. However, once the game gets underway, it might be easier to predict how the rest of it will go. Never placed a live bet before? Check out our guide for more help.
Making an NFL HOF Game Pick in 2022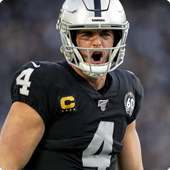 In conclusion, you can really make an argument for which team to win or cover the spread. Preseason games have much to do with who is in or out, so be sure you are updated on the recent news.
As for my pick on the best NFL HOF game betting sites, I will go with the Raiders -2 (-105). Both teams have new coaching staffs, so I'm expecting some decent reps from the starters. Las Vegas is the better team, and the spread is minimal.
Derek Carr and Davante Adams will be looking to get on the same page, and their college days together should come in handy.
You can't go wrong with the under if you aren't sold on either team. It's not easy to score in the NFL and even harder when you have a bunch of backups running the offense.
Also, be sure to consider live betting, especially if you'll be watching the game. Live betting is a great way to stay invested in the game and allows you to capitalize on in-game events.
That will wrap up our 2022 NFL Hall of Fame game preview. If you're excited about the upcoming NFL season, be sure to check out our bold predictions ahead of the 2022 NFL season.
August
Casino of the Month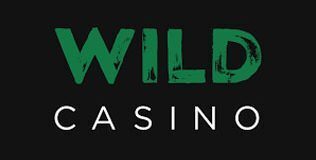 Welcome Bonus
250% up to $5,000