9 Players That Should Be Steals in the 2022 NFL Draft

All of the hype surrounding the NFL draft is about the first round. However, there are six other rounds for teams to find impact players. Those players don't enter the draft with high expectations, but we've seen many Hall of Famers that didn't go high in the NFL draft.
That leads me to the 2022 NFL draft steals. There are players in this draft class that aren't highly touted prospects. Still, they're capable of outweighing their projection.
Let's check out NFL draft picks that will be steals this year.
Travis Jones, DL, UConn
Three edge rushers should come off the board in the top 10, but what about defensive tackles? Georgia's Jordan Davis will be a first-round pick, but there aren't many other options. UConn's Travis Jones could emerge as one of the biggest NFL draft steals.
Jones' final season at UConn was his best yet. Just look at his numbers.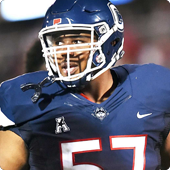 48 tackles
7.5 tackles for loss
4.5 sacks
Jones is a big body in the center of the defensive line. His pass-rushing needs some work, but he has excelled as a run-stuffer. His power alone should help him become a consistent rotational piece.
My 2-round NFL mock draft had Jones as a second-round pick. He'll likely be a second-round pick, but I had four defensive tackles ahead of him. Truthfully, Davis might be the only one better. That makes Jones one of the top NFL draft value picks.
He looked much better as a pass-rusher during the Senior Bowl. That aspect of his game will determine if he becomes one of the biggest steals in the 2022 NFL draft. Jones is on the right track to becoming a consistent NFL defensive tackle.
Kerby Joseph, S, Illinois
Kerby Joseph put himself on NFL draft boards after a fantastic senior season. The free safety accumulated 57 tackles and five interceptions. Joseph showed off his ability as a ball hawk with great instincts.
There's no denying Joseph's best ability is his coverage. However, he was a contributor in the run game with a pair of fumble recoveries. NFL teams would love to have a free safety that can do both.
Kerby Joseph's 90.6 Coverage Grade is the highest by a Big 10 Safety since Malik Hooker in 2016 ? pic.twitter.com/elOndpC93D

— PFF Draft (@PFF_College) February 25, 2022
Joseph's great season earned him a spot on the All-Big Ten first-team. I think the biggest thing for Joseph is getting more experience. Last year was the only season he spent as a starter. You wonder if his draft stock would've been higher if he started sooner.
Either way, Joseph has emerged as an NFL draft prospect that will be a steal. Kyle Hamilton is likely the only safety that will go in the first round. From there, we see Daxton Hill and Lewis Cine.
Draft boards have a sizable gap between those players and Joseph, but I'm not sure why. His play last season deserves early second-round consideration. If he goes late in the second round, he'll be one of the biggest steals in the 2022 NFL draft.
Tyler Allgeier, RB, BYU
People underestimate the running back position because we've seen how interchangeable running backs are in the NFL. That means we could see a few value selections in the NFL draft. A popular sleeper in the NFL draft is Tyler Allgeier.
Allgeier doesn't offer much as a receiver, but he is a powerful running back. That's not ideal for the modern-day running back, but how many teams resort to a committee with a power back and receiving back? Allgeier could find himself in that position.
He had a monster 2021 season. Check out his numbers.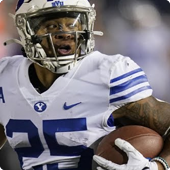 276 carries
1,601 yards
23 touchdowns
Allgeier has already gotten a head start on being a goal-line back. He excelled in that role at BYU and should take on a similar role in the NFL.
The biggest thing holding him back is his explosiveness. Allgeier might excel as a power back, but what happens when he's in the open field? That lack of burst and speed won't be good in the open field.
Still, I believe that's something NFL teams can scheme around. There's a strong chance he's one of the biggest NFL draft surprises.
Marcus Jones, CB, Houston
Marcus Jones took a big step forward last season. He recorded five interceptions, while his 13 passes defended ranked top 10 in the country. That's impressive for a 5'8" cornerback.
Jones' size will hurt his draft stock, but his coverage skills and elite speed should make him a 2022 NFL draft steal. He needs to work on his zone coverage, but Jones should be one of the best-man coverage corners in the draft. His size will most likely resort to him playing in the slot.
He increased his draft stock with his coverage skills, but I don't think that's his biggest asset.
A little #FlashbackFriday to this past fall when Marcus Jones (@MarcusJonesocho) propelled @UHCougarFB past then ranked SMU!

Jones had a spectacular 2021 season, scoring 5 total TDS on the season, getting 5 interceptions & even 109 receiving yards.pic.twitter.com/5m6xL5peAA

— Pawd Slama Jama (@PawdSlamaJama) April 15, 2022
Jones is probably the best returner in the NFL draft. He had nine special teams touchdowns in college. His punt and kick return yard averages rank top 25 of all time. That's impressive for anyone.
He also spent some time playing wide receiver in 2021. Jones likely won't do much on offense in the NFL, but his skill set has to be desirable for many NFL teams.
Basically, Jones is a slot corner that excels in man coverage and can also be an elite returner. He might be the most underrated NFL draft prospect.
Bo Melton, WR, Rutgers
The wide receiver position is the deepest in the draft class. My top NFL draft prop bets have over 5.5 going in the first round. Bo Melton likely won't be one of those picks, but his potential could make him one of the NFL draft value selections.
Every NFL team would love to have a fast young wide receiver. Well, Melton ran a 4.34 40-yard dash at the NFL combine. That alone should help him move up draft boards.
BIG Bo Melton fan, think he'll be one of the bigger value picks late Day 2 / early Day 3 — one of my favorite sleeper WRs in the class.

(?️: @BrettKollmann) pic.twitter.com/qJlKMDrQGW

— Austin Gayle (@PFF_AustinGayle) April 14, 2022
Melton's route running needs some work, but he is great after the catch. It'd be wise for his future team to scheme a few wide receiver screens. Melton can be dangerous in the open field.
Maybe an underrated aspect for any NFL prospect is their special teams. Someone like Melton might not find himself on the field much in his rookie season. However, he can increase his playing time by impacting special teams.
He was one of the top gunners in college football. We know Bill Belichick loves special teams players, and the New England Patriots need a wide receiver. That could be an interesting match.
Melton's skill set should make him one of the biggest NFL draft steals.
Mario Goodrich, CB, Clemson
Clemson was one of the biggest disappointments in college football last season. They had made the CFP in six straight seasons but stumbled with three losses. However, no one can blame their struggles on Mario Goodrich.
The standout corner had nine passes defended and two interceptions in 2021. He also became a much more physical player, racking up 42 tackles. Still, his coverage ability is the best aspect of his game.
Mario Goodrich didn't allow a TD in 2021 ?@ClemsonFB pic.twitter.com/V0VBu9OAeP

— PFF Draft (@PFF_College) April 15, 2022
Goodrich loves to be physical and get in the face of a wide receiver. He'll need to keep that up in the NFL, as his speed isn't among the elite percentile. That could lead to some struggles in man coverage.
On the other side, Goodrich is great in zone coverage. His instincts and awareness allow him to track the wide receiver and make a big play. Goodrich is on my radar for NFL draft picks that will be surprises.
Obviously, the skills and attributes are great, but drafting a player from an elite program must mean something. I know Clemson had a down 2021 season, but that was on the heels of a pair of National Championship Game appearances.
That should help Goodrich's draft stock.
Isaiah Likely, TE, Coastal Carolina
There has been very little talk surrounding the tight end position. Trey McBride, Greg Dulich, and Charlie Kolar are likely to top the tight end draft boards. However, I have my eye on Isaiah Likely.
Likely isn't a great run blocker, but he excelled as a receiver. It makes sense because he was a wide receiver from high school, but Coastal Carolina wanted him to play tight end. That proved to be the right move, as he became one of the best receiving tight ends.
Please take a look at his numbers from the 2021 season.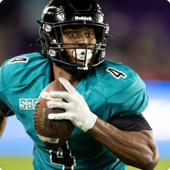 59 receptions
912 yards
15.5 yards per reception
12 touchdowns
His 12 touchdowns led all tight ends. It likely also played a significant role in Coastal Carolina winning their first bowl game in school history.
My 7-round mock draft for the New York Giants had Likely going to New York in the fourth round. Likely would offer a similar skill set to Evan Engram, but he doesn't have as much speed. Still, he'd give Daniel Jones another weapon.
Likely has the potential to be the best tight end in this draft class. If so, he'll be one of the biggest NFL draft steals. See who else Likely could be playing with in New York in my Giants mock.
Daxton Hill, S, Michigan
Daxton Hill might enter the NFL as a safety, but he can play multiple defensive positions. Hill has experience as a slot corner and his traditional safety spot.
It's hard to find a glaring weakness with Hill. He's under 200 pounds, but he has no problem covering big physical tight ends. His tackling was on full display, as he racked up 69 in 2021. Then, you factor in his success in zone coverage, and it's no wonder why Hill is an NFL draft pick that will be a steal.
This one's for @KawanoMike and @JacobWestendorf. I took a look at S/CB Daxton Hill. Really enjoyed his tape – can play almost anywhere on the field, and does so with a nasty demeanor. Blitzing, man, zone, run D – he can do it all. pic.twitter.com/esBXsBFTIu

— Sam Holman (@Sam_DHolman) April 19, 2022
Right now, Hill will likely be an early second-round pick. However, I'd visit the top NFL draft betting sites to see if I could wager on him being a first-round pick. His versatility stands out over safeties.
So there has to be some drawback with Hill. Why isn't he a first-round pick? Well, his 6'0" 190-pound frame doesn't do him any favors. Hill can also get himself into trouble by taking unnecessary risks. Still, it's not the worst thing to have an overaggressive player.
Hill's upside and potential should make him a first-round pick. I'd consider him a steal if he slips to the second round.
Troy Andersen, LB, Montana State
Daxton Hill's versatility makes him one of the biggest NFL draft steals. However, he has nothing on Troy Andersen. Andersen played three positions in four years at Montana State.
Now most linebackers might try out safety or edge rusher. Andersen took it a step further by playing running back and quarterback. He wasn't a great passer, but check out his rushing numbers while playing quarterback.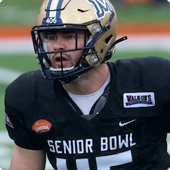 206 carries
1,412 yards
21 touchdowns
Andersen moved to linebacker in 2019. Last season, he won Big Sky Defensive Player of the Year after racking up 147 tackles. I'd say the adjustment to defense served him well.
We know he succeeded as a runner, so it shouldn't surprise anyone that he's one of the most athletic players in the NFL draft. He showed off his speed with a 4.42 40-yard dash at the NFL combine.
He has the athleticism, but his coverage needs some work. Andersen also needs to develop his play between the tackles. He is a good tackler, but he isn't very aggressive going after the ball carrier.
There's no doubt we'll see a team take a chance on Andersen for his versatility alone.
Breaking Down the 2022 NFL Draft Steals
Some people might think the NFL draft is all about the first round. However, there is plenty of value on day two and day three. These players should emerge as 2022 NFL draft steals. They could provide more value than first-round picks.
This is all pretty subjective leading into the draft, and only time will tell where these prospects will be selected, and if they'll pan out. However, based on where they're projected to go, everyone detailed above looks like a possible value pick.
The NFL draft is also a marquee event for bettors. Our NFL draft betting guide will give you all the necessary betting information for the event. Feel free to check out more NFL draft content below.