Live Tracker with Updated Picks and Analysis for the 2022 NFL Draft

The 2022 NFL Draft is finally here. Almost, anyways. In a matter of hours, the Jacksonville Jaguars (or whoever they trade down with) will be on the clock for the first overall pick, and insanity will likely ensue.
Guiding you every step of the way is our 2022 NFL Draft live tracker, which will update with every pick of round one, and will also include analysis for each selection.
Eager to see who picked who, which prospect went where, and what the draft choice means for your favorite team? You're at the right stop. This live NFL Draft tracker will also include betting advice for this year's draft, and more.
My Recommended Betting Sites for the 2022 NFL Draft
Now that you know where to place your bets for this year's draft, let's get to the actual picks.
1. Jacksonville Jaguars – Travon Walker, DE, Georgia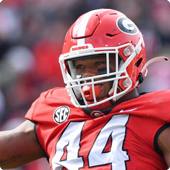 The Jaguars were rumored to be going back and forth between Aidan Hutchinson and Travon Walker, but as recently as this week Walker evolved into the slight favorite to go #1 overall.
That should shock nobody, as he quarterbacked an elite Georgia defense that won the national title. That, and the Jags struggled to get pressure on the opposing quarterback last year (28th in sacks).
New head coach Doug Pederson remarked recently that this would be the last time he'd be selecting a prospect first overall, and he may be on to something with a stud like this leading his defense going forward.
2. Detroit Lions – Aidan Hutchinson, DE, Michigan
The Lions were probably going to be content without whoever fell to them at the two spot. They ultimately get a bit of a steal here, as Hutchinson is a homegrown product out of Michigan that was arguably the best overall prospect in this year's draft.
Dan Campbell gets a man-eater in Hutchinson, who was constantly in the opposing team's backfield last year:

16.5 tackles for loss
14 sacks
This is the type of dominant presence on the outside that can change a defense, and he also comes in with #1 pick talent.
Detroit still may not be worth betting on just yet, but Hutchinson could go a long way in changing that mentality.
3. Houston Texans – Derek Stingley Jr., CB, LSU
Some felt the Texans should reach for a quarterback here. However, this is a weak quarterback class, and Davis Mills is arguably rather underrated. Instead, Houston adds to their defense, snagging perhaps the most talented cover man in this year's draft in Stingley Jr.
Talent is the operative word here, as the Texans were inarguably the least talented squad in football a year ago.
Houston has major work to do on both sides of the football, but landing a possible shutdown corner with elite physical tools makes a lot of sense.
4. New York Jets – Sauce Gardner, CB, Cincinnati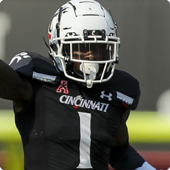 New York selected their would-be franchise passer in last year's draft, and are now seemingly in the market for a splash trade at wide receiver. With their offense likely en route to being spoken for, defensive-minded head coach Robert Saleh gets a toy to play with in Gardner.
Some would say Gardner is the nunmber one corner to get excited about in the 2022 draft class, and it's tough to deny his upside after seeing him snatch nine picks in three years with the Bearcats. The Jets get a legit playmaker and a potential stopper on the outside that could elevate their defense.
5. New York Giants – Kayvon Thibodeaux, EDGE, Oregon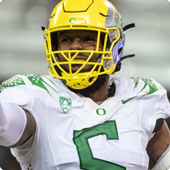 The Giants finally let GM Dave Gettlemen go, so it looks like they may be headed for a brighter future. The team declined to pick up quarterback Daniel Jones's fifth-year option, so something is going right.
All jokes aside, the G-Men went for the top overall prospect left on the board here. Thibodeaux was long expected to be in contention for the 1st overall pick, but he ended up sliding.
An elite athlete on the outside, this is a potential game-wrecker that could restore New York's once proud defensive front. The Giants still have major questions on offense, but re-establishing an elite pass rush is clearly on their mind here.
6. Carolina Panthers – Ickey Ekwonu, OT, N.C. State
Ekwonu has risen up to be perhaps the best overall offensive tackle in this year's draft, but it still comes as a shock to some that he was taken ahead of Evan Neal. More surprising, of course, could be that Carolian resisted the urge to select a new quarterback here.
The reality is quarterback isn't strong in this draft class, and Ekwonu has the talent to be a real asset, both in the ground game and as a pass protector.
The Panthers probably don't have their franchise passer on their roster yet. However, by adding Ekwonu, they are making sure whoever does start under center is protected and has a healthy rushing attack at their aid.
7. New York Giants – Evan Neal, OT, Alabama
Are the Giants winning the 2022 NFL Draft? Well, kinda.
Just two picks after landing perhaps one of the biggest steals in the draft, they get another. Neal is another guy who was up there in the #1 overall pick conversation, and he was a sensational left tackle for the Crimson Tide.
Neal displayed elite versatility for one of the best programs in the nation, and he fills a major problem area for New York. Nothing is guaranteed, but the Giants are rebuilding from the bottom up, making sure their trenches are once again a strength. Neal gives them a real shot at making that happen.
8. Atlanta Falcons – Drake London, WR, USC
The Falcons have been through some trying times. Not only have they been stuck in mediocrity over the last few years, but they said goodbye to franchise cornerstones in Julio Jones and Matt Ryan in successive offseasons.
Then, Calvin Ridley was suspended for betting on NFL games. Oof.
From Monday afternoon: Our full story on #Falcons WR Calvin Ridley receiving a year-long suspension — at least — for gambling on NFL games https://t.co/tTbMJnfujk

— Ian Rapoport (@RapSheet) March 8, 2022
No matter how you look at it, the Falcons are rebuilding. Part of that rebuild is repairing a now completely dismantled offense, however, and landing a stud on-ball receiver like Drake London seems like a solid way to go.
There are concerns of London's ability to separate, but the ball skills, size, and catch radius are at an elite level. This could be a potential superstar for a team that is starving for offensive talent outside of Kyle Pitts right now.
9. Seattle Seahawks – Charles Cross, OT, Mississippi State
It's comical that Seattle suddenly views their offensive line as a problem area, only after trading away Russell Wilson.
While ironic, the Seahawks do stop the bleeding here, as they grab a balanced option in Cross, who could finally give Seattle serious stability on the outside.
Cross feels like a can't miss option. The size, hands, and athleticism make him the total package, and he fills a major need. Seattle isn't splashy here, but they made the right pick.
10. New York Jets – Garrett Wilson, WR, Ohio State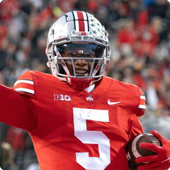 New York is winning the draft across the board right now. The Jets are in on it, too, as they grab a star wide receiver to pair with Zach Wilson.
The Jets have a lot of work to do to change the narrative offensively, but there's no denying they now have the talent to take over the league. Wilson's athleticism and instincts are off the charts, and he could make Wilson look a lot better than he really is.
It remains to be seen how that plays out, but the pick is spot on for the Jets, who badly needed more help at receiver.
11. New Orleans Saints (from Commanders) – Chris Olave, WR, Ohio State
The Saints don't have a clear answer at quarterback, but they're starting to fill the picture out by adding a stud receiver in Olave.
There is a lot of uncertainty involving Michael Thomas, and beyond him New Orleans doesn't have much in the passing attack. Olave changes that in a hurry, as he is a touchdown magent, and has the ability to do major damage from anywhere on the field.
He also has style for days and has a hit single about to drop.
Chris Olave and Garrett Wilson look like they're about to sing the greatest R&B hit of all time ? ? pic.twitter.com/qWQJPiOrWi

— Mekka Don (@MekkaDonMusic) April 28, 2022
In all seriousness, Olave is a gamer that will elevate New Orleans through the air. Now, about that quarterback position.
12. Detroit Lions (from Vikings) – Jameson Williams, WR, Alabama
Detroit is another team doing very well early on in the 2022 NFL Draft. Earlier in our live NFL Draft tracker we saw them land perhaps the draft's top pass rusher, and now they get the most explosive weapon available.
Just look at what Williams is capable of.
The only real knock for Williams is a knee injury that kept him from finishing out last year at Alabama. He's otherwise a total phenom that can out run everyone and flat out dazzle with the ball in his hands.
He still has to get back to 100% and he is presently slated to catch passes from Jared Goff, but the upside here is obvious.
13. Philadelphia Eagles (from Texans) – Jordan Davis, DT, Georgia
When the Eagles were at their best, they were monsters up front, starting with Fletcher Cox. Philly may have just nabbed his long-term replacement.
Davis gives the Eagles an absolute freak up front, as he has a size and athleticism combo that you simply don't see. Philly drastically improves their run defense immediately here, and could help their defense get back to being a real problem.
14. Baltimore Ravens – Kyle Hamilton, S, Notre Dame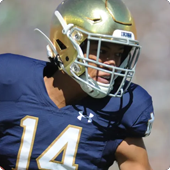 The Ravens are known for running the ball and hitting offenses in the mouth. They get back to their defensive ways with Hamilton, who has proven to be a major ball hawk.
Hamilton also has the instincts and fundamentals to be a force against the run at the next level, possibly giving the Ravens a legit stud in the back of their defense.
It's pretty arguable Hamilton is the best overall defensive back in this draft, so Baltimore getting him at pick 14 could be a huge thievery.
15. Houston Texans – Kenyon Green, OL, Texas A&M
Nobody should fault the Texans for building up through the trenches. Fundamentally, they are doing it the right way, while Green specifically gets them a truly versatile o-line prospect who can be lined up just about anywhere.
It's not the splashy pick people want to see, and it's a mild reach, but Green is the real deal and will help Houston immediately.
16. Washington Commanders – Jahan Dotson, WR, Penn State
The Commanders have a gamer in Terry McLaurin, but they get another to go along with him in Dotson.
Washington swung for the fences when they traded for Carson Wentz this offseason, and now they got him another weapon. Dotson got it done at Penn State last season, mauling the Big 10 across 12 games.
91 catches
1,182 yards
12 TDs
Dotson gives the Commanders two gifted athletes that can stretch the field. Carson Wentz will be absent any excuses in 2022.
17. Los Angeles Chargers – Zion Johnson, OG, Boston College
The Bolts have been notorious for their o-line issues over the years, but they actually only allowed 31 sacks in 2021. There is progress here, and they're only going to get better up front with the addition of Johnson.
Johnson is being brought in to aid L.A.'s rushing attack, which has to be music to Austin Ekeler's ears.
18. Tennessee Titans – Treylon Burks, WR, Arkansas
This is a wild pick. Burks on his own is a gamer, as he can take the rock to the house, or he can just dominate whoever is covering him. His timed speed isn't amazing, but the tape doesn't lie; Burks does special things with the ball in his hands.
What makes it truly wild, of course, is that it follows the trading of superstar receiver, A.J. Brown.
So the #Eagles finally get their big-time WR in AJ Brown — and he gets a huge extension. To replace him, the #Titans get #Arkansas WR Treylon Burks.

— Ian Rapoport (@RapSheet) April 29, 2022
Brown will be missed, but the Titans basically replicate his style with Burks. This was a necessary pick, but the value is stellar considering Tennessee just shipped off their best receiver.
19. New Orleans Saints – Trevor Penning, OT, Northern Iowa
It remains to be seen what the long-term plan is for the Saints, but so far they are seeking playmaking through the air, and a nasty mauler who can help the ground game.
Penning had penalty issues and faced low level competition, but the size and mentality are things you can't teach. The Saints get a monster up front, but the question is precisely how they'll use him, and if the mental aspect will align with his physical ability.
20. Pittsburgh Steelers – Kenny Pickett, QB, Pittsburgh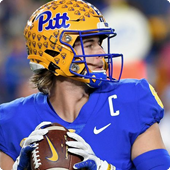 A big trend on Twitter all night was die hard Steelers fans not wanting Pickett to end up in Pittsburgh. Or..stay there. But here he is, taking over for Ben Roethlisberger, and potentially keeping Mitch Trubisky truthers at bay.
There is a lot to like here, as Pickett is big, mobile, and can make every throw. He was also incredibly productive in college, while making a lot of what he does look way too easy.
Possibly the total package, Pickett is a worthwhile gamble at this point in the draft. He isn't without his flaws (small hands), but the Steelers just lost a legend, so they don't have much to lose here.
21. Kansas City Chiefs (from Patriots) – Trent McDuffie, CB, Washington
Kansas City has made waves all offseason, with their biggest move being the trading of top receiver Tyreek Hill. Most expected them to go after a receiver early in this draft, but their first pick is instead a balanced cover man.
McDuffie is a physical corner who isn't afraid to sniff out the run and take on contact. He's got his question marks, but the physicality is welcome with the team letting Tyrann Mathieu walk in free agency.
22. Green Bay Packers – Quay Walker, LB, Georgia
Everyone wondered what the Packers had planned, as this draft saw a litany of big names moved or selected. Ultimately, the Packers did not invest in the receiver they so sorely needed with their first pick. Rather, they landed a versatile linebacker in Walker.
It is undeniably not the pick most Packers fans wanted, but Walker is an athletic playmaker who could take an improving defense to the next level.
If Green Bay ends the night without grabbing a receiver, though, the planet may melt.
23. Buffalo Bills – Kaiir Elam, CB, Florida
A strong Buffalo defense only gets better here. Elam is as battle tested as they come as a SEC alum, and he brings speed, anticipation, and range to the table.
Elam isn't a perfect prospect, but the guy has swagger and the tools to be a solid starter at the next level. He'll fit in nicely with an opportunistic and aggressive Bills defense.
24. Dallas Cowboys – Tyler Smith, OT, Tulsa
Dallas arguably needed more help on defense, but they opt for a big body on the offensive line. He has the ability to line up on either side, but profiles as a stellar right tackle at the next level.
The Cowboys are known for their strong o-lines, and they have a talented player on their hands that should be able to develop into a quality starter. Overcoming mental mistakes and perfecting technique will be what makes or breaks Smith in the pros.
25. Baltimore Ravens – Tyler Linderbaum, C, Iowa
Baltimore got a quality safety earlier in the draft, and here they beef up the interior of their offensive lineman.
Linderbaum is regarded as the top center in this draft, and some say he's the best center the league has seen in years.
He is a mauler with elite strength and burst off the line, which should give Baltimore a massive boost on the ground.
We all know the Ravens desire to run the ball and adding a monster in the middle like Linderbaum helps them continue their plight in 2022.
26. New York Jets – Jermaine Johnson, DE, Florida State
Johnson was the ACC Defensive Player of the Year, constantly getting into the backfield with 17.5 tackles for loss and 11.5 sacks.
I'm not entirely sure why he fell this far, as the production, athleticism, and pass-rushing chops are all there. Johnson had the talent of a potential top-10 pick, so it's worth wondering what other teams knew that Baltimore didn't.
That said, Johnson was a beast on the field, and the talent is undeniable. Provided something doesn't pop up with his medicals or something off the field, I can't imagine why he can't be successful in Saleh's system.
27. Jacksonville Jaguars – Devin Lloyd, LB, Utah
The Jags are back in action for the first time since the top pick. Here they select a quality linebacker in Lloyd, who offers speed and playmaking in the middle of the defense.
Jacksonville had a big need at linebacker, and they got a steady presence who offers a high football IQ, and the ability to make an impact in just about every facet of the game.
The Jags are instantly better on defense after their work in round one.
28. Green Bay Packers – Devonte Wyatt, DT, Georgia
Green Bay badly needed a wide receiver, but they opted not to take one in the first round. Perhaps they have a plan. While that's tough to figure out, they did grab a heck of a player up front in Wyatt, who is a menace in the middle.
The Packers are clearly putting an emphasis on making their defense a strength, which could in turn aid their offense. Wyatt has the ability to give them a major boost up the gut in the pass rush, while he gets to keep teaming up with Walker, who the green and gold selected earlier.
29. New England Patriots – Cole Strange, OG, Chattanooga
The Patriots bolster their offensive line by adding Strange, who looks to be a bit of a reach. It never hurts to get some depth on the o-line, but New England had other issues they could have addressed.
30. Kansas City Chiefs – George Karlaftis, DE, Purdue
The Chiefs can't really replace Tyreek Hill in the draft, so they opt to beef up their defense. That's been a problem for them in recent years, so adding an undying motor like Karlaftis has should give them a boost.
This is a steady pass rusher who can get into the backfield and help against the run. There are questions about his length and athleticism, but this is a smart, aggressive defensive end who should help KC's rotation.
31. Cincinnati Bengals – Daxton Hill, DB, Michigan
There were a few fallers in round one, and Hill was one of them. Cincy doesn't have many glaring weaknesses at this point, but we sure know they're set on offense. That allowed them to go get the best player available, which is Hill.
Hill doesn't have many flaws, as he can do a bit of everything. He figures to be an asset against the run and in coverage, while he can even be useful in blitz packages. The Bengals got a keeper and continue to beef up a maturing defense.
32. Minnesota Vikings – Lewis Cine, S, Georgia
The last pick in round one of the 2022 NFL Draft goes to the Vikes, who opted to select a solid defensive back in Cine. This is another Georgia alum, which isn't shocking considering how much talent was on the championship team.
Minnesota has had issues in their secondary for years, so grabbing a quality safety to build with makes plenty of sense.
Advice for Betting on the 2022 NFL Draft
One of the first things I suggest is finding a couple of reputable online sportsbooks to place bets at. Bovada covers every base and is as reliable a site as they come.
Bet on the 2022 NFL Draft at Bovada
Knowing how to bet or what to bet on is one thing, but you want the best odds available, top shelf wagers, and a site you can trust. To make sure you're getting all of that, only use the top NFL Draft betting sites, starting with Bovada.
This live tracker for the 2022 NFL Draft will keep you updated on every pick for round one, and it will also serve as a bit of a countdown for your NFL draft prop bets. There is so much to consider when betting on the draft each year, and with a wide-open class like 2022 has, things could truly get crazy.
You can bet on all types of NFL Draft props, including how many defensive players get drafted in round one, which quarterback hears their name called first, and so much more. To aid you in your NFL Draft betting process, follow along with this live NFL Draft tracker, and also hit up the following posts for some elite advice.
September
Casino of the Month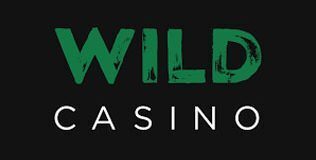 Welcome Bonus
250% up to $5,000