Hide Bonus Offers
| | | | | |
| --- | --- | --- | --- | --- |
| #1 | Bovada Sports | 50% Up To $250 | Visit Site | Bovada Sports |
| #2 | BetUS | 125% Up To $2,500 | Visit Site | BetUS |
| #3 | MyBookie | 100% Up To $1,000 | Visit Site | MyBookie |
| #4 | Everygame | 100% Up To $500 | Visit Site | Everygame |
| #5 | BetOnline Sports | 60% Up To $1,000 | Visit Site | BetOnline Sports |
8 NFL Draft Bets to Consider Wagering on in 2022

The NFL draft is a marquee event for the NFL. It gives teams a chance to upgrade their roster with young talent. Fans love to see which player their team will select, and bettors also love it.
The event gives bettors plenty of betting opportunities. The top wagers for the NFL draft include the odds of a player going top-five and where a player will go in the first round. There are many more props, but those are the ones we're focusing on.
When betting on the draft – or anything – you usually want the best possible wagers that have a great chance of converting. Here are my 2022 NFL draft best bets.
Travon Walker to Be the 3rd Overall Pick (+475)
There hasn't been a player moving up draft boards faster than Travon Walker. He helped Georgia win the National Championship, but he wasn't among the top players in the NFL draft.
That tune changed when he had a standout performance in the NFL combine. Now, he's in line to be one of the top picks for the 2022 NFL draft.
It's almost a formality that the Jacksonville Jaguars will select Aiden Hutchinson No. 1 overall. The Detroit Lions are a wild card at No. 2, but if they don't choose Walker, I think the Houston Texans will select him.
Travon Walker is a perfect EDGE for Lovie Smith and the Tampa 2 the Texans are running. Has the ability to be an elite run defender early in his career.

— Bobby Football (@Rob__Paul) April 11, 2022
Houston has many team needs, but the edge rusher is near the top. They lack a game-changing edge rusher and had the worst run defense last season. Walker is an elite run stopper that could develop into an elite pass rusher.
My 7-round Texans mock draft had the Texans selecting Walker third overall. Ultimately, I believe it comes down to the Lions. They could go in a few different directions, including edge rusher.
The Texans could select an offensive lineman in this spot, but I wouldn't do that if Walker were on the board. The value makes this one of the 2022 NFL draft's best bets.
Evan Neal Going 5th Overall to the New York Giants (+275)
The New York Giants taking an offensive lineman in the first round seems like one of the best bets for the 2022 NFL draft. Unfortunately, we can't wager on which position they'll select, so we'll pivot to Evan Neal.
Neal was the favorite to be the first offensive lineman off the board, but Ikem Ekwonu has surpassed him. Both players are elite and will give teams a consistent option at tackle.
Will the Giants have their pick of either player? Probably not, but either way, I think they go with Neal.
I'm going to speak it into existence the Giants tackles for next ten years will be Andrew Thomas and Evan Neal.

— The Entertainah (@DaEntertainah85) April 11, 2022
Neal's versatility is something the Giants will love. He played three positions in three years with Alabama and will likely move back to right tackle with the Giants. Andrew Thomas improved last season, but the Giants' offensive line is a weakness. Neal would be an upgrade at any position.
His presence would be significant for Daniel Jones and Saquon Barkley. Jones could benefit from more time to throw, while better blocking could return Barkley to the elite group of running backs.
Neal will be one of the NFL draft's top picks. My Giants 7-round mock draft had Neal going No. 5, and I'm doubling down on that prediction.
Garrett Wilson Under 10.5 Overall Pick (-130)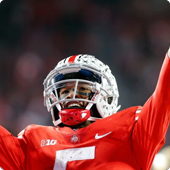 The wide receiver position has long been considered one of the best in the 2022 NFL draft. We should see at least four or five wide receivers in the first round. Garrett Wilson should be the first receiver off the board.
Wilson had a great Junior season, recording 70 receptions, 1,058 yards, and 12 touchdowns. The top 2022 NFL draft betting sites have him as the first wide receiver selected in the draft.
That's why it's so surprising to see his draft position projection at 10.5. This is easily one of the best bets for the NFL draft. Wilson should have three strong opportunities to go in the top 10.
New York Jets (No. 4 & No. 10)
Atlanta Falcons (No. 8)
The New York Jets and Atlanta Falcons are the top two destinations for Wilson. New York tried to acquire Tyreek Hill before going to the Miami Dolphins. They have been in the market for a few top wide receivers.
Calvin Ridley's suspension and Russell Gage's departure leave the Falcons without a top wide receiver. Wilson going in the top 10 is one of the 2022 NFL draft best bets.
Jermaine Johnson II Over 9.5 Overall Pick (+125)
I know I mentioned wide receiver being the top position in this draft class, but edge rusher is strong at the top of the board. Aiden Hutchinson, Travon Walker, and Kayvon Thibodeaux will likely be top five picks.
There's a gap between them and the next group, but Jermaine Johnson II is looking to move up.
Johnson needs to develop his pass-rushing, but he is an elite run stopper. Check out his numbers from the 2021 season.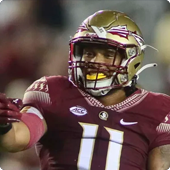 70 tackles
17.5 tackles for loss
11.5 sacks
1 fumble recovery
His great season earned him 2021 ACC Player of the Year. He should be a top 15 pick, but the top nine seems too high for me.
I'm willing to say he won't go in the top five, leaving four teams for Johnson. The Atlanta Falcons and Seattle Seahawks have bigger team needs, so I'd immediately cross them off.
The Carolina Panthers should go either quarterback or offensive line. Then, we have the New York Giants at No. 7. They need an edge rusher, but this seems a little high. Would they take Johnson with Ahmad Gardner or Kyle Hamilton on the board? I can't see it.
Kayvon Thibodeaux Going Top Five (EVEN)
It's hard to get a read on Kayvon Thibodeaux's draft stock. There's no denying he's a top-five talent, but he didn't do well in combine interviews. Will that keep him out of the top five?
Ultimately, I don't believe that's the case. Thibodeaux has the upside to be an All-Pro caliber player. He has a ton of power and acceleration off the edge. That'll be big for working against tackles.
The top five feature multiple teams are looking for an edge rusher. Honestly, every team will take a hard look at Thibodeaux. The Detroit Lions will have the first chance, but I have my eye on the New York Jets.
Kayvon Thibodeaux visiting Lions on Tuesday, Giants on Thursday, Jets on Friday (per @TomPelissero)https://t.co/4Yfaea1g84 pic.twitter.com/RWOfBctAJx

— Around The NFL (@AroundTheNFL) April 11, 2022
Robert Salah would love to have a game-changing edge rusher on his defense. Thibodeaux is one of the top NFL draft prospects, so it makes sense to add him to the Jets.
Now, this is projecting Thibodeaux will be on the board at No. 4. It wouldn't surprise me if the 2022 NFL draft began with three straight-edge rushers. Either way, this is one of the NFL draft's best bets.
Thibodeaux should be in the top five of draft boards on draft night.
Interested in betting on Thibodeaux's NFL future? Here are some other draft props concerning him in 2022:
Derek Stingley Jr. Over Pick 10.5 (-110)
Derek Stingley Jr. is another intriguing draft prospect. Stingley had a fantastic freshman season, recording 38 tackles and six interceptions. Unfortunately, we haven't seen the same level of play in his last two seasons.
Stingley has the talent to be a top 10 pick, but injury concerns could cause him to drop. More likely than not, the top 10 will have some kind of combination of these positions.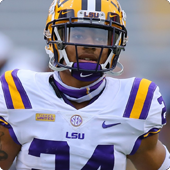 3 Edge Rushers
2-3 Offensive Lineman
1-2 Wide Receivers
1 Quarterback
1 Cornerback
The one cornerback will likely be Ahmad "Sauce" Gardner. Gardner quickly moved up draft boards after a great Junior season at Cincinnati. Then, you factor in Stingley not participating in drills at the NFL combine, and Gardner passed him as the top defensive back.
Cornerback isn't a huge need for anyone in the top 10, but we could see a team reach for Gardner. I doubt we'll see the same with Stingley.
My 2-round NFL mock draft> had Stingley going 12th to the Minnesota Vikings. Right now, that seems like the consensus. Therefore, Stingley going outside the top 10 is one of the best bets to make for the NFL draft.
Drake London Under 10.5 Overall Pick (-105)
It seems like everyone has a projection right around the 10th pick. We've talked about Garrett Wilson, Jermaine Johnson, and Derek Stingley Jr. going in the top 10. Now, we'll talk about Drake London as one of my 2022 NFL draft best bets.
London isn't the fastest wide receiver, but his 6'4" 213-pound frame makes him an elite option for racking up contested catches. That's something we saw at USC, and I expect it to carry over to the NFL.
Drake London: generational❓ pic.twitter.com/iGGv2Bzjql

— PFF Draft (@PFF_College) April 13, 2022
It'll be interesting to see how teams evaluate London vs. players like Chris Olave and Jameson Williams. Those receivers use their speed and athleticism, while London's biggest asset is his physicality.
We already discussed Wilson going to the New York Jets or Atlanta Falcons. Therefore, we know which teams will be in the running to select London.
If Wilson or London is on the board at No. 8, I can't see Atlanta passing on them. Kyle Pitts is their top pass-catcher, but are they going to enter the 2022 season with Olamide Zaccheaus as their top wide receiver?
The Jets could snag London at No. 10 if the Falcons take Wilson. Either way, London going top 10 is one of the best bets for the 2022 NFL draft.
Charles Cross Over Pick 7.5 (-160)
All the talk surrounding offensive lineman in the 2022 NFL draft has been about Evan Neal and Ikem Ekwonu. However, another lineman could sneak into the top 10 in Charles Cross.
Cross played in Mike Leach's air-raid offense at Mississippi State. Neal and Ekwonu might be ahead of him on draft boards, but Cross is the best pass-blocking lineman in the NFL draft. He isn't a bad run blocker, but he needs more reps.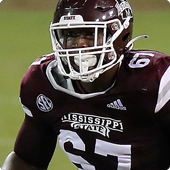 Right now, I'd say we'll see three edge rushers and top offensive lineman off the board in the first five picks. That leaves the Carolina Panthers and New York Giants.
I've been projecting Neal to the Giants at No. 5, so they won't take another offensive lineman at No. 7. So, will the Panthers select Cross at No. 6? My money is on no.
I believe the Panthers should have their sights set on Malik Willis. They acquired Sam Darnold last offseason, but he isn't a long-term option. Carolina should upgrade either draft Willis or trade back.
If another team is picking in this slot, they'll likely take a wide receiver or defensive back. Cross going outside the top seven is one of the 2022 NFL draft's best bets.
Betting on the NFL Draft in 2022
It's hard to say who will go where in the 2022 NFL draft, but I feel confident in my NFL draft best bets. If you need a little extra guidance prior to placing your bets this year, be sure to stop by our 2022 NFL draft betting guide.
There is a lot to digest every year when betting on the NFL draft, so starting with the basics is always a good idea. We also could see some movement in the lead-up to the draft, but these projections should stay the same.
BetUS gives us the odds for my best bets for the NFL draft. Make sure you visit the site to place your 2022 NFL draft bets.
Bet on the NFL Draft at BetUS

Visit Site