Odds for the 2022 NFL Comeback Player of the Year

The NFL Comeback Player of the Year honors a play that returns from a significant issue. It's typically injuries, but Eric Berry claimed the award after beating cancer.
Derrick Henry, Jameis Winston, and Michael Thomas headline the top contenders for the 2022 award. Henry and Thomas are former All-Pros, while Winston aims to bounce back from an ACL tear. Joe Burrow did the same en route to winning the 2021 award.
Let's check out the 2022 NFL Comeback Player of the Year odds to see the contenders.
2022 NFL Comeback Player of the Year Betting Odds
The 2022 NFL Comeback Player of the Year award odds give Derrick Henry the upper hand, but Jameis Winston is right on his heels. Henry is a superior player, but quarterbacks have the upper hand in this award.
Daniel Jones could be an intriguing pick with new head coach Brian Daboll. There's hope Daboll can unlock his potential, as he did with Josh Allen with the Buffalo Bills.
There are a handful of quarterbacks at (+1000), and Deshaun Watson is undoubtedly the most prominent name. Watson has the most potential, but he'll miss the first six games of 2022. Is that too much to overcome?
Feel free to visit the best online NFL betting sites to make your prediction.
How We Rate

Safety & Security
You should be able to gamble online without fear. So we only recommend licensed sites that use the latest security and encryption techniques.

Bonuses
Maximize your bankroll with fantastic bonuses. Our recommended sites offer valuable bonuses with fair terms and conditions, including manageable wagering requirements.

Games & Betting
The best sites have the best wagering options. That's why you will find extensive games and betting opportunities on our recommended sites.

Banking
Getting your money to and from your account shouldn't be a hassle. We only recommend sites with a variety of convenient banking methods, including cryptocurrency and e-wallets.
Will Derrick Henry Win the 2022 NFL Comeback POY Award?
Derrick Henry took the NFL by storm in 2019, leading the league with 1,540 rushing yards and 16 touchdowns. How would he back that up? Henry became the eighth player in NFL history to rush for 2,000 yards in a season.
Henry firmly entrenched himself as the best running back in the NFL. He was looking at another strong season.
He had five straight 110+ yard rushing games in 2021. Henry was well on his way to another All-Pro caliber season. Unfortunately, a foot injury ended his season after eight games. Check out his numbers through eight weeks.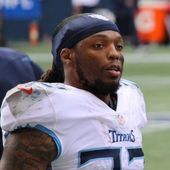 219 Carries
937 Rushing Yards
10 Touchdowns
He was the only player with over 650 rushing yards through eight games. Henry was on pace for 1,990 rushing yards and 21 touchdowns. He would've been neck-and-neck with Cooper Kupp for Offensive Player of the Year.
Technically, the injury didn't end his season. Henry returned for the playoffs, rushing for 62 yards and a touchdown.
Henry has seen a mammoth workload over the last four seasons. Everyone wants to know if the 28-year-old will begin to slow down. It doesn't appear so in Training Camp.
Derrick Henry is in the best shape of his life https://t.co/OWgkfCZPtl

— Fusue↗️ (@DevyEusuf) August 1, 2022
Henry isn't injury-prone, as last year was the first time he missed multiple games in his six-year career. That contributes to him being the 2022 NFL Comeback Player of the Year favorite.
It'll be interesting to see the nature of the Tennessee Titans offense. The top US sportsbooks have them taking a step back after trading AJ Brown. That could lead to fewer scoring opportunities.
Tennessee should remain committed to a run-first approach. Missing half of the 2021 season may have been a blessing in disguise, as Henry didn't endure as much wear and tear. Will that lead to another big season?
Contenders for NFL Comeback Player of the Year
Derrick Henry is a strong contender for the NFL Comeback Player of the Year, but no one's ready to hand him the award. These players have the best chance of defeating Henry.
Christian McCaffrey (+800)
It wasn't long ago that Christian McCaffrey held the title of best running back in the NFL. He made the All-Pro second-team in 2018 after recording 1,965 scrimmage yards and 13 touchdowns.
He responded with another dominant season, recording a career-high 1,387 rushing yards and 1,005 receiving yards. McCaffrey became the third player in NFL history to have a 1,000/1,000 season.
Unfortunately, we've seen injuries derail his career. He has only played ten games over the last two seasons. Check out his numbers across the two seasons.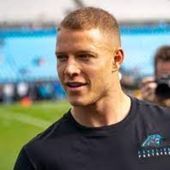 158 Carries
667 Rushing Yards
54 Receptions
492 Receiving Yards
8 Touchdowns
If you put those numbers over a full 17-game season, he would've recorded 1,100 rushing yards and 800 receiving yards. When healthy, you can argue McCaffrey is on that same level as Jonathan Taylor and Derrick Henry.
Unfortunately, we haven't seen him stay healthy since 2019. That's the last time he has played more than four straight games in a season. A healthy McCaffrey can easily clear 1,500 scrimmage yards.
The 2022 NFL Comeback Player of the Year award odds give him a good chance to win. The media has taken notice of his potential.
Buy or Sell – Christian McCaffrey will be the Comeback Player of the Year.

Video from 🎥 @RichEisenShow pic.twitter.com/6trq7FOp60

— Michael Rimmer (@AVL_Mike) April 8, 2022
It'll be interesting to see if the Carolina Panthers limit his workload. McCaffrey rarely left the field in his dominant two-year stretch. There's a good chance that contributed to his injury history.
I believe he'll play enough to have strong numbers. Baker Mayfield will likely become the starting quarterback, but McCaffrey remains the star of Carolina's offense. We should see that on display in 2022.
Can McCaffrey stay healthy in 2022? That's the only thing holding him back from winning the 2022 NFL Comeback Player of the Year award? He has a strong chance to contend with Henry.
Michael Thomas (+1000)
We've talked about a pair of former All-Pros. Let's keep the trend going with New Orleans Saints wide receiver Michael Thomas.
Thomas' situation isn't quite the same as Derrick Henry's or Christian McCaffrey's. He suffered a high ankle sprain in Week 1 of the 2020 season. Thomas returned later in the season but dealt with the lingering effects of the injury.
He had ankle surgery in the 2021 offseason, but a setback forced him to miss the entire season. It doesn't sound like he's 100 percent, but Thomas should be ready for Week 1.
Michael Thomas is looking sharp 👀

(🎥 @RosvoglouReport)pic.twitter.com/DZjOQ7zhWA

— PFF Fantasy Football (@PFF_Fantasy) August 2, 2022
Obviously, we'd love to see him at full strength, but Thomas can still make a positive impact. He has been among the best wide receivers in the NFL since joining the Saints in 2016.
This will be his first season without Drew Brees. Jameis Winston isn't on Brees' level, but we've seen him produce strong numbers. A dip in receiving numbers would likely stem from the ankle injury, not Winston.
It's not crazy to say Thomas was the best wide receiver in football before his ankle injury. He won the 2019 Offensive Player of the Year with these impressive numbers.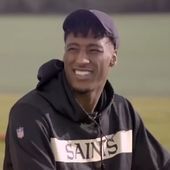 149 Receptions
1,725 Receiving Yards
9 Touchdowns
Thomas set an NFL record with 149 receptions in a single season. He also led the league with 1,725 receiving yards. Thomas led the NFL in receptions while raking top-five in yards and touchdowns from 2016 to 2019.
He would be everyone's 2022 NFL Comeback Player of the Year prediction if we knew he could play at that level. Unfortunately, no one knows if he'll perform like a top-five wide receiver.
Can he live up to his potential? The American football betting apps allow you to wager on Thomas, Winston, and other contenders.
2022 NFL Comeback Player of the Year Sleepers
Will we see a surprise player win the 2022 NFL Comeback Player of the Year? My favorite value picks feature a pair of defensive players. Let's discuss their case for the award.
Chase Young (+1400)
Eric Berry is the only defensive player in the last 20 years to win Comeback Player of the Year. Berry's case was unique, as he overcame lymphoma to play at an All-Pro level.
Last season, there was much hype surrounding the Washington Commanders' defense. They were among the best in the league in 2020, leading them to the NFC East title. Unfortunately, they took a major step back.
Chase Young played a significant role, as he didn't come close to replicating his 2020 numbers. He played nine games before suffering a season-ending ACL tear. There's a good chance it will force him to miss the start of the 2022 season.
More about Washington Commanders defense end Chase Young missing at least the season opener — and possibly more — because of a knee injury suffered late last year, via @john_keim:https://t.co/Kg9DwBwfSg

— Adam Schefter (@AdamSchefter) July 29, 2022
That's a tough blow to his chances, but the 2022 NFL Comeback Player of the Year odds have that built in. Young's value plays a hand in this pick.
Last season was a big letdown for the Commanders' defense, but we can't forget about 2020. People were ready to claim Young as the next great edge rusher.
Young posted 44 tackles, 10.5 tackles for loss, 7.5 sacks, four forced fumbles, and three fumble recoveries. It was enough to win Defensive Rookie of the Year and earn him a spot in the Pro Bowl.
Young will likely need to come close to his 2020 numbers to have a chance at Comeback Player of the Year. That won't be easy if he misses four games, but his upside makes him a strong contender.
Washington should take a step forward, putting Young in the spotlight. He proved he can be one of the most exciting players in the NFL.
Do you believe in a bounce-back season for Young? His odds of winning the NFL Comeback Player of the Year in 2022 present value.
Khalil Mack (+1800)
There's hope that Chase Young can become an All-Pro caliber edge rusher. He's looking up at many players, including Khalil Mack.
The Los Angeles Chargers acquired Mack in the offseason. Mack made his mark with the Oakland Raiders, but he had three solid seasons with the Chicago Bears. Unfortunately, his fourth season with Chicago saw him miss ten games.
Mack is 31 years old but ready to show everyone he can still play at a high level. He joins an up-and-coming Chargers defense that already features an elite pass rusher in Joey Bosa.
Iron sharpens iron ⚔️

Pro Bowlers Khalil Mack and Rashawn Slater battling in training camp

(via @tylerjschoon)pic.twitter.com/Kl17K72k2W

— B/R Gridiron (@brgridiron) August 1, 2022
People would likely tell you he had a down 2021 season. He was on pace for a career-worst 46 tackles, but his sack pace would've put him at 14.5. That would've been the second-most of his Hall of Fame career.
It helps that there was an extra game in 2021, but his numbers would've matched his first season with the Bears. That season, Mack finished second in Defensive Player of the Year voting.
I love Mack's outlook for this year is that he no longer has to be the main edge rusher. Los Angeles has high hopes, but he and Bosa can work in tandem. Check out Bosa's 2021 numbers.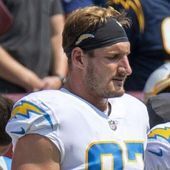 51 Tackles
10.5 Sacks
7 Forced Fumbles
5.0 Tackles for Loss
How can you key in on Mack with Bosa on the other side? Mack will have many one-on-one chances in 2022.
That gives him an excellent chance to produce big numbers. I doubt he'll win Defensive Player of the Year, but Comeback Player of the Year is within reach. Are you willing to make him your 2022 NFL Comeback Player of the Year prediction?
Los Angeles should have a strong defense, with Mack playing a significant role.
Other 2022 NFL Player Awards To Bet On
The NFL Comeback Player of the Year doesn't garner as much attention as other awards, but we have great players in contention. It'll be fun to see who can bounce back from significant injuries.
I expect the 2022 NFL Comeback Player of the Year odds to change throughout the season. Who's your early pick?
We have many more NFL awards to examine for the 2022 season. Check out the odds, contenders, and sleepers for Offensive and Defensive Rookie of the Year.
AUGUST
Casino of the Month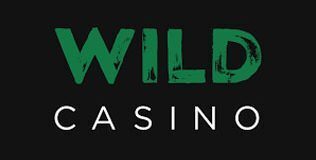 Welcome Bonus
250% up to $5,000
Read Review
Visit Site