Hide Bonus Offers
| | | | | |
| --- | --- | --- | --- | --- |
| #1 | Bovada Sports | 50% Up To $250 | Visit Site | Bovada Sports |
| #2 | BetUS | 125% Up To $2,500 | Visit Site | BetUS |
| #3 | MyBookie | 100% Up To $1,000 | Visit Site | MyBookie |
| #4 | Everygame | 100% Up To $500 | Visit Site | Everygame |
| #5 | BetOnline Sports | 60% Up To $1,000 | Visit Site | BetOnline Sports |
Updated Odds, Analysis, and Pick for the 2022 NBA Finals MVP

After an incredibly exciting second round of the playoffs, the 2022 NBA Finals MVP odds have been updated. Tons of top options have been eliminated, drastically shaking up the rest.
Giannis Antetokounmpo, Joel Embiid, Ja Morant, Kevin Durant, and more have been eliminated for example. They were some of the best players coming into the playoffs, but they couldn't lead their teams past the second round.
Now that those elite players are out of the question, others have seen a huge change in their odds of winning the prestigious award. Let's look at the updated odds for who will win the 2022 NBA Finals MVP.
Updated 2022 NBA Finals MVP Odds
Dorian Finney-Smith
+25000
Here are the updated 2022 NBA Finals MVP odds after the second round of the playoffs. Steph Curry came into the playoffs as the frontrunner on the odds list. Golden State eliminated the Denver Nuggets and Memphis Grizzlies, so it isn't surprising to see him still at the top of the board.
You could say that he's the best player on the team with the best chance of winning the Finals. That typically means you have the upper hand when betting on this award before the teams are actually official.
Jayson Tatum is directly on his tail and has been playing at a very high level in this year's playoffs. If he keeps it up, he could overtake Curry as the top option sooner rather than later.
After Curry and Tatum, there's a bit of a drop-off to the next best options. Jimmy Butler and Luka Doncic are tied for the 3rd best odds and have been playing very good basketball.
There's an even steeper drop-off after those two, with a pair of Warriors after Butler and Doncic. The books expect the Warriors to have the best chance of winning the Finals, so it isn't a surprise to see their top players as the odds leaders.
You can find these exact odds on BetOnline, so head over there to place your bets.
Bet on the NBA Finals MVP at BetOnline

Visit Site
Why Steph Curry Is Favored to Win NBA Finals MVP
We all know what the great Steph Curry is capable of at this point in his career, and that's why he's the NBA Finals MVP favorite.
He's averaging a steady 26.9 points per game for the Warriors so far and leading them to two series wins over the Nuggets and Grizzlies.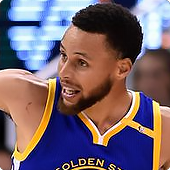 There have been many Game 7's already in this year's playoffs, but Golden State has been so good that they haven't played in one yet. They beat Denver in 5 games and Memphis in 6.
Curry is their leading scorer and the heart and soul of their team. In the 11 playoff games this year, he's scored 30+ points in 5 of them. The Warriors have won 4 of those games, which isn't a surprise.
If you can't stop Curry, you will have an extremely difficult time beating Golden State. The worst part is that the rest of the Warriors look better because Curry takes a lot of defensive attention away.
Klay Thompson and Jordan Poole have had some big games, but Steph Curry has a better chance of winning the NBA Finals MVP than anyone else. He could also be extra motivated this time around.
Curry was never the Finals MVP in the Warriors wins in the last decade. Could he be the 2022 NBA Finals MVP winner due to extra motivation and not having Kevin Durant on his team?
Top Contenders for the NBA Finals MVP
First things first, you have to thoroughly break down the top options for the NBA Finals MVP odds before checking out the sleeper picks.
If you don't think there's any possibility that a sleeper can win this award, you'll want to take a deep look at these top NBA Finals MVP contenders at this point in the playoffs.
Jayson Tatum (+200)
There isn't enough buzz going around in Boston directed explicitly at their superstar, Jayson Tatum. Boston had an incredible task of going up against the Brooklyn Nets and the reigning champs in the Milwaukee Bucks.
However, Tatum has been more than up to the task, averaging an impressive 28.3 points per game. The biggest game of the playoffs has to be Tatum's Game 6 against Milwaukee.
They were facing elimination and were in one of the toughest stadiums to play in on the road. That didn't faze Tatum, who dropped an incredible 46 points and led Boston to a 13-point victory.
46 seconds of @jaytatum0 torching the Bucks for 46 points 🔥 pic.twitter.com/olJEtfbFJP

— SportsCenter (@SportsCenter) May 14, 2022
That gave Boston a chance to head home and eventually beat the Bucks with an emphatic 28-point series-clinching win.
The Miami Heat could be the toughest defensive team that Tatum and the Celtics have faced yet, so things will be interesting starting in this series. One thing is for sure, Tatum has proved to be unguardable at times and could put himself in first place with a big series.
Jimmy Butler (+600)
If the Miami Heat or Dallas Mavericks can win the NBA Finals, Jimmy Butler or Luka Doncic would have an insanely high chance of winning the Finals MVP award.
Both players play crucial roles in their teams' success and have proved that yet again. Butler is averaging an impressive 28.7 points per game in this year's playoffs, and don't forget what he did in the 2020 NBA Finals.
The BEST from @JimmyButler's two 35+ point triple-doubles in the #NBAFinals!

🔥 Game 3: 40p, 11r, 13a
🔥 Game 5: 35p, 12r, 11a

Game 6: Sunday, 7:30 PM ET, ABC pic.twitter.com/kiV2SOgP4A

— NBA (@NBA) October 10, 2020
He's also a huge reason Miami is such a good defensive team. His 2.1 steals per game rank 1st in the NBA Playoffs. That pairs up very well with his incredibly efficient 1.7 turnovers, which ranks lowest again of the top 13 NBA Playoff scorers.
Butler could be the most underrated NBA Finals MVP pick for the top options. He does it all, and that's exactly what you need from your players when trying to win the championship.
Luka Doncic (+600)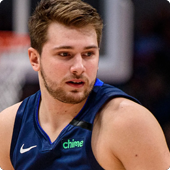 Doncic led Dallas to an incredible series comeback win over the league's best regular-season team, the Phoenix Suns. He did so by averaging 31.5 points, 10.1 rebounds, 6.6 assists, 1.9 steals, and just 4.0 turnovers per game.
Nobody plays a larger role for their team than Doncic. He seems to always have the ball in his hands, and it tends to work out for the Mavericks. What's incredible about his performance in this year's playoffs is the 4.0 turnovers per game.
I would argue that that's wildly low considering the incredibly tough defense being played right now and how often Luka has the ball.
Beating the Suns was a surprise to many, mainly thanks to Doncic. If he keeps surprising everyone, he will easily snag the NBA Finals MVP award if they go all the way.
If you think Miami or Dallas can win the NBA Finals in 2022, Butler or Doncic will make for incredible value bets at this point.
Best Sleeper Picks for NBA Finals MVP Right Now
As I said, there's a huge drop off odds-wise after the first four options. You could afford to bet on one of the top 4 and sprinkle on some of the NBA Finals MVP sleepers if you wanted. Many options are available, with odds reaching up to (+25000, Dorian Finney-Smith).
If you are interested to see which longshot players could make for interesting NBA Finals MVP bets, here are two to get you started.
Klay Thompson (+1800)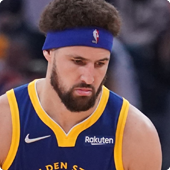 Klay Thompson's 2022 NBA Finals MVP odds seem too good to be true right now. Steph Curry does have the upper hand when it comes to the likelihood of winning, but Thompson's odds have way more value to them.
He made his long-awaited return to the Warriors' lineup this year, and it has paid off big time. Golden State didn't make the playoffs since the 2018-19 season, and Thompson's absence was a major reason why.
Now that he's back, Golden State is right back to being the powerhouse of the NBA. That could be enough to put him into the conversation for NBA Finals MVP. With his current price and the Western Conference Finals about to start, it could be the best possible time to place a bet on Thompson.
If he explodes in this series (which he is more than capable of) and leads Golden State to the NBA Finals, he could skyrocket up the odds leaderboard.
His 20.4 points per game are right within striking distance of Curry, and he's shooting an insane 40.8% from 3 in the playoffs. He currently has the record for most points in a quarter in NBA history with 37, showing you what he's capable of when he's hot.
Jaylen Brown (+2200)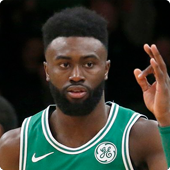 Over the last couple of years, the Boston Celtics have had a 1A and 1B combo with Jayson Tatum and Jaylen Brown. Tatum does have the upper hand right now, but Brown also deserves a good amount of respect.
Brown is averaging a solid 22.2 points per game throughout the first two series. Like I said earlier, Milwaukee and Brooklyn are two incredibly tough teams to beat. Boston was able to do so, with Tatum and Brown playing at a very high level.
Now that the Miami Heat are next on the schedule, Brown will have to step it up. Miami loves to double team and play incredible defense. Tatum will get a ton of defensive attention, so that Brown will play a major role in this series.
Here's how Brown has played in games against Miami already this year.
| | | |
| --- | --- | --- |
| Date | Game Result | Points |
| November 4th | 17-point Win | 17 |
| January 31st | 30-point Win | 29 |
| March 30th | 8-point Loss | 28 |
He's already had two big games against the Heat this year. If he can continue to have a good amount of success against arguably the league's best defense, you'd have no choice but to at least consider Brown for MVP.
If you aren't sold on Brown for MVP, make sure he stays on your radar for NBA prop bets. If you need some help as to how to bet, check out our NBA prop betting guide.
NBA Finals MVP Betting Strategy
If you haven't made an NBA Finals MVP betting pick before, here are some tips to help you out. Betting on the NBA Finals MVP could have a ton of value if you predict it correctly.
There are surprise winners that happen more often than you think, but you can't go wrong going with the top options either.
Align Your NBA Finals Winner With MVP
The biggest thing you want to consider when predicting the 2022 NBA Finals MVP is making sure you pick a player on the team you think will win.
NBA Finals MVPs have gone to the team that wins every year except for 1969 (Jerry West). It's safe to say that whichever team wins will have the MVP.
Right now, the Golden State Warriors are the team that is most likely to win the NBA Finals, according to the best NBA betting apps. If you agree, betting on Steph Curry right now makes the most sense.
You could even go with Klay Thompson, Jordan Poole, or Draymond Green. Andre Iguadala was a surprise NBA Finals MVP winner for the Warriors back in 2015, so we may have another this year.

Top Tip
Pick someone from that team if you think another team can beat out the Warriors this year. You can pick that team's MVP or go for some value with their No. 2 player. The MVP winner tends to be a superstar, but don't rule anyone out just yet.
Predicting the winner of the NBA Finals, in general, is difficult, but you can check out our NBA picks page for more help in that area.
Go For Value and Hedge
Another good strategy is to pick a player with longer odds right now, then hedge once the NBA Finals matchup is set. For example, Jordan Poole is a (+2000) longshot to win the NBA Finals MVP right now.
If Golden State successfully advances to the championship series, Poole's odds will decrease and won't be as profitable. Part of the reason the odds are so long for options like Poole is that they aren't guaranteed to even be in the Finals right now.
That could be used to get some incredible value before the Finals even start.
You also don't necessarily have to think they win the award. If you have Poole at (+2000), you could place a good amount on Curry and Klay to hedge your original bet.
Certain sportsbooks might even offer you a nice cash-out option before the series starts due to the original price you get Poole at.
There's a lot of uncertainty when it comes to the NBA. If a top player gets injured at a terrible time, having a longshot bet already placed could be a way to have some decent security and an increased chance of winning still.
Updated 2022 NBA Finals MVP Prediction
You can consider many options when it comes to the updated 2022 NBA Finals MVP betting odds. If you tend to like betting on the top contenders, you can't go wrong with Steph Curry or Jayson Tatum.
As for my official NBA Finals MVP prediction, I will have to say Luka Doncic (+600). His odds are great right now, and if there's any way Dallas can overcome Golden State and the East champion, Luka should have the award in the bag.
Dallas has been playing at an incredibly high level and just beat what many people thought was the best team heading into the playoffs (Phoenix Suns). The Warriors could be very streaky, so that could get the best of them in this series.
Are you still looking for more NBA-related content? Check out our odds for the No. 1 pick in the NBA Draft breakdown below.