2022 NBA Draft Mock Following March Madness

March Madness and the Men's NCAA basketball season have officially ended with the Kansas Jayhawks defeating the North Carolina Tar Heels in the championship game.
The next big thing these college players have to look forward to is the NBA Draft. With that being said, we have a brand new 2022 NBA mock draft following the March Madness tournament.
Some players increased or decreased their draft stock with their performances in this year's tournament. That has caused some changes to our original NBA Draft predictions.
Here is a look at our brand-new NBA Draft first-round predictions following the 2021-22 NCAA basketball season.
1. Orlando Magic – Jabari Smith, PF, Auburn
For the first overall pick in the 2022 NBA Draft, I have the Orlando Magic taking Jabari Smith from Auburn.
If that were true, I would be able to cash a (+115) bet on BetUS. Betting on the NBA Draft is something you can do to make it even more fun and make some extra cash off as well.
Let's look at the odds to be selected first overall and if our NBA mock draft for 2022 can get off on the right foot.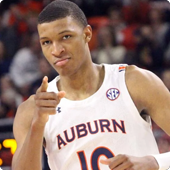 Smith is looking like the most likely option to go number one in this year's draft. He would fit in any lineup with his talents, and it shouldn't matter which team wins the draft lottery.
He's a fantastic shooter and hit 42% of threes this year and scored 16.9 points per game. He's also a very solid rebounder (7.4 per game) and chips in defensively as well (1.1 steals, 1.0 blocks per game).
His ability to shoot so well as a big man could help any team's spacing offensively, and he could be 20+ points per game scorer before we know it. In May, Smith turns 19 years old, so he should have a very long and successful NBA career ahead of him.
2. Houston Rockets – Paolo Banchero, PF, Duke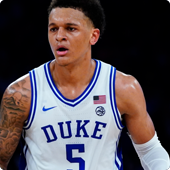 A player who put on a great performance over the 2022 March Madness tournament was the big man from Duke, Paolo Banchero. Banchero is a safe bet to go in the top 4, and going second overall shouldn't be a surprise.
Banchero's 6'10, 250-pound frame can hang with NBA big men, and his ball-handling skills can set him apart from the competition.
He averaged 17.2 points per game with 7.8 rebounds and 3.2 assists in 2021-22. That jumped to 18.8 in his 5 March Madness games, which helped his draft stock go even higher.
I have the Houston Rockets getting the second pick, and their team has struggled to find consistency across the board. Grabbing Banchero as early as a second would give them a player that could try and change that.
Christian Wood is another big man for Houston who can be interchangeable at the center and power forward.
Wood and Banchero could be a solid young set of big men for the Rockets as they look to take the next step in their rebuild.
3. Detroit Pistons – Jaden Ivey, SG, Purdue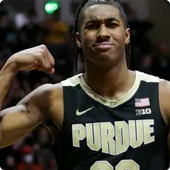 Jaden Ivey is a dynamic player who can attack the rim as Ja Morant does in the NBA today. With Morant being a growing superstar, teams could look to find a comparable player and repeat that success.
The Pistons were able to get the No. 1 overall pick last year and grabbed Cade Cunningham at that spot. They could get lucky and get the first overall pick again, but 3rd seems likely with the way their season has gone this year.
Having a backcourt of Cunningham and Ivey could set the Pistons up nicely in their rebuild.
Ivey scored 17.3 points per game for the Boilermakers and shot 35.8% from the three-point range.
His biggest strength is playmaking, which comes when he attacks the rim. The Pistons could stagger Cade and Ivey in their minutes, so they always have a dynamic ball handler running their offense.
With the Pistons needing more than one player to turn their ship around, grabbing the best player available could be their best option. That could be Ivey if they see fit.
4. Oklahoma City Thunder – Chet Holmgren, C, Gonzaga
I think Chet Holmgren is a candidate to go to the Pistons, but him falling to the Thunder could be a blessing in disguise. The Thunder are another team with lots of holes to fill with a couple of pieces they should want to build around.
Shai Gilgeous-Alexander, Josh Giddey, and Luguentz Dort give them a solid 1-3 for their future plans. They should be foaming at the mouth to grab the big man at 4th overall.
Holmgren does offer more risk than these other top options, so I think he doesn't go in the top 3.
With that being said, the Thunder have much firepower when it comes to draft capital that they can afford to take a risk on a player with huge upside like Holmgren.
With the Thunder still being years away from contention, they could afford to let Holmgren develop his game and add some weight for a year or two. If they can get him right, he could pay huge dividends down the road for OKC.
Holmgren blocked an incredible 3.7 shots per game and has many talents outside of that. He's got a great shot on him and has great handles for a center as well.
5. Indiana Pacers – Shaedon Sharpe, SG, Kentucky
It's tricky to have a player not play college basketball for a team and then be eligible for the draft.
With that being said, the NBA teams should be looking to take a chance on Shaedon Sharpe after the first four players go. He's a gifted player and could have a very high ceiling. His journey to the NBA will be odd, but that won't matter in the long run.
His lengthy arms could be a major defensive tool and could lead to tons of steals and blocks at the next level. The Pacers don't need another guard, but the chance to grab a player with this high of a ceiling could be too good to pass up.
6. Portland Trail Blazers – Keegan Murray, PF, Iowa
The Blazers are going through it this year, but that might give them one of the better picks in my 2022 NBA mock draft. The No. 6 selection seems like a good landing spot for them as they look to build their talent for next year and after that.
They still have Damian Lillard, who has been staying firm about staying in Portland. Portland can use their multiple first-round draft picks to build around Lillard.
One of the biggest reasons Portland hasn't been successful in recent memory is the lack of defense (and health). Keegan Murray is a player who would be perfect for them to grab the No. 6 spot.
Murray has lots of defensive potential and is a great shooter as well. With Lillard and Simons taking care of playmaking duties, Murray can focus on defense and shooting as well.
7. Sacramento Kings – Adrian Griffin Jr., SF, Duke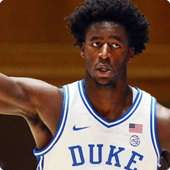 I still don't understand why the Kings traded away Tyrese Haliburton last year, but we must move on. This year hasn't gone according to plan, and the Kings should find themselves with a top 10 pick at worst.
They should use that pick on a great shooter like Adrian Griffin from Duke. The Kings are another team who could use anybody at this point, and Griffin makes sense here.
With De'Aaron Fox and Domantas Sabonis being the two main pieces and the departure of Buddy Hield in Sacramento, a sharpshooting small forward would fit in nicely.
Griffin shot an incredible 44.7% from the three-point range in 2021-22. His NBA genes were carried through from his dad, which has helped him develop into a smart player.
Sacramento could use a player like Griffin in their lineup sandwiched between Fox and Sabonis.
8. New Orleans Pelicans (via LAL) – Johnny Davis, SG, Wisconsin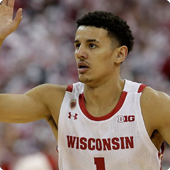 This particular pick has a lot of drama tied in to end the NBA regular season. Initially, the Lakers held it, but the Pelicans or the Grizzlies now hold it through various trades.
If the Lakers' pick lands between the No. 1 and No. 10 this year, the Pelicans will receive it. The Grizzlies will receive the pick if it goes after that (11-30). The Lakers' season has not gone according to plan, and has one of the bottom ten records in the league.
Their record has them at 8th currently, but it could change given the results of the NBA Draft Lottery. There's still a chance that Memphis gets the pick here, but the worse Los Angeles does, the better the odds are that New Orleans will get it.
Davis may not be the next game-breaking superstar in the NBA, but he can provide good help to a team looking to compete sooner rather than later in New Orleans.
9. San Antonio Spurs – Jeremy Sochan, PF, Baylor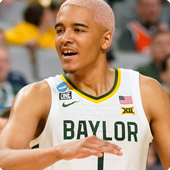 This offseason, the Spurs could be in for a major culture change if Gregg Popovich decides to retire. If that's a real possibility this year, the Spurs could still use his style of play with great defense.
Baylor's big man Jeremy Sochan is a great defensive player that they can grab in the 9th spot. Sochan is 6'9, 230 pounds which could mean he's already ready to play in the paint at the next level.
With San Antonio loving defense-first players, Sochan makes a lot of sense for them. Jakob Poeltl is a solid shot-blocking center, and Sochan could make for a very underrated defensive front court.
10. Washington Wizards – Jalen Duren, C, Memphis
For my last pick in the top 10, I have the Wizards taking Jalen Duren. The big man from Memphis averaged 12.0 points, 8.1 rebounds, and 2.1 blocks per game in 2022.
He's listed at 6'11, 250 pounds, which is a great size for the NBA. If he can develop properly in the NBA, he could be a dominant big man on both ends of the court.
The Wizards could be the team to grab him here, and they have a lot of holes to fill as well. Bradley Beal, Kyle Kuzma, and Kristaps Porzingis could be decent, but they can't consistently stay on the court.
Duren will still be a work in progress, as he doesn't even turn 19 until November 2022.
2022 NBA Draft Picks for the Rest of the Lottery
11. Portland Trail Blazers – Malaki Branham, SG, Ohio State
12. New York Knicks – Bennedict Mathurin, SG, Arizona
13. Oklahoma City Thunder – Dyson Daniels, G, G League Ignite
14. Charlotte Hornets – Blake Wesley, SG, Notre Dame
The Blazers pick from the C.J. McCollum trade could be a great move. They can grab a talented player in Malaki Branham from Ohio State. He's a two-way player who can be a great mid-range shooter.
Bennedict Mathurin could be a target for the Knicks at 12th. He's a top 10 talent, so the Knicks would be smart not to let him fall too much farther. They also have a jumble at the guard position so that Mathurin could be a decent piece moving forward.
Another Thunder pick comes from the Paul George to the Clippers trade a few years back. Their long list of 1st rounders landed via trade could pay huge dividends, and grabbing Dyson Daniels here makes sense.
The Hornets have a bunch of three-point shooters, so grabbing an athletic player who doesn't have a big three-point shot in Blake Wesley can work out better for them.
2022 NBA Draft Projections for the Remainder of the 1st Round
15. Rockets (via BKN) – Tari Eason, SF, LSU
16. Hawks – Jaden Hardy, SG, G League Ignite
17. Pacers (via CLE) – Mark Williams, C, Duke
18. Timberwolves – TyTy Washington, PG, Kentucky
19. Spurs (via TOR) – Nikola Jovic, PF, Serbia
20. Bulls – Walker Kessler, C, Auburn
21. Grizzlies (via UTA) – Moussa Diabate, PF, Michigan
22. Nuggets – Ochai Agbaji, SG, Kansas
23. Nets (via PHI) – John Butler, PF, Florida State
24. Mavericks – MarJon Beauchamp, SG, G League Ignite
25. Cavaliers (via MIL) – Kendall Brown, SF, Baylor
26. Spurs (via BOS) – Max Christie, SG, Michigan State
27. Warriors – Ousmane Dieng, SF, New Zealand
28. Heat – EJ Liddell, PF, Ohio State
29. Grizzlies – Bryce McGowens, SG, Nebraska
30. Thunder (via Suns) – Jaylin Williams, C, Arkansas
Following the lottery picks in my latest NBA mock draft, I have Tari Eason going first (15th overall). The Rockets possess another 1st rounder from the James Harden to Brooklyn trade so Eason could be a nice grab for them.
Despite missing the potential game-tying free throw with 1 second left in a loss to Split, projected 1st rounder Nikola Jovic still showed off his offensive talent with 22 PTS on just 13 FGAs + 4 AST in 36 MIN. Multiple step-backs, a big dunk, a couple heady reads. Skilled @ 6-10 pic.twitter.com/oKHnAeGTzU

— Mike Schmitz (@Mike_Schmitz) March 31, 2022
Stop me if you heard of someone a little too similar to the name of Nikola Jovic from Serbia? If the Timberwolves can have half the player Nikola Jokic is on the Nuggets in Jovic, they'll have themselves a steal.
The Bulls should be ecstatic if Walker Kessler can fall to their pick. Chicago's interior defense and lack of depth in the front court could be their biggest downfall this year.
Ochai Agbaji is fresh off a national championship, so the Nuggets will be getting a player who knows what it's like to win at a high level.
The number of these picks that will be traded will probably be through the roof. Take a look at this page that breaks down the draft order right now, and we aren't even at the lottery just yet.
Predicting What Will Happen at the 2022 NBA Draft
This year's NBA draft is shaping up to be a wild one. There are so many possibilities that can happen across the board.
We don't have a clear number one overall pick, and we don't even know if these same teams will be picking in these exact spots by the time the draft rolls around.
The best thing we can do right now is preparing for the draft as the order it is. Keep in mind that these players could not be ready to compete in the NBA for a year or two, which adds a bit of trickiness.
Nailing some NBA draft picks in your own NBA mock draft for 2022 could be an awesome and entertaining way to win money.
Our 2022 NBA draft mock will wrap up there, but your own first-round NBA draft predictions could be different. If that's the case, make sure you head over to the best NBA betting sites to place your bets.