Hide Bonus Offers
| | | | | |
| --- | --- | --- | --- | --- |
| #1 | BetOnline Sports | 60% Up To $1,000 | Visit Site | BetOnline Sports |
| #2 | Bovada Sports | 50% Up To $250 | Visit Site | Bovada Sports |
| #3 | BetUS | 125% Up To $2,500 | Visit Site | BetUS |
| #4 | Everygame | 100% Up To $500 | Visit Site | Everygame |
| #5 | MyBookie | 100% Up To $1,000 | Visit Site | MyBookie |
Betting Guide for the 2022 Nathan's Hot Dog Contest with Odds and Picks

Not only is Independence Day celebrated on the 4th of July, but so is the annual Hot Dog Eating Contest. The 2022 Nathan's Hot Dog Eating Contest odds are out for the big event, featuring some of the best competitive eaters in the world.
Nothing screams "America" more than the 4th of July with fireworks and hot dogs. The national love for hot dogs is put on full display for Nathan's Hot Dog Eating Contest. Competitive eaters from all over try to shove as many hot dogs down their gullet to be crowned champion and take home the famed Mustard Belt.
These hungry competitors aren't the only ones who can win big. You can, too. Our 2022 Nathan's Hot Dog Eating Contest betting guide will help break down this year's event and detail how you can make some serious cash.
Where to Bet on the Nathan's Hot Dog Eating Contest in 2022
The 2022 Nathan's Hot Dog Eating Contest odds are available on these top entertainment betting sites. You are probably aware of the typical sports and casino betting, but entertainment betting is also something you can do.
These sites offer props for various events like Nathan's Famous Hot Dog Eating Contest, American Idol, popular TV shows/movies, and more. Unique props are one of the many reasons you should have an account on at least one of these sites.
Before choosing a site, knowing what they all have to offer is essential. For example, specific sites like BetUS and MyBookie are offering very generous welcome bonuses, but other sites might have a site layout that you prefer.
Signing up for these accounts is quick and easy too. All you need is some personal information (SSN) and your preferred payment option (debit, credit, crypto, etc.). Once you get your account funded, you will be ready to place some bets.
If you don't have any entertainment betting experience, our entertainment betting tips and strategies are a great tool.
Nathan's Hot Dog Eating Contest Event Details
First things first on our 2022 Nathan's Hot Dog Eating Contest betting preview is breaking down the event details. As we mentioned earlier, the annual contest is always held on July 4th. The festivities start at 10:30 a.m and will end around 3:00 p.m.
Those timelines are important because you will want to have your hot dog eating contest picks in before then. These betting sites will take down the props shortly before the event begins, so place your bets as soon as possible and get in on all the fun.
The event is hosted by Nathan's Famous Corporation, located in Coney Island (Brooklyn, New York). The contest started because four people wanted to settle an argument about who was the most patriotic. Who knew it would grow as popular as it is today?
It's become a symbol of patriotism since then and has been an entertaining event over the years.
The legendary Joey Chestnut will look to defend his crown once more as he looks for his historical 15th career win. Chestnut has won 14 Nathan's Famous Hot Dog Eating Contests and the previous 6 in a row. Matt Stonie was able to take down Chestnut in 2015, but Chestnut was able to get right back on a dominating winning streak.
Michelle Lesco was the women's winner in 2021, but mainly because the legendary Miko Sudo was not competing. Sudo won 7 in a row before last year, so she will be looking to return to the top in 2022.
ESPN has hosted the event since 2003 and is averaging over 1 million viewers in the last 5 years. So watching and betting on the 2022 Nathan's Hot Dog Eating Contest will be a great way to get in the mood for Independence Day.
2022 Nathan's Hot Dog Eating Contest Betting Odds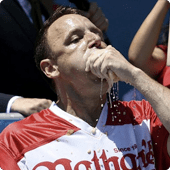 Joey Chestnut (-2500)
Geoffrey Esper (+700)
Nick Wehry (+1000)
Darron Breeden (+1200)
Gideon Oji (+2000)
Now for the moment we've all been waiting for, here are the official 2022 Nathan's Hot Dog Eating Contest odds. These are some of the best eaters in the world, and they will be putting everything on the line for the Mustard Belt.
This shouldn't come as a surprise, but Joey Chestnut is an overwhelming favorite yet again. He's dominated the competition for about 15 years and doesn't look to be slowing down anytime soon.
He has an insane list of records on his official Major League Eating page, with everything from hot dogs, pierogies, apple pies, tacos, waffles, and much more. Chestnut has broken the hot dog-eating world record a whopping nine times in his career.
Last year he was able to shove down 76 hot dogs, which was 26 more than second place. He actually had a Sports Science episode done on his incredible talent:
As for the other contestants, it will be a battle like David vs. Goliath. Taking down Chestnut would be quite the shocker, even though it's been done once before. Matt Stonie has that honor, but his odds aren't available yet.
Stonie has his own YouTube channel (@Matt Stonie) with over 15 million subscribers and does a ton of different eating challenges. His odds might come out a bit closer to the event, so keep an eye out for those.
Geoffrey Esper has been dominating the recent eating challenges as well. Chestnut hasn't been competing in all of them, but Esper's solidifying himself as the No. 2 option here.
Taking down Chestnut is going to have to take an injury or an intense effort. The 2022 Nathan's Hot Dog Eating Contest betting odds aren't going to be very valuable, but betting $250 gets you $10 that you didn't have before.
That could end up paying for some hot dogs and buns for your family on the 4th of July.
Top Prop Bets for the Hot Dog Eating Contest
Joey Chestnut O/U 74.5 Hot Dogs
Geoffrey Esper O/U 52.5 Hot Dogs
Nick Wehry O/U 49.5 Hot Dogs
Darron Breeden O/U 42.5 Hot Dogs
Gideon Oji O/U 42.5 Hot Dogs
Michelle Lesco O/U 31.5 Hot Dogs
The next thing we will discuss in our 2022 Nathan's Hot Dog Eating Contest betting guide is prop bets. Joey Chestnut's overwhelmingly favored odds in the outright competition won't be appealing to some bettors. So if that sounds like you, check out some of these odds for the 2022 Nathan's Hot Dog Eating Contest for prop bets.
BetOnline has props that offer (-115) odds for the over or under for these competitors, which has way more value than Chestnut's odds to win. There should also be more props becoming available as we inch closer to the actual event.
As for right now, these over/under lines will be a great way to stay invested in the competition. Chestnut might have a dominating lead after the first few minutes, but the other competitors could still hit their personal bests.
I'm expecting more props to come out over the next couple of weeks, such as the female 2022 Nathan's Hot Dog Eating Contest betting odds. Miki Sudo could be favored to win that one by a large margin, as her 48.5 hot dogs from 2020 were way more than Lesco's 30.75 from 2021.
There are also odds for the 2022 Nathan's Hot Dog Eating Contest from BetUS, one of the top real money gambling apps. We broke down BetUS' props a few weeks ago, so make sure you check those out as well.
Best Bets for the Nathan's Hot Dog Eating Contest
Joey Chestnut Over 74.5 Hot Dogs (-115)
Geoffrey Esper Over 52.5 Hot Dogs (-115)
Nick Wehry Under 49.5 Hot Dogs (-115)
Darron Breeden Over 42.5 Hot Dogs (-115)
Michelle Lesco Over 31.5 Hot Dogs (-115)
Here are my hot dog eating contest predictions to consider betting on this year.
If you want to back the King in Joey Chestnut, maybe take the over 74.5 hot dogs for better odds. He's gotten 75 and 76 hot dogs in the last two years and has consistently improved on his world record.
Esper was able to eat 50 in 2021, but he's been actively participating in the other eating competitions. That could mean that he's looking to improve on his recent personal best. He also has records for the most brats (36 in 10 minutes) and Texas sausage (44 in 10 minutes), which should be more challenging to swallow than hot dogs.
He kicked my fat butt!!! Good job Geoff. https://t.co/zbP4ZkPQAe

— Joey Chestnut (@joeyjaws) November 13, 2021
Wehry was able to eat 44 in last year's competition and is married to Miki Sudo. They make for a powerhouse couple in competitive eating, so I can only imagine their grocery bill. With that being said, Wehry's total seems a bit high, so I'm taking his under.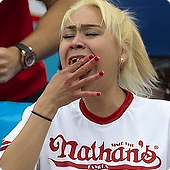 Breeden finished behind Wehry in 2021 with 43 hot dogs. He's also among the few contestants with an over/under total that they beat the previous year, with his tally for this year at 42.5. So that could be a solid case for an over bet.
Lesco was last year's female champ with 30.75. She was probably wondering if Miki Sudo will compete in the 2022 Nathan's Famous Hot Dog Eating Contest because her reign might not be long if she's back.
She might push harder in this year's competition, with Sudo likely making her return. If she can beat last year's performance by about one hot dog, the over should be able to cash.
Betting on the 2022 Nathan's Hot Dog Eating Contest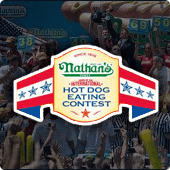 At the end of the day, the 2022 Nathan's Hot Dog Eating Contest odds will be a fun way to make some money this year. Other people might think it's silly to bet on the hot dog eating contest, but it will be a very entertaining way to make a quick buck.
Joey Chestnut is one of the most exciting specimens on the planet. You might think a top athlete like LeBron James is fun to watch, but even LeBron can't do what Chestnut can.
Witnessing Chestnut's greatness is something you will remember for a long time. Just thinking about how many hot dogs Joey Chestnut will eat in 2022 makes me feel full. You can round up 4 of your best friends and still not be able to reach 70+ hot dogs in 10 minutes.
That will wrap up our 2022 Nathan's Hot Dog Eating Contest betting preview. However, if you want more unique props, check out our entertainment and novelty blog page.