2022 Men's World Surf League Odds with Championship Prediction and Pick

The 2022 World Surf League odds have been updated to reflect what has been a crazy season so far.
Gabriel Medina is back, having earned a wildcard spot that could, incredibly, see him make the Final Five. His compatriot, Filipe Toledo, leads the pack. He's ranked first in the latest WSL standings and a moderate favorite to win the World Surf League Men's Championship title in 2022.
Today, I'll share those updated WSL 2022 odds with you before making my 2022 World Surf League winner betting pick. Before I do that thou,gh, I'd like to run through the reasons for my predictions and pick, which should give you a little insight into the science behind my rationale.
Let's start with those 2022 WSL odds and take it from there!
2022 World Surf League Odds – Men's Championship Outright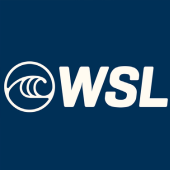 If you want to bet on the 2022 World Surf League, let's look at the odds for the 2022 WSL Men's Championship.
Even better, you could compare the latest WSL odds by visiting the best sports betting sites online. That will give you a better chance of finding the best prices out there.
I've taken the 2022 Men's World Surf League betting odds from BetUS. This is a site that covers a lot of different sports, including surfing. As you can see, the oddsmakers on this sportsbook have Filipe Toledo as a moderate favorite to win this year's title.
The Brazilian leads the 2022 WSL rankings for the men's tour with a total of 32,240. That's just eighty points ahead of Australia's Jack Robinson, who leapfrogged John John Florence with his second consecutive first place at the Quicksilver Pro G-Land.
Toledo, Florence, and Robinson look like good bets for the 2022 WSL Men's Tour Championship. I doubt many experts will make World Surf League betting picks beyond these three and Italo Ferreira.
Odds to win the World Surf League in 2022 are available to get on right now. You can get your WSL bets on the men's championship and the women's tour with BetUS. Head over to their site if you're ready to make your final pick!
Bet on the 2022 Men's WSL Odds at BetUS
BetUS gives us the current available odds. Feel free to read a site review before visiting the site.
2022 WSL Men's Championship Schedule
We're six rounds down in the 2022 WSL Men's Championship Tour. That means we're approaching the business end of the season, where points will matter more than ever.
Who will win the 2022 World Surf League? Well, I will be answering that question a little later after I look at the WSL contenders for this year's title.
It's probably a good idea to get a feel for when the final four events go down before we get to my World Surg League predictions for 2022.
Event: Oi Rio Pro
Dates: Jun 23 to 30
Venue: Saquarema, Rio de Janeiro, Brazil
Round Number: Event 08
Event: Corona Open J-Bay
Dates: Jul 12 to 20
Venue: Jeffreys Bay, Eastern Cape, South Africa
Round Number: Event 09
Event: Tahiti Pro
Dates: Aug 11 to 21
Venue: Teahupoʻo, Tahiti, French Polynesia
Round Number: Event 10
Event: Rip Curl WSL Finals
Dates: Sep 8 to 16
Venue: Lower Trestles, San Clemente, California, United States
Round Number: Event 11
As you can see, the tour culminates with a massive event in San Clemente between September 8 and 16.
By this time, some of the World Surf League favorites right now will be out of the reckoning. For those who have gathered momentum, this is when things get exciting. Although those who have gone over the falls will still be looking to keep up appearances when this year's tour culminates.
2022 World Surf League Streaming and Televised Broadcasts
If you have your World Surf League picks down, there is a chance that you want to watch the events in real-time.
The good news is that you have options, so you can stop asking me where to watch the WSL now. Of course, some of these options are only available to those in particular regions. But legal streams for World Surf League events are also available on major platforms. The best part? Most of them are free!
You can watch the 2022 World Surf League Men's Championship on Foxtel or Kayo. Failing that, you can stream events by visiting the WSL website, following the YouTube Live streams, or, if you have an account, Facebook TV.
Men's World Surf League Rankings in 2022
2022 Men's World Surf League odds reflect where the top WSL contenders sit in the rankings table.
Again, we're approaching the climax of the championship. Six events have been chalked up, and just four remain for those looking to win the title. As things stand, Filipe Toledo's slight lead makes him a slight betting favorite for the World Surf League.
Here's a look at the top three candidates to win the 2022 WSL Men's title.
2022 World Surf League Rankings – Top 3 of the Men's Championship
Rank
Name
Total Points
1
2
3
4
5
6
1
Filipe Toledo
32,240
3,320
3,320
7,800
10,000
*3,320
7,800
2
Jack Robinson
32,160
1,330
4,745
*1,330
6,085
10,000
10,000
3
John John Florence
26,695
4,745
*1,330
6,085
4,475
7,800
3,320
*Bolded text indicates events dropped from the athlete's points total.
Kanoa Igarashi was among the World Surf League sleepers for 2022. He's sat in fourth place, at the time of writing, with 23,365 points.
Ethan Ewing of Australia sits in fifth, just 540 points above 2019 champion Italo Ferreira. The Final Five cut-off will determine who will compete for the title and should be clear by the end of Event 10.
Undoubtedly, the 2022 World Surf League odds will be a contentious subject ahead of the Oi Rio Pro. The rankings speak for themselves, however.
If you're betting on the 2022 WSL Men's Championship Tour odds, you should be looking for momentum and a steady hand at this stage of the season. As we've seen in previous tournaments, anything can happen to derail a championship bid.
But some guys have stood out from the pack in recent years for knowing how to win. It is no secret that this is one of the toughest events to win in sports. But we have had five multiple-time winners in the past.
List of Previous WSL Men's World Champions
Gabriel Medina is bidding for his fourth championship this year.
The Brazilain is the World Surf League favorite for many reasons. And even though he sits on top of the pile right now, you can't deny that his pedigree is the major factor behind his WSL betting odds for 2022.
Alongside Medina, the likes of John John Florence cannot be ruled out. Wherever there are top betting picks for the World Surf League, you can expect to see his name to be among them.
Here's a look at all previous World Surf League Men's Championship Tour winners.
2021 – Gabriel Medina (Brazil)
2020 – Event Canceled
2019 – Italo Ferreira (Brazil)
2018 – Gabriel Medina (Brazil)
2017 – John John Florence (Hawaii)
2016 – John John Florence (Hawaii)
2015 – Adriano De Souza (Brazil)
2014 – Gabriel Medina (Brazil)
2013 – Mick Fanning (Australia)
2012 – Joel Parkson (Australia)
2011 – Kelly Slater (USA)
2010 – Kelly Slater (USA)
2009 – Mick Fanning (Australia)
2008 – Kelly Slater (USA)
2007 – Mick Fanning (Australia)
2006 – Kelly Slater (USA)
2005 – Kelly Slater (USA)
2004 – Andy Irons (USA)
2003 – Andy Irons (USA)
2002 – Andy Irons (USA)
2001 – CJ Hobgood (USA)
2000 – Sunny Garcia (USA)
Kelly Slater was the last competitor from the United States to win the men's title.
Slater's triumph in 2011 was the fifth of his career. Since then, we have had champions from Australia, Hawaii, and, of course, Brazil.
A look at the rankings as we head to El Salvador for event number 7. The fight for the Final 5 is heating up.
Watch The Surf City El Salvador Pro, June 12 – 20 on https://t.co/ie0ZfMVLPY.@surfcity pic.twitter.com/PsaQMCHYTh

— World Surf League (@wsl) June 8, 2022
Swinging back to rankings for a bit, don't forget that some of the contenders for the title are beginning to lose track.
Before the tournament, I had identified Gabriel Medina as one to back. Why? Aside from being the defending champ and a phenomenal surfer, Medina was also a +300 betting favorite and looked exceptionally strong.
But no one could have predicted that Medina would pull out of the tour in January following a battle with his mental health. Those who did back the champion to win the 2022 tour will feel a little deflated, but there is still time to make real money betting on the World Surf League potentially.
Let's see who has looked the best so far.
Who Wins the 2022 World Surf League Men's Championship?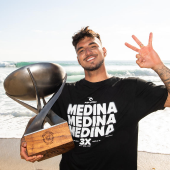 I wanted to hit you with some predictions for the World Surf League in 2022.
For the most part, I'm concerned with who will win the 2022 Men's WSL Championship Tour. And I'll be making my betting pick from the contenders above as a result.
While having access to the best beaches in the world does help, the nationality of a competitor shouldn't determine how well they do. It's all about skill, versatility, and pedigree. The guys above certainly found a way to the title, but you should keep an eye on the multiple-time winners competing for this year's trophy.
Medina's return to the tour is also something to keep in mind. I bet many of the Brazilian's peers would have quietly been relieved that the main attraction was no longer in their way of winning a title.
But due to the competitive nature of this competition, I'm not sure his comeback — at least at this stage of the season — will prove to be a major disruption to the status quo.
The WSL awarded "Gabby" a wildcard spot for the second half of the season. He finished third at the Quicksilver Pro G-Land and has an outside chance of making the Final Five. That means Medina has technically gone from the favorite to one of the top sleepers for the World Surf League.
I think it's a tough ask for Medina to win. The 2022 Men's WSL Championship Tour odds have him at +900. But at least those who bet on him to win have a similar outside shot of seeing some return.
The Top Candidates to Win the 2022 WSL Men's Championship
Ben did an excellent job of profiling the candidates to watch this year. I recommend giving his early 2022 World Surf League betting preview a read for a bit of background on the guys vying for the trophy this year. Of course, remember that Medina hasn't exactly enjoyed the easiest seasons.
Notwithstanding the 2022 World Surf League odds, here are my top three candidates to consider betting on.
Jack Robinson – The Australian knows this championship is for the taking. With Medina's absence and Florence's injury still capable of ruining his campaign, with some additional momentum, the 24-year-old could be in for a stellar campaign.
Filipe Toledo – You cannot rule Toldeo out. But with Robinson on his back, he needs to be one step ahead at all times. Is it easier to be the predator or the prey at this stage?
Kanoa Igarashi – Igarashi, despite being in a good place, is still not afforded the respect he deserves. Some believe it's only a matter of time before he slips under the cut-off line for the Final Five. I don't.
Although this championship has been unpredictable, I would be stunned if the winner doesn't come from one of the three men above.
World Surf League 2022 odds are juicier for Igarashi when compared with the other two, but the Californian-born star has the makings of a winner. But am I going to throw my money behind him on the top gambling apps and make him the focal point of my World Surf League predictions?
Let's find out.
2022 Men's World Surf League Prediction and Pick
Predicted Winner: Jack Robinson
Odds to Win: +400
There's no doubt that Robinson has made his mark on the Men's Championship this year. And whether you are betting on the top crypto betting sites or at your local bookie, there are many reasons to take him seriously.
The World Surf League odds at the start of the season had the Aussie at +1400. In a reversal of roles from Gabby Medina, one of the World Surf League sleepers is now among the favorites to win. And he has done superbly well to get where he is right now.
Robinson won the men's Quiksilver Pro G-Land final by beating Filipe Toledo in Banyuwangi, Indonesia. That was an event that made it clear to all and sundry that Toledo was not underestimating the talents of the young Aussie. If anything, it appeared that he afforded him perhaps too much respect.
In Perth, Robinson beat the exceptional Medina by .57. in the semi, much to the delight of his supporters. Although it was far from the most exciting performance of the season, it must have given him incredible confidence to have slain "The Monster."
I'm a great believer in the power of momentum. But the flip side of that is the chance of peaking too soon. Has Robinson, perhaps, already cashed out? Or will he be able to continue in this rich vein of form?
That's the million-dollar question.
Although Toldeo should be the favorite in any 2022 World Surf League odds list, Robinson is my WSL pick for the men's championship. Get him at +400 while you can.
More Ways to Bet on the WSL Championship in 2022
2022 World Surf League odds are available to bet on in both the men's and women's championships.
While I'm sure that fans of Robinson in Oz will be heading over to the best gambling sites Australia offers, some will be looking at other markets. You could consider looking for the odds for each event of the 2022 WSL or seeing how the ladies are getting on.
The current favorite to win the World Surf League Women's Championship is Carrisa Moore. Check out her odds for the championship and upcoming events at
Sportsbetting.ag
.
If betting is something that you're entirely new to, it's a good idea to take in some solid wagering advice before you place your bets. If you'd like to learn about how odds work or the markets you can gamble on, our main sports betting guide is a goldmine of information.
Have a read-through, soak it up, and you'll be betting like a pro in no time!