Bracket Predictions for the 2022 March Madness Tournament

The 2022 March Madness is finally here, and our bracket is set after Selection Sunday. Sixty-four teams are set to face off in an epic tournament, and we can only have one winner.
If you are eager to fill out your bracket and place your bets, I have just the thing for you. My 2022 March Madness predictions are here to help you throughout this year's tournament and maybe be the first person ever to get a perfect bracket.
If you can't do that, don't worry, as it is doubtful. Instead, we can prepare for our bets and try to make the 2022 March Madness our most profitable one ever.
Let's get right into my predictions for the 2022 bracket.
Predictions for the West Region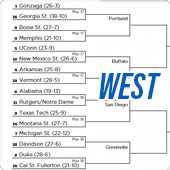 Looking at our official 2022 March Madness bracket, the West Region is looking like they can have some serious contenders to win the whole thing.
Their top seeds include Gonzaga (1), Duke (2), Texas Tech (3), and Arkansas (4). These teams could meet head-to-head in the later rounds, possibly the best games out of any region.
They have the odds leader in Gonzaga to win the whole tournament on BetOnline at (+350). That is some pretty heavy firepower you are dealing with, making the West possibly the strongest right off the bat.
Personally, I think Texas Tech is one of the safer teams to bet on here despite being the 3rd seed. They are a very impressive 21-13 against the spread this year and will have to play Duke before they play Gonzaga.
Going dancing ???

The 'Cats will head to Greenville, SC on Friday to face Michigan State!!!! pic.twitter.com/w76SQBifH7

— Davidson Basketball (@DavidsonMBB) March 13, 2022
Davidson looks like a solid team to make a few upsets coming out of the 10th seed as well. This year, they had the 15th best shooting percentage at 48.4% and took care of the basketball at the 12th (tied) best turnovers per game.
This year, I am steering clear of UConn (No. 5 seed) to their abysmal 13-18-1 record ATS. They look like a team that could be upset rather quickly this year.
Best Bet to Win the West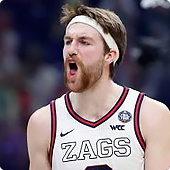 You cannot go wrong with the Gonzaga Bulldogs to at least make it to the Final Four. They have been incredible this year at 26-3, and their average margin of victory is the highest in the nation at 22.5 points per game for a reason.
They are a dominant team led by Drew Timme, averaging 17.5 points and 6.3 rebounds per game. They have the highest field goal percentage of any college basketball team at an insane 52.7% clip.
They are also 3rd in offensive and defensive ratings, making them the strongest team to bet on by a decent margin. They will also be out for revenge for being in a similar spot last year before falling short to Baylor in the Championship game.
The beauty is you don't need Gonzaga to win it all to exploit this -125 price. It feels like one of the best bets you can make during March Madness due to that. If you want to get in on the action now, visit BetOnline and take advantage of these odds ASAP.
Bet on March Madness at BetOnline

Visit Site
2022 East Region Predictions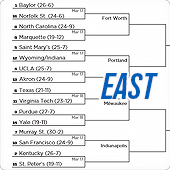 The Baylor Bears lead the charge at the No. 1 seed, moving over to the East region. In that order, the rest of their top 4 teams include Kentucky, Purdue, and UCLA.
Extra possessions are the name of the game for Baylor, and it made them one of the top teams for this year's March Madness tournament. They rank 14th (tied) in the country for offensive rebounds and 20th in steals.
They haven't shined too bright in the other categories, but those extra possessions will be huge for their close games. Their average margin of victory was 12.9 points, ranking 10th in the NCAA.
They are also the defending champions and will be looking to win the tournament for the second year in a row.
This year, Kentucky being 15-18 ATS worries me and will probably be my biggest reason I don't pick them to win this region or the tournament in general. Don't get me wrong; they are a solid bet to make it; I don't feel too comfortable at their current price.
Purdue has been even worse than ATS this year at an awful 13-20-1. They've been a bad team to bet on seemingly all year, so for them to switch it around in March Madness seems a bit unlikely.
Murray State is an interesting 7th seed. Their averaging margin of victory was second to only Gonzaga this year. They might not have had the same level of competition, but a 30-2 record is nothing to laugh at.
Best Bet to Win the East
Pick – Saint Mary's (+2200)
I will pick all No. 1 seeds to make it to the Final Four. March Madness is when upsets are king, and I'm betting on a couple in this region. Baylor will get everyone's best game since they won it last year, so they'll have a very tough task.
I like Murray State out of the No. 7 seed, but they will have to play Kentucky in the second round if they win. It would be a massive feat and could launch their chances of winning this region through the roof, but I'll take Saint Mary's instead.
They have incredible value here to make it to the Final Four. They went 18-11-2 ATS this year, so they have been playing up to their expectations and then some.
They win one of the 2022 Final Four games, either Indiana or Wyoming. From there, they have another round before they might face Baylor. They are in a great spot for a deep run in the East region.
You can take advantage of these March Madness promotions for 2022 to maybe place a bet on Saint Mary's or another team you like to win the East region.
Predicting Who Wins the South Region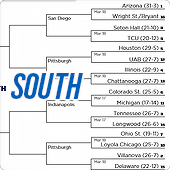 Down south, we have the Arizona Wildcats leading in the No. 1 seed with their imposing 31-3 record this year.
Villanova is right behind them at the No. 2 seed, while Tennessee (No. 3) and Illinois (No. 4) are close behind.
Arizona is the second most likely team to make the Final Four on the BetUS odds at (+125). They were also tied with Murray State for the second-highest in the country in average margin of victory at 17 points per game.
Illinois is the 4th seed but went 13-18 ATS this year. That means they can be a vulnerable team despite being a high seed out of the South region.
Houston looks much more appealing at the No. 5 seed. They were an incredible 22-12 ATS this year and were fourth in the country in average margin of victory (16.9).
Best Bet to Win the South
Tennessee was an incredible ATS at 20-13 for this year. They also have had some great wins over top teams like Arizona, North Carolina, Auburn, Arkansas, and Kentucky (twice) already this year.
SEC CHAMPIONS ? pic.twitter.com/piVoCmdU95

— Tennessee Basketball (@Vol_Hoops) March 13, 2022
They would have to play Villanova before Arizona because they are in the No. 3 slot, playing in their favor. Villanova was a mediocre 16-15-2 ATS this year, but they won't be an easy challenge by any means.
This year, Tennessee was the 8th best team in steals and 12th best in defensive rating. Their experience beating top-tier opponents this year speaks volumes for how good they are. They are a terrific value to be the winners of the South region this year.
I also think Houston is an excellent bet at (+1000) odds if you don't like Tennessee.
Midwest Region 2022 Predictions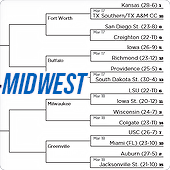 For our fourth and final region for this year's 2022 NCAA March Madness tournament, we have the Kansas Jayhawks leading the way in the No. 1 seed for the Midwest.
They are followed by Auburn (No. 2), Wisconsin (No. 3), and Providence (No. 4).
This year, Kansas was an even 17-17 ATS, which isn't encouraging. They are one of the best teams in the country, but that could be a reason to doubt them. They play the Texas Southern and Texas AM-CC game-winner in the First Four for their first round.
The Jayhawks are led by Ochai Agbaji, averaging 19.7 points per game with an impressive 40.5% shooting percentage from 3-point range.
Auburn's 19-12-1 record ATS could have them as a great team to bet on for this region. They take on Jacksonville State before facing the USC vs. Miami (FL) winner.
The other ATS records for the top teams in this region include Wisconsin (17-14) and Providence (17-13).
Best Bet to Win the Midwest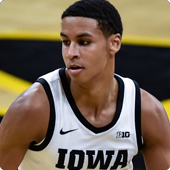 Iowa is looking like a tough No. 5 seed for this region. They were imposing ATS this year at 22-13 and are riding an imposing four-game winning streak into the tournament.
They have beaten Northwestern (by 36), Rutgers (by 10), Indiana (by 3), and Purdue (by 9) in their last 5 games. If they can continue their impressive stretch, it could launch them into the Final Four and maybe even the Championship game.
They are led by Keegan Murray, who scores 23.6 points per game with 8.7 rebounds.
They are the 4th best team in offensive rating, while also 32nd in 3-point field goals, 41st (tied) in 3-point percentage, 22nd (tied) in assists, and 40th in true shooting percentage. They are a tough team, and they have been battle-tested heading into the tournament.
Final Four Predictions for March Madness 2022
After my 2022 march madness predictions, I find myself with Gonzaga, Saint Mary's, Tennessee, and Iowa as my Final Four. These teams should all have great shots to make it there, and I am happy with them.
In total, I have one No. 1 seed, a No. 3 seed, and 2 No. 5 seeds. There typically is a No. 1 seed in the Championship game, so making the Final Four with at least one of them seems likely. I do think that this is a year where just one or maybe zero No. 1 seeds make the Final Four.
Gonzaga will be insanely hard to upset, but this year has already seen some pretty exciting ones. It will be interesting to see how it goes down this year, as every March Madness is incredibly entertaining and one of the best sporting events in all sports.
There are a few other teams that I like the prices for to make the Final Four, but I will stick with the 4 I already have listed. I could be way off with my predictions, as we usually are around this time.
With that being said, make sure you head over to the top march madness betting sites to place all your bets.
Predicting Who Wins 2022 March Madness
Of course, we are not just going to stop at the Final Four, as I have yet to make my final prediction for who wins the 2022 March Madness bracket.
Gonzaga seems like the best to make for safe bettors, but there isn't such a thing as a safe bet for March Madness. Gonzaga was excellent last year before Baylor beat them, so that's a first-hand example of why they might not pull it off.
I am going to take a path with value here instead. My pick for the 2022 March Madness tournament winner is none other than the … Tennessee Volunteers (+2800)!
They have been a great team all year and have been able to beat some of the country's very best teams. I think that gives them the confidence they need to be the eventual winners of this year's bracket.
They have massively profitable odds to go along with their chances of pulling this off. They have already beaten the No. 1 seed in their region once this year in Arizona, so why can't they do it again?
For all your college basketball betting picks recommendations, click the link to head over to our picks page.