2022 Betting Preview for the March Madness First Four

March Madness is finally here, and the 2022 First Four is set to kick things off. These teams are fighting for their chance to make it into the tournament, and it is going to start the madness right then and there.
We have eight total teams with a chance to make it into the official 64-team March Madness bracket. First, they have to go through each other if they want to have an opportunity to make a run.
As we know, March Madness is when anything is possible. These 2022 First Four teams are not guaranteed a spot in the tournament, yet it does not mean they can't make a run. Some couples make incredible runs in the March Madness tournament as low seeds, which shouldn't be different this year.
The 2022 March Madness begins with the First Four. Here's a guide for everything you need to know before you place any bets at the best March Madness betting sites.
Where to Bet on the 2022 First Four
These will be your best sites for betting on March Madness and the First Four.
These sites should be your main areas of betting for this year's tournament because they are safe, reliable, easy to use, and offer great promotions and bonuses.
All you need for signing up is your personal information and a payment option. Then you'll need to fill out a small handful of areas on their site, but after that, you'll be ready to go.
With the First Four kicking off this year's NCAA March Madness tournament, you'll be wanting to place your bets as soon as possible. This year's edition of the 2022 March Madness First Four is set to be a very exciting one, with teams fighting to keep their season alive.
Be sure to check out these great March Madness promotions and welcome bonuses for using these sites to help you win even more money this year.
2022 First Four Schedule
Tuesday, March 15th, 2022
Texas A&M-CC vs. Texas Southern – No. 16 Seeds (6:40 p.m ET)
Indiana vs. Wyoming – No. 12 Seeds (9:10 p.m ET)
Wednesday, March 16th, 2022
Wright State vs. Bryant – No. 16 Seeds (6:40 p.m ET)
Rutgers vs. Notre Dame – No. 11 Seeds (9:10 p.m ET)
Here is the official First Four schedule for this year's 2022 March Madness bracket. These teams will clash head-to-head and earn their final ticket to the tourney.
The very first official game of the tournament will be the Texas A&M-Corpus Christi Islanders taking on the Texas Southern Tigers. These teams will be fighting for a chance to take on the No. 1 seeded Kansas in the Midwest Region and try to pull off a massive upset as the No. 16 seed.
The next game will be the Indiana Hoosiers against the Wyoming Cowboys. These teams will be fighting for the No. 12 seed. The winner will advance to play against the No. 5 seed in Saint Mary's.
You can watch all these games that will be played in Dayton, Ohio, on TruTV and Sling.
Odds for the 2022 First Four
For those of you who can't wait to get in on the action, BetOnline has already released the odds for the 2022 First Four games. We can take an early look at the odds and potentially capitalize on good prices.
Let's get right into the 2022 First Four odds and how these teams have played this year.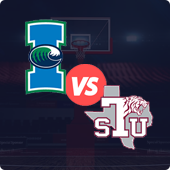 Texas A&M-CC (+3.5) -115 vs. Texas Southern (-3.5) -105, O/U 135
The Islanders are coming into this game as 3.5-point underdogs to the Tigers. The odds for the Islanders to cover are slightly more favored than the Tigers. That means that the books think it is a tad more likely to happen.
??????? ?? ??????!#ShakasUp | #LutzGo pic.twitter.com/Fgg3Ot0hdJ

— Islanders Men's Basketball (@Islanders_MBB) March 14, 2022
As bettors, we need to recognize that and potentially jump on these odds. As we get closer and closer to tip-off, these lines can shift in that direction even more.
Since the odds are a bit more favored for the Islanders at +3.5, I can see the line moving to +3 or maybe +2.5 for this game.
Texas A&M-CC went 23-11 this year, while Texas Southern went 18-12. These teams are winners of 7 out of their last 8, making this a great game on paper.
Indiana (-3.5) -115 vs. Wyoming (+3.5) -105, O/U 131.5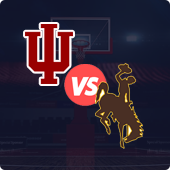 Indiana and Wyoming have the same spread set as the earlier game at 3.5. This time Indiana is the team favored to cover.
This year, the Hoosiers went 20-13 and a solid 19-14 against the spread. With that being said, they are losers of 8 of their last 12 games and are coming off a tough 3-point loss to Iowa in their previous game.
Wyoming should be a tough challenge for them too. The Cowboys were an impressive 25-8 on the year while going 17-13-2 ATS. They are coming off a 7-point loss to Boise State but are a bit better at 7-5 in their last 12 games.
These teams have been decent throughout this year but have struggled more recently. Whoever can get out of their funk the quickest will be the winner of this game. The question that we must answer is, who is the safer bet?
Bryant (+2) -110 vs. Wright State (-2) -110, O/U 152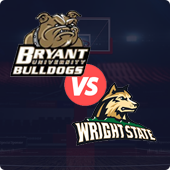 The first game the next day is between the Bryant Bulldogs and the Wright State Raiders. Bryant will be the underdogs for this game but by a small margin of 2 points. This is also the highest point total of any Final Four games by a large margin.
The over/under is set at 152, a whopping 17 points higher than the next game (Texas A&M-CC vs. Texas Southern, O/U 135).
Bryant's record is fantastic this year at 22-9. They finished in 1st place in the Northeast Conference and will be riding a seven-game winning streak into this game. The Bulldogs also were solid ATS at 16-13-1.
Wright State finished 21-13 on the year and is on a five-game winning streak themselves. They weren't great ATS this year at 15-18, but they find themselves favored to win this game by a slight margin.
Notre Dame (-1) -110 vs. Rutgers (+1) -110, O/U 132.5
Our final 2022 First Four game will be a showdown between the Fighting Irish and the Scarlet Knights. Notre Dame is a 1-point favorite, which means they are hardly the favorite for this game.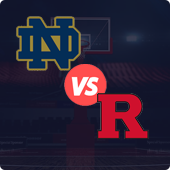 They went 22-10 and placed 2nd in the ACC for this year. The Irish also had a winning record ATS at 17-15. Their leading scorer for the year is Blake Wesley, averaging 14.6 points per game.
That could be the reason why they have the edge in this game. Rutgers struggled a bit more ATS at 14-16-1. Rutgers also had a worse record overall at 18-13 this year.
Rutgers is 6-4 in their last 10 games; the Irish are 7-3 themselves. Ron Harper will lead the charge for the Scarlet Knights and is averaging 15.6 points per game this year.
This should be a tight game, and the odds reflect that.
Ready to bet on the 2022 First Four after one look at the latest odds? Head over to BetOnline now.
Bet on the First Four at BetOnline
First Four 2022 Predictions
Texas A&M-CC to Win
Indiana to Win
Bryant to Win
Notre Dame to Win
I am taking the Islanders to cover the Tigers for the first game. Both teams have been on their game recently, so taking the points makes sense. They have a better record overall, and the Tigers don't have a single player who averages more than 10 points per game.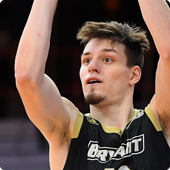 Isaac Mushila is averaging 13.6 points per game with 9.4 rebounds as well. Trevian Tennyson is also averaging more than 10 points per game at 12.2. They also play fast at 26th (tied) in the country in pace.
Mushila and Tennyson should look to lead them to a win here and advance to face the No. 1 seeded Kansas Jayhawks.
Both Indiana and Wyoming are coming off losses. The Hoosiers' over is 8-4 in games coming off a loss, while Wyoming's is 4-3 too. Graham Ike leads the Cowboys with an impressive 19.6 points per game, while Trayce Jackson-Davis averages 17.7 for the Hoosiers.
They aren't heavy over teams this year, but I expect these two players to play at their best. Their records for the over after losses make the over a strong bet.
When talking about scoring a lot, let's talk about the nation's leading scorer in Peter Kiss. Kiss led the NCAA in points per game with a whopping 25.1 for the year. He dropped 34 in their last game, and they should continue to ride his hot hand against Wright State.
I like the Fighting Irish to punch their ticket to the tourney as well. Notre Dame has quietly been one of the country's best shooting teams, and Rutgers is not a defensive juggernaut.
Best Bets for the 2022 First Four
Texas A&M-CC Islanders to Win (+140)
Indiana vs. Wyoming Over 131.5 (-110)
Bryant Bulldogs to Win (+110)
Notre Dame -1 (-110)
For my best bets for the 2022 March Madness First Four, I like two underdog moneylines and over and one spread bet. My underdogs will be the Islanders and the Bulldogs, who have solid chances to win and odds to go along with it.
I prefer Indiana to win against Wyoming, but they've been too similar over the year. They could also play faster due to the nature of March Madness, and a lower point total could be theoretically easier to cover.
This should be a tight game, so a 4-point spread seems tricky here. I like the over with both teams being so good at overcoming losses this year.
The Islanders have been underrated this year and have significant advantages over the Tigers. Texas A&M-CC plays way faster and has a better free throw percentage. They also have massive advantages in the assists and steals categories, ranking top 50 in both. Texas Southern is 274th and worse for both of those categories.
The Bulldogs are in a pretty similar situation to the Islanders. They have considerable advantages in pace, rebounds, offensive rebounds, and 3-point field goals. Bryant has the better overall record of the year and could be a great underdog bet here as well.
Notre Dame – YOU'RE IN! ?

Welcome to #MarchMadness, @NDmbb! #SelectionSunday pic.twitter.com/vmwfxMZMOf

— NCAA March Madness (@MarchMadnessMBB) March 13, 2022
Notre Dame is the only favorite I think enough to recommend for my best bets.
March Madness is a rough time for college basketball, as you know by now. The Irish dominate (on paper) Rutgers in 3 pointers, 3-point percentage, free throw percentage, turnovers, actual shooting percentage, and offensive rating.
Betting on the March Madness Tournament in 2022
This year's edition of March Madness is shaping into one of the most exciting ones yet. Tons of upsets and insane games will happen within the next couple of weeks, and it starts with the First Four.
These teams might be those Cinderella teams who make a crazy run deep in the tournament. It will be interesting to see how far they go after seeing these games' eventual winners.
At the end of the day, the choice is yours, and you can place whichever bet you like. These games are all projected to be close and very entertaining. These teams couldn't solidify their spot in the tourney as they have been a bit up and down so far this year.
They will have to overcome their troubles and play their best basketball starting right now. Make sure you check out our 2022 March Madness betting guide for everything you need to know about this year's tournament.
2022 March Madness Betting Guide